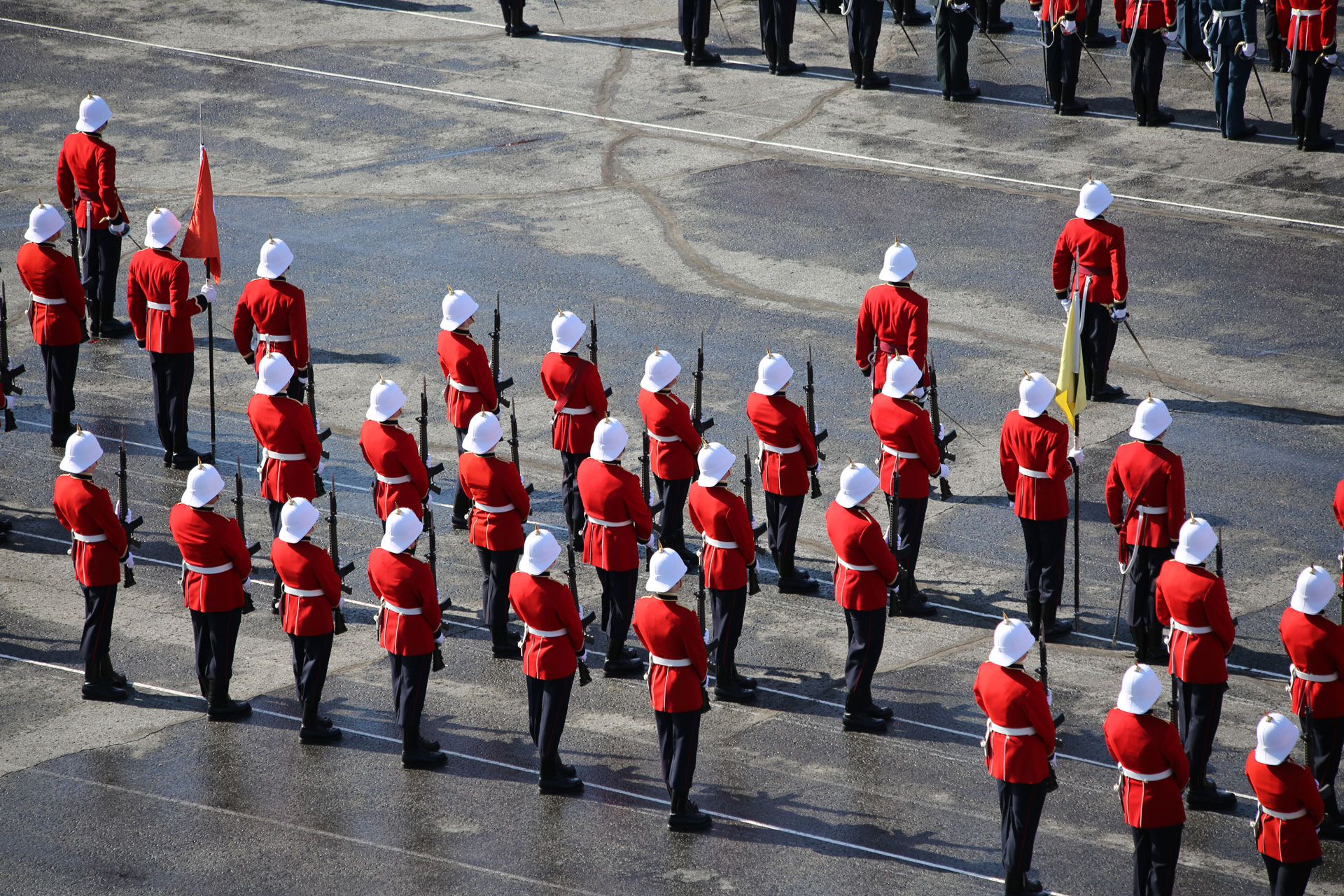 RMC Rugby Team Visits Beautiful B.C. – Royal Roads On The Agenda!

"Reading Week" is a one-week period at this time of year when cadets and other students from RMC (and most other universities) descend on vacation spots. In popular culture, "Reading Week" has been described as a time to "let down one's hair", or in the more contemporary vernacular to "break loose and party".
RMC (M) Rugby team took a junket to beautiful British Columbia during Reading Week for some training & competition; recruiting opportunities; community service; and cultivating alumni relations in a jammed packed  seven days.
Anyone familiar with rugby players can be sure the RMC players "did let down their hair" – at appropriate times; and you can bet that they had a party or two! However, the bulk of the trip involved two a day practice sessions –  the boys in red and white played the University of British Columbia and the University of Victoria.  The results were – 65-12 for UBC; and 71-21 for UVic.
A number of Ex cadets from RMC and RRMC attended both matches and were treated to gutsy and determined performances from the current RMC rugby team.
The large crowd was treated to a fly past by two Sea King Helicopters just after half time at the UVic. game. There was magic in the air as at the very moment the Sean Kings were overhead – RMC put a try over the line.
The Vancouver Island Ex-Cadet Club put on a special treat for the squad and they were welcomed at Royal Roads University on Thursday. A tour of the grounds, the castle and gardens was topped off with a lovely lunch.
An equal level of hospitality was afforded the RMC visitors by members of the Vancouver Ex cadet Branch earlier in the week.  Some details below…
The rugby team was very active on the recruiting front. As well as visiting several local area high schools; they hosted a reception for parents, teachers and coaches at the CFB Esquimalt ward room on Friday evening.
The tour has always had a three pronged approach: improve the team's quality of play; connect with The Vancouver Island Ex-Cadet Club; and present The Royal Military College of Canada as a viable option for post secondary education to the BC rugby community.
Coach Sean McDonaugh when asked his thoughts on the trip, replied. "As we head back East, we can safely say mission accomplished."
Redcoats tour of RRU
The Vancouver Island Ex-Cadet Club hosted a group of RMC rugby players to a tour of Royal Roads and luncheon at the Mews. The team travelled to BC to play against UBC and UVIC.
Photo 1
Captain (N) (Ret'd) Christopher G. Pratt (RCNC 16, 1942-43) points out his name to grandson Christopher Pratt, a first year cadet at RMC who was visiting Victoria as part of the rugby team trip. Capt(N) Pratt was a member of the first graduating class of the RCNC at Royal Roads.
Photo 2
Standing in front of the Royal Roads castle with a group of RMC rugby players, 3334 Major-General (Ret'd) Dave Wightman, Secretary Treasurer of the Vancouver Island Ex-Cadet Club talks about what life was like at RRMC; including the 'circles' he and his classmates had to run for punishment.
Photo 3
The RMC rugby team is standing in front of the historic 80-foot Royal Roads mast. The mast is newly restored and was erected in a memorial plaza beside the vice-commandant's house at Royal Roads last fall. Future plans include creating a wall of honour as part of an initiative on campus to pay tribute to Royal Roads' military heritage and the leaders that were created here.
_________________________________________________________________
Vancouver Island Ex-Cadet Club
4363 Emily Carr Drive
Victoria BC V8X 5E3
250-727-3416
viexcadetclub@shaw.ca
The Vancouver Island Ex-Cadet Club hosted the RMC Rugby team during its visit to the west coast. We took them on a tour of Royal Roads to show them what they had all missed! We had lunch at The Mews at RRU and it seemed a good time was had by all. The RRU Foundation (Paul Longtin and Karen Inkster) very kindly facilitated the visit which took place 19 Feb 09.
In the photos below e-Veritas readers will see the team gathered at Neptunes
Staircase, Cadets in the Castle, and at lunch our senior ex-cadet 2444 RAdm
John Charles (former Commandant RRMC) and visiting cadets.
3334 Dave Wightman
Secretary Treasurer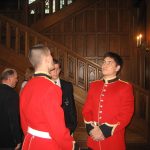 xx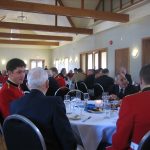 xx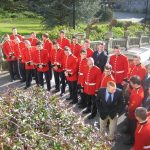 __________________________________________________________
RMC Rugby Enjoys Highly Successful Trip to Vancouver
Last week during their 2009 Spring Break (February 15 – 22), the RMC Rugby Paladins travelled to Vancouver and Victoria, the hotbed of Canadian rugby, for a two-game exhibition series against the vaunted UBC Thunderbirds and UVic Norsemen rugby clubs.
With a touring party of 35 players, coaches and staff, the team brought the red and white colours to Vancouver for the first time in many years (decades?). The Tuesday afternoon game against UBC at Wolfson Fields was played under sunny skies in front of some 20 ex-cadets who enjoyed a spirited if somewhat lopsided affair. UBC Coach Spence MacTavish and his team were generous hosts and provided a great opportunity for cadets, ex-cadets and their UBC hosts to enjoy a wonderful afternoon of rugby and camaraderie. To top it off the cadets presented each of the ex-cadets a RMC Rugby baseball cap while the Vancouver Branch reciprocated with a couple of rounds of beers for the players.
Following the ritual beer-up the team enjoyed an evening on the town followed by a night on cots at Jericho Barracks. On Wednesday they were back to UBC for a brisk morning practice followed by an afternoon community services event for the Stanley Park Ecological Society. They then ferried to Victoria for the final few days of their visit and to do final preparations for their match against a tough UVic Norseman side.
It was an excellent visit on many levels and, with luck; it may just turn into an annual tour.
12264 Doug Campbell