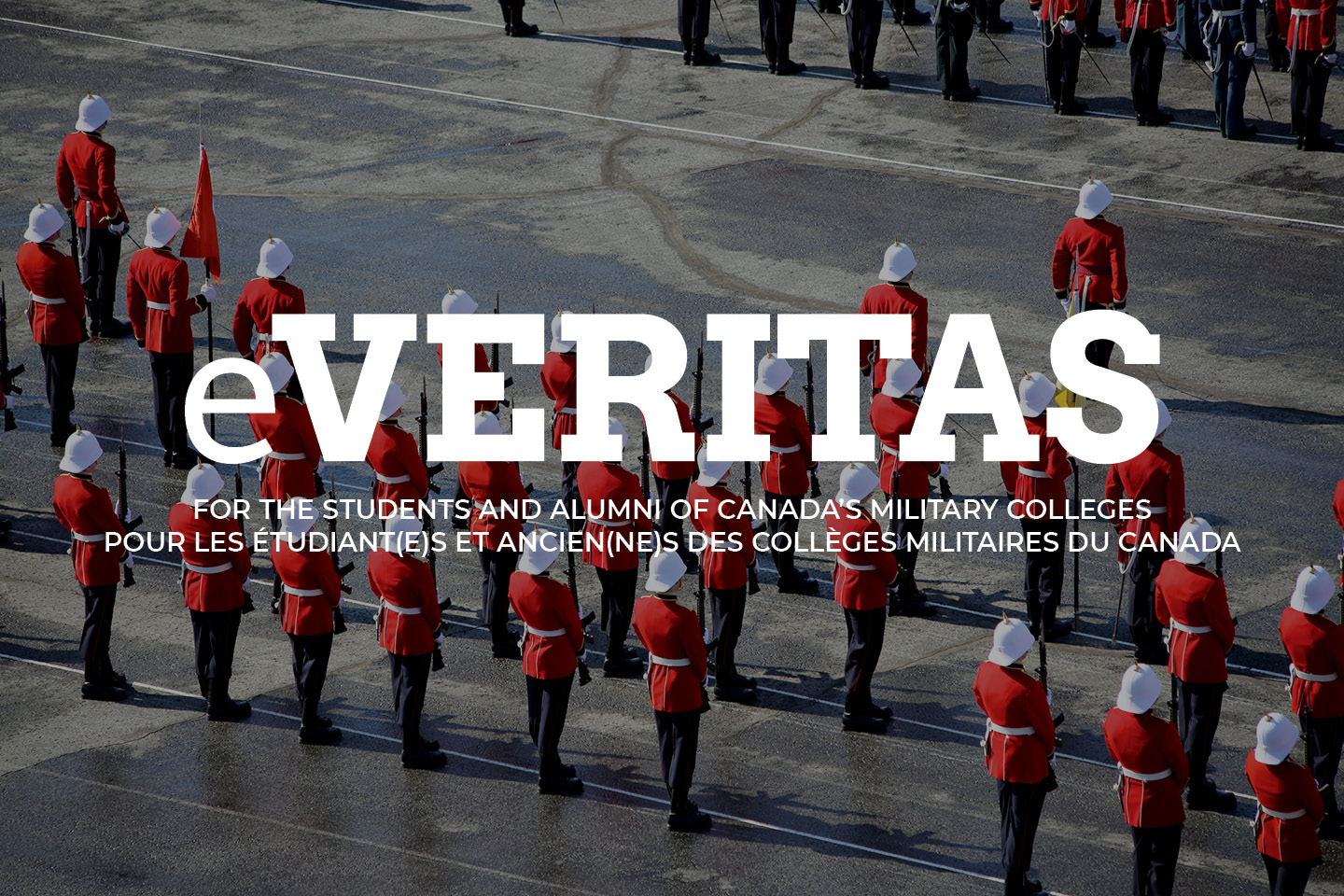 "Sex Signals:" Signalling Another Step Towards Harassment Awareness and Understanding
Article by 25892 NCdt (III) Meghan Thompson, PAG Executive Member 2011 – 2012
During the last training weekend, four showings of "Sex Signals," a two-actor sketch about interpersonal relationships, were presented in Currie Hall. Although mandatory for each cadet to attend, this presentation was not delivered as a standard briefing, but rather as a participative, interactive, and entertaining set of sketches, commentated and performed by Chris Beier and Fawzia Mirza. As our male and female protagonists, Chris and Fawzia guided their audiences through discussions of the issues of gender roles, personal boundaries, signals and signs, seeking consent, sexual assault and the myths and misconceptions surrounding inappropriate behaviour. Targeting these concerns as factors that lead us to judge victims rather than support them, or stand idle when we see inappropriate behaviour rather than assist, these sketches highlighted some of the fundamental problems associated with interpersonal relationships and sexual misconduct on a personal and organizational level. Recognized internationally for their work as sex-signal trainers, the presentations combined communication and perception with the reality of sexual interaction in a manner that helped many to think about these concepts in a new way.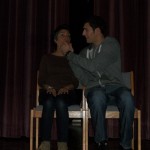 The first segments of the play were devoted to depicting gender stereotypes and their effects on interpersonal relationships. Addressing the challenges each gender faces with regards to standard stereotypes and the trials to try to live up to them, both females and males were characterized in terms of exaggerated gender expectations provided by the audience. Thus illustrating how inter-gender interaction is based upon a number of social conventions, expectations, the actors threw stereotypes into question by dramatizing the essential conflicts between the "ideal female" and the "ideal male" based on the easy-to-misread signals that both are prone to use. In the case where these stereotypical characters meet, a failure of communication is shown to be essentially inevitable, and, as a result, so is inappropriate behaviour. Wherever passivity is misconstrued as consent, there is a risk that personal boundaries will be crossed and one or more parties will feel uncomfortable or distressed.
Progressing from humorous skits on flirting 'gone wrong' and perceptions of stereotypes to a discussion on sexual assault, the performance transitioned from light to serious. Designed to draw confusion and hesitancy from the audience, this change in tone was used to highlight the fact that many people harbour misconceptions about what is harmless and what is harassment, and that these misconceptions greatly impact our ability to recognize a situation that is inappropriate and even criminal. Dealing with the issue of assault, and thus consent, in this forward manner, Chris and Fawzia forced the audience to confront the common myths about assault that make people hesitant to recognize the reality and seriousness of these cases when they occur in tight-knit communities. In order to demonstrate how sexual assault cases affect not only those personally involved, but the organization as whole, the presenters thus opened discussion on how detrimental misreading of signals or failing to get consent can be.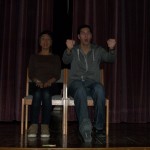 Ultimately, the "Sex Signals" performance aimed to encourage individuals to take a stand against behaviour that looks unwanted to one party, and to recognize how easily people can fall back on conventional misconceptions that prevent open and healthy dialogue about important issues. Emphasizing the importance of asking for, and receiving, consent, the play presented the audience with a tangible sense of key factors surrounding sexual miscommunication in hopes that they are better able to recognize mixed-signals in the future before they can lead to serious situations. Because of the friendly atmosphere created by the initial levity of the presentation, in which the audience was encouraged to yell out answers and ask questions, more people felt comfortable to bring up specific concerns or individual comments. Greatly enhancing the applicability and specificity of the presentation as a whole, this openness to ask questions helped to give cadets the opportunity to dispel their personal misgivings about the nature of harassment briefings and get the information that they felt that they needed from the briefing.
Changing each performance based on the receptiveness of the audience, Chris and Fawzia tailored their comments and questions to the concerns of the group, allowing for a more specific address of pertinent issues. In the end, this performance illustrated how conventional misconceptions about sex, gender, and behaviour can lead to the blurred lines that cause sexual assault and misconduct to be so damaging to an organization's moral and overall unit cohesiveness. Beyond the consequences for the victim and the perpetrator of any given offense, the cadets in the audience learned that even the observer is subject to the confusion and discomfort that makes sexual harassment such a serious topic today.
"Sex Signals:" Signaler une autre étape vers la sensibilisation et la compréhension du harcèlement
Par 25892 Aspm (III) Meghan Thompson
Pendant le week-end d'entraînement dernier, quatre spectacles de «Sex Signals», un sketch de deux acteurs sur les relations interpersonnelles, ont été présentés au Currie Hall. Bien qu'il était obligatoire pour chaque cadet d'assister à cette présentation, elle n'a pas été livrée comme une séance d'information standard, mais plutôt comme une approche participative, interactive et divertissante, un ensemble de sketch, commenté et interprété par Chris Beier et Fawzia Mirza. Étant nos protagonistes masculins et féminins, Chris et Fawzia ont guidé leur auditoire par une discussion sur des questions de rôlesliés aux genres, les limites personnelles, les signaux et les signes, la sollicitation du consentement, l'agression sexuelle et les mythes et idées fausses entourant les comportements inappropriés. Ils ont démontré que le ciblage de ces préoccupations en tant que facteurs nous amènent à juger les victimes plutôt que de les soutenir, ou rester les bras croisés quand on voit des comportements inappropriés plutôt que d'aider, ces sketchsmettant en évidence certains des problèmes fondamentaux liés aux relations interpersonnelles et l'inconduite sexuelle au niveau personnel et organisationnel. Reconnu internationalement pour leur travail comme formateurs aux signaux du sexe, les présentations combinèrent communication et perception avec la réalité de l'interaction sexuelle d'une manière qui a contribué à une nouvelle manière de penser pour certains.
Les premiers segments de la pièce ont été consacrés à la représentation de stéréotypes reliés aux genres et de leurs effets sur les relations interpersonnelles. Ceci pour relever les défis auxquelschaque genre doit faire face en ce qui concerne les stéréotypes standards et les tentatives pour essayer de vivre avec eux, les femmes et les hommes ont été caractérisés en termes d'attentes exagéréesfournis par l'auditoire. Ainsi illustrant la façon dont l'interaction entre les sexes est basée sur un certain nombre de conventions sociales et d'attentes, les acteurs ont remis les stéréotypes en question par la dramatisation des conflits essentiels entre la "femme idéale" et l'"homme idéal" sur la base des signaux faciles à mal interpréter que les deux sont enclins à utiliser. Dans le cas où ces personnages stéréotypés se rencontrent, un échec de la communication se révèle être essentiellement inévitable, et, par conséquent, peut aboutir à un comportement inapproprié par un ou l'autre. Partout où la passivité est interprétée comme un consentement, il ya un risque que les limites personnelles soient franchies et une ou plusieurs personnes seront mal à l'aise ou en détresse.
En passant par des sketches humoristiques sur le flirt qui a 'mal tourné' et les perceptions de stéréotypes à une discussion sur les agressions sexuelles, la performance a fait une transition de sujet plus léger à dessituations plus sérieuses. Conçu pour attirer la confusion et l'hésitation du public, ce changement de ton a été utilisé pour mettre en évidence le fait que de nombreuses personnes ont des idées fausses au sujet de ces situations sur ce qui est inoffensif ou innocent et ce qui est du harcèlement, mais aussi pour démontrer que ces idées fausses influencentlargement notre capacité à reconnaître une situation qui est inappropriée et même criminelle. En faisant face à la question de l'agression, et donc du consentement, de manière concrète, Chris et Fawzia ont forcé le public à affronter les mythes courants au sujet des agressions qui rendent les gens hésita à reconnaître la réalité et la gravité de ces cas qui se produisent même dans des communautés très soudée. Afin de démontrer comment les cas d'agressions sexuelles affectent non seulement ceux qui sont personnellement impliqués, mais l'organisation dans son ensemble, les présentateurs ont ainsi ouvert la discussion sur l'impact dela méconnaissance préjudiciable de signaux ou d'échec à obtenir le consentement.
En fin de compte, la présentation "Sex Signals" visait à encourager les individus à prendre position contre les comportements qui semblent être indésirables et de reconnaître combien il est facile pour les gens de se rabattre sur des idées fausses et classiques qui empêchent le dialogue ouvert et sain sur les questions importantes. Soulignant l'importance de demander et de recevoir le consentement, le jeu présenté à l'auditoire exposait des facteurs tangibles clés qui entourent une mauvaise communication sexuelle dans l'espoir qu'il soitplus en mesure à l'avenir de reconnaître les signaux mixtes avant qu'ils deviennent des situations graves. En raison de l'ambiance conviviale créée par la légèreté initiale de la présentation, dans laquelle le public a été encouragé à crier des réponses et poser des questions, une majorité de personnes c'est sentie à l'aise àénoncerleurs préoccupations ou des commentaires individuels. Cette ouverture à poser des questions agrandement amélioréla congruence et la spécificité de la présentation dans son ensemble pour chacun des élèves-officiers et a contribué à donner aux cadets l'occasion de dissiper leurs doutes personnels sur la nature de ce type de séance d'information sur le harcèlement mais aussi d'obtenir l'information dont ils ont estimée avoir besoin.
Puisque chaque présentation était basée sur la réceptivité du public, Chris et Fawzia ont adapté leurs commentaires et questions aux préoccupations du groupe, ce qui permettait une emphase sur les questions pertinentes. En fin de compte, cette présentation illustre la façon dont les idées fausses sur la sexualité, lesrôles reliés aux genres, et le comportement peut conduire à des lignes floues qui causent les agressions sexuelles et les comportement inappropriés pouvant être préjudiciables à la cohésion d'une organisation et le moral de l'ensemble de ses membres. Au-delà des conséquences pour la victime et l'auteur d'une infraction donnée, les cadets dans l'auditoire ont appris que même l'observateur est soumis à la confusion et le malaise, ce qui rend le harcèlement sexuel comme un sujet contemporain sérieux.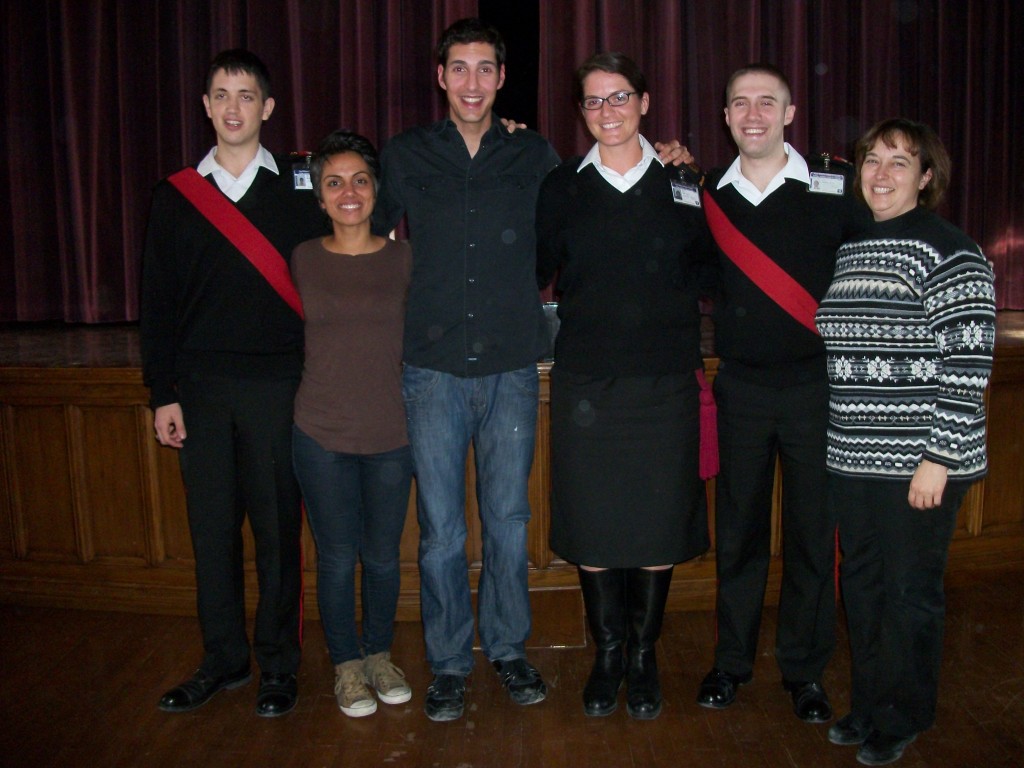 PAG Members with the performers after the presentation
L-R: 25296 OCdt (IV) Jacob Charbonneau, PAG President; Fawzia Mirza; 25314 NCdt (IV) Forbes, DCWC;
 25363 OCdt (IV) Laurent Sauvageau, PAG Vice President; Maj Myslicki
 Des membres du PAG avec les artistes après la présentation
G D: 25296 OCdt (IV) Jacob Charbonneau, Président du PAG; Fawzia Mirza; 25314 NCdt (IV) Forbes, DCWC;
25363 OCdt (IV) Laurent Sauvageau, le vice-président du PAG; Maj Myslicki