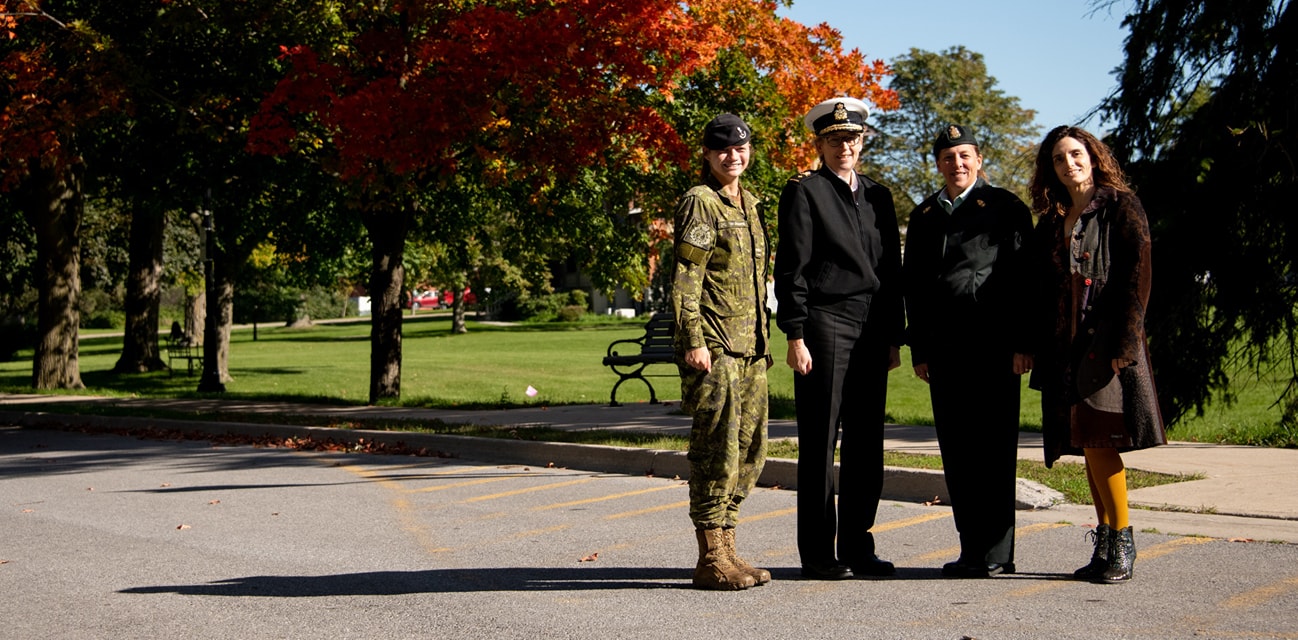 Post shared from RMC Facebook Page: https://www.facebook.com/RMCCanadaCMR
To mark Women's History Month this October we asked 4 inspiring women from RMC to share an original quote to help spark conversations and reflections on the subject of women in the CAF and DND.
"I am energized to be in an institution where we can celebrate the positive changes women are making every day in all parts of RMC and the CAF and acknowledge our heritage while working together to chart a brighter future for the next generations."- Commodore Josée Kurtz, Commandant RMC
"I feel so humble to be in a place where I can inspire young woman to be all they want to be. To them I say, never stop dreaming and never stop pursuing your goals." – Chief Warrant Officer Lucie Alain, RMC College Chief Warrant Officer
"The growing contributions of Women in the STEM fields has had an incredible impact (ranging from space, to the medical field, to the nano universe) — and given the barriers that they have overcome over time, it gives us great hope for the future in a diverse and inclusive environment." – Dr. Cecile Malardier-Jugroot, Acting RMC Principal and Vice-Principal of Research
"While we have come a long way since the induction of the first class of women at RMC, I continue to advocate for women's issues. Not only to honour the inspiring women who came before me, but also to foster an even more inclusive, diverse, and supportive environment for those who come after me." – Officer Cadet Eloise de Grandpré, Cadet Wing Operations Officer and 4th Year Honours Psychology Student
Pour marquer le Mois de l'histoire des femmes en octobre, nous avons demandé à quatre femmes inspirantes du CMR de partager une citation originale afin de susciter des conversations et des réflexions sur le sujet des femmes dans les FAC et le MDN.
"Je suis énergisée d'être dans une institution où nous pouvons célébrer les changements positifs que les femmes apportent chaque jour dans toutes les parties du CMR et des FAC et reconnaître notre héritage tout en travaillant ensemble pour tracer un avenir plus brillant pour les prochaines générations."
Commodore Josée Kurtz, commandant du CMR
"Je me sens si humble d'être dans un endroit où je peux inspirer les jeunes femmes à être tout ce qu'elles veulent être. À elles, je dis, ne cessez jamais de rêver et ne cessez jamais de poursuivre vos objectifs. "
Adjudant-chef Lucie Alain, adjudant-chef du Collège du CMR
"La contribution croissante des femmes dans les domaines des STEM a eu un impact incroyable (allant de l'espace, au domaine médical, en passant par l'univers nano) – et compte tenu des obstacles qu'elles ont surmontés au fil du temps, cela nous donne beaucoup d'espoir pour l'avenir dans un environnement diversifié et inclusif."
Dr Cécile Malardier-Jugroot, directrice par intérim du CMR et vice-directrice de la recherche.
"Bien que nous ayons parcouru un long chemin depuis l'intronisation de la première classe de femmes au CMR, je continue à défendre les questions relatives aux femmes. Non seulement pour honorer les femmes inspirantes qui m'ont précédée, mais aussi pour favoriser un environnement encore plus inclusif, diversifié et favorable pour celles qui viendront après moi. "
Élève-officier Eloise de Grandpré, officier des opérations de l'escadre des élèves-officiers et étudiante de 4e année en psychologie avec spécialisation.