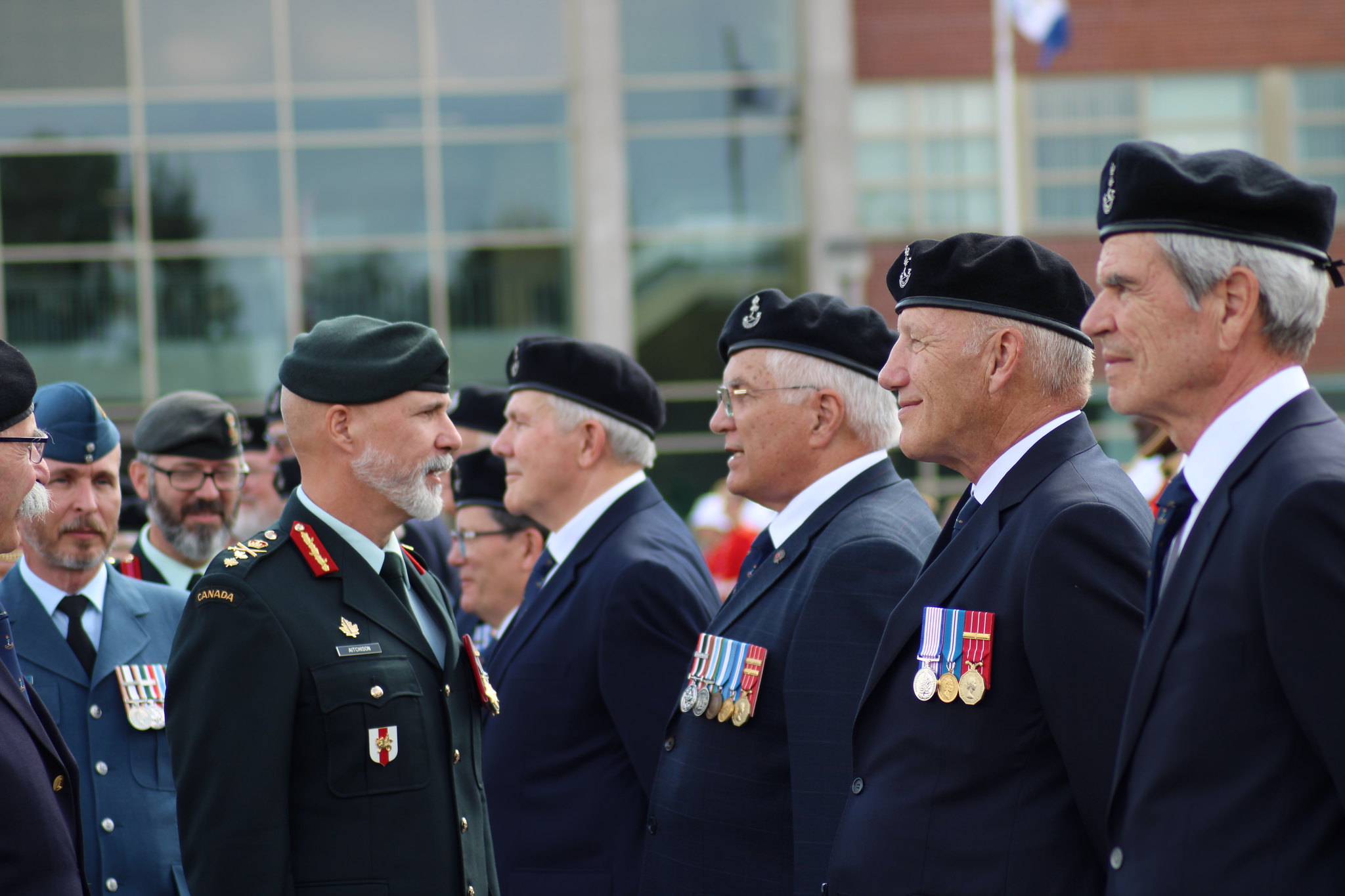 It all started with the CMRSJ Foundation's golf tournament, Thursday August 25. More than a hundred alumni took part under a radiant sun. The dinner that followed in a relaxed atmosphere was under the honorary presidency of Mr. Claude Raymond, a former baseball relief pitcher who played in the Major Leagues from 1959 to 1971 and was mainly dedicated to fundraising for the officer cadet mess, the Saint-Maurice.
Friday, August 26, the annual general meeting of the CMRSJ Foundation attracted a good number of members to the Saint-Maurice mess, followed by a tour of the work in progress.
For the first time in over two years, CMRSJ opened its doors to alumni to celebrate the reunion in person.
The hour of good humor, thank God it's Friday (TGIF) was the first opportunity for all the ex-cadets to recall all the memories of their time in one of the military colleges and mainly for the entry classes to the CMRSJ, i.e. the classes of 1970, 1971 and 1972 which were to be inducted during the FDSDR 2022. More than 260 alumni, some of whom with their spouses, were present at this evening. As usual, the roll call of classes entering the Old Brigade (OB) entered the large hall of the Dextraze pavilion to thunderous applause. One by one, members of the classes of 1970, 1971 and 1972 named themselves with their college numbers, a privilege of the class entering the OB.
1972 marks the 70th anniversary of CMRSJ. Members of the entry Class of 1952 present for the TGIF were Mr. Gerry Wharton, 3739, who represented Mr. William (Bill) Lynn, 3798, Class Major of 1952, as a special guest who was unable to attend to the FDSDR for family reasons and Mr. Jacques Petit, 3758.
Saturday, August 27, was a memorable day. It all started with the obstacle course in the morning. The newcomers to the CMRSJ faced ten obstacles that require an almost infallible team spirit to win the race. Tracy Squadron rose to the challenge and allowed them to take the lead in the Badging and RMC Alumni Association commemorative coin ceremony (parade).
Finally, the long-awaited moment of the entry classes of 1970, 1971 who had been inducted virtually, by Zoom and the entry class of 1972, has arrived.
The leading classes of 1970, 1971 and 1972 followed by the alumni entered the parade square to the applause of parents and guests. On the dais with the Commandant of the CMRSJ, Colonel Bédard and the guest of honor Major-General Atchisson, Commander of the Canadian Defense Academy, was present our special guest, representing the first entry class of the CMRSJ , Mister Gerry Wharton, 3739.
After the inspection by the guest of honor, I proceeded to the induction of the three classes who were entitled to three Hourras from the cadet wing. Subsequently the donations of the three classes were officially presented to the Commandant of CMRSJ (The class of 1970 presented a donation of $71367.00, the class of 1971 presented a donation of $41600.00, for a cumulative amount of $112967 .00 dollars). The class of 1972, plans to raise $50,000.00 dollars, over the next two years. All for the renovation of the officer cadet mess, the Saint-Maurice.
In order to continue the tradition, the members of the classes entering the OB, presented to the new officer cadets and naval cadets the commemorative coin of the RMC Alumni Association.
After the presentation of the commemorative coins and insignia, our guest of honor and the Commandant left after their respective presentations.
Members of the Classes of 1970, 1971 and 1972 received the Cadet Wing Salute as they exited the parade square. All then headed to the Ex-cadet monument for the group photo.
Following these activities, the alumni and their spouses all got together for a dinner dance. The evening began with the entrance of the new Old Brigade to everyone's applause. The discussions continued between the spouses during the excellent meal under the most pleasant background music.
In addition to the activities planned by the Fort Saint-Jean Chapter and the CMRSJ, the incoming class of 1970, under the leadership of Daniel Redburn, 10479, gathered at the Saint-Maurice mess on Saturday noon to commemorate all of their members who have passed away over the past 50 years, by ringing the Mess bell for each of them followed by a moment of silence. The bell was a gift from their class when they graduated. Subsequently, some members of this class walked a circuit in memory of the time spent at CMRSJ. Named Circuit of Remembrance, the class wants to make it a tradition for all, for years to come.
As for the Entry Class of 1971, under the leadership of Michel Dagenais, 10818, they gathered for lunch on Saturday noon to present their commemorative book, a work that began in the summer of 2021. The document contains 400 pages and has officially received an ISBN (International Standard Book Number). They will provide a hard copy to Archives Canada as well as the PDF version.
The book includes many aspects of life at CMRSJ, from 1971 to 1976, but its core is a compendium of 89 classmate biographies out of 102 found members, out of a possible 135 members. Some 34 of their classmates went to the Royal Military College of Canada (RMCC) in 1974 and so there are aspects of RMCC in this Book.
A copy of the book will be given to each CMC Museum as well as to the Lahaie Library of the CMRSJ. A copy will be given to each family they have managed to reach among the 10 deceased colleagues. Mr. Éric Ruel, curator of the Fort Saint-Jean Museum and officer cadet Bobu, representing all the cadets, received a copy of the book for the Museum and the Lahaie library.
Additionally, several members of the Entry Class of 1971 gathered at the Saint-Jean Cathedral on Sunday for a memorial mass in remembrance of their departed members.
Several members of the entry class of 1992 and some members of the entry class of 1991 gathered in another room, in the Dextraze pavilion for dinner on Saturday evening to celebrate their 20th anniversary.
70th birthday, 1952, Mr. Gerry Wharton, our special guest left us the following comments:
…I can say that I have rarely been so honored as this weekend…
…Jean-Marie Levasseur, 11686, was my designated "keeper" for the weekend and I am very grateful to him for his care…
…What I particularly liked was the march that was played when the ex-cadets entered and left the parade square; The Standard of Saint-Georges, the regimental march of the Canadian Guards, my first regiment…
…A few comments that came to me personally over the weekend.
"3739 WOW! I have over 10,000 more."
"I hope I look as good as you in thirty years when I'm your age." »
"1952! My father wasn't even born in 1952! »…
… I am honored to have had the pleasure of this memorable weekend… Gerry
The success of this FDSDR 2022 is based on the undeniable support of all CMRSJ staff members and members of the Fort Saint-Jean Corporation, a big thank you from all the Alumni.
This is a most memorable weekend reunion thanks to the involvement of everyone and particularly the Class Majors, Daniel Redburn, Michel Dagenais and Normand Perreault. Now it's up to the entry class of 1973 and all five-year anniversary entering class to prepare for FDSDR 2023.
Thank you, to everyone who participated.
VDV
6853 Pierre Chevalier
Associate Adjudant of the Old Brigade
Cérémonie de remise des insignes – 2022 – Badging Ceremony | Flickr
https://www.flickr.com/photos/195027602@N02/albums
---
Fin de semaine des retrouvailles (FDSDR) au Collège militaire royal de Saint-Jean (CMRSJ), 25-26-27-28 août 2022
Une fin de semaine des retrouvailles (FDSDR) exceptionnelle
Le tout a débuté par le tournoi de golf de la Fondation du CMRSJ, jeudi le 25 août.  Plus d'une centaine d'ancien(ne)s y participèrent sous un soleil radieux. Le souper qui a suivi dans une atmosphère détendue, fut sous la présidence d'honneur de monsieur Claude Raymond, ancien lanceur de relève au baseball ayant joué dans les Ligues majeures de 1959 à 1971 et dédié principalement à la levée de fonds pour le mess des élèves officiers, le Saint-Maurice.
Vendredi, le 26 août, l'assemblée générale annuelle de la Fondation du CMRSJ a attiré bon nombre de membres au mess Saint-Maurice, suivi d'une visite des travaux en cours.
Pour la première fois depuis plus de deux ans, le CMRSJ a ouvert ses portes aux ancien(ne)s afin de célébrer les retrouvailles en personne.
L'heure de la bonne humeur, Dieu merci c'est vendredi (DMCV) fut la première occasion pour tous les ancien(ne)s de se remémorer tous les souvenirs de leur passage dans l'un des collèges militaires et principalement pour les classes d'entrée au CMRSJ, soit les classes de 1970, 1971 et 1972, lesquelles étaient pour être intronisées durant la FDSDR 2022. Plus de 260  ancien(ne)s, dont certains avec leur conjoint étaient présents à cette soirée. Comme à l'habitude, l'appel des classes faisant leur entrée au sein de la Vieille Brigade (VB) ont fait leur entrée dans la grande salle du pavillon Dextraze sous un tonnerre d'applaudissements. Un par un, les membres des classes de 1970, 1971 et 1972 se sont nommés avec leur numéro de collège, un privilège de la classe qui fait son entrée au sein de la VB.
1972 marques le 70ième anniversaire du CMRSJ. Les membres de la classe d'entrée de 1952 présents pour le DMCV étaient monsieur Gerry Wharton, 3739, qui représentait monsieur William (Bill) Lynn, 3798, Major de classe de 1952, à titre d'invité spécial qui n'a pu assister à la FDSDR pour des raisons familiales et monsieur Jacques Petit, 3758.
Samedi le 27 août fut une journée mémorable. Tout a  débuté avec la course à obstacles le matin. Les nouveaux arrivants au CMRSJ faisaient face à dix obstacles qui demandent un esprit d'équipe quasi infaillible pour remporter la course. L'escadron Tracy a relevé le défi ce qui leur a permis de prendre la tête de la cérémonie (parade) de remise des insignes et des médaillons commémoratifs de l'Association des ancien(ne)s des CMR.
Enfin, le moment tant attendu des classes d'entrée de 1970, 1971 qui avaient été intronisées en virtuel, par Zoom et de la classe d'entrée de 1972, est arrivé.
Les classes de 1970, 1971 et 1972 en tête  suivie des ancien(ne)s ont fait leur entrée sur le terrain de parade sous les applaudissements des  parents et des invités. Sur le dais avec le Commandant du CMRSJ, le Colonel Bédard et l'invité d'honneur le Major-Général Atchisson, Commandant de l'Académie canadienne de la défense, était présent notre invité spécial, représentant la première classe d'entrée du CMRSJ, Monsieur Gerald Wharton, 3739.
Après l'inspection par l'invité d'honneur, j'ai procédé à l'intronisation des trois classes qui ont eu droit à trois hourras de la part de l'escadre des élèves officiers. Par la suite les dons des trois classes furent remis officiellement au Commandant du CMRSJ (La classe de 1970 a remis un don de $71367,00 dollars, la classe de 1971 a remis un don de $41600,00 dollars, pour un montant cumulatif de $112967,00 dollars). La classe de 1972 planifie de récolter   $50000,00 dollars au cours des deux prochaines années. Le tout pour la réfection du mess des élèves officiers, le Saint-Maurice.
Afin de poursuivre la tradition, les membres des classes faisant leur entré au sein de la VB, ont remis aux nouveaux élèves officiers et aspirants de marine le médaillon commémoratif de l'Association des ancien(ne)s des CMR.
Après la remise des pièces commémoratives et des insignes, notre invité d'honneur et le Commandant ont quitté après leur présentation respective.
Les membres des classes de 1970,1971 et 1972 ont reçu le salut de l'escadre des élèves-officiers lors de leur sortie du terrain de parade. Tous se sont par la suite dirigés vers le monument des Anciens pour la photo de groupe.
À la suite de ces activités, les ancien(e)s et leurs conjoint(e)s se sont tous retrouvés lors d'un souper dansant. La soirée a débuté avec l'entrée de la nouvelle Vieille Brigade sous les applaudissements de tous. Les discussions se sont poursuivies entre les conjoint(e)s pendant l'excellent repas sous une musique d'ambiance des plus agréables.
Outre les activités planifiées par le Chapitre Fort Saint-Jean et le CMRSJ, la classe d'entrée de 1970, sous le leadership du Major de classe, Daniel Redburn, 10479, s'est réunie au mess Saint-Maurice le samedi midi afin de souligner tous leurs membres disparus au cours des derniers 50 ans, en sonnant la cloche du mess pour chacun d'entres eux, suivi d'un moment de silence. La cloche était un don de leur classe lors de leur diplômassion. Par la suite quelques membres de cette classe ont parcouru, à la marche, un circuit en souvenir du temps passé au CMRSJ. Nommé Circuit du souvenir, la classe veut en faire une tradition pour tous, pour les années à venir.
Pour ce qui est de la classe de 1971, sous le leadership du Major de classe, Michel Dagenais, 10818, ils se sont rassemblés pour le lunch du samedi midi, afin de présenter leur livre commémoratif, un travail qui a débuté à l'été 2021. Le document contient 400 pages et a officiellement reçu un ISBN (Numéro international normalisé du livre). Ils fourniront une copie papier aux Archives Canada ainsi que la version PDF.
Le livre comprend de nombreux aspects de la vie au CMRSJ de 1971 à 1976, mais son noyau est un recueil de 89 biographies des camarades de classe sur 102 membres retrouvés, sur une possibilité de 135 membres. Quelque 34 des camarades de classe, sont allés au Collège militaire royal du Canada (CMRC) en 1974 et il y a donc des aspects du CMRC dans ce Livre.
Un exemplaire du livre sera remis à chaque Musée des CMC ainsi qu'à la Bibliothèque Lahaie du CMRSJ. Un exemplaire sera remis à chaque famille qu'ils auront réussi à joindre parmi les 10 collègues décédés. Monsieur Éric Ruel, curateur du Musée Fort Saint-Jean et l'élève officier Bobu, représentant tous les élèves officiers ont reçu copie du livre pour le Musée et la bibliothèque Lahaie.
De plus, plusieurs membres de  la classe de 1971, se sont rassemblés à la cathédrale de Saint-Jean, le dimanche, pour une messe commémorative en souvenir de leurs membres disparus.
Plusieurs membres de la classe d'entrée de 1992 et certains membres de la classe d'entrée de 1991 se sont rassemblés, dans une autre salle, pour le souper du samedi soir afin de célébrer leur 20ième anniversaire.
70ième anniversaire, 1952, Monsieur Gerry Wharton, notre invité spécial nous a laissé quelques commentaires:
…Je peux dire que j'ai rarement été aussi honoré que ce week-end…
…Jean-Marie Levasseur, 11686, était mon « gardien » désigné pour le week-end et je lui suis très reconnaissant pour ses soins…
…Ce qui m'a particulièrement plu, c'est la marche qui a été jouée lors de l'entrée et la sortie des ancien(ne)s; L'Étendard de Saint-Georges, la marche régimentaire des Canadian Guards, mon premier régiment…
…Quelques commentaires qui m'ont été adressés personnellement au cours de la fin de semaine.
« 3739 WOW! J'ai plus de 10 000 de plus.»
« J'espère que j'aurai l'air aussi bien que toi dans trente ans quand j'aurai ton âge. »
« 1952! Mon père n'était même pas né en 1952 ! »…
… Je suis honoré d'avoir eu le plaisir de ce week-end mémorable…
Gerry
Le succès de cette FDSDR 2022repose sur le soutien incontestable de tous les membres du personnel du CMRSJ et des membres de la Corporation du Fort Saint-Jean, un grand  merci de la part de tous les Ancien(ne)s.
Voilà une fin de semaine des retrouvailles des plus mémorables, grâce à l'implication de tous et particulièrement des Majors de classe, Daniel Redburn, Michel Dagenais et Normand Perreault. Maintenant c'est à la classe d'entrée de 1973 et de toutes celles d'entrée d'anniversaire quinquennal de se préparer pour la FDSDR 2023.
Merci à tous ceux et celles qui ont participé.
VDV
6853 Pierre Chevalier
Adjudant associé de la Vieille Brigade
Cérémonie de remise des insignes – 2022 – Badging Ceremony | Flickr
https://www.flickr.com/photos/195027602@N02/albums