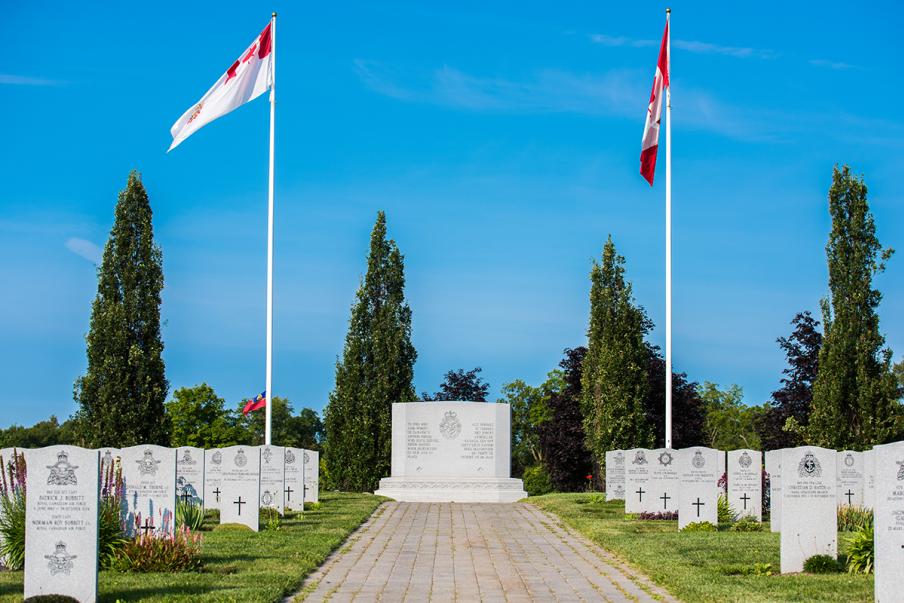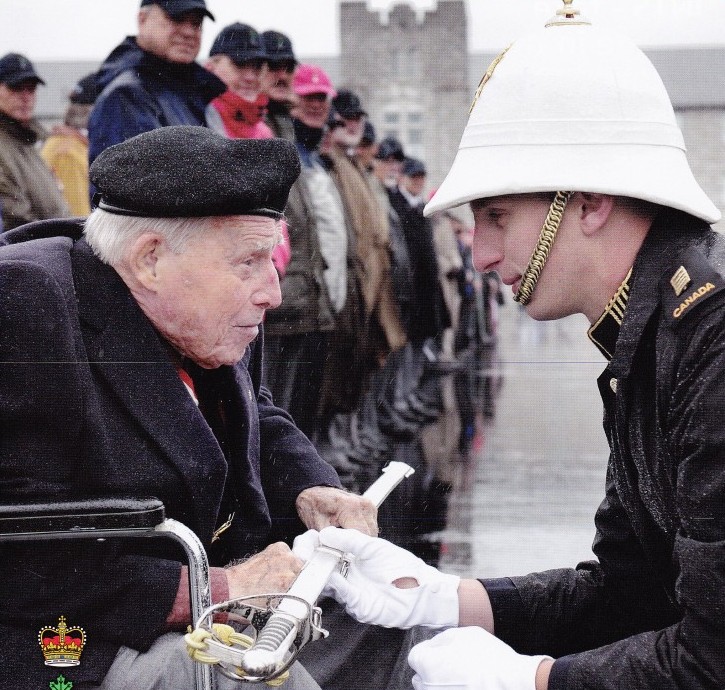 At least two major Honourable John Matheson awards have been established at RMCC in recent years: The Captain Nichola Goddard Memorial Sword is presented annually to the Cadet deemed to be the best ROTP artillery cadet entering fourth year. 22458 Captain Goddard, who graduated in 2002, was killed in action serving her country in Afghanistan on the 17th of May 2006. The Sword has been sponsored and presented since its inception by H17417 Honourary Colonel. Judge John Ross Matheson, OC, CD.
The 2013 recipient was 25832 OCdt Kyle Erik Nielsen
The Academic Leadership Award was established in 2009 upon the suggestion of Colonel, the Honourable John Matheson, to recognize outstanding leadership by a member of the RMC academic faculty in support of the objectives of the Royal Military College.
The 2013 recipient was Dr. Michael A. Hennessy
______________________________
23785 Matty McLeod Remembers Judge Matheson – Reunion Weekend 2008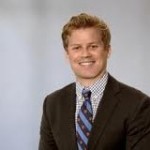 I spent an afternoon with Judge Matheson, when I was finishing my MBA at the college, escorting him around campus on reunion weekend where he was presenting a sword at one of the parades. Although Judge Matheson was in a wheelchair, he was sharp and had several funny biting comments about his time in the legal profession and military; he also didn't hesitate to point out a few "nerds" on the parade square that weren't handling themselves in a way he found acceptable. Although Judge Matheson was obviously a very distinguished Canadian, he had a lot to discuss and was easy to chat with. His influence in the creation of the Canadian flag ensured that RMC will always feature prominently.
Ed Note: 23785 Matthew McLeod is an RETP graduate and followed-up completing his MBA (and additional two years of rugby) at RMCC. He quickly went off to University of Western Ontario and completed a Law Degree and another two years of OUA rugby. Following UWO, he joined the corporate group of Osler at their New York City following a stint with their office in Toronto.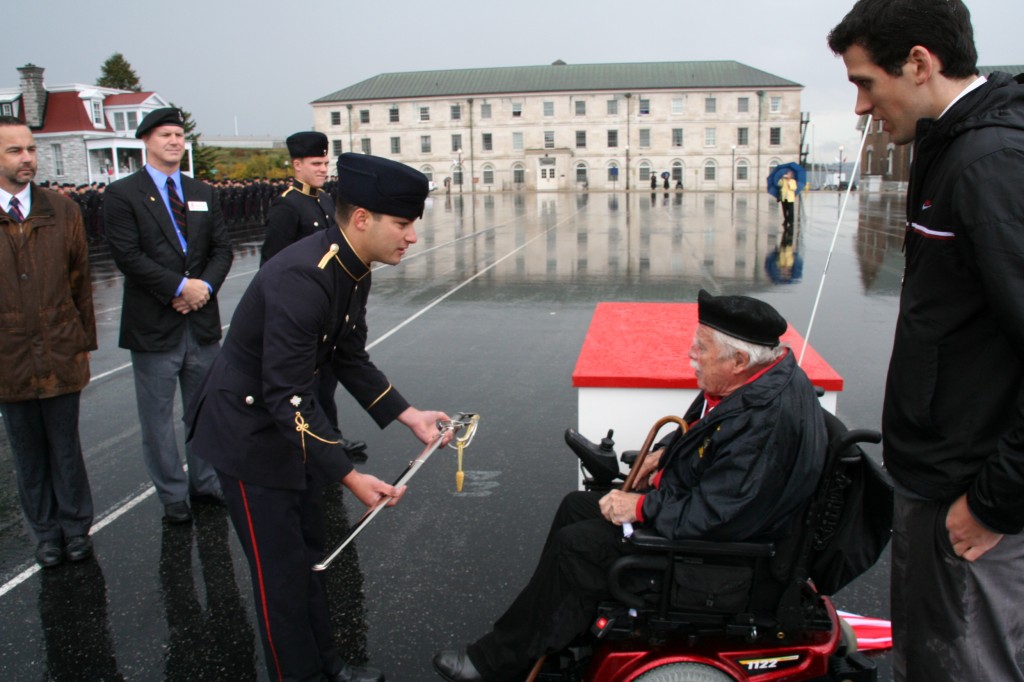 Caption: Gino Bruni standing in the background with Judge Matheson during the 2009 – The Captain Nichola Goddard Memorial Sword presentation.
Remembering Judge Matheson
By: 23988 Gino Bruni
I first met Judge Matheson in 2009 when I was asked by Bill Oliver to escort the Judge during the 2009 Reunion Weekend. The day started with an obstacle, as we could not organize proper transportation for the Judge from the St. Lawrence Place Residence to RMC. Therefore, the only option was my 1995 Red Minivan. I was worried about how we would get the Judge and his chair in the van but Judge Matheson had no doubts and was dedicated to getting to RMC for the service. We smoothly got him in the back seat and his chair in the trunk and we were on our way. That Sunday the rain was pouring hard but this did not slow Judge Matheson down. I fondly remember him leading the ex-cadets as they marched from the Arch as I ran to keep up with an umbrella trying to keep the Judge dry. At the parade, Judge Matheson awarded the Nichola Goddard Memorial Sword to the top third year artillery cadet. It was so heartwarming and humbling to see how proud the Judge was to present the sword.
My great experience with Judge Matheson on that Sunday led to further visits with the Judge at St. Lawrence Residence. I remember first walking into his room and being amazed by the paintings and personal accolades the Judge had on his wall, including the Order of Canada. We had some great conversations and I especially enjoyed his recollection of his involvement as an MP with the design of the Canadian Flag. I remember thinking at the time what a great Canadian Judge Matheson is given a life full of service to his country. I was so impressed that he not only served his country his entire life whether it be in war, in politics or in the judiciary, but also was part of creating the Order of Canada that recognizes such exceptional service in other Canadians. Upon learning about Judge Matheson's death, my first thought, similar to before, was that we had lost a great Canadian. Judge Matheson was, for me, a great mentor and will forever be in my mind as a great example of how to make a difference to your community and country.
Ed Note: Following RMC, Gino Bruni was awarded a Rhodes Scholarship. He spent two years at Oxford University earning a Law Degree. Currently he is clerking with the Court of Appeal of Alberta in Calgary.
Previous e-Veritas Gino Bruni article
Remembering "John" by 24712 Brent Fisher…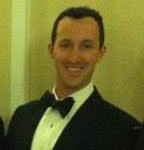 It was with great sadness that I heard of the passing of John Matheson. I had the privilege of getting to know the "Judge" over two years while I was completing Post Grad studies at RMCC between 2010 and 2012. I was twice his personal escort during Reunion Weekends at the college, and I fondly remember the time that we spent together on campus. I can likewise recall visiting him at St. Lawrence Place and listening to the stories from a man who has done so much for our country. Each time we would leave the retirement centre and take a stroll around downtown Kingston I not only found it particularly striking just how many people he would recognize while en route, but just how difficult it was to keep up with him as he would zip along the sidewalks in his wheelchair.
The Judge will be dearly missed by each of the many communities that he has touched and inspired throughout his lifetime. I am also sure that it will take quite some time before we will read an obituary as full of impressive accomplishments as his.
Lastly, I will never forget the moment when he insisted that I start calling him "John" and I realized that I was now on a first-name basis with a real national hero. Rest in peace, John.
Ed Note: 24712 SLt Brent Fisher (Class of 2010) completed a Masters of Business Administration at RMCC in 2012. He is planning on completing a Masters of Science in Mathematics, also from RMCC, this spring. Following the completion of his MARS phase training, SLt Fisher was posted to HMCS WINNIPEG. He has recently completed a five month deployment to Chile through OP REGULUS as a Bridge Watchkeeper Exchange Officer.