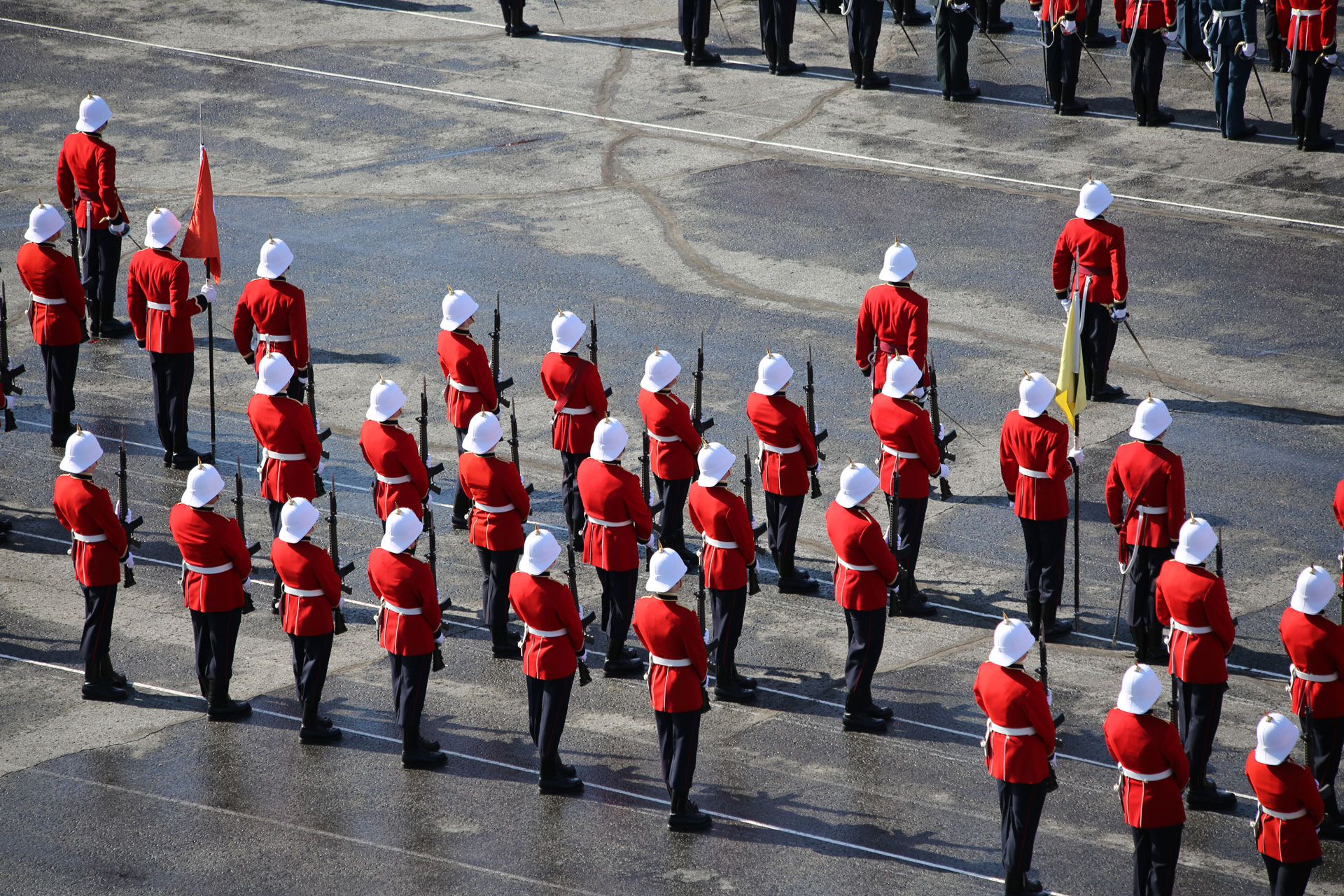 Commodore Bill Truelove, RMC-C Commandant  was one of a packed Senior Staff Mess (SSM) last Thursday when friends and colleagues were on hand to wish Helene Pettis a fond farewell and a happy retirement from the Canadian Forces.
22570 CAPTAIN HELENE PETTIS (RMC 2003) – RETIREMENT
By: Major M.M. Parisien
On Thursday the 25th of March, at the SSM, a retirement ceremony was held to thank Capt Helene Pettis for her nearly 12 Years of Service to the CF and to wish her the best of luck in her future.
Captain Helene Pettis, the current 5 Sqn Comd at RMC is retiring from the CF after almost 12 years of service. Helene enrolled in the CF in June of 99 and attended RMC. She graduated in 2003 with a degree in Mechanical Engineering and, once trained, was posted to 2 General Service Battalion with CFB Petawawa where she spent about two years. She and Service Husband Shawn Pettis were married in 2005.
She was then posted to 5ieme GSS Soutien Materiel in St Hubert in 2006; she and Shawn celebrated the birth of both of their sons, Brandon and Ryan during that posting.
Helene was selected to complete her Tech Staff Course with RMC during this academic year 2009-2010 but she decided that it was her intent to retire from the CF prior to the completion of that course. Therefore she found herself without a job at RMC, much to the Mil Wing's excitement. Helene was approached and was very happy to find a home within the RMC Military Wing as a Sqn Commander. Helene is a multi-talented athlete who seems to have a natural talent for all things sports. It would be easier to list the sports that Helene does not enjoy at a competitive level, than those she does!
Now Helene has decided that it is time to retire, and concentrate on her family and we thank her for her service and wish her luck
Two Photo credits for this article:  OCdt  Andrew Sheahan
___________________________________________________
Annual Student Papers Night Competition of the Professional Engineers
On 24 March 2010, the Annual Student Papers Night Competition of the Professional Engineers of Ontario was held in Kingston at Queen's University. Four teams were selected to represent RMC from the Civil Engineering and Electrical and Computer Engineering Departments.OCdts Marson and Stockwell won first place ($300) for their project, "Range of Motion Monitor." A team from the Department of Electrical and Computer Engineering at Queen's won second place ($200). OCdts McGee and Pollard won third place ($100) for their project, "Multiple Acceleration Stage Coilgun."
Congratulations to all winners and competitors!
Mercredi, le 24 mars 2010 a eu lieu à l'université Queen's à Kingston la compétition annuelle de la soirée des exposés étudiants parrainée par les Ingénieurs Professionnels de l'Ontario. Le CMR était représenté par quatre équipes provenant des départements de génie civil et génie electrique et informatique. Les Élofs Marson et Stockwell ont remporté la première place(300$) avec leur projet "Moniteur de variation de mouvement". Une équipe du département de génie électrique et informatique de Queen's a gagné deuxième place (200$). Les Élofs McGee et Pollard ont remporté la troisième place (100$) avec leur projet "Fusil électromagnétique à accélération par étape multiple.
Félicitations à tous les gagnants et participants.
1st Place (RMC)
OCdt Don Marson and OCdt Collin Stockwell
Range of Montion Monitoring System
Supervisor – Dr. Alain Beaulieu
2nd Place (Queen's)
Kevin Grieg, Jeet Mandal, and Greg Reynen
Low Frequency Signal Generator for Biomedical Applications
3rd Place (RMC)
OCdt AJ McGee and OCdt Jeff Pollard
Multiple Stage Coil Gun
Supervisor – Dr. Joey Bray
___________________________________________________

RMC cadets serve up 6,000 pounds of groceries to local food bank