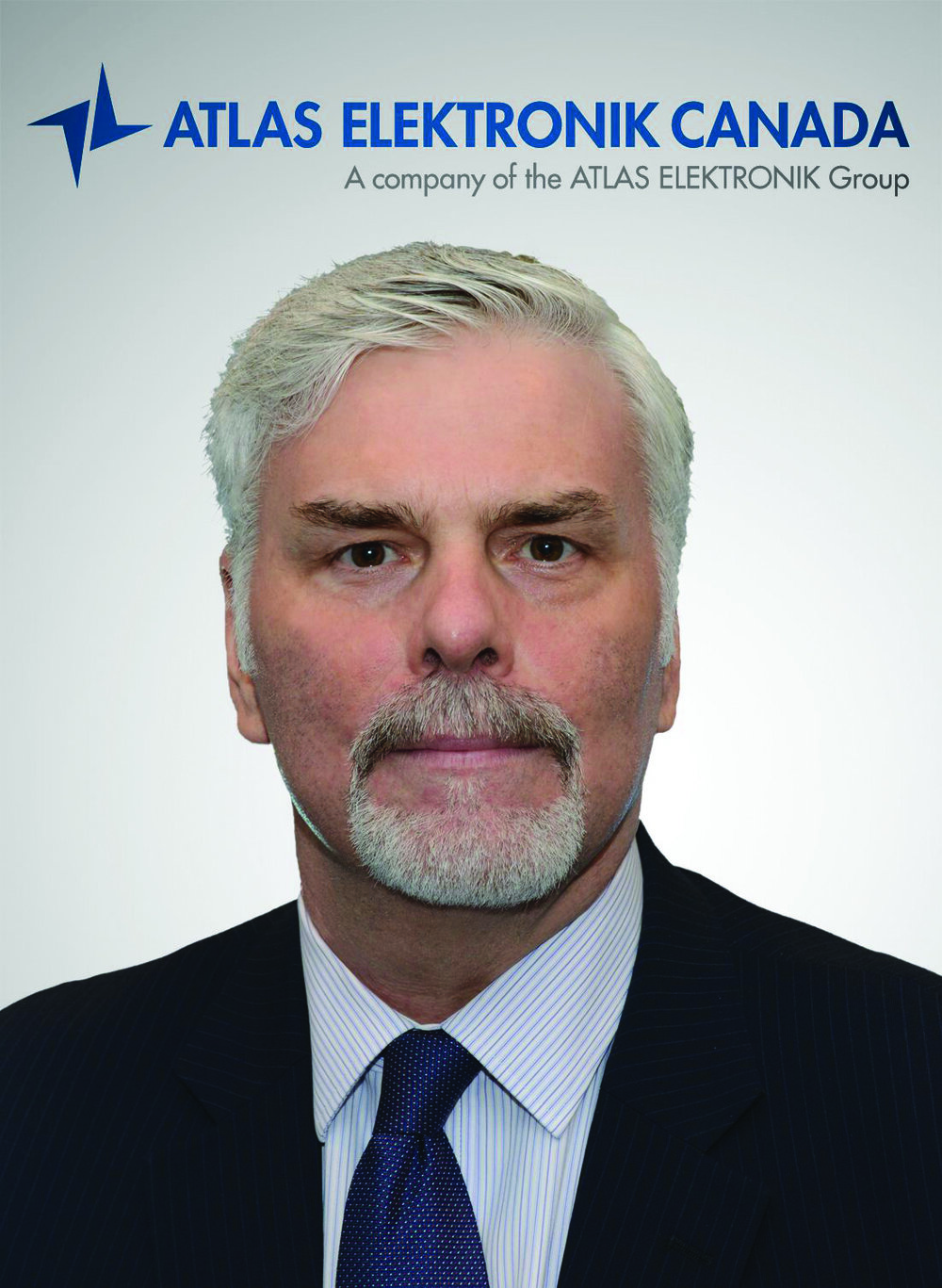 Shared from: http://espritdecorps.ca/captain-of-industry/rick-gerbrecht-an-unforeseen-opportunity-proves-fortuitous
When most people describe their career path and the steps they took to enter the defence industry, they often reference years of planning and careful decisions. But for Rick Gerbrecht of thyssenkrupp Marine Systems Canada Ltd (tkMS Canada), his saga comes together a bit differently. He describes his entry into the field as a tale with twists and turns, a story that requires what he describes as "brutal honesty" here and there.
Gerbrecht was serving in PACFLEET (Esquimalt) as Chief of Staff (Operations) and was identified for a posting to the Ottawa region when his career took off in an unexpected direction. His domestic situation required a pretty important posting of its own, primarily staying in place to support the looming high school graduations of his children. As such, Gerbrecht decided to retire – but without an exit plan, something he describes as "exciting at the time." Thankfully, things progressed quickly enough that his excitement didn't have much time to morph into trepidation. He was contacted by a large firm in the Vancouver area and emerged from the hiring process with a contract in hand six months before his release date. Gerbrecht's reaction to how it all worked out can be summed up in one word: "relief."
Today, as the President and CEO of thyssenkrupp Marine Systems Canada Ltd (tkMS Canada), Gerbrecht works with "a small eclectic group of talented people." He describes his role as being the "meaningful conduit" to manage how business is done in Canada on a day to day level while being in full compliance with overseas Corporate institution and governance. The tricky job of managing expectations internally and externally is made a bit easier thanks to Gerbrecht's military background.
He served 27 years in the Royal Canadian Navy, including four years at Kingston's Royal Military College to earn a BA in Commerce. As he puts it: "You could truly say I became interested in the defence industry on day one in the military. I wore a uniform, attended basic officer training and enjoyed infrastructure all as a product of defence industry deliverables. Later I served in warships, was a passenger in military standard aircraft, and used weapons and sensors, again, all supplied by the defence industry." As Gerbrecht advanced in his military career, his familiarity with the defence industry deepened when he collaborated on a project to introduce the first over-the-horizon missile system for the RCN. This work required Gerbrecht to work closely with the defence industry to set-to-work solutions that someday could be employed to defend sailors and ships. As he says: "I never lost sight of this responsibility, which continues today."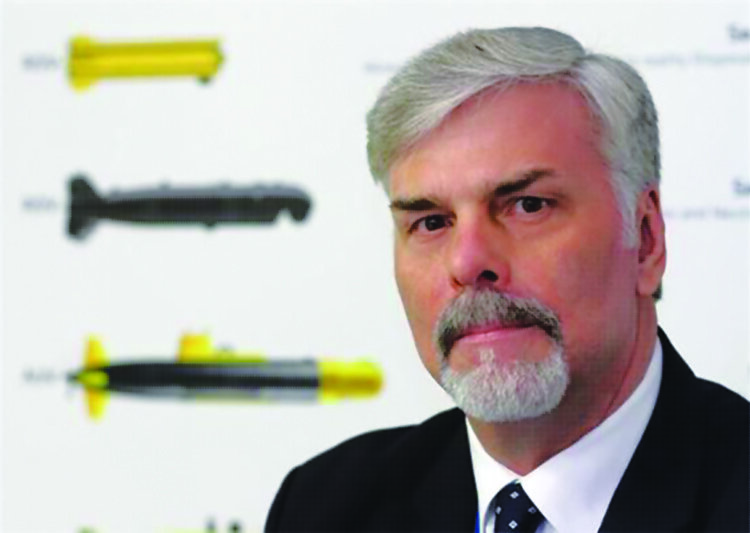 Thanks to his long background serving in the military and subsequent experience collaborating with those in the defence industry, Gerbrecht's transition from wearing a uniform to a suit was a rewarding one (even considering his initial lack of an exit plan!) As he worked his way up to his current position with tkMS Canada, Gerbrecht dabbled in consulting and worked in an R&D program, before establishing the Canadian subsidiary of ATLAS ELEKTRONIK as the Managing Director in late 2012. Early on the company enjoyed recognition in the NSS with provision of the JSS Baseline design, HF Radio Suite and NVIS antenna group for AOPS and modelling and simulation for the RCN, including the Post Mission Analysis system (OSPREY) for the Acoustic Data and Analysis Centre in Halifax. With characteristic frankness, Gerbrecht describes his success by saying that he "worked with a good company upon entry, was hooked up to the fire hose, and learned as much as (he) could." At the beginning of 2017, thyssenkrupp AG took over the minority shares of ATLAS ELEKTRONIK GmbH from Airbus Defence and Space. Since then, the naval electronic specialist is a corporate entity within thyssenkrupp Marine Systems GmbH. In Canada, both business units of tkMS and ATLAS ELEKTRONIK merged with the name thyssenkrupp Marine Systems Canada Ltd. Gerbrecht expresses, "I got smart on underwater vehicles, mine countermeasures and torpedo technology with ATLAS, now post-merger, I have taken on a submarine sales file just to fill in my remaining down time."
Gerbrecht's tell-it-like-it-is approach extends into the wisdom he offers those interested in pursuing a job in the defence industry… and his first piece of advice is it's not a job! As he says: "When I get an opportunity to mentor I always attempt to explore with the individual that this sector is not just a job. You need to be passionate about what you do and not just in the defence industry. Be a fresh set of eyes and don't be scared to make observations about a process." Additionally he reminds the mandatory trait of any executive in stating "good executives are leaders and leaders need to be respectful, empathetic and good at listening to what your people are telling you. It is a privilege to be a boss and that means being mindful of the people who let you be a boss – the current employment environment is the telling tale."
He also offers some very pragmatic insights, saying that patience is indeed a necessary virtue to thrive in the sector. The equipment and solutions those in the industry acquire may one day be used to save lives and protect infrastructure but, as he says, "And on that day, we in the defence industry will not be standing next to the end user." Given such circumstances, adapting a patient, long-term perspective is very useful.
And, perhaps with a nod to his semispontaneous entry into the field, Gerbrecht offers some encouragement to embrace both success and also setbacks, saying "Innovation and development, by their very nature, must be permitted to make discoveries. When you think of that for a moment, this means you provided acceptance for not achieving 100% of your objectives on the first round." Being open to learning and resilient to hard knocks matters in his field.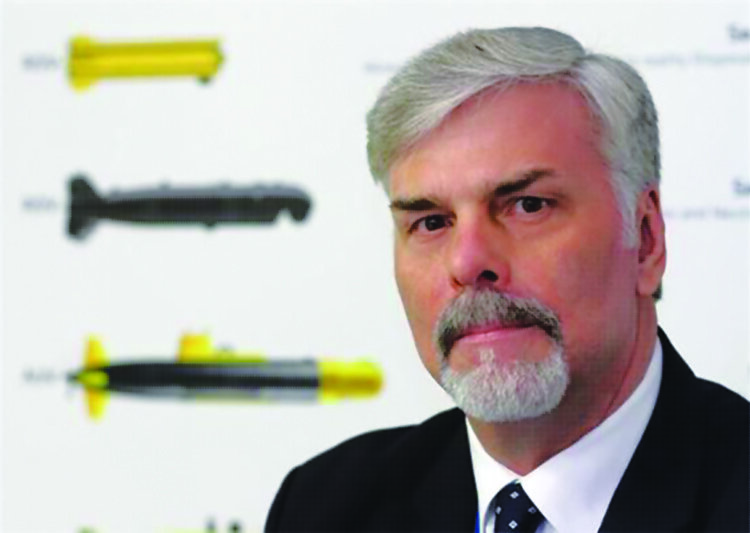 When Gerbrecht thinks back to the many challenges and rewards of his career, a standout moment occurred on December 18, 2018. That was the day he signed the Development Agreement to undertake works for the made-in-Canada munitions section of the ATLAS ELEKTRONIK SeaSpider™ Anti-Torpedo Torpedo (ATT). When thinking back on that moment, Gerbrecht ruminates "Is this work challenging? Yes indeed. Are there interests who hope we fail? Yes indeed. Our ATT is a disruptive technology and if you understand what the definition means, we will be forcing other companies to change what they do, or they will become obsolete. This is a unique and international program." He also adds that the most rewarding thing about pursuing a career in the defence industry is simply being told by the end user that your product is good, noting that there's no reward in supplying a solution that ultimately is not valued in the field.
Gerbrecht anticipates that work on the SeaSpider™ ATT will keep him and his team busy well into 2023 and beyond, reporting that the development work is: "Intensifying with the parallel effort of the warhead and rocket sections. This program oversight now requires significant coordination with the Design Authority to ensure interdependencies of weight, mass, noise and thrust do not impact on the performance of the other subsections. As you can imagine, we are building an underwater rocket that is emitting noise on one end with command & guidance and sonar on the front end. Challenging flow noise ratio for sure… but we are sonar experts!" As he frequently reminds his team, there's something new every day!