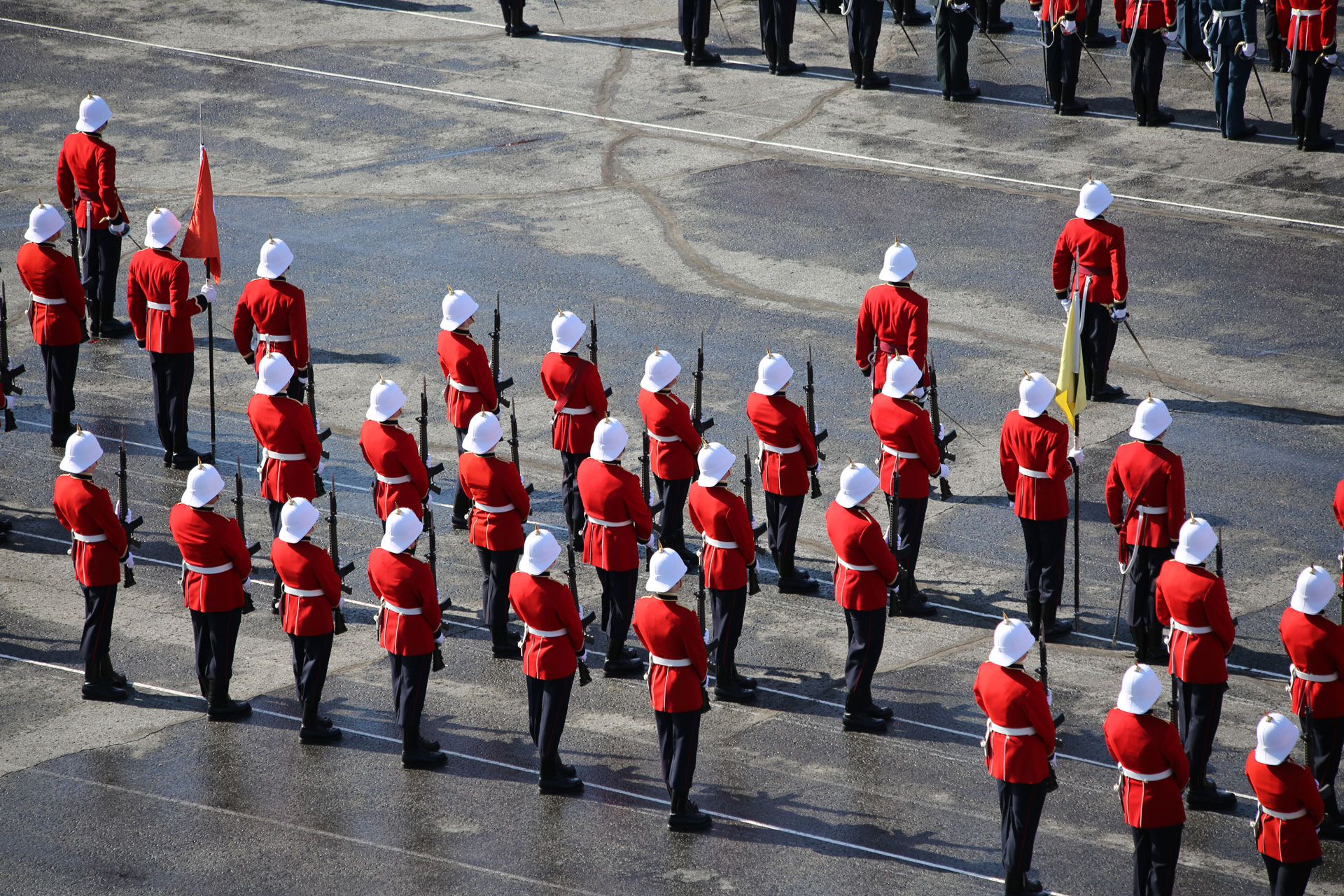 RMC Band
By: OCdt Evan Heath
Following eVeritas over the past month, I've read the four interviews by Victoria Edwards with the RMC Band staff instructors and felt that comments from an Officer Cadet in the Band would complement your previous articles.
I've been playing saxophone in the Brass and Reed section of the band since the second week after I arrived at RMC three years ago. That wasn't my first time playing the instrument however, having taken instrumental music in school since grade six. I was also an Air Cadet with 18 Dartmouth RCACS and had the opportunity to participate in the cadets music program run in the Atlantic region by Lt(N) Wes Mackey. I know the many weekend clinics put on with the assistance of members from the Stadacona Band of MARLANT, and a number of summers spent at the Air Cadet Summer Training Centre at CFB Greenwood helped immensely in developing my musical skills.
I look forward to holding the appointment of Cadet Wing Band Officer (CWBO) for the fall semester of 2010. Some of the highlights of this period will include the Band's participation at the Army Run in Ottawa, numerous engagements during Reunion weekend, divisional mess dinners for the Cadet Wing, remembrance ceremonies both at RMC and throughout Kingston, the Christmas Concert, and Christmas Ball. I'll class these as the 'the regulars', but I can see by looking at the Military Wing shared calendar that there could be an honour guard, and a few other parades to be added to the Band's schedule.
While still in their preliminary planning phases, MWO Huppé and I are also looking to conduct a number of other activities outside of regular schedule this fall. These include an exchange with the United States Naval Academy (USNA) and a second performance of the Christmas Concert at CMR St-Jean. As I experienced in 2007 and 2009, the USNA exchange is an excellent opportunity for all musicians. The Pipe, Drum, and Dance sections are able to work and perform with the USNA Midshipmen while the Brass and Reed section has the privilege of receiving specific woodwind, brass, percussion, and full ensemble clinics from members of the Academy's professional military band. This year we hope to be able to have the RMC Choir work with the Academy's equivalent Midshipmen ensemble. Staging the Christmas Concert at CMR St-Jean is not a new idea. The band last performed that engagement in 2007. Unfortunately there were some issues with the execution: it occurred the Saturday evening immediately prior to fall semester exams and only one day after the RMC Concert. The entire production was compressed into one day, leaving Kingston Saturday morning and not returning until very early Sunday and I didn't find the experience to be enjoyable. While only in the earliest stage of planning at the moment, this year we'd take the weekend before the last week of classes, 27-28 November, with Saturday being transit, setup, and rehearsal in St-Jean, an overnight stay at CMR or the Garrison, and the performance occurring Sunday afternoon. We'll keep you posted on how our plans turn out.
Aside from myself, the CWBO, and the three staff instructors, MWO Martin Huppé – Band Officer, WO Danny Smith – Pipe Major, and WO Eugene Heather – Drum Major, there are currently six other cadet appointments within the Band's organization. They are: OCdt Dave Tanguay – Deputy Cadet Wing Band Officer, NCdt Sean Catterall – Cadet Wing Pipe Major, OCdt Marc Jacquard – Cadet Wing Drum Major, OCdt Angela Dey – Cadet Wing Brass and Reed Major, OCdt Laurel Burchell – Cadet Wing Highland Dance Leader, and OCdt David Blain – Cadet Wing Choir Master. As Regular Force Musicians by trade, the staff instructors are the technical experts on musical issues and they advise the cadet appointments where required. The Band's cadet appointments manage and supervise their respective sections, coordinate with members regarding their participation at engagements, plan and execute band events such as the exchanges and concerts, and work with the staff instructors on administrative and logistical issues unique to their sections. For the Officer Cadets holding these appointments, this is good experience for what will become a large portion of their job once they graduate from RMC.
I think it is important for all involved to remember that the RMC Band isn't the only group of its type in the CF. While the breadth of our organization is more extensive than most, the Pipe and Drum sections and Brass and Reed section are both authorized Regular Force voluntary bands. This status, as defined in QR&O Chapter 32 and the CF Band Instructions, requires that we follow all of the applicable DND and CF regulations concerning military bands and the provision of musical support. Additionally, all band uniforms must be as described in Chapters 5 and 6 of the CF Dress Instructions. I am aware that there are currently a number of issues with the band's uniforms, both involving the authorized patterns and supply, and we are working to resolve these concerns.
The most pressing issue the Band faces is the lack of staff instructors. While the Band was executing what I'll call our three day 'musical marathon' consisting of the Governor General's Honour Guard, Convocation, Sunset Ceremony, Graduation Parade, and Graduation Ball from 19 to 21 May, it was readily apparent how advantageous it was to have the full complement of Bandmaster, Pipe Major, and Drum Major present. It is only coincidental that this happened however as WO Heather is to replace WO Smith and not supplement our cadre of instructors. This will leave MWO Huppé double hatted as Band O/Bandmaster and WO Heather as Pipe Major/Drum Major. Historically, the Band had positions within the Military Wing for an officer holding the position of Band O in addition to three professional musicians from the Music Branch, clearly much has changed since.
During the past two summers while I have been undergoing my occupational training as an Aerospace Engineering Officer (AERE) at 1 Air Maintenance Squadron in Cold Lake, I have had the opportunity to be a member of the 4 Wing Band. They are established as a Regular Force voluntary band just as the RMC Brass and Reed band is, but I've found the dynamic of the group to be different. The RMC Band is made up largely of the Officer Cadet members of the College with only several civilian volunteers. At 4 Wing I would say that this ratio is about 50/50 military and civilian volunteer members. Our civilian members in Cold Lake include DND employees, family of military members, and a number of the local school district's music teachers. The civilian members provide a strong foundation for the band, as we can count on them to be there while military members may be working, away on temporary duty, deployed, posted out, etc. There are a number of ex-RMC musicians playing with the 4 Wing Band: 22141 Maj Justin Armstrong (RMC 2001), 23544 Capt Patrick Trembath (RMC 2006, former CWBO), 23477 Capt Doug Browne (RMC 2006, former CWBRM), 23918 Lt Marie-Michele Arseneault (RMC 2008), and up until her posting this June, 24098 Lt Gabrielle Morin (RMC 2008, former DCWBO).
The other big difference between 4 Wing and RMC is the length of time members are with the bands. At RMC, with the majority of members being Officer Cadets in the ROTP and RETP programs, we see them here for at maximum four years; three if they were at CMR St-Jean for first year. I know there are members in Cold Lake who have been playing with the Band since the early nineties. This builds a great level of experience within the organization in Cold Lake, and the question, "How did we do this last time?" rarely ever comes up. At RMC, unless we perform an engagement annually, much corporate knowledge concerning the execution the last time round is lost and I find we are continually re-inventing the wheel when it comes to some of our performances.
CF Music maintains a directory of all authorized bands, and this is available at http://www.cmp-cpm.forces.gc.ca/dhh-dhp/musi/bd-am/index-eng.asp. I would suggest to all past members of the RMC Band to check and see if there is a band near you. As part of the RMC Band, our members have spent several years at the College learning to play bagpipes, drums, or developing their skills on a brass or woodwind instrument and there are many other military bands throughout Canada looking for members.
We're always happy to hear from past members of the RMC Band. Our facility and offices are (still) located on the north side of the Yeo Hall basement. I can be reached by email at evan.heath@rmc.ca, and MWO Martin Huppé, Band O, can be reached at martin.huppe@rmc.ca or 613-541-6289 to discuss Band activities, performances, or other concerns.
RMC Choir –
By: OCdt David Blain
To add to the previous interviews with the staff and Officer Cadets of the RMC Band, I was asked to talk about my experience as the Cadet Wing Choir Master (CWCM). I have taken some time out of my day over at 427 Special Operations Aviation Squadron (SOAS) at CFB Petawawa where I'm undergoing my AERE training this summer to write this summary of my experience in the RMC band.
By the book, my responsibilities as CWCM are to direct the training of the choir section, task choir members for participation in performances, and maintain the personnel records of the section, along with a long list of other things.
But that aside, usually our members are joining because they like to sing first. My primary duty as the choir master is to provide individual support to each member of the section so they can improve their skills. At the same time, the section improves as a result. To do this, I need to find what pieces or styles our members enjoy singing and help them improve so that they can apply what they have learned on the songs that we will be performing. For example, some members of the choir section often gather for a karaoke night because they like to sing popular music. Well, the time spent singing there has a direct impact on the way they are singing in the band after.
Following the same idea, my musical and military background is related to finding what I really want to do and always doing it better. When I first started learning music in high school, I was impressed by how well Frank Sinatra and Michael Bublé perform on stage. I started learning jazz and classic singing and also jazz and concert Alto saxophone. I did this for five years. At the same time I was an important asset to my cadet squadron band where I was drum major for two years. Since I was mastering my voice and instrument, I looked for more challenges, so I completed the Duke of Edinburgh's Silver Award and did my glider and power pilot course with air cadets. I left my squadron as a cadet Warrant Officer 1st Class, and recipient of the Lord Strathcona Medal, which is awarded to cadets in recognition of performance in physical and military training.
Now that I am at RMC I am still looking for new challenges, and always try to help others in areas that I'm good at. Looking for a challenge, I took on the role of planning and directing the most recent Concert in Scarlets and asked to be CWCM for this semester. The challenges at RMC are some of the more difficult that I've faced. I have to qualify this by saying it has to do with being at your best even when no one directly sees how you achieve the results. To explain this, just take the example of athletics. The choir members, as well as the band members, are expected to achieve high results on the physical fitness tests. On the other hand, to be able to perform well in the band, some might need to practice more then 20 or even 30 hours each month. This is the time that the majority of the Officer Cadets are spending on their personal physical training. Achieving this balance is very much a challenge, but no one ever sees this, and few appreciate how difficult it can be.
To be able to achieve, band members need to make sacrifices. Some of them might be spending a week of their summer leave to return early to the College and work with the Band, spending a weekend that would otherwise be free to do a parade or concert, or being present on each and every parade and ceremony involved in the Graduation in May. But, as I said previously, the reason why things always work out in the end is because the dedicated members of the bands do it because they like what they do, and they don't count how many hours they spend doing it.
Like MWO Kelly, past Sergeant Major at CMR St-Jean, once told me: "Be proud of what you are doing because sometimes you have to give yourself the pat on the back."
The RMC Band would like to thank Brad Lowe and Steve McQuaid from the CFB Kingston Base Photo section for their excellent work showcasing our musicians in action.
__________________________________________

FLASHBACK… Copper Sunday 1971
8836 Drum Major Clark Little (RMC 1971) leads the RMCC band and the wing back to the College on Copper Sunday 1971
The photo appears in `To serve Canada: a history of the Royal Military College since the Second World War` by Richard Arthur Preston. (available at the RMC Gift Shop)
Researched by E3161 Victoria Edwards (RMC 2003)