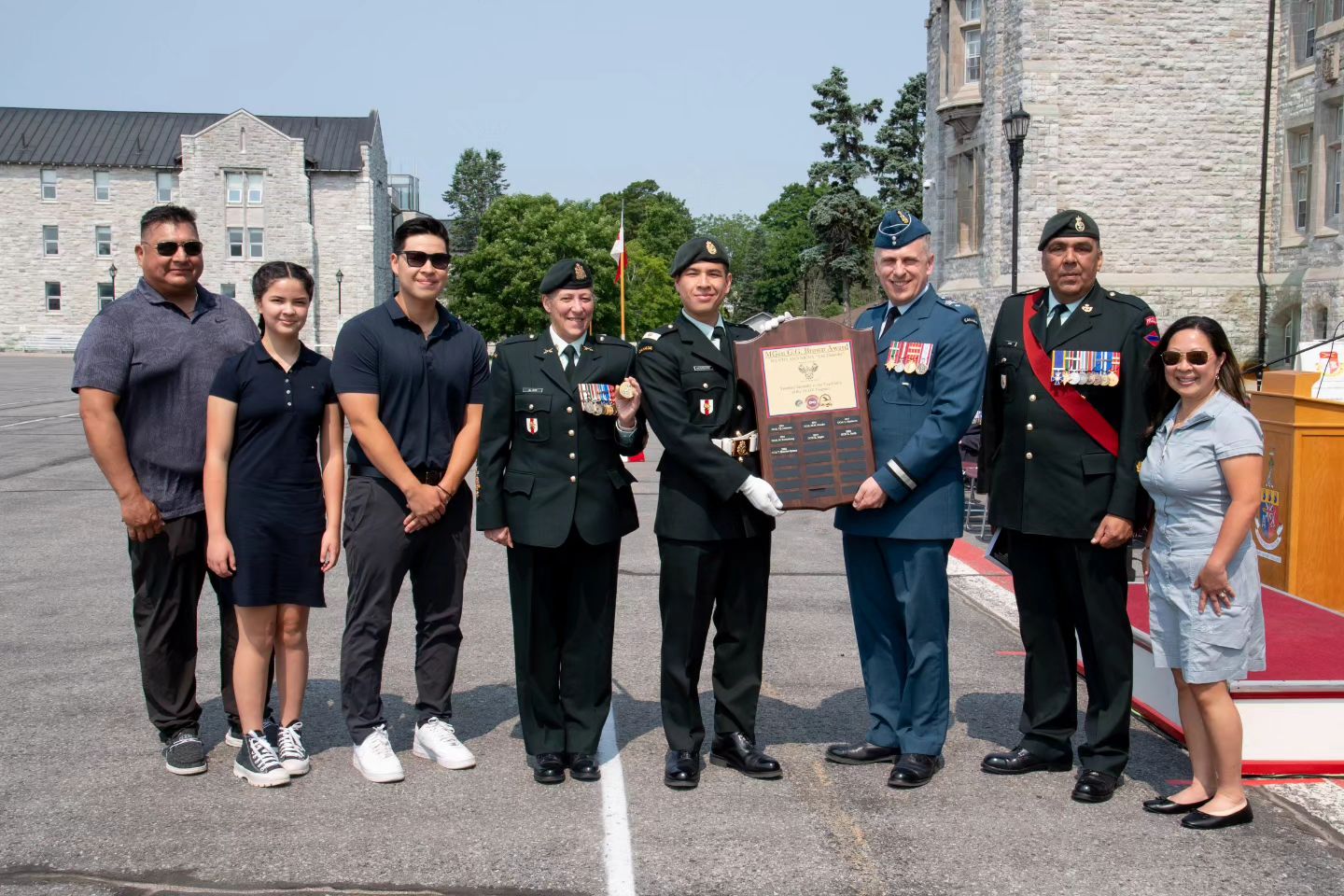 On June 21  we commemorated #NationalIndigenousPeoplesDay at RMC, this day also marks the completion of the year long Indigenous Leadership Opportunity Year program, which means we also get to celebrate the students' success! This year all the graduates have chosen to continue their careers at a Canadian Military College as future officers in the CAF.
Le 21 juin, nous avons commémoré la #JournéeNationaleDesPeuplesAutochtones au CMR, cette journée marque également la fin du Programme d'initiation au leadership à l'intention des Autochtones, qui dure un an, ce qui signifie que nous pouvons également célébrer la réussite des étudiants! Cette année, tous les diplômés ont choisi de poursuivre leur carrière dans un collège militaire canadien en tant que futurs officiers des FAC.
The ILOY program, created in 2008, provides a military education and learning opportunity for members of Indigenous communities across Canada. Approximately 100 RMC staff, Indigenous leaders, students, family and friends of the graduates attended the ceremony. The program is one of many created by the Canadian Armed Forces to support Indigenous communities in rural, urban and remote locations across Canada, according to the program from the ceremony. Indigenous students arrive on the campus in the late summer for the program and are exposed to the four cornerstones and pillars at RMC that a regular Officer-Cadet experiences including leadership, academics, military training and athletics.
The ILOY students also took part in many Indigenous activities including smudging, sharing circles, sweat lodge, fasting camps, sacred fires and attended three out of town powwows among other culturally-related activities.
ILOY Completion Ceremony Remarks by Brigadier-General Pascal Godbout, Commandant, Royal Military College of Canada
We are gathered on the traditional territory of the Anishinaabeg,
Haudenosaunee and Huron-Wendat People
Nous reconnaissons leur force et leur sagesse; leur gérance de la terre et de l'eau, des plantes, et des animaux.
Together let's commit to learning about, and learning with, Indigenous Peoples and honouring the nation-to-Nation relationships Canada continues to build with Indigenous Nations, d'un ocean à l'autre, et à l'autre.
I would like to thank our Elders, Bernard and Tammy Nelson, for being here today.
And welcome MWO Sheldon Quinn, Indigenous Advisor to the Comd CA
Distinguished guests, graduates, family and friends.
Thank you for joining us on this important day.
Merci de vous joindre à nous aujourd'hui pour cet événement important.
For our graduates, it is a pleasure to offer my congratulations to you on completing this Indigenous Leadership Opportunity Year.
While I did not have the opportunity to share this learning journey with you this year, I applaud your determination, enthusiasm, and the courage you have shown in leaving your home communities to seize this opportunity.
I came from a small town, knowing nothing of the military. And even though it was a long time ago, I still remember the trepidation I felt when I accepted to go to military college. I'm sure you each have your own unique memories of the day you signed up for ILOY, and I truly hope that you are happy with the choice you made.
I also want to extend my thanks to the parents, families, and community members who placed their trust in us this year. We have done our best to support these young adults in their journey – and the potential they have shown is truly inspiring.
Alors merci grandement à tous les parents, famille, et membres de chaque communauté qui nous ont confiés ces jeunes adultes pour un an. Nous avons fait de notre mieux pour les appuyer durant leur parcours, et le potentiel démontré est une inspiration.
Now, each of you are at a new crossroad, faced with decisions once again. I was delighted to learn that all 9 graduates have chosen to continue on at either RMC, here in Kingston, or at CMR Saint-Jean. I wish you all the very best on your respective journeys, and for those of you here in Kingston, I look forward to get to know you better.
And thank you for making the choice to continue to serve. Merci pour votre désir et volonté de continuer à servir notre pays.
Je voudrais remercier tout le personnel du CMR qui ont joué un rôle dans ce programme. Cette année, la classe a bénéficié de la participation de beaucoup d'experts qui méritent toute notre gratitude pour avoir partagé leur connaissances et sagesse.
I particularly would like to thank Tammy and Bernard Nelson, who provided teachings and spiritual care to the students throughout the year.
Our students learned about smudging, sharing circles and other important teachings and traditions.
Among many things, they experienced sweat lodge, and learned about Fasting camps.
They learned how to make a sacred fire, and attend the sacred fire when students were in need and how to attend when 4 students from RMC passed away.
They learned how to set up a tipi, have a pipe ceremony, and
some teachings/protocol when going through the loss of a loved one.
They learned how to sing some songs on the big drum, they received the creation story of how the drum came to be, and about protocol.
They also attended three powwows;
Georgian College in Barrie,
Mississauga of Toronto University, and
Nameres in Toronto.
They made their own hand drum; soaked their hides and babeesh, laced their drum together and tomorrow will be doing a birthing ceremony for them.
It is gratifying to see this cross-pollination between Indigenous cultures, and I hope it was an enriching experience for you, the graduates.
ILOY, and the other CAF programs for Indigenous communities Peoples, are a learning experience for us as well. Each year offers new experiences and insights to all of us here at RMC as to what we can bring to our work and share with others, and how to embrace diversity. We continue to make progress, but need to challenge ourselves in evolving our institution and culture.
Merci encore à nos candidats d'avoir entrepris ce grand défis, et à tous les parents, familles et amis qui se sont joint à nous aujourd'hui.
Thank you all once again for taking this journey, and congratulations on this significant achievement. This is just the beginning of a bright future, no matter what path you choose.
Miigwetch. Marsee. Nakurmiik. Ay-hay. Thank you.