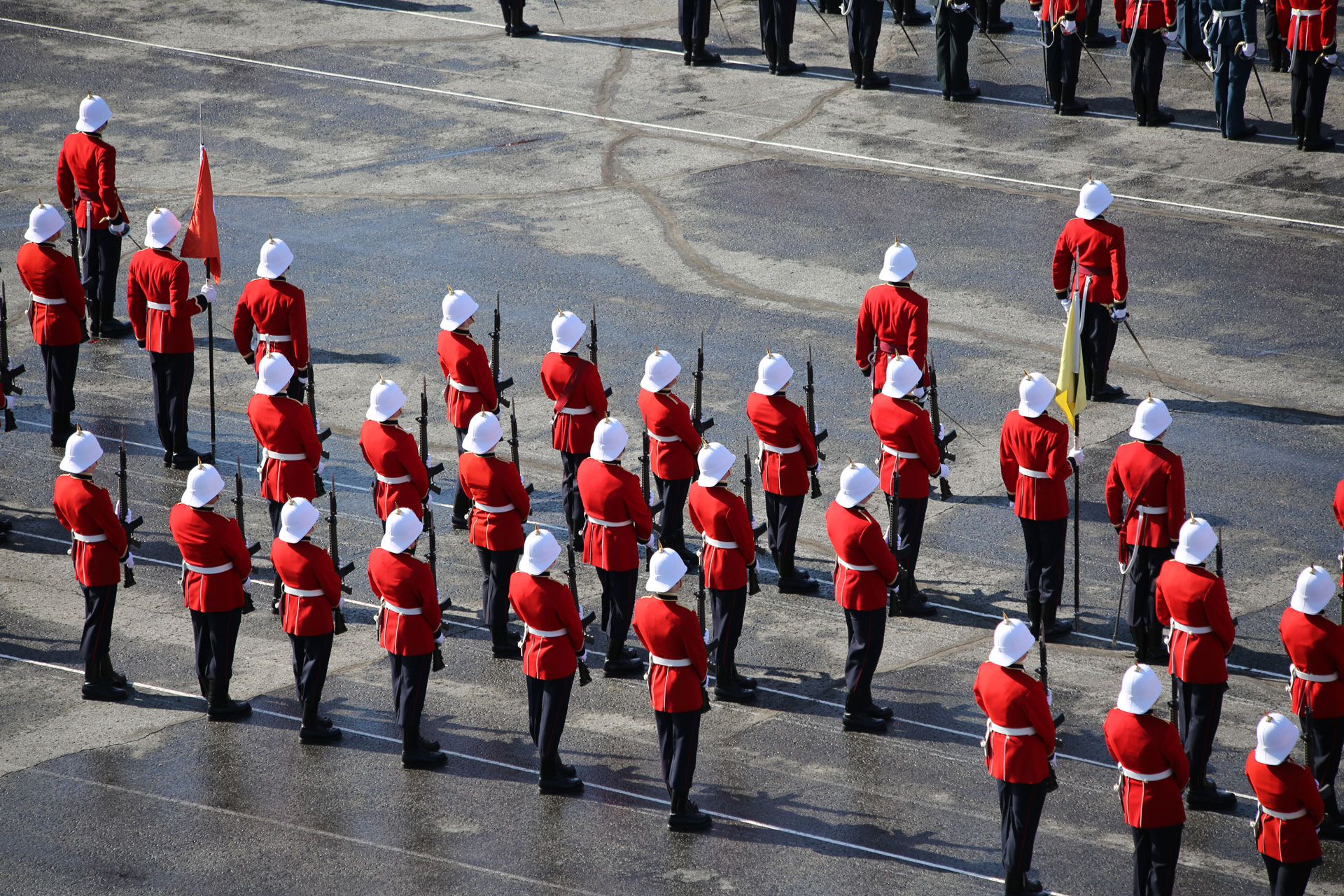 RMC AT THE 2009 IRONMAN COMPETITION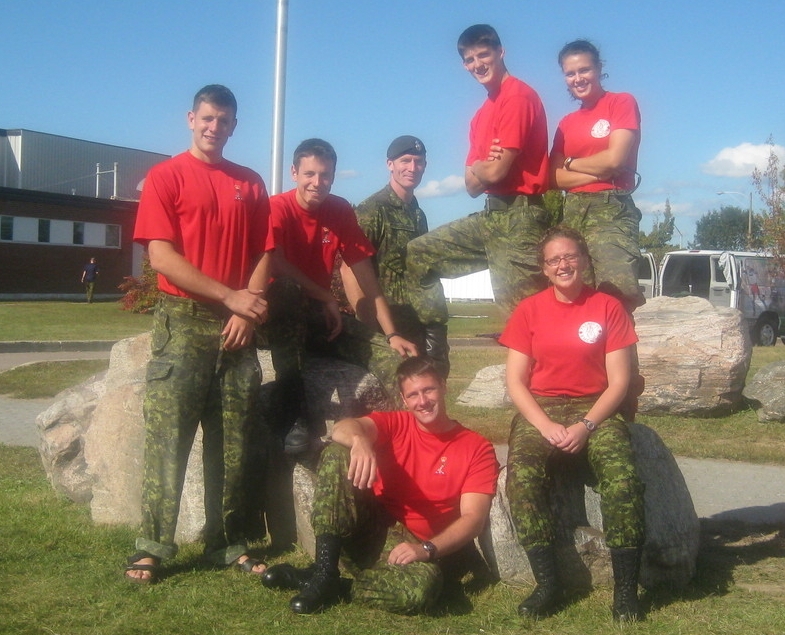 By 24610 OCdt Fenoulhet
It's 0155 in the morning and I can't sleep. My alarm will sound in five minutes telling me to get up, put on my combats and prepare myself for one of the most gruelling physical challenges the Canadian Forces has to offer. This challenge is the 2CMBG Ironman Competition held annually at the base in Petawawa. It has been a long road to Petawawa with four months of training under our belts so we should rewind and take into consideration the preparation that was put into competing in such an event.
A dedicated team was put together on RMC grounds by m0929 OCdt Geordie Cheeseman at the start of May. He has been an avid participator in not only the Ironman these past few years but also the Mountain Man when he was posted out west, all for a grand total of twelve races. After he advertised the forming of a team many showed interest and some showed up to some of the training practices but fewer still stuck with it to the end. These people were 24687 OCdt  Matthew Southcott, 24928  OCdt  Quenton Baldock, UTPNCM Shaun Goodfallow, and our two females 24593 OCdt Vanessa Chamberland and  22428 Capt. KristinTopping, a faculty member of the Department of Chemistry and Chemical Engineering.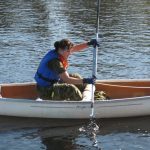 At the beginning of May we kicked things off with a simple run. No rucksacks, no boots, just a simple five kilometre run through the PMQs up Fort Henry Hill and back to the parade square, nothing to it. Now just add a rucksack and do it again, shouldn't be a problem. Five in the morning, rucksack strapped to your back and awaiting the inevitable pounding of pavement could make anyone reconsider what they had gotten themselves into. All that fell away though after you completed your runs. That runner's high that could only belong to people willing to subject themselves to kilometres upon kilometres of trail. A lot of us members had not canoed either so OCdt Cheeseman began showing us the ropes (literally) to tie onto our canoes and carry them on our heads before launching them out behind the Stone Frigate. And so the five a.m. "canoe-heads" were born which only the early birds of RMC could witness and who must have surely thought, "Wow, what a completely sane group of individuals."
All of this forced torture did have a point and we tried to never lose focus of our ultimate goal of running the Ironman. This was no easy task as it entailed a ruck run of thirty-two kilometres, a four kilometre portage of the canoes, eight kilometres paddling this canoe down the Ottawa River and a final six kilometre ruck run to test our determination all the way to the finish line. A grand total of fifty kilometres of course, a daunting assignment but as a confident, well-prepared team we were not discouraged. Three team members remained at the college during the summer doing either the engineering decompression program (OCdt Southcott and OCdt Fenoulhet), or teaching at the school in the case of Capt. Topping. The others headed off for their various summer training in Gagetown or Valcartier.
Late August the team was reunited and more than ready to embark on our journey to Petawawa. Heading out on the Tuesday night of September 15th an excitedly anxious group contemplated the race to come. Preparations were carried out the next day beginning with a briefing by the 2CMBG Commander and followed by canoe prep and rucksack weigh-in, everyone was going to be carrying forty pounds of weight the next morning.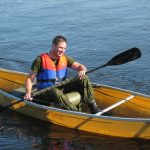 Now we're back to 0155 in the morning, alarms go off and the team emerges from their respective rooms but there is something strange about them all. No one seems groggy or tired as anyone getting up at two in the morning would have the right to be. No, everyone seems ready and in good spirits about having finally reached this moment. It is quite the feeling working towards something for so long and having to lay it all out on the line in one culminating event. Standing at the starting line in pitch black, surrounded by a sea of glow sticks on the rucks of two-hundred and fifty-six participants only one word has been aptly used to describe the feeling: surreal.
The crack of the gun sounds; two hundred music players are pressed into life and the first of many steps are taken to bring us back to this very spot some seven hours or so later. Down the gravel roads, led by some of the most physically fit soldiers you will ever meet in your life, the first couple of hours of the race go by surprisingly quickly. The sun begins to come out and you are finally able to see your surroundings, trees to both sides and your path shooting off towards the horizon. This type of endurance run leaves a competitor with only his thoughts and the occasional song for distraction, each with their own respective way of conquering the sense of tediousness that may certainly arise. "One moment which clearly stands out in my mind is passing a destroyed tank in a flat, empty area of the training grounds – an oddly picturesque moment in the midst of such a demanding course," recalls Fenoulhet. On this course a large red tower is a landmark that signifies the end of the run and beginning of the portage. Just when we all believed that we would never make it to this elusive location a large red rectangular shape materialized out of the fog. A brief moment of accomplishment engulfs us and is quickly ripped away, replaced by a large hunk of metal placed upon our backs. The portage is agreed upon by many to be the most gruelling and mentally tough portions of the race. After finishing you come out to a small sand bar and welcomingly lay your canoe down on the shore, grab a Gatorade and something to eat from the waypoint and jut yourself into the fog covered river. Sticking to the coast line on your right as best as you can, you force your fatigued body into paddling the eight necessary kilometres to the other shoreline. Running the canoe onto the sand you strap your ruck back on to the cheers of encouragement from OCdt Cheeseman, who unfortunately could not participate due to injury, but has nevertheless followed you the entire length of the course in support. Now for the final six kilometres, most people begin to enter the 'zone' knowing what needs to be done and that the end is near. Each transition embedded into the event seems to spring new life to its participants. Coming down the last hundred metres of road to the finish, lined with cheering spectators and played in by bagpipes is hard to describe. Exhaustion fades, your legs are strong again and you practically sprint across that final milestone ecstatic about making this goal a reality.
All who finish this race deserve this feeling of accomplishment and it truly is a competition between the participant and the race itself. However special mention must be given to OCdt Vanessa Chamberland who was the third female overall to cross that finish line and awarded so during the ceremonies following the event. RMC also had four of their six members place in the top fifty (or top twenty percent) in the standings, an impressive achievement. An amazing day was capped off with the awards and the handing out of personalized 2CMBG Ironman Competition coins. All were glad that they had pushed themselves to enter and more impressively finish this competition. Who knows maybe one day all of us will be able to display our collection of twelve or so coins to amazed friends and family. Meanwhile the team is going to get some much needed and much deserved rest.    Until next year.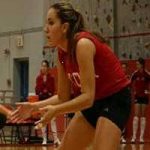 SPECIAL MENTION: We received word that at least one ex cadet had an outstanding result. 23692 Leah Sherriff nee West (RMC 2007) finish 11th overall out of 217 total competitors – including men & women.  Leah is a former captain of the RMC (W) volleyball team and a 2007 recipient of the H.R.H. Prince of Wales Cup for her excellence in all four components throughout her RMC years.
Leah's overall time of  6:32:14 placed her second overall in the female category only 3 minutes and 3 seconds behind the first place female.
There were likely other ex cadets in the competition, however, time restraints did not permit us to pick them out. Log on to the Complete Results Here
If you happen to notice other ex cadets – help us out and leave a comment below.
___________________________________________________________

OTTAWA ARMY RUN
Eight bus loads of RMC cadets made their way to the Army Run in Ottawa this past Sunday to represent the college in 5km and 21km races. The event is designed to link the Canadian civilian population with the Canadian military soldiers and families, with a special emphasis towards the Soldier-On program. This program focuses on supporting military members who have been injured over-seas.
With over 11 000 participants this year, the members of the college were against some very fierce competition. However, with help from the All-Star RMC Running Team, RMC was able to secure three 1st place awards in the team category (Open Men 5km Team, Military Men 5km Team, Military Women 5km Team) and several other top 3 positions. Additionally, our runners ranked in the top 25 in the 5km and top 200 in the 21km event.   Congratulations to all.   For Results Go Here