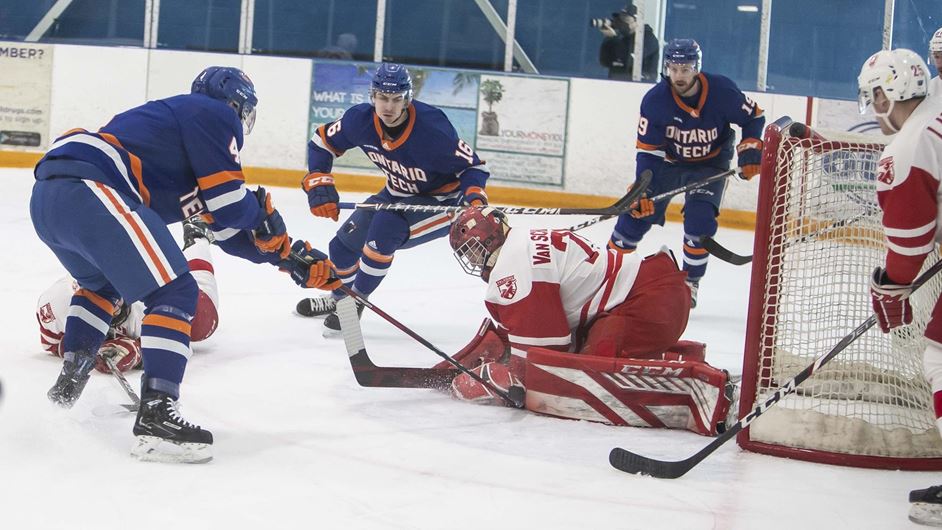 Article submitted by Peter Reimer Sport and Promotions Coordinator, RMC
The RMC Paladins won their final game of the 2021-22 season on the road Saturday afternoon, when they visited the Ontario Tech Ridgebacks and left with a 3-1 result.
No goals were scored during the opening 20 minutes in Oshawa. With RMC being outshot 15-6, Paladins goalie Brad Van Schubert was a big reason why the teams remained scoreless heading into the first intermission.  Read more and view video highlights here.
Great defence from Mitch Larabie in the 3rd period!
//
Superbe défense de Mitch Larabie en 3e période! pic.twitter.com/o4YnrWBlUd

— RMC Paladins CMR (@RMCPaladins) March 12, 2022
---
Les Paladins ont dominé les Ridgebacks 9-5 au chapitre des tirs en deuxième période.
Le troisième vingt s'est déroulé un peu comme la période initiale alors qu'Ontario Tech a dominé les tirs 17-7, mais Van Schubert a été solide devant la cage des Paladins. Les équipes ont écopé de trois punitions chacune au cours de cette période alors que la robustesse s'est mise de la partie. Ontario Tech a même profité d'une situation à cinq contre trois, mais n'a pas été en mesure de marquer.