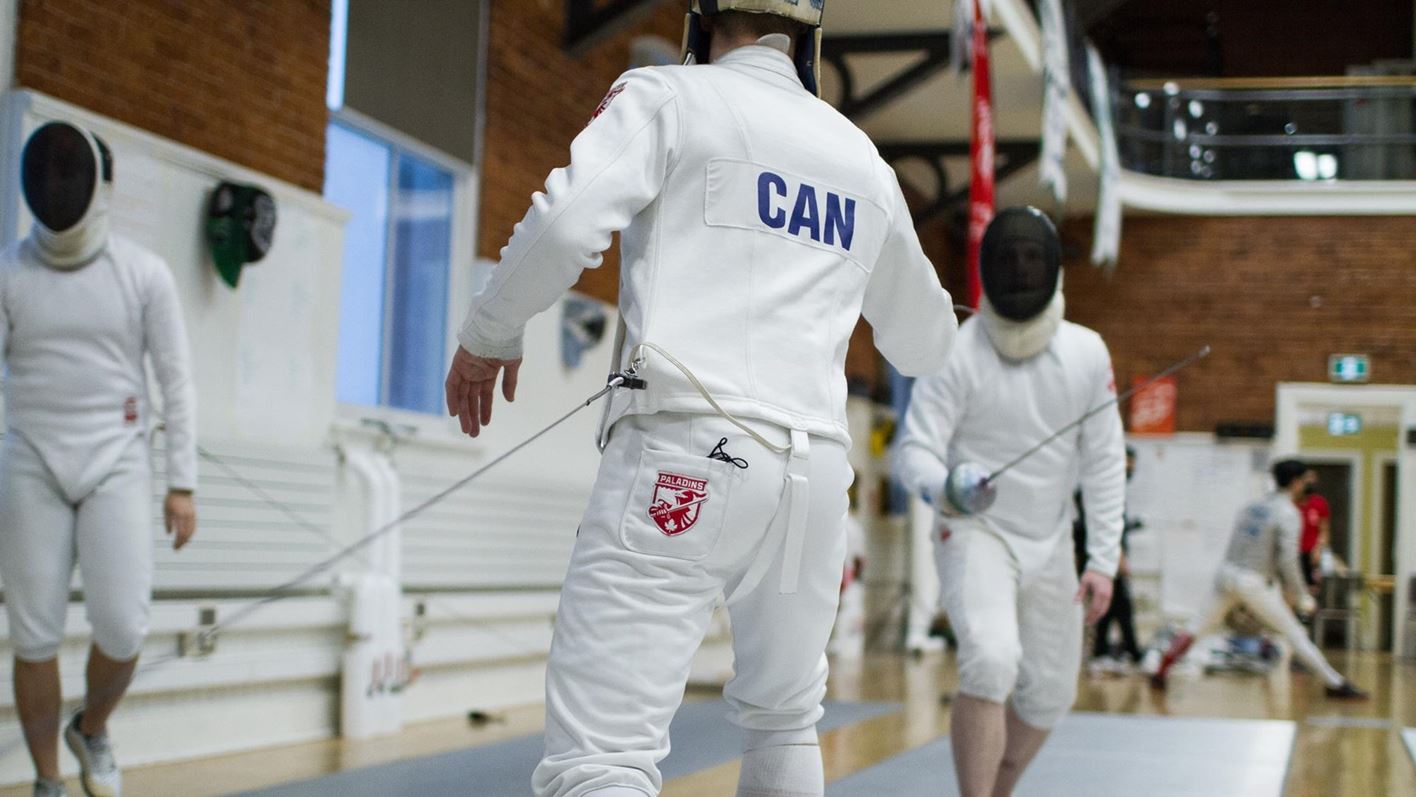 Article shared by Peter Reimer, Sports Information and Promotions Coordinator, RMC 
The RMC Paladins sent a contingent to the Ontario Fencing Association's provincial championships in Toronto over the weekend.
While the women competed at the OUA Championships last weekend, which RMC hosted, this weekend represented the first competition in over two years for the men's team.
Complete results: fencingontario.ca/provincials/2022/opc/
It was a tough weekend for the Paladins across the board, as they competed against the top talent in the province.
The top result of the championship for RMC went to John Yoon, who was the only fencer to break the top 10 in the senior category. Andrew Hu made it to the quarterfinals to finish 6th in Junior Men's Epee.
Danielle Burghgraef, who has been serving as an assistant coach to Patricia Howes this year, earned a bronze medal in Senior Women's Sabre. Burghgraef also fences for Howes in the CISM program.
The men's squad will be back in action April 2-3 when they travel to Brock for their OUA Fencing Championship.
Junior Men's Epee // Épée junior des hommes
6 – Andrew Hu
20 – Daniil Makarenko
Junior Women's Epee // Épée junior des femmes
11 – Trinity Armstrong
Senior Men's Foil // Fleuret senior des hommes
24 – Andrew Willison
47 – Ethan MacMillan
51 – Keegan Pike
Senior Women's Foil // Fleuret senior des femmes
14 – Amy Xiao Fan Wang
19 – Stephanie Leach
Senior Men's Epee // Épée senior des hommes
14 – Andrew Hu
15 – Daniil Makarenko
30 – DJ Holtz
39 – Scott Gauthier
44 – Joshua Vessey
Senior Women's Epee // Épée senior des femmes
15 – Joanna Kasprzak
19 – Melissa Purdie
21 – Trinity Armstrong
22 – Shania Sampson
28 – Ruby Ernest
Senior Men's Sabre // Sabre senior des hommes
9 – John Hyung Sub Yoon
12 – Clevanne Caday
15 – Jarrod Daunheimer
18 – Jeremy Albert
Senior Women's Sabre // Sabre senior des femmes
12 – Nikhita Antil
16 – Noah Lee
---
Les Paladins du CMR a étaient représentés par une délégation aux championnats provinciaux de l'Association d'escrime de l'Ontario à Toronto au cours de le fin de semaine.
Alors que les femmes ont participé aux Championnats de SUO la semaine dernière dans les installations du CMR, cette fin de semaine marquait la première compétition de l'équipe masculine en plus de deux ans.
Résultats complets : fencingontario.ca/provincials/2022/opc/
Ce fut une compétition difficile pour tous les représentants des Paladins alors qu'ils affrontaient les meilleurs talents de la province.
John Yoon a réalisé le meilleur résultat des championnats pour le CMR, étant le seul membre de l'équipe à réaliser un résultat parmi les 10 meilleurs dans la catégorie senior. Andrew Hu atteint les quarts de finale pour terminer au sixième rang de l'épreuve de l'épée masculine de catégorie junior.
Danielle Burghgraef, qui a été l'entraîneur adjoint de Patricia Howes cette année a décroché une médaille de bronze au sabre féminin chez les seniors. Burghgraef évolue aussi sous les ordres de Howes au sein du programme du CISM.
L'équipe masculine sera de retour en action les 2 et 3 avril alors qu'ils se rendront à l'Université Brock pour participer aux Championnats de SUO.