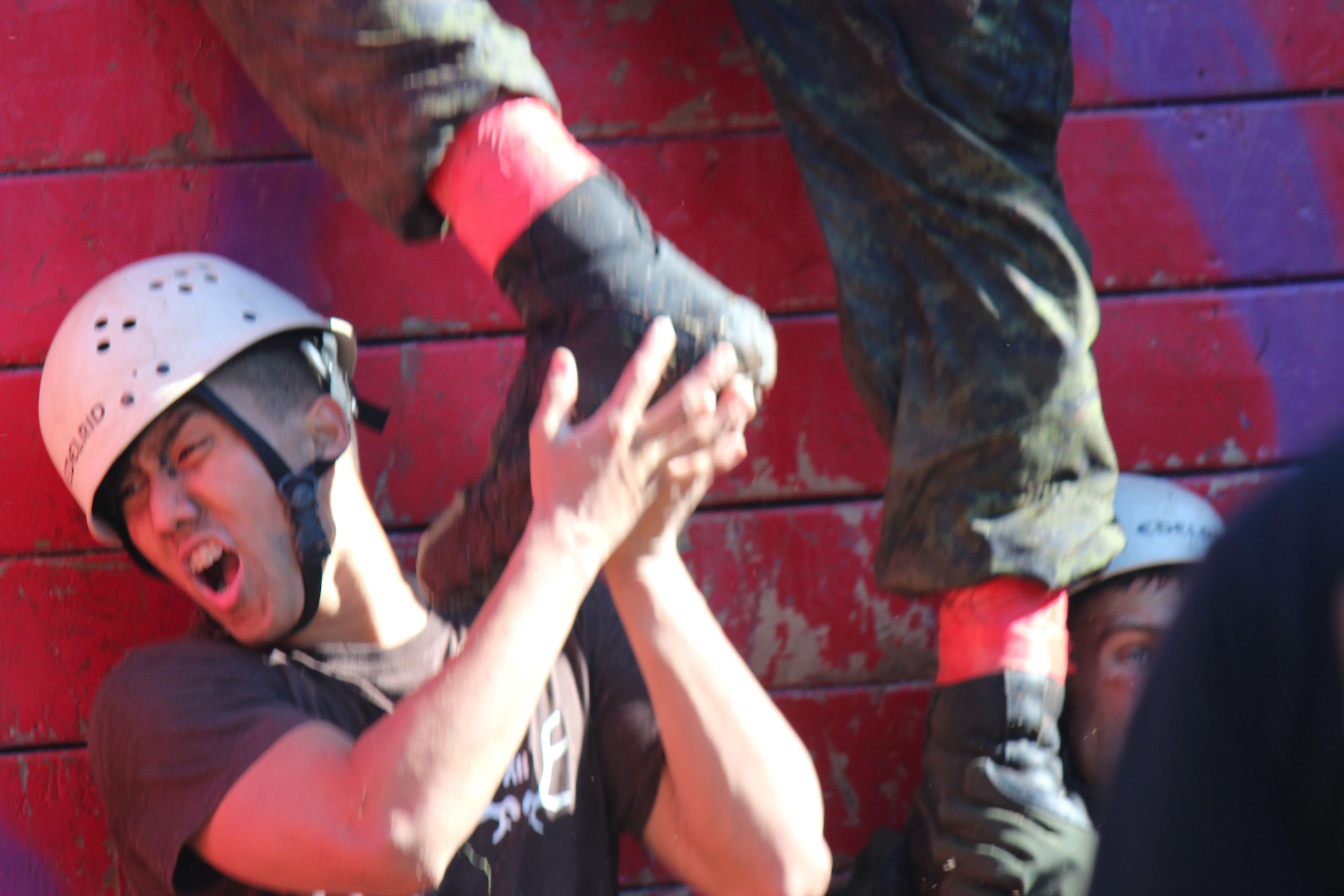 Thursday 15 September 2022- RMC Alumni Association Legacy Dinner Cancelled
Friday 16 September 2022
Wing Parade – 1300 hrs
RMC Obstacle Course (Staggered start) – 1300 hrs – 1900 hrs
Class Parties – 1800 -2200 hrs
Saturday 17 September 2022
Badging Parade – 1000- 1200 hrs
Wall of Honour Ceremony – 1300 -1500 hrs – The Wall of Honour ceremony recognizes former officer cadets and other distinguished individuals associated with the Canadian Military Colleges for outstanding achievements and contributions to Canada and the world. There will be a total of six (6) Honourees this year for whom a plaque a will be unveiled at the Wall of Honour located on Vérité Drive at RMC.  Two of them will be present.  They are: 9884 Lieutenant-Colonel Robert Douglas Banks (selected in 2020) of Barrie, Ontario, and 11721 Honourary Colonel Lawrence Stevenson (selected in 2021) of Toronto, Ontario.  Others being honoured include the late 14491 Karen Ritchie (selected in 2020) and 2184 Rear-Admiral Desmond William Piers (selected in 2021).  Previously announced in March are: 2759 Honourary Lieutenant-Colonel Sir Jean-Charles Forbes and 2897 Major-General Herbert Chelsey Pitts.
Alumni Sports Challenge – 1400 – 1700hrs (Register Here)
Men's/Women's Soccer
Men's/Women's Volleyball
Hockey
Rugby
Sailing
Running Club
Pistol Shoot –CFB Kingston Range
Alumni Rugby Game – 1330 hrs
RMC Alumni Association Tailgate Party – 1400 hrs – 1900hrs
Old Brigade Dinner 1800 for 1830 hrs (Register Here)
We are partnering with Canadian Forces Morale and Welfare Services to bring you the ultimate Tailgate Party.  We will share more details in the next issue of eVeritas, so please stay tuned for an exciting announcement. 
Sunday 18 September 2022
Pre-Parade Assembly Panet House – 0930 hrs
Memorial Arch Parade – 1000 hrs
---
HORAIRE PROVISOIRE DE LA FIN DE SEMAINE DES ANCIENS 2022
Jeudi 15 septembre 2022 – Annulé – dîner Héritage de l'Association des ancien(ne)s des CMR
Vendredi 16 septembre 2022
Défilé des escadres – 13 h
Course à obstacles du CMR (départ décalé) – 13 h à 19 h
Soirée festive – 18 h à 22 h
Samedi 17 septembre 2022
Cérémonie de remise des insignes – 10 h à 12 h
Cérémonie du Mur d'honneur – 13 h à 15 h – La cérémonie du Mur d'honneur reconnaît d'anciens élèves-officiers et d'autres personnalités distinguées associées aux Collèges militaires canadiens pour leurs réalisations et leurs contributions exceptionnelles au Canada et au monde. Il y aura un total de six (6) lauréats cette année pour lesquels une plaque sera dévoilée au Mur d'honneur situé sur Vérité Drive au CMR. Deux d'entre eux seront présents. Ce sont : 9884 Lieutenant-colonel Robert Douglas Banks (sélectionné en 2020) de Barrie, Ontario, et 11721 Colonel honoraire Lawrence Stevenson (sélectionné en 2021) de Toronto, Ontario. Parmi les autres honorés, citons feu 14491 Karen Ritchie (sélectionnée en 2020) et 2184 contre-amiral Desmond William Piers (sélectionné en 2021). Précédemment annoncés en mars : 2759 Lieutenant-colonel honoraire Sir Jean-Charles Forbes et 2897 Major-général Herbert Chelsey Pitts.
Défi sportif des anciens – 14 h à 17 h (inscrivez-vous ici)
Soccer masculin et féminin
Volleyball masculin et féminin
Hockey
Rugby
Voile
Club de course
Tir au pistolet – Club de tir de la BFC Kingston
Match de rugby des anciens – 13 h 30
Fête d'avant-match de l'Association des ancien(ne)s des CMR – 14 h à 19 h
Souper de la Vieille brigade – 18 h pour 18 h 30 (inscrivez-vous ici)
Nous nous associons aux Services de bien-être et moral des Forces canadiennes pour vous offrir l'ultime Tailgate Party. Nous partagerons plus de détails dans le prochain numéro d'eVeritas, alors restez à l'écoute pour une annonce passionnante.
Dimanche 18 septembre 2022
Rassemblement à la maison Panet avant le défilé – 9 h 30
Défilé de l'Arche commémorative – 10 h