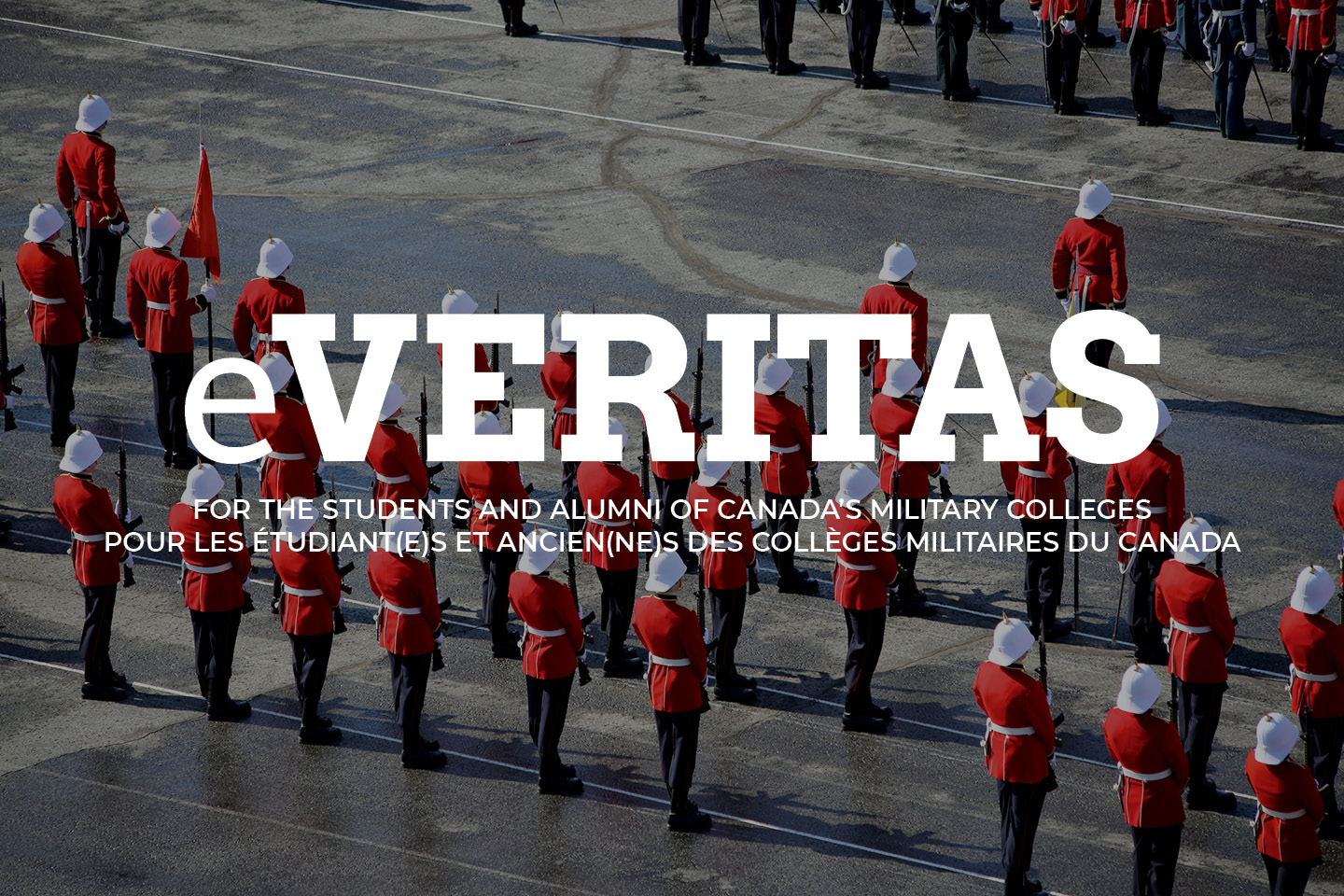 Photos by Curtis Maynard – Click for better viewing
Guard of Honour – Rick Mercer & MND – Back-to-Back
By: WJO & 26659 OCdt (II) Danielle Andela
This past Thursday (15 May) saw a contingent of Officer Cadets of the Royal Military College of Canada formed up with rifles to greet the The Honourable Robert Nicholson, Minister of National Defence who was visiting the college in his role as Chancellor of RMCC to preside over the Convocation later that day.
The MND arrived shortly before noon but before his arrival the Guard of Honour was visited by a less expected guest. Moving through the ranks informally and shaking every hand was none other than Rick Mercer, host of the Rick Mercer Report. Mr Mercer was to receive an Honourary Degree later that afternoon. After his departure the GoH steadied up and waited for MND who arrived on schedule.
Following a quick walk through the ranks by the Minister and the usual words of welcome by the commandant, BGen Meinzinger, the GoH was dismissed and continued with their commissioning parade practice, on the parade square. Little did they know at that time that in less than 24 hours they would be on parade – not on the parade square but in the Field House.
More photos from the GoH – Here
***
Royal Military College of Canada: 99th Convocation Ceremony
By: WJO
On Thursday, May 15th Royal Military College of Canada celebrated the achievements of graduates and welcomed their families and friends to the 99th Convocation in the history of the college.
Spring Convocation 2014 also marked a special milestone for three key players from the main stage: Minister of National Defence and RMCC Chancellor, Honourable Robert Nicholson; BGen Al Meinzinger in his dual role as Vice Chancellor & Commandant; and Principal, Dr. Harry Kowal all were participating for the very first time in their official roles.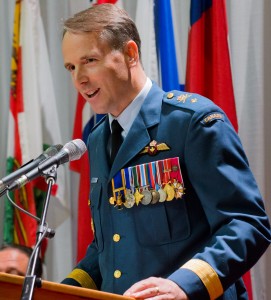 BGen Meinzinger provided the lead address at this 99th convocation ceremony.
"As we all look at the world of today, we note that the level of volatility,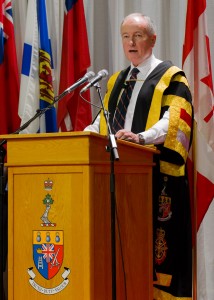 uncertainty, complexity and ambiguity has risen within the operating environment and will likely remain so."
The 29 year veteran of the CAF added: "As such, it is clear that the RMC mission remains extremely relevant today as it is essential that we continue to develop strong, 'plug and play' military officers who are fit, intellectually agile, and, when called upon, are able to lead in this non-traditional and more demanding operational milieu."
Minister of National Defence, Honourable Robert Nicholson was visiting the college for the first time, in his role as the Chancellor.  The official duties of the Chancellor include conferring of degrees at convocation.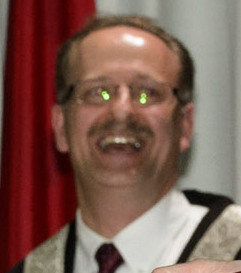 What a difference a year can make! Last year at this time and at the graduation ceremonies, 14458 BGen Harry Kowal was a guest and a mere one year later he stood proudly as RMC's Principal. He was installed as the College Principal just under six months ago – to be precise, 22 November 2013.
This year, the 1984 RMCC graduate played a major role during the convocation ceremony. He did it with class, dignity and what he demonstrated during his 33 year military career – an outstanding level of professionalism.
To the graduating Class of 2014, Dr Kowal stated, "Graduates, I am confident that your RMC education will serve you well and will posture you for continued success for the future. I also know that this is just the beginning of a life-long journey with learning since continued education and professional development are instrumental to personal growth and key to understanding and adapting to the ever-changing global security environment."
In terms of advice, Dr Kowal stated, "Class of 2014, you are undoubtedly looking forward to the next chapter in your life and are eager to begin. I would offer though that today you should take time to celebrate the present, this success, and enjoy the moment. You have worked hard and you deserve it."
He thanked family and friends for their support, "Whether it was being there to listen when things weren't going particularly well or for the times you applauded, encouraged and celebrated their performance, there is no doubt that you have made a difference." He also recognized the faculty and staff for their hard work and dedication in preparing the graduates for the success of the day.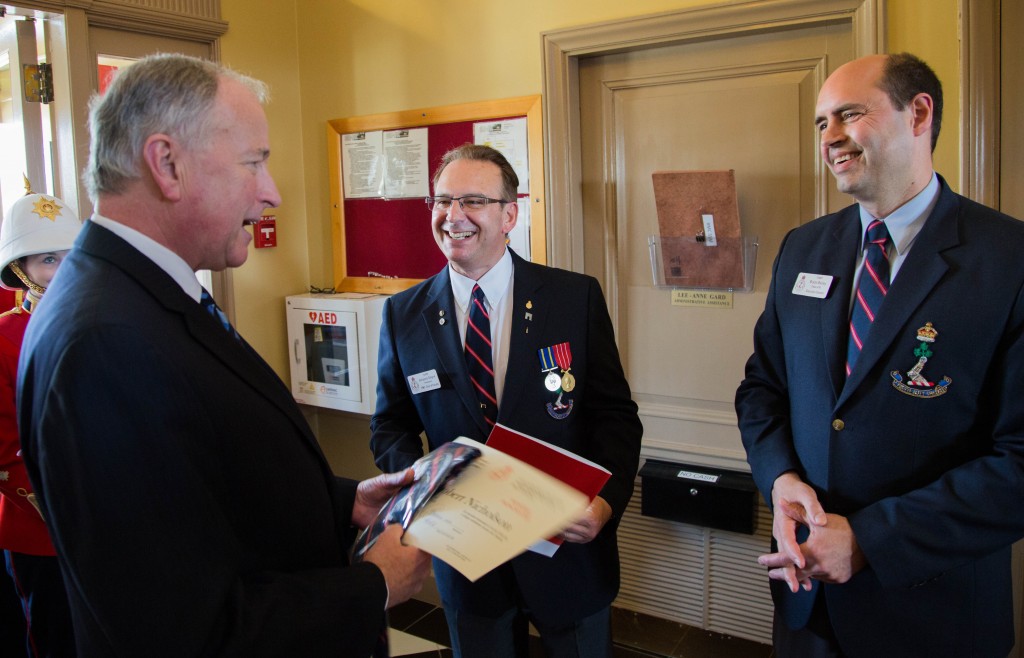 As previously mentioned,  over 300 degrees plus two Honourary Doctorates were conferred by Minister of National Defence Rob Nicholson. Earlier in the day, the Minister was presented with an RMC Club tie (which he proudly wore at the convocation) and an Honourary Club membership by president Jacques Gagne and Executive Director Bryan Bailey.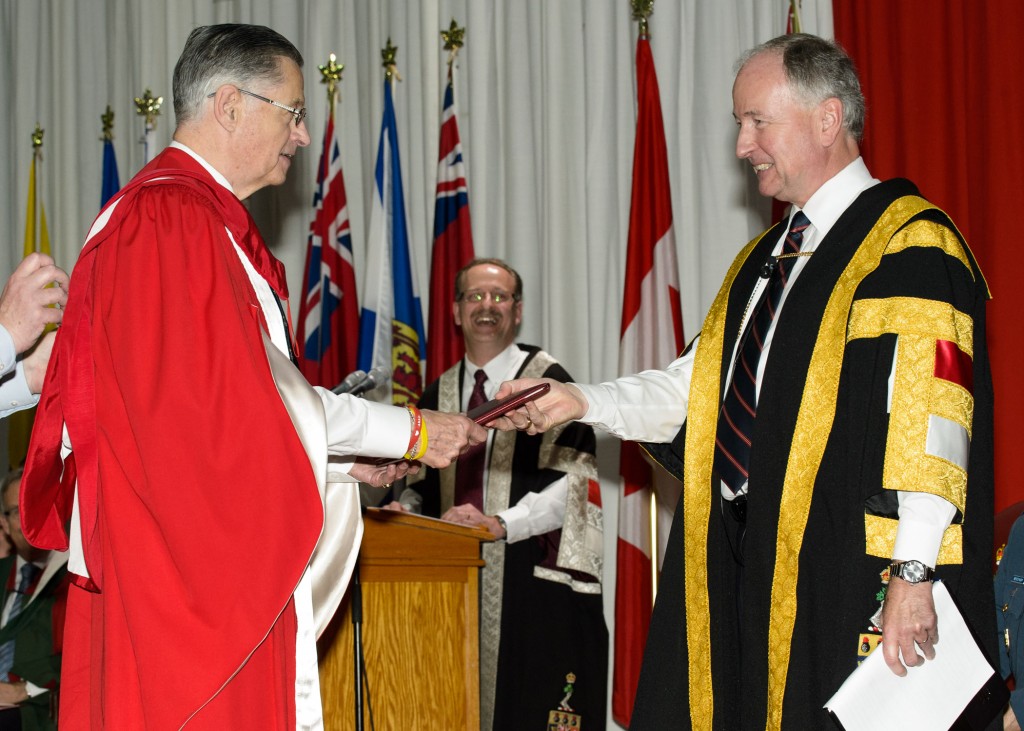 Retired colonel Arthur Harcourt Carington ("Harky") Smith, former RMCC Director of Administration (1983-86)  received a doctor of military sciences in honour of more than 60 years of military service. The much admired "Harky"  is still well connected with many of the cadets from that era in which he toiled at the college.
CBC television personality Rick Mercer received a doctor of laws for his charitable work and his contribution to Canadian television.
Dr. Kowal, presented the two Honourary Doctorate recipients to the Minister for their degrees and he announced all the prize and award winners as well. (Read full program below).
Rick Mercer addressed the graduating class of 2014 and to no one's disappointment he mixed humour with a reality message to the soon-to-be commissioned Canadian Armed Forces officers.
See Rick Mercer gets RMC honourary degree – CKWS TV short video.
More from the convocation – Twins sisters make the grade at RMC  & Kingston Whig article
Convocation photos courtesy of Brad Lowe – CFB Kingston photographer