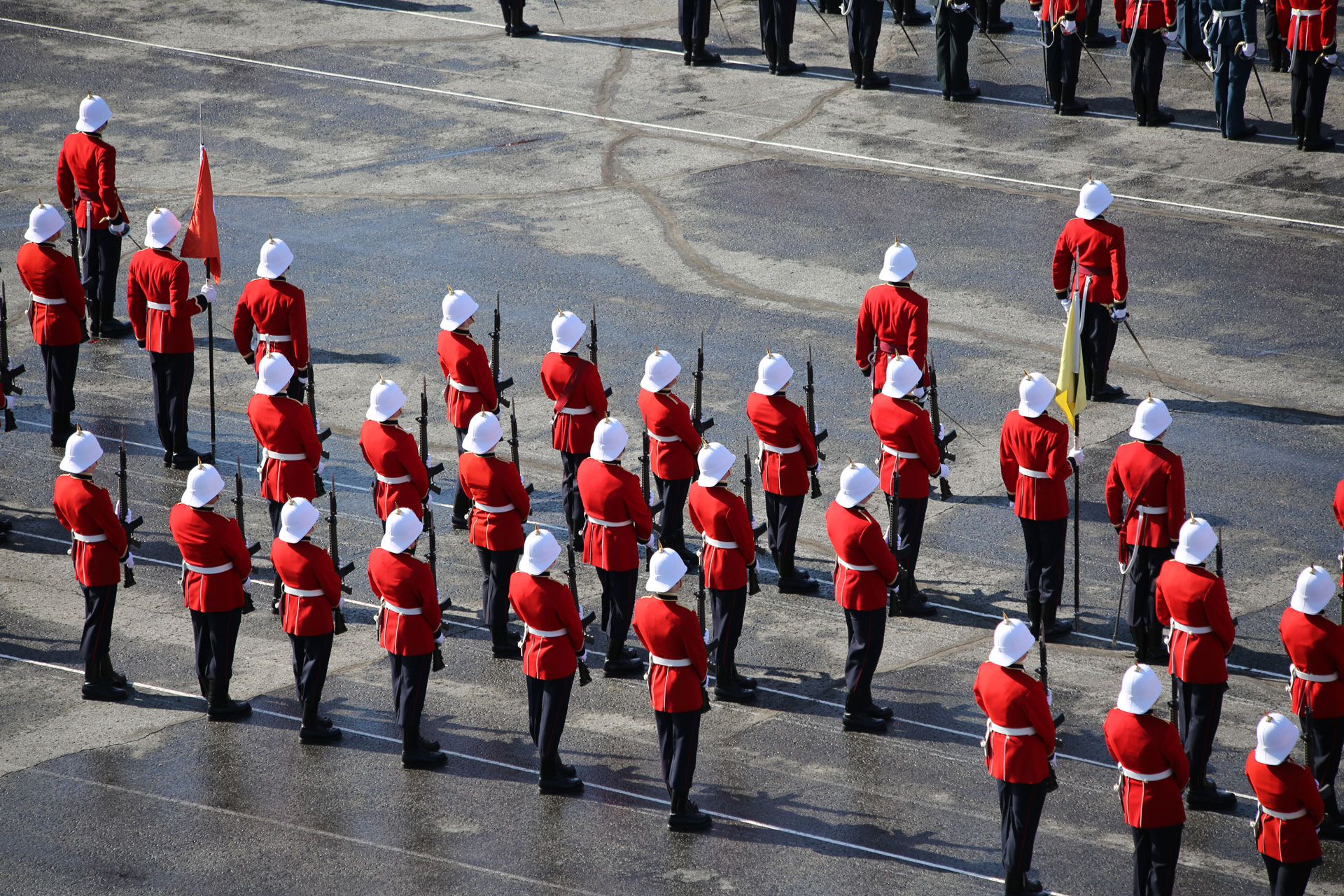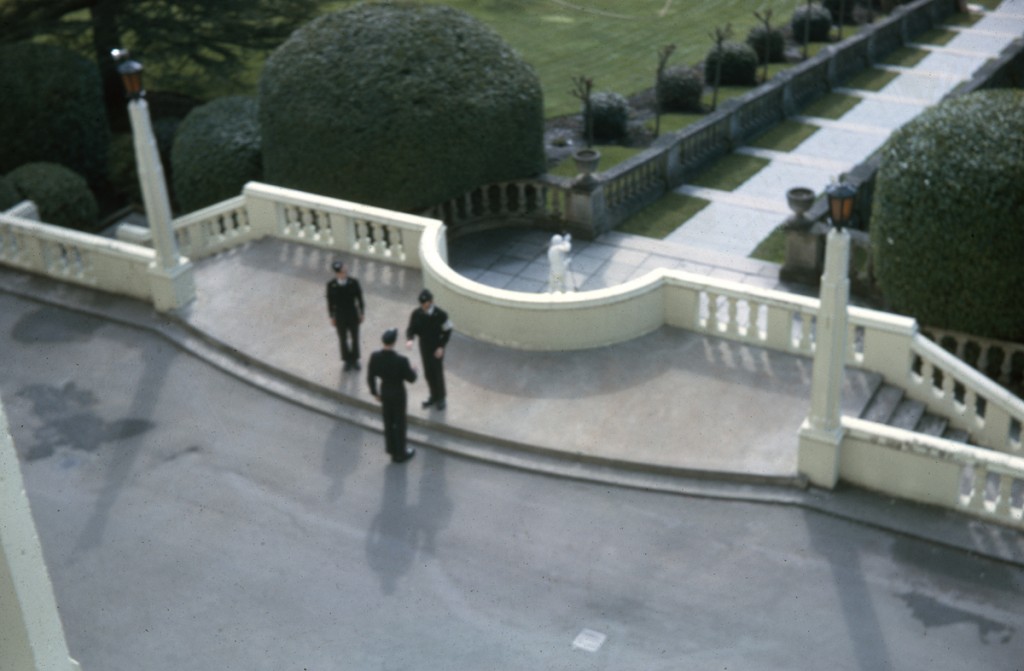 The photo is of a cadet giving a chit to the senior cadet to ask permission to run the circle (c. 1961-63)

.
Running Circles at Royal Roads
I was recently given a copy of the CADWINS (Cadet Wing Instructions) from 1965, and as one uninitiated to military life, I was completely astounded at the degree of precision there was to every aspect of cadet life at Royal Roads. I can't imagine what it was like to arrive here and be expected to learn all the rules and traditions almost overnight!
Reading the CADWINS really helped me understand daily life and routine at Royal Roads, and showed how every aspect of life was regimented – from the order of clothing hung in the cabin wardrobe – Cape, Raincoat, Jacket (recreational), Trousers (recreational), Tunic (Scarlet or blue), Trousers (blue), Jacket (battle dress), Trousers (battle dress) – to deportment and how to address each other.
In this article I wanted to share an excerpt from the CADWINS about running circles – which is something everyone I interviewed remembered well – and was unique to Royal Roads. During Homecoming Weekend in September we now have the Ceremonial Circle where the returning classes march around the circle led by bagpipes.
I've included a couple of stories about running the circle, and I'd love to hear if you have any additional anecdotes. Were circles run as punishment until the closing in 1995? Does anyone have a copy of the circle chit that was handed out?
Kind regards,
Karen Inkster
Alumni Relations Coordinator, Royal Roads University
(250) 391-2600 ext. 4405
From CADWINS 1965
SUMMARY CORRECTION – CIRCLES
5.24 Behaviour which is inconsistent with the Code of Service Discipline and College Orders, but does not appear to be an intentional breach or defiance of them, may be dealt with by Summary Correction which shall take the form of doubling around the Circle.
5.25 Authority to carry out Summary Correction shall be subject to the following maximum limits:
Cadet Wing Commander 5 circles
Deputy Cadet Wing Commander and 4 circles
Cadet Squadron Leaders
Cadet Flight Leaders 3 circles
Cadet Wing Warrant Officer 2 circles
(Slate of Honour)
Cadet Section Commanders 1 circle
5.26 Except as provided in Article 5.28, Summary Correction shall be carried out in the hours prescribed and within the 24 hour period in which it is ordered during the Recruit period. After the Recruit period Officer Cadets may accumulate circles during the week and run these off at one time. Officer Cadets with circles not run off by 1700 Saturday will be charged accordingly. The following times are authorized for this purpose:
(a) * 0615-0630 (Monday – Friday)
(b) 1300 (Saturday only)
(c) 2140-2200 (Monday – Friday)
* NOTE: This Parade will require a minimum of four Officer Cadets to sign the Circle Parade List and the Duty Cadet Squadron Adjutant will announce if this Parade will be held.
5.27 An officer Cadet who accumulates more than seven circles in a given 24 hour period will have the eighth and subsequent circles converted to a charge.
5.28 An Officer Cadet who is prevented by duty, punishment routine or on medical grounds from running circles awarded shall run them off upon his return to normal duty.
5.29 Dress for the running of circles shall be as follows:
(a) No. 7 dress – black runners.
(b) Blue denim trousers – singlet – turtleneck sweater and black runners in cold weather.
(c) Raincoats as necessary.
The Duty Cadet Squadron Adjutant shall order the wet or cold weather dress for circles.
5.30 Cadet Officers and Cadet Section Commanders, ordering circles, will give the names to the Duty Cadet Squadron Adjutant who will be responsible for checking attendance. After the Recruit Period, the supervision of circles will be the responsibility of the Duty Cadet Squadron Adjutant and the Cadet Section Commanders from the Duty Flight.
5.31 An Officer Cadet shall have the right to refuse Summary Correction and request that he be dealt with formally, in accordance with the procedure set out in Articles 5.33 – 5.35.
5.32 A record of circles is to be kept in the Circle Book provided for each Squadron by Cadet Squadron Adjutants. Circle Books, with completed entries up to and including the previous Friday, will be submitted to the Wing Office by Stand Easy Monday morning.
Memories of the Circle
Larry Hamilton, 4912 (RRMC 1956-58, RMC 1958-60): Well the circle, as you're probably aware, was a form of minor punishment that was dealt out by the seniors to the juniors for having "froust" or dust on your clothes or having an improper haircut or a sprung "spiffy" – a "spiffy" was a wire device used to keep the collar of your shirt straight and there were little prongs that were stuck into the collar and they would jump out and that was known as "sprung spiffy" and that was worth a circle or three. And in regards to the circle…after I'd been here about six weeks, one Sunday morning on parade, Captain Charles noticed that I hadn't got a haircut that week and he just said: "Haircut" and the person behind him said: "Four days defaulters" and so that was extra parades and punishment. And in the process of those four days defaulters I acquired a fifth day and in the process of those five days I acquired 52 circles.
So one Sunday afternoon I thought I'd just bite the bullet and go out and run those 52 circles. So the good news was that on the weekend you could use gym gear rather than your boots and uniform to run. The bad news was that you had to give an eyes right to the visitors – every time you passed a visitor you had to drop your hands to your side at attention and turn your head to the right or left to look at the visitor. And some of the visitors stayed there forever on the circles, parked in cars or whatever. And around and around I went and after a while I guess some of the visitors got quite concerned about this, this lad that seemed to be out there forever, just going round 13 circles completed, 27 circles completed. So they went into the castle here and summoned up the duty officer and said, "What is going on with this lad – why are you treating him like this?" He said "Well that's the way things are done around here" and they said "Well we think you should probably look into this because he's not looking so good."
And so they phoned the Grant Block, the cadet duty officer, and said, "Go check him out." And so they came and they said, "How are you?" And I thought, now this is a wonderful opportunity to perhaps get even with these buggers and so I said, "Well I'm fine, I'm fine, I've got a bit of a headache and a pain in my chest and my left arm's a bit numb but other than that I feel fine." So he said, "Oh okay", and so went back and told the duty officer and the duty officer said "You asshole – he's having a heart attack out there!" So the duty officer came out and he was running beside me and said "You must stop!" and I said "Well I cannot stop because I was asked to run 52 circles and I must run the 52 circles" and he said, "Well how are you feeling?" And I said, "Well I'm fine, I've got a bit of a headache and pain in my chest and my left arm's a bit numb but other than that I'm fine." And he said "You're having a heart attack" and I said, "Well perhaps but we'll manage." So they all got quite concerned of course – but I did finish the 52 circles in 2 ½ hours and got back to my studies. That's what I remember about the circle.
Reg Bird, 6596 (RRMC 1961-63, RMC 1963-65): I think the class would be over at say 10:30 and you were given 15 minutes for what they called "kai" where you got and had hot chocolate or morning coffee but that was the time also they reserved for you to run circles if you had received any circles the night before for any transgression you did such as having a bit of lint on your uniform or whatever and some senior had caught you and given you circles. You then jogged out, put your books down, jogged out to the dias out there in front of Grant and walked up to the duty officer and asked permission of him to run four circles or three circles or however many circles you'd got. And in full battle dress with boots and everything you'd run these circles and at the end of each circle you'd say, "One circle completed Mr. Smart" and "Two circles complete" and then you went back…and he'd sign off and you watched your watch – you had to be back at class cause you couldn't run more circles than there was time. Then you'd go back into class and the other cadets would come in from their coffee break. Mind you most of the rookies are out running circles. Because when you were given a circle you were given one week to run them if you went over that I think they doubled or something so you had to make sure you ran them.