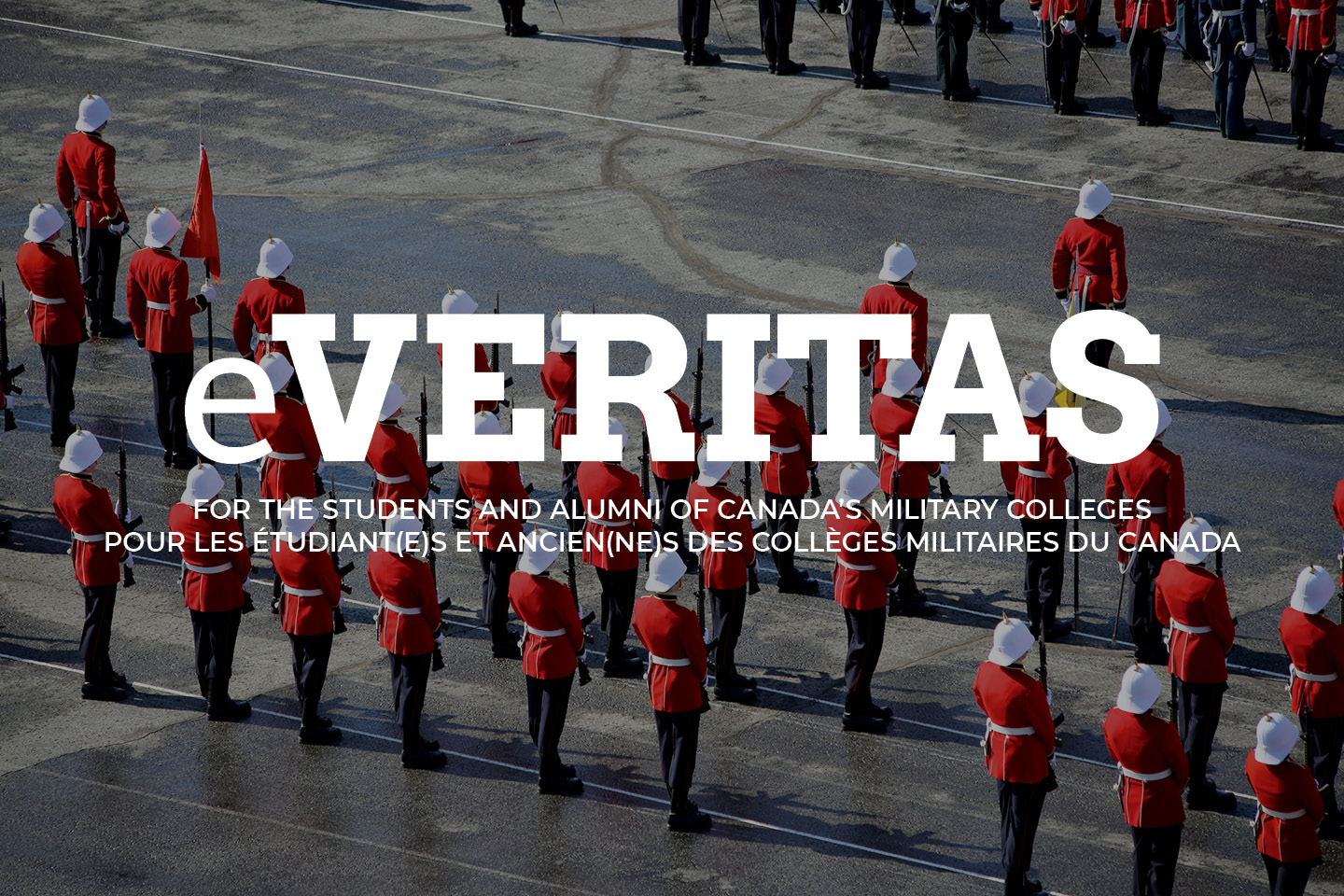 Follow your favourite team by clicking on the link in the table below:
| | | |
| --- | --- | --- |
| | | |
| Men's Basketball | OUA- Men's Basketball | CIS – Men's Basketball |
| Women's Basketball | OUA – Women's Basketball | CIS – Women's Basketball |
| Men's and Women's Running | OUA – Cross Country | CIS Mens Running / CIS Womens Running |
| Men's and Women's Fencing | OUA – Fencing | |
| Hockey | OUA- Hockey | CIS – Hockey |
| Rugby | OUA – Rugby | CIS – Women's Rugby |
| Men's Soccer | OUA – Men's Soccer | CIS – Men's Soccer |
| Women's Soccer | OUA – Women's Soccer | CIS -Women's Soccer |
| Taekwondo | | |
| Men's Volleyball | OUA – Men's Volleyball | CIS – Men's Volleyball |
| Women's Volleyball | OUA – Women's Volleyball | CIS – Women's Volleyball |
_________________________________________________
Scoreboard:
M Volleyball – Queen's 3 RMC 0
W Volleyball – Queen's 3 RMC 0
_________________________________________________
RMC's Michelle Hamilton Named OUA Second Team All-Star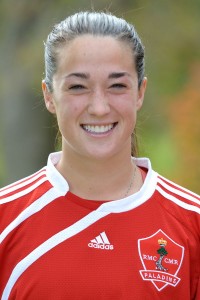 For the third consecutive year, a member of the RMC Women's Soccer Team has been voted to the OUA Second Team All-Star team. This year's recipient is second year OCdt Michelle Hamilton.
Hamilton's performances on the field this season helped the Women's Soccer Team finish in 7th place (one shy of a playoff position), their best finish since the 2007 season. For those who have followed the Paladins team, they will recall that last year, Hamilton played in goal for the majority of the season. OCdt Hamilton came to RMC from Winnipeg, Manitoba, where for four years she not only trained and played with her club team, but was a member of the Canadian Soccer Association's National Training Player Program. It meant that Hamilton regularly travelled to Calgary, Alberta to train and play with the best players from the prairies region. She was a highly recruited goalkeeper playing at the highest level possible.
This season, OCdt Hamilton expressed an interest in playing 'out' in the field instead of in goal. Her impact as a midfielder brought immediate improvements to the team's ability to score goals. In the 16 game season, Hamilton still played 2.5 games in goal, but her 6 goals in the 12.5 games she played in midfield set a new team record for goals scored in an OUA regular season (she missed 1 game due to injury). OCdt Hamilton also help set-up 3 other goals for her team. In all, Hamilton was directly involved in 9 out of the 12 goals the team scored this season.
Outside of the statistics however is where OCdt Hamilton has had the biggest impact. Anyone witnessing Hamilton in training let alone in games will remark how determined and how competitive she is. Her desire to score goals, to win games, whether in training or in competition is evident in the excitement she displays when she or her teammates find success on the pitch.
Congratulations Michelle on your All-Star selection.
_________________________________________________
Jhordan Dorrington Earns OUA 1st Team Honours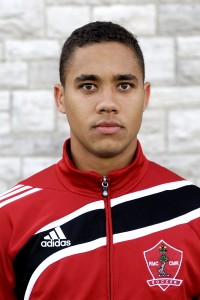 Jhordan Dorrington is a fourth year Business Administration student at RMC, and is the starting goalkeeper for the RMC men's soccer team. He has truly been an invaluable member of his team this past season.
Despite RMC's losing record (1-13-0), Dorrington was recently named OUA 1st Team All Star. The Mississauga, ON native started 13 of the team's 14 matches, and was on most occasions the Paladins best player due to his stellar play and consistent effort.
This past season, RMC registered their first regular season victory since the final game of the 2007 season. Dorrington also becomes the first RMC men's soccer player to earn OUA All-Star honors since the team's return to the OUA in 2004. With the regular season now complete, the Paladins shift their focus to the indoor soccer season. Well done, Jhordan!
_________________________________________________