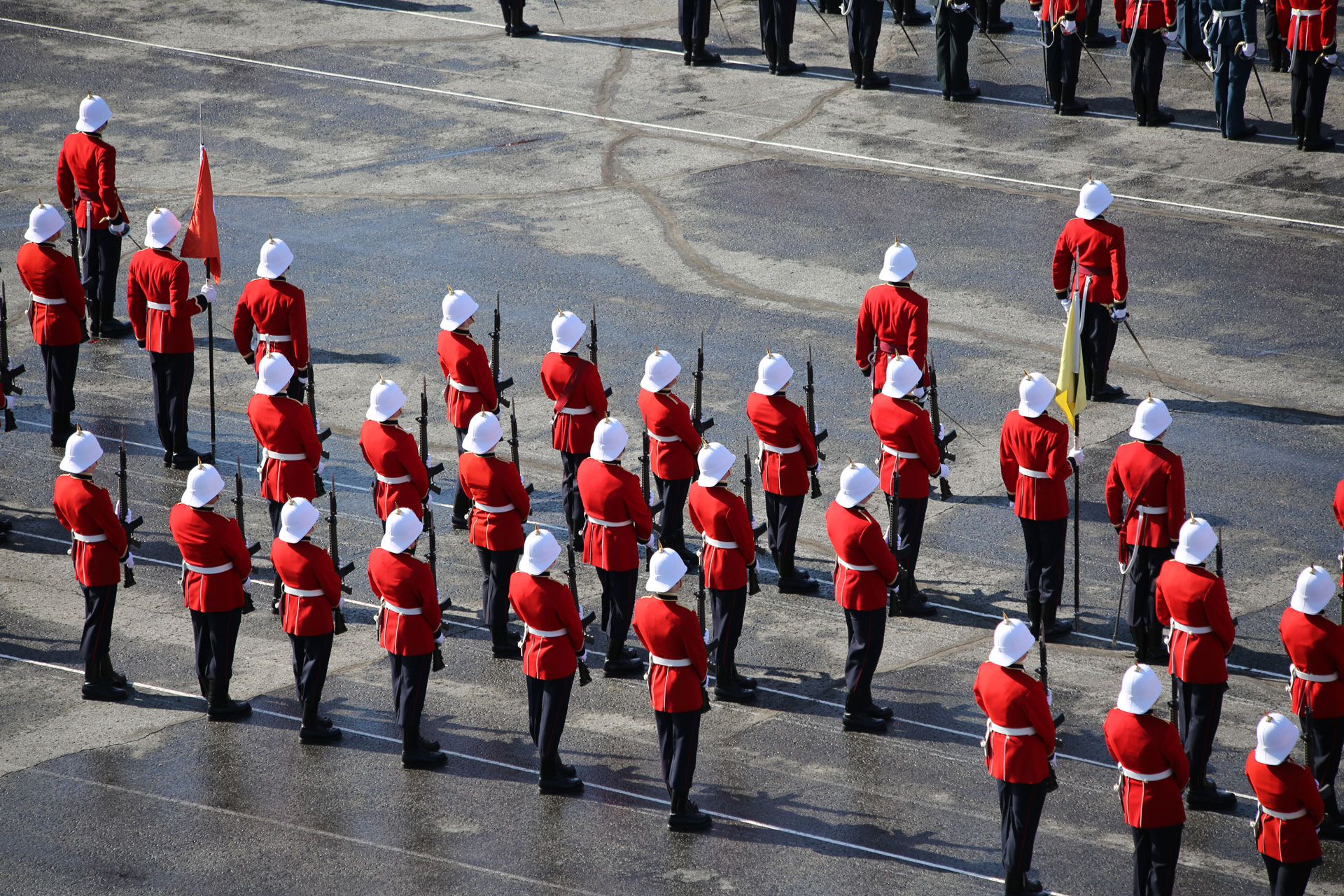 Over the past few weeks much has been written about the success of the 2009 Sandhurst team. And rightfully so. Last year the RMC team finished a respectable fifth place. Although no one around RMC, in particular, the college leadership were disappointed with a fifth place finish – no one will argue, first place and being winners has a nice ring to it!

Recently, Bill Oliver had the privilege to connect with the two cadet leaders of the 2009 team. Both spoke from the heart and mind to Bill in describing what the Sandhurst experience meant to both of them. They also discussed a few other things about their time at RMC and their plans for the future.
Both are classic examples of two officer cadets who not only attended the college but they lived the RMC experience to the fullest.
24174 (IV) Jean Le Bouthillier- Team Captain
Where are you from?
I am from Sainte-Foy, Quebec.
What did you do in high school for extra curricular activities?
I took martial arts, mountaineering and weight training and I was involved with Junior Achievements.
Last year, the RMC Sandhurst team finished fifth, which was the poorest finish in recent memory. This year your team finished first once again – the 4th time in the past five years. What did the 2009 team do get back to the winners circle?
The RMC Sandhurst Team was very successful in 2005-2007, because the team had the same key members that were able to consistently get the job done all those years. We lost several experienced members in 2007 due to graduation and civil engineering; the next year there were a lot of newcomers and a new competition format. A lot of training had to be done to bring that new team to the standard required to win the competition. The key members from the 2008 edition joined the 2009 edition so I think that because of that, part of what we did in 2008 prepared us to take on the 2009 challenge.
I would also say that RMC being a small institution, its main advantage is the experience of the returning members and the quality of the staff provided for training. This year's staff was perfect and allowed us to reach our full potential. They meant business as much as we did so we were all headed in the same direction.
What would you say is your three greatest memories of your three years competing in the Sandhurst competition?
My three greatest memories:
1) My first time winning it in 2007,
2) Losing the competition in 2008,
3) Stepping on the memorial stairs to reclaim the title in 2009.
To choose one, I think the best one would be this year when I stepped on the memorial stairs to collect the sword, it was the culmination of three years of work.

What are the main differences between "competing" and being the team captain "and" competing? What was the biggest challenge in the new role?
I think that when you are only competing you have a different state of mind where you don't have to worry about the big picture as much as when you are the team captain. As the team captain you have a lot on your mind and you cannot afford to be negligent where other can be because you are the last man before failure. With the new competition style, there is added pressure on the team leader to perform, because his decision can really make the team win or lose.
There is a lot riding on the team captain's performance so I would say that the biggest challenge is to just take that pressure to insure that the team does not worry about the big picture, but rather that they worry about the tasks at hand and their execution.
Head coach Captain Isaac Goldberg had the Sandhurst program reaching new heights this year. How would you describe his approach and what about his coaching style resonates most with you?
I think that his approach was in tune with the group he was dealing with. As an ex-cadet, he understood our commitment and approached us like dedicated professionals. From the very start he was as serious as we were about our fitness. When we learned that he meant business he earned our respect and we trusted his training. The training was hard, there was no waste of time and everything was done in consultation between me and him. Everything was also backed up by his solid experience in training for events that resemble the Sandhurst competition.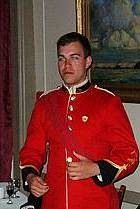 What would you say is your three greatest memories of your time at RMC – not including Sandhurst training and competition?
My three greatest memories while I was at RMC:
1) Primary flight training in Portage
2) The rappel master course with PSP Jean Blanchet
3) Resistance to interrogation course with CDA
To choose one I would say that Primary flight training was the most exciting for me because it was related to my occupation and the environment was very professional. The flying was also very thrilling and it was a breath of fresh air to finally do what I had joined to do.
You will have earned a Computer Science Degree at RMC. Do you plan on pursuing a career in this field after graduation? What Military Occupation are you? What lies ahead in regards to military training?
I enjoy Computer Science a lot, but for now, I have no plans other than to pursue my military occupation as pilot. I would like to eventually fly the Griffon or the Chinook and I am posted to 427 Sqn on OJT. That's the posting I asked for and I think it will be very motivating to be at an operational unit awaiting my next phase of training.
You have to choose one meal for the rest of your life. What would it be?
Sushi.
If you could give one piece of advice to prospective RMC Sandhurst competitors, what would it be?
Never sacrifice quality for speed; this has proven to be true so many times during my time in the Sandhurst team.
So if I was to give one piece of advice that would be it.
Of course there is much more to it… I will soon sit with the incoming captain III Nicolas Bouchard to discuss next year.
_________________________________________________________________________________________________________
24302 (IV) Cullen Downey – 2IC

Where do you consider your home town?
I grew up a bit of a base brat, however, I consider Halifax to be my hometown, as this is where I spent my teenage years.
What were you favourite extra curricular activities in high school?
Well, here's the thing. I was actually home schooled by my mother before coming to RMC. We moved around a lot and I guess my parents just wanted us (my older brother, younger sister and myself) to have a steady education. It proved to be quite a process trying to get accepted into RMC without a high school degree, however, after a few set backs I finally was accepted. Nothing was going to stop me from coming to this college.
What is your RMC Sandhurst background? How many years have you competed?
This was my third year on the team. I never tried out in first year, as I felt I needed to focus more on my studies. I eventually learned how to handle a University work load and tried out in second year for the 2007 team. That was back in the old glory days of Sandhurst, when the team had so many returning veterans who I had looked up to in first year. Needless to say, I was ecstatic to be a part of such history and tradition. I was also on the team in 2008 and I finished up this year as the 2IC of the 2009 Sandhurst Team.
What originally motivated you to tryout and compete in the Sandhurst competition?
In first year, during FYOP, we were all brought into Currie Hall and sat down to listen to, then fourth year, Alex Duncan, talk about Sandhurst. He showed us a video from the year before and explained every detail of the competition with such passion and pride that I was hooked. I still remember the shivers I got that night watching the team and knowing that this was something I needed to be a part of. The boys on that team were my hero's in first year and it was a few of the great ones like Alex Duncan or Gabriel Chasse-Jean who challenged me to try out the following year.
Tell us about your own personal feelings regarding the 2008 RMC Sandhurst results?
It was a heart break, but you move on and you learn from your mistakes. One of the key reasons our team has been so successful over the past few years, is our ability to analyze each and every success or failure we have during our training. Last year we went up against a stronger and fitter British team, and we got beat. It is as simple as that, however, we were able to learn from the mistakes we made last year and capitalize our experience into a win this year.
You were the officer-cadet 2 IC of the team. What are the main differences between "competing" and being the team 2 IC "and" competing? What was the biggest challenge in this role?
The former 2IC's of the Sandhurst team during the years I was a member definitely set the bar pretty high for me this year. In 2007, Nigel Allan was the 2IC of the team and I really wanted to instil his sense of leadership into this year's team. In my opinion, the only way to take on such a challenge as Sandhurst training, is through a "work hard, play hard" mindset. My main goal this year was to form a team that would bond together as best friends as well as team mates. By doing so, you ensure that every member places trust and respect into the team and you form a bond of loyalty that is unbreakable. In my mind, the 2009 team was able to do just that. On and off the training schedule, we worked, lived and suffered as a team. If you ask me, this was the determining factor that allowed us to beat all the other competition the international stage had to offer this year.
What were the major differences between 2009 team and last year? Did the team change their training and preparations? Were the athletes fitter and more skilled? Were you just lucky this year compared to being unlucky last year? Were there other factors? If yes, what are these other factors?
There are many factors that play into our success this year. First off, our team was extremely fitter as a whole, then in years past. This was due greatly to the efforts of Jean Lebouthillier (the team Captain) and his vision of the selection process, as well as the determination and professional expertise of Captain Isaac Goldberg. Captain Goldberg, coached our team, as a professional coach would train Olympic athletes. All of our training was precisely calculated and formulated to ensure that we were at the peak of our performance come competition day. Our high fitness level, allowed us to find success in every aspect of the competition. Our training throughout the year taught us to trust our bodies and know exactly what they are capable of. Captain Goldberg deserves much of the credit towards our win and he is as much a part of the team as the cadets.
Secondly, our team was smart and we learned quickly to think outside of the box and adapt to any situation. The leadership of Lebout was second to none and the drive and determination of the team during the entire year remains an inspiration to me. We knew going into the competition that we were prepared for anything they could possibly throw at us, our confidence in our minds and our bodies allowed us to dominate the other teams.
Last but not least, our support staff this year was beside us every step of the way. They ensured that the team had everything we needed no matter where we were or what training we were doing. From coordinating border crossings, to requesting ammo and ranges, and making sure we were all fed, this year's success could not have been possible without their constant support. Many thanks to, Captain Nathan Price, Captain Alexis Lavoie, Officer Cadet Derek Gaudreault, Officer Cadet Samuel Houle, and Officer Cadet Bradley Spencer. Also we can not forget our yoga/ first aid instructor Captain Meghan Joiner.
What would you say are your three greatest memories of your years competing in the Sandhurst competition?
I would have to say my greatest memory would be this year's win. Standing on that parade square surrounded by a sea of Westpoint cadets and beside last years champs, the British team, and then hearing TEAM CANADA announced as the winners was a feeling second to none. I was so proud of all the hard work and sacrifices we had made over the year and to win first place in my fourth year was absolutely amazing. Another memory I take with me as I graduate are the words of 2007 team captain, Gabriel Chasse-Jean, following our win in 2007. He told us that he was proud to have worked with such a team of professionals and doubted that he would ever again get the chance to compete alongside such determined and proud soldiers. Chasse is now over in Afghanistan commanding platoon of soldiers from the R 22 regiment and managed to call me just hours after the competition while he was enroute to Kandahar. My third greatest memory would probably be losing the competition last year and knowing that I would do anything within my power to ensure that the Sandhurst sword comes back home to Canada in 2009.
What Military Occupation are you? What is in the cards career wise – short range & long range?
I am an infantry officer who is set to start phase four in sunny old Gagetown five days after graduation. There is never much time to relax and take a break, but I am young and ready for another challenge. It is bitter-sweet to be graduating from RMC, I have had an amazing experience at the college, however, I look back and know I have accomplished everything I set out to do while being a cadet. So what are my goals now? Well I plan on working hard during phase four this summer and I will see where that goes. I haven't yet decided on which regiment I want to be a part of, but in the long run, I hope to command a platoon of Canada's finest in operation overseas. I am excited to take on the leadership challenges of a platoon commander and I am looking forward to life in the battalion.
Are you planning on a long Canadian Forces career? If yes, why? If not, why not?
Honestly, I have not really thought about that. I am more of a short-range goal, kind of guy. I know that I want to lead troops in a theatre of combat and after that we will see where my career takes me. There are many challenges the CF has to offer.
What would you say are your three greatest memories of your time at RMC – not including Sandhurst training and competition?
Becoming a member of the RMC Men's Soccer Team was probably one of my proudest accomplishments at the college. I always wanted to play soccer at a higher level and to play in the OUA is a memory I will always cherish. I owe a lot to my Coach Vic Mendes and all the support and advice he has given the team over the years.
Secondly, I am very proud of my time as FYOP staff with Victory Flight, 11 Squadron in the fall of 2007. Since first year I knew that I wanted to be FYOP staff and I wanted to pass on my vision of the college and instil a sense of pride into the next generation of RMC students. As FYOP staff I felt that I had an impact on many of the cadets of Victory Flight and I am fiercely proud of their accomplishments and find it surreal that next year it will be them who take over as FYOP staff.
Lastly, I will never forget all the great memories with the boys and all the trials and tribulations of our past four years at RMC. We have been together since basic training and it would be hard to find a tighter group of best friends. From Quebec City to Nova Scotia, and Dominican to wrapping it all up with a road trip to Mexico in an RV this past Christmas, we've done it all.
Where is your favourite place on campus to spend your time? Why?
I would have to say the Cadet Dining Hall. It is just a place where everyone gets together three times a day and you can relax and talk with your buddies. I look forward to meal times because it is often the only time during the day to see your friends within such a busy schedule.
If you could give one piece of advice to the 2 IC for the 2010 RMC Sandhurst team, what would it be?
Instill a sense of comradeship, history and tradition in the team. Make sure the rookies know that they are a part of something huge and that they should be proud to live up to the accomplishments of previous teams. Ensure that each member of the team embodies the "warrior spirit" and the will to fight and sacrifice himself for the team. And in the end, the Sandhurst Team works hard and plays hard, forming a bond of loyalty to each other that is unbreakable.