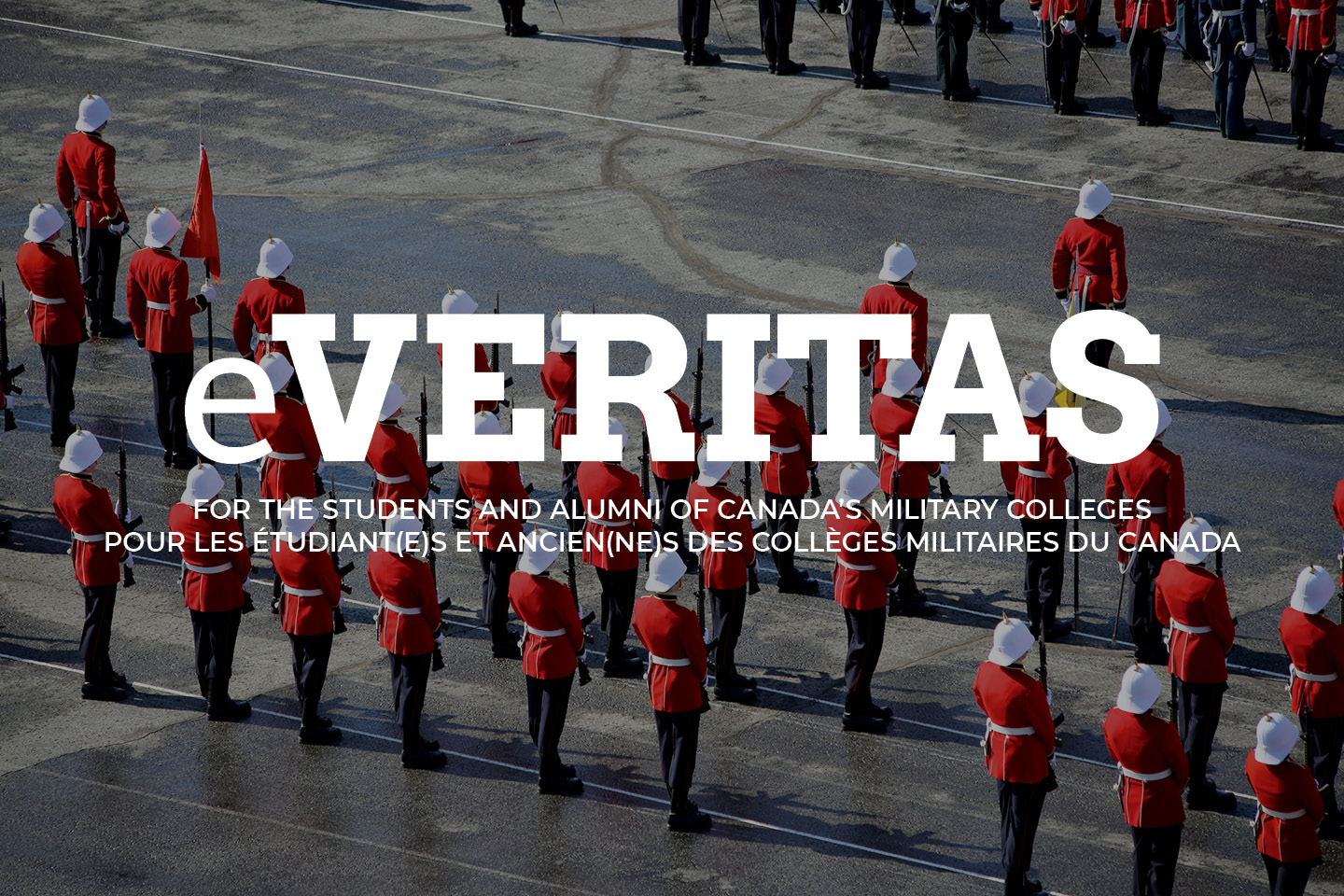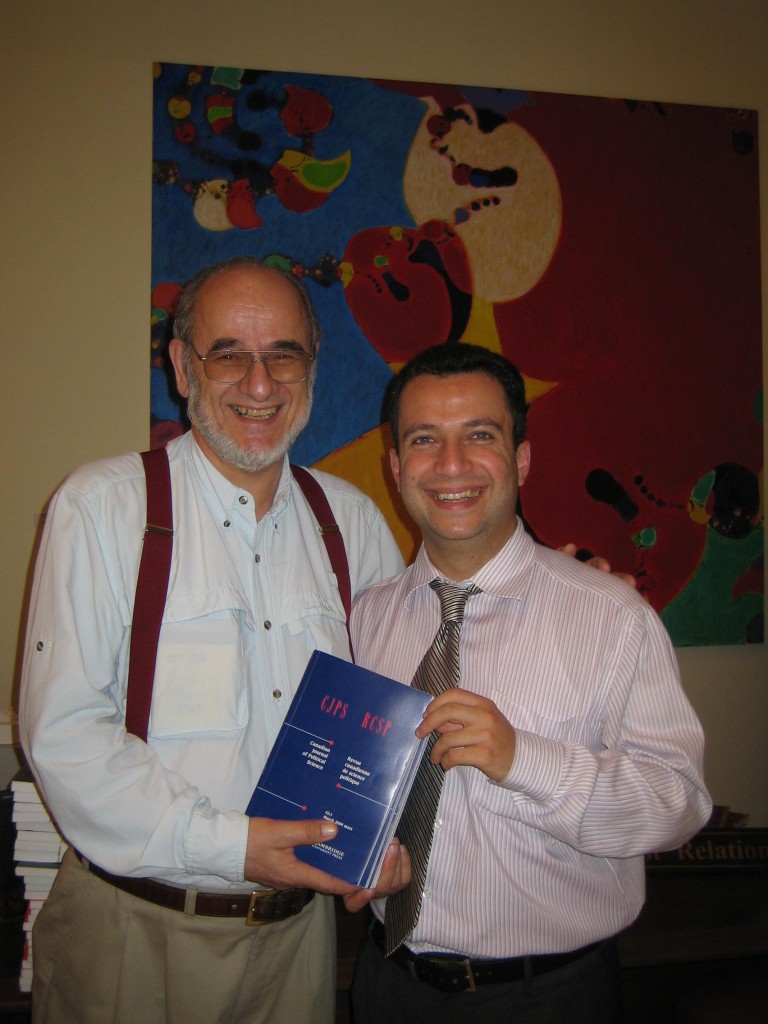 Emeritus professor Alan Whitheorn (L) of the Royal Military College of Canada is donating several decades of his volumes of the "Canadian Journal of Political Science" to the newly-formed Armenian Political Science Association. Dr. Benjamin Poghosyan, an executive member of the Armenian Association is gratefully accepting the first installment of the collection of Canadian volumes.
 ________________________
Tree Planting in Memory of OCdt Mathieu Leclair
Article by 25586 OCdt (III) Brenden Clark, CWC (Fall 2012)


On the morning of Tuesday, May 15th 2012, members of RMCC's Cadet, Training, Athletic and Academic Wings gathered one last time to pay their respects to 25834 OCdt Mathieu LeClair. In a small ceremony, a maple tree dedicated in memory of Mathieu was planted next to the waterfront behind Fort Sauve.
As the spade was passed around, gathered members of 4 Squadron and other close friends and collegues of Mathieu took turns filling in the earth around the tree, taking pause to reflect on fond memories.
Padre Heather Smith was on hand for the ceremony, leading those gathered in prayers of remembrance. A Division Commander Major Tania Pendergast also spoke, expressing how the tree will serve as a living monument to OCdt LeClair, and a place where his friends can gather to share in his memory.
Dans la matinée du mardi 15 mai 2012, des membres de l'escadre se sont réunis une dernière fois pour rendre hommage à l'élève offcier 25834 Mathieu LeClair. C'est derrière le Fort Sauvé, sur le bord de l'eau, qu'un érable fut planté lors de la cérémonie en mémoire de Mathieu. 
 Des membres de l'escadron 4 et d'autres amis et collègues proches de Mathieu se sont réunis et, chacun leur tour, ont remplis la terre autour de l'arbre tout en réfléchissant aux bonx moments passés avec leur ami.
La Padre Heather Smith était sur place pour la cérémonie, et mena la prière en mémoire de Mathieu. La commandante de la Divison A de l'Escadre des élèves offciers à également pris la parole et expliqua que l'arbre servira en tant que monument vivant à l'Élof LeClair, ainsi qu'un endroit où tous ses amis peuvent se réunir pour partager dans sa mémoire.
 ________________________
13 Squadron Stands-Down – With A Touch of Class
Article by 25553 Alexandre Beauchamp
Photos by 25881 OCdt (III) Anthony Matlock
On the morning of the 15th May 2012 the OCdts of the Royal Military College of Canada (RMCC) were all present on the parade square to attend the 13 (Joliette) Squadron stand-down parade. This parade will be remembered as an important event for RMCC. It symbolizes the official standing down of 13 Squadron and the laying up of its colours.
The parade started with 13 Squadron being called forward to stand before the wing. Under the leadership of outgoing CSL 13 25048 (IV) OCdt Trudeau, 13 Squadron marched up in front of the dias and halted, facing the other 12 squadrons. 13 Squadron members were congratulated for all of their efforts during their time in the squadron and for achieving first place in the Commandant's Cup standings after only five years of existence. 13 Squadron colours were handed over to Padre Pascal Delisle while the DCdts, LCol Susan Wigg, made an official speech effecting the lay-up of colours and stand down of 13 Squadron. She emphasized that the colours of 13 squadron will be deposited at RMC St Raphael Chapel for safekeeping and to serve as an inspiration for all look upon them.
Following this, the DCWC 25314 (IV) Jacqueline Forbes named every member from 13 Squadron, and announced his or her new squadron. As each group of 13 squadron members was assigned to another squadron, the CSL of 13 shook hands with every member, thanked them for their service, and wished them the best of luck in their new squadrons. From there, the groups were dismissed to their new squadrons, one at a time, and were received with cheers and applause from their new squadron mates. Each group reported to their new CSLs, who officially welcomed them into the squadron and personally attached their new Squadron slip-ons to their epaulettes. This symbolized the official integration of 13 Squadron members into the rest of the wing's squadrons. Once their new slip-ons were attached, the members fell in with their new Squadrons.
The parade concluded when all of 13 Squadron's first, second and third years were integrated into their new squadrons and the 13 Squadron fourth years were marched off by the outgoing CSL 13. The colours were then brought to RMC St Raphael Chapel for safe keeping and on call to be returned to service in the event that a 13th Squadron is again stood-up.
It was an unfortunate event to have to stand down 13 Squadron. Although, the members of 13 Squadron will always be proud of what they accomplished in such short time. Even more, now as members of the rest of the wing, these individuals can be proud that they ever had something to do with 13 Squadron. They now have the opportunity to export their excellence and achievements to the rest of the wing. The winning culture and successful spirit of 13 Squadron did not get stood-down today, but rather, it lives on within each former member of 13 Squadron, and now permeates the entire Cadet wing.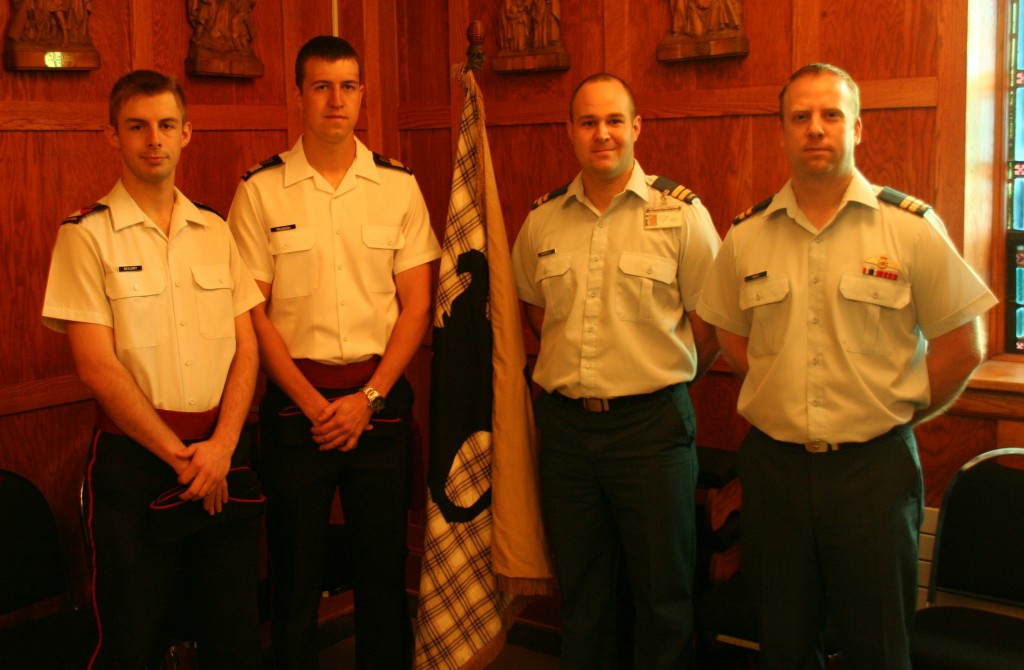 OCdt Beaudry, OCdt Trudueau, Capt Garneau, Capt Bruce
Senior squadron staff assembled in the chapel where the colours of 13 will be housed moving forward. Also in attendance was 21736 Capt Adam Bruce (right) first 13th Squadron Commander.
Background on how 13 Squadron was Stood Down
By 19299 Lieutenant Commander Roman Antoniewicz, D Division Commander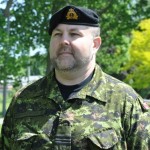 With Ft. Champlain's renovations coming to an end, RMCC staff had to look at maximizing the cadet accommodations within the buildings. Taking into account the new rooms being available in Ft. Champlain, the cancellation of the 4th yr "live-out" program and the standing up of Cadet Divisional Staff, a study was conducted.
The results of the study put forth a number of recommendations and adopting a twelve squadron Cadet Wing structure to maximize the efficient usage of space was one of them. This option also respected and had tremendous benefit for a balanced Divisional structure while ensuring viable and equitable squadron sizes.
The RMCC Commandant accepted this as one of the recommendations and directed a squadron within the Cadet Wing be stood down. As D Division's 11, 12 and 13 Squadrons were all stood up at the same time, it fell upon D Div to choose which squadron would be stood down. D Div's Cadet Divisional staff was tasked to develop a methodology for choosing which squadron. They developed four distinct courses of action to choose a method to stand down a squadron and submitted them through their chain of command.
Their COAs were developed in a professional manner, considering such factors as wing morale, military precedence, Commandant's Cup standings and distribution of cadets of excellence throughout the Cadet Wing.
When the final methodology for choosing the squadron was approved by the Commandant, 13 Squadron was the one chosen to be stood down.
A Squadron Stand Down Ceremony was held on the parade square in front of the entire wing to commemorate the event. Cadets were called by name to join their new squadrons where they were met by their new CSLs, who put on their new squadron epaulettes.
The 13 Squadron colours were passed up from the 13 Squadron CSL up the cadet Chain of Authority to the Director of Cadets who handed them to the RMCC Chaplain for safekeeping. This tradition is in line with CF practices of units laying up their colours in chapels.
An entry will be made into the 2012 Revue yearbook to commemorate the squadron.
 ________________________
 A Visit From Brazil
Photos by 25881 OCdt (III) Anthony Matlock
RMCC recently played host to General Túlio Cherem, Commandant of the Escola Superior de Guerra, the Brazilian War College.
The brief three hour visit included: the inspection of the Quarter Guard; a college briefing and a tour of historical RMC facilities. The Tour Guide was 5256 Gwyn Griffith from the RMC Club, Kingston Branch who typically provides these type of tours on behalf of the college.
  ________________________
Second-Year Class Project
Article and Photos by 25783 OCdt (III) Jordon Hennessey
The class of 2014 donated their time to help those less fortunate in our community this last Wednesday by participating in the 27th annual Partners-In-Mission Food Blitz. Over 120 of the 2nd year OCdt's went door-to-door asking for food donations throughout the city. The 2nd year class conducted this project in order to give back to the community and show support for those less fortunate than ourselves.
La classe de 2014 a donner de leur temps mercredi dernier afin de venir en aide a ceux et celles moins fortune dans notre communaute lors de la 27e collecte de nourriture, en collaboration avec Partners-In-Mission de Kingston. En tout, plus de 120 Elofs de deuxieme annee se sont promener a travers la ville pour recolter des dons de nourriture non perissable. La classe a procede a ce projet pour demontrer leur support a la communaute et pour aider les citoyens qui sont moins fortune que nous.
________________________
Relinquishment Ceremony
Photos by 25730 OCdt Oliver Smith
On Friday 25793 OCdt Kiha Ban was relinquished to the rank of private and trade of Combat Engineer. He begins his training in Gagetown this week.