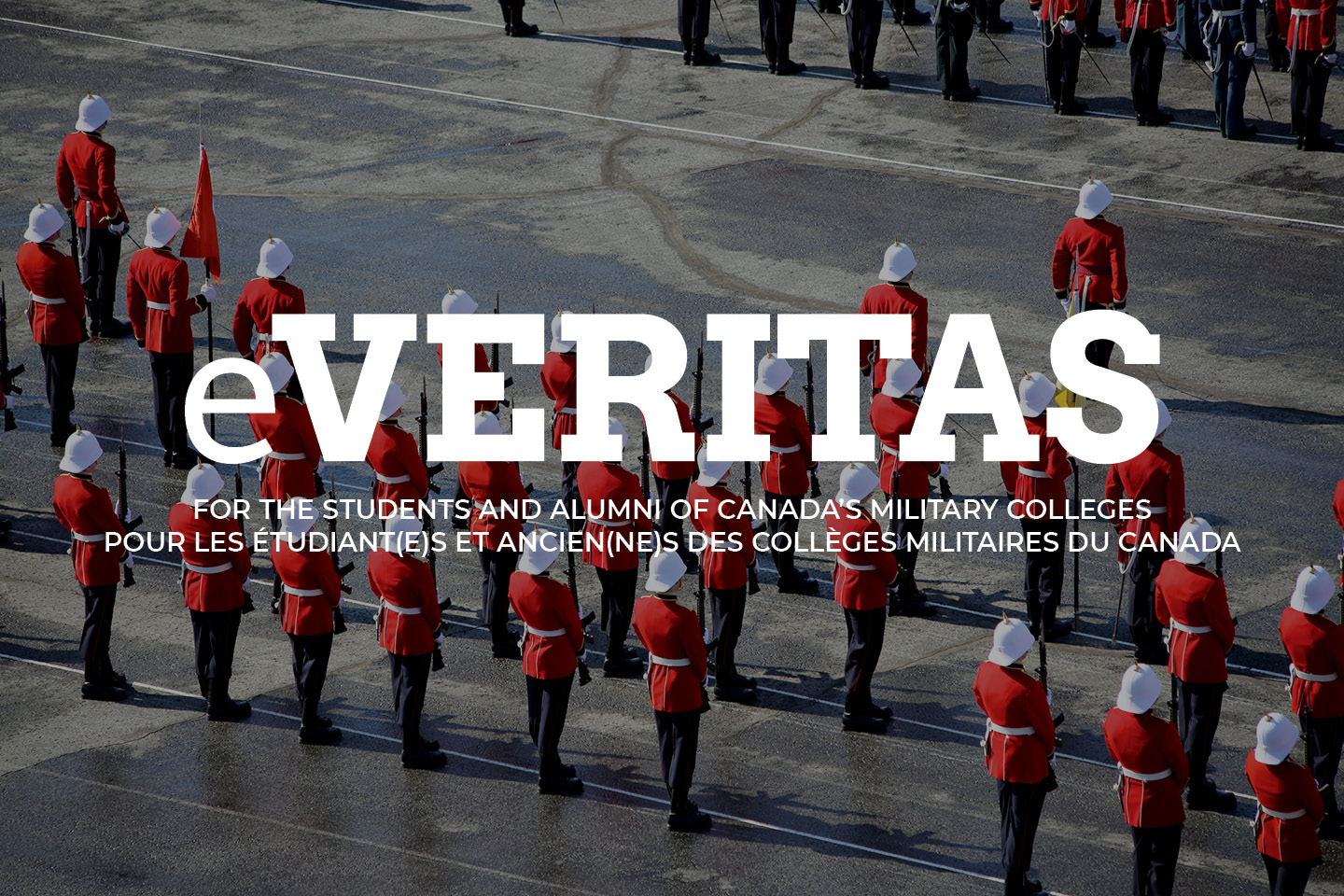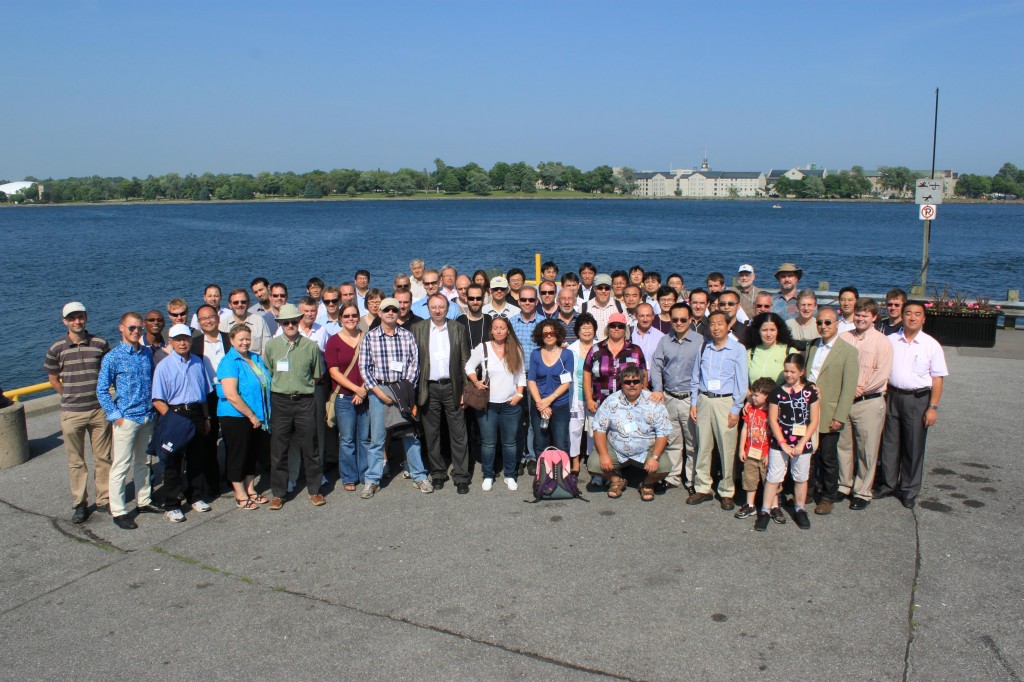 Click for better viewing
Reps from 17 countries Attend 7th International Topical Meeting on Neutron Radiography



Royal Military College of Canada was the co-sponsor of the Seventh International Topical Meeting on Neutron Radiography. Organized by Dr. L.G.I. Bennett (8384) as the Chair, Dr. Bill Lewis (13134) as the Meeting Vice-Chair, and Capt Paul Hungler (21991) as the Scientific Vice-Chair, the oral and poster Paper Presentations were held at the Confederation Place Hotel in Kingston, Ontario, with a preceding Laboratory and Welcoming Tour on June 16 and a follow-on Review Workshop at Arowhon Pines, Algonquin Park from June 21-24.
The Meeting was officially opened by Dr. Fugere, representing Dr. Sokolsky, from RMC, and Dorothy Hector (14444) representing the city.
This Meeting is intended to bring together both technique developers and users of neutron radiography and tomography from around the world, with 17 countries represented. Both specialists involved in technique development of neutron imaging, as well as facility design, establishment, operation and use of the neutron beam were in attendance.
Participants came from academic, industrial, military and government areas.
______________________________________

Applied Military Science Dept Celebrates Graduation Ceremony
Article and Photos by 25366 Mike Shewfelt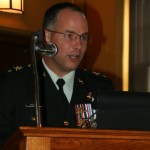 On Monday 25 June, RMCC's Applied Military Science Department celebrated the end of both the 17th Land Force Technical Staff Programme and the 9th Army Technical Warrant Officer Programme with a graduation ceremony held in Currie Hall. These courses equip officers and senior non-commissioned members to be key players in the Capability Development Process. With Col Stephen Saulnier, Head of the AMS Department, BGen Eric Tremblay, Commandant of RMCC, and Dr. Joel Sokolsky, Principal of RMCC looking on, the 29 graduates of the two programs received their diplomas and put an end to 11 months of hard work.
As is tradition in the AMS Department each year, an honorary graduate was also selected. This year's honorary grad was 15028 Dr. Paul Roman, who is a retired Signals officerand a former RMCC faculty member in the Business Administration Department. He is now the director of the Cornell-Queens Executive MBA Program, in addition to still working at RMCC with the AMS Department.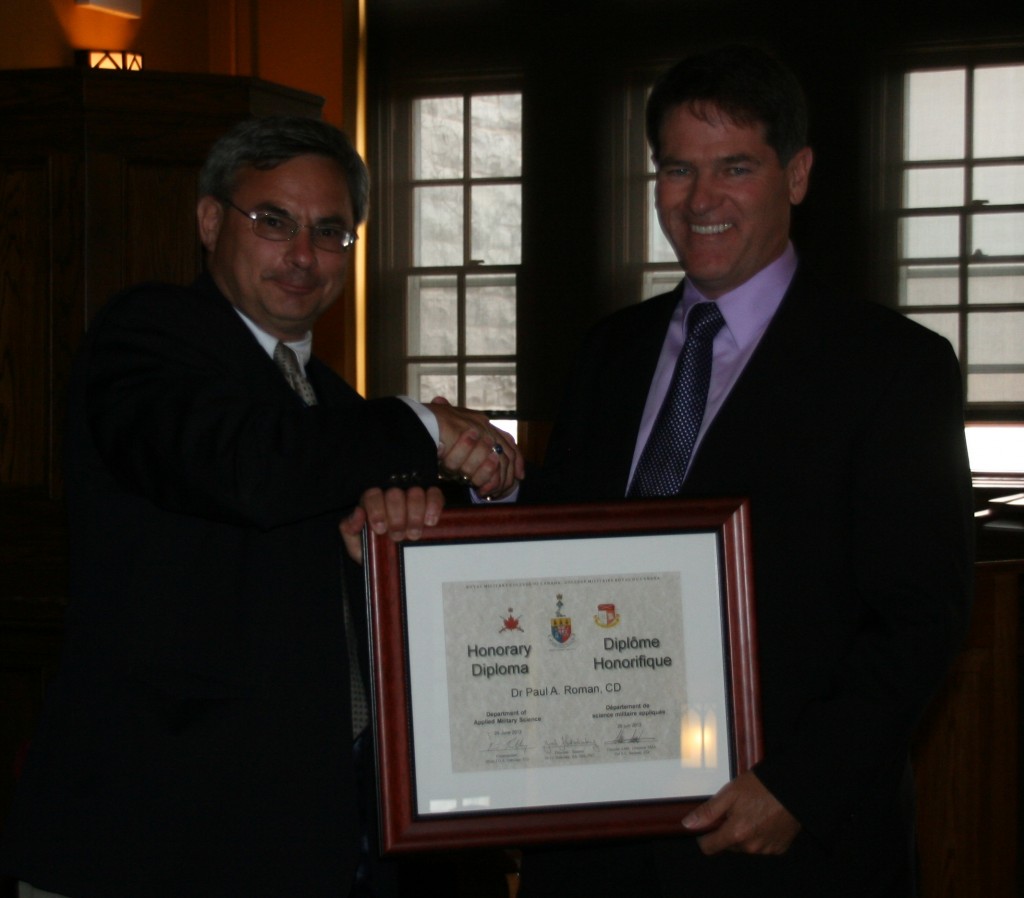 The knowledge and skills that these graduates take with them will be instrumental in the Army being able to meet the challenges of the future. As BGen Tremblay told them, "It is impossible, or at least very difficult, to predict the future, so we must be prepared for whatever comes. We have to maintain a minimum set of capabilities that will allow us to go where and when we are told to go and to let us do the job we need to do. That is your challenge. We may not get years to prepare for a conflict, and so we will need you to lead the way in innovation to make sure the CF remains a military relevant force."
Col Saunier underscored that point when he added, "You don't yet fully grasp the scope of what you've learned, but you will."