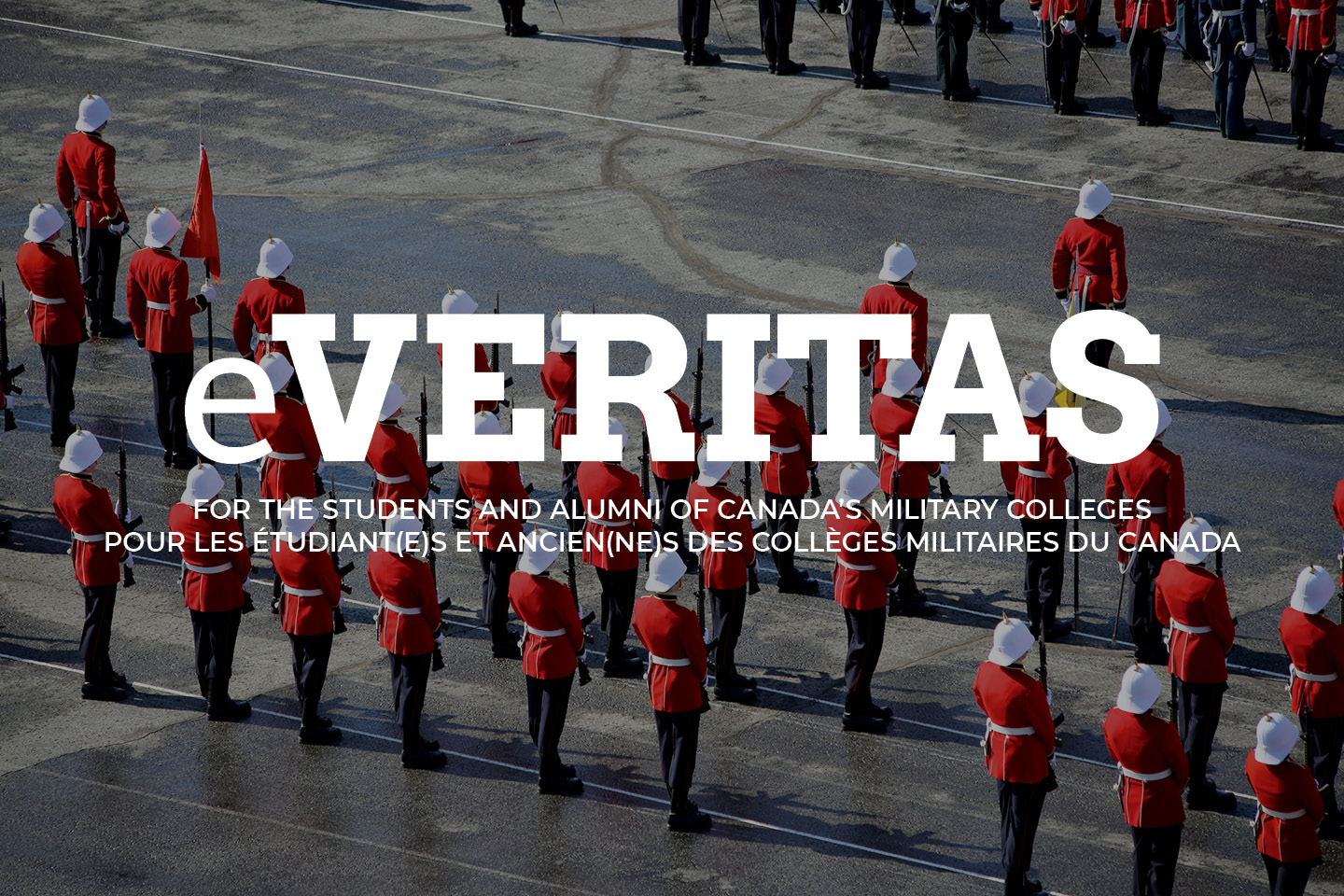 Training Wing remains prepared for the call of duty
By:G5675 Officer Cadet M.P. Findlay – Assistant Staff Officer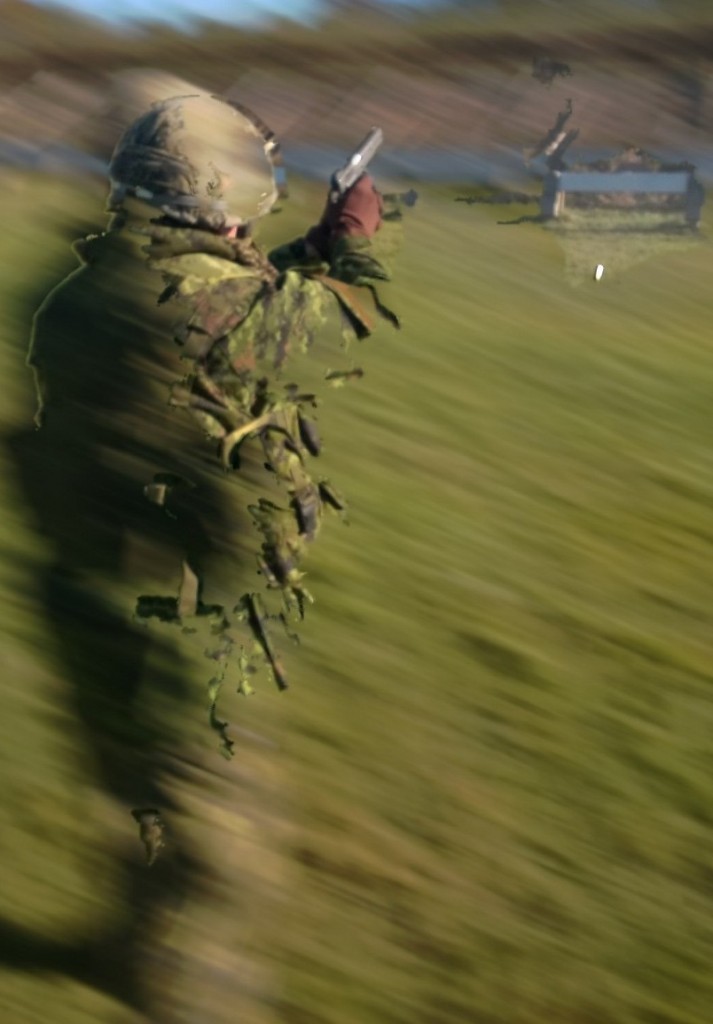 The Training Wing is always busy ensuring that the objective of the college is met: the Cadets at RMCC are ready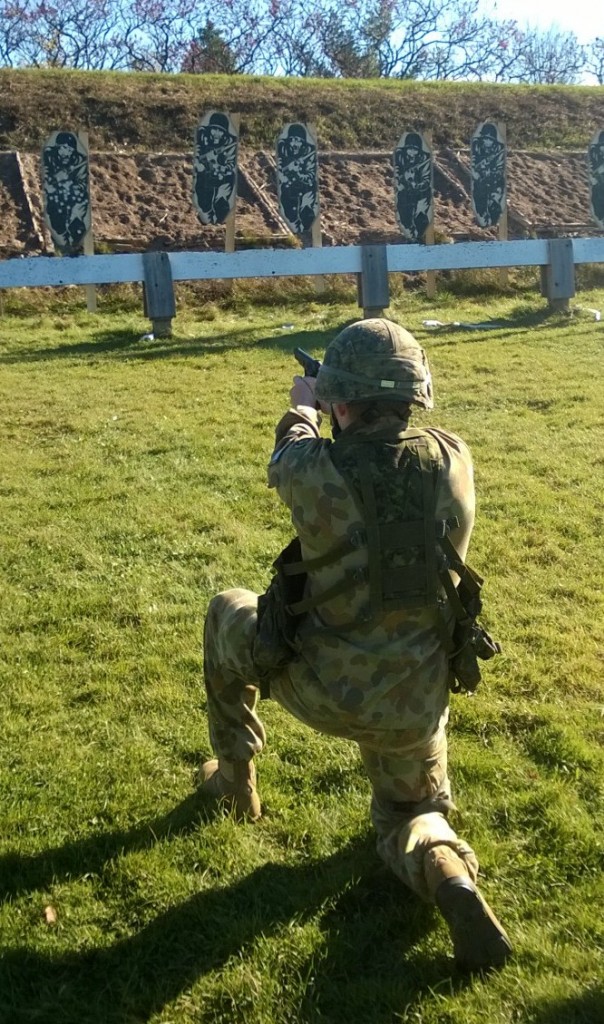 for their future in the Canadian Armed Forces (CAF). Despite this time-consuming responsibility, each member of the Training Wing must keep current on personal standards and training. Much of the typical training consists of First Aid training, Mental Fitness and Suicide Awareness courses, other professional development and personal development courses, and various career courses. However, the training that makes being a member in the CAF different from any other job is the preparation for them to deploy in harm's way. The rifle range and pistol shoot are the most recognizable and basic training regimes for deployment.
The Training Wing has participated in two range days this training year to remain prepared for today's fast-moving CAF. As characterized by the rapid deployment to Kuwait and Iraq of CAF members, it is important for everyone, from Private to General to be ready for deployment at any time, at any level. The Training Wing conducted a C-7 annual qualifying shoot on 10 October, 2014. As the Director of Cadets, LCol Mark Popov stated at the end of the range, "I had an air force Master Warrant Officer, and a navy Petty Officer in my team in Afghanistan and they were required to be comfortable with their firearms and needed them, so this training is a necessity for all members of the CAF, regardless of trade or rank. I am happy to see so many of the Training Wing out here today getting comfortable with the weapons that keep us safe." His comments were greeted by smiling faces, the smell of gunpowder, and excitement for the next time they could shoot.
The following range on 23 October was another resounding success; a 9mm Browning pistol shoot was scheduled and conducted that Thursday morning. Many of the staff had not fired the Browning, especially naval personnel, so it was a worthwhile experience to get comfortable behind the sometimes frustrating, and ancient, pistol. The range was led by Captain Lord and was attended by the Training Wing as well as visiting Australian Cadets who had never before handled the Canadian Browning. The range was, according to Lt(N) Lee Pothier, RMC's Operations Officer, a success because it got the Training Wing out of the office to do some worthwhile training, relieve some stress, and get some trigger time. The Training Wing is eagerly awaiting the next range slated on 2 December, 2014.
***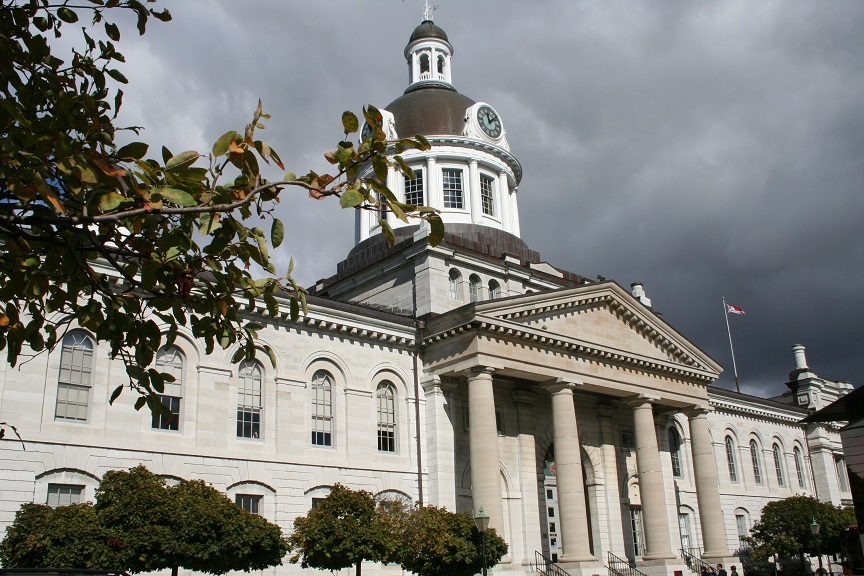 L'hôtel de ville de Kingston / Kingston City Hall 
octobre dernier, les classes du cours d'institutions politiques canadiennes (POF328 et POE328), ont participé au tour de ville « John A. McDonald », en l'honneur du Premier ministre du même nom. Cette année, la visite s'est réjouie de la participation de l'ancien Premier ministre du Québec, M. Jean Charest, qui a profité de l'occasion pour partager avec les élèves officiers son expérience concrète en politique fédérale et provinciale. Le tour, guidé par M. Arthur Milnes, est composé de plusieurs arrêts à des points historiques qui ont marqué la vie de Sir John A. McDonald ainsi que l'histoire de Kingston et du Canada. On passe ainsi de l'Hôtel de ville à la maison de Sir Richard Cartwright, de l'hôtel Belvédère à la statue de Sir John A. McDonald au parc de la ville et plus encore.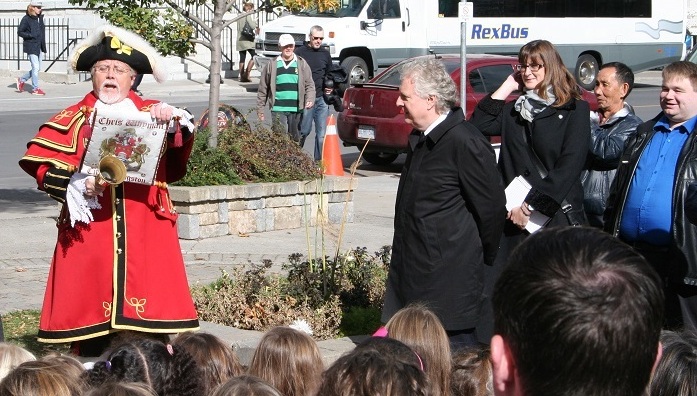 Le crieur de la vielle salue l'arrivée du Premier Ministre Charest /
Town crier welcomes Premier Charest
Cette visite guidée fût une occasion sans précédent pour les élèves officiers de se familiariser avec les rouages complexes de la vie politique canadienne. Au-delà de la matière vue en classe, cette visite a permis de mettre en pratique des connaissances sur le fédéralisme canadien, le système de parti, l'évolution historique du Canada, et le bilinguisme. Les élèves officiers ont pu formuler des questions et engager des discussions, autant en français qu'en anglais, avec M. Milnes, les autres participants à la visite, et avec M. Charest, qui a souligné l'importance du bilinguisme pour la société canadienne, et plus particulièrement pour l'institution fondamentale que représente les Forces canadiennes. Ce parcours interactif à travers la carrière de M. Charest ainsi que la contribution politique de Sir John A. McDonald contribue donc directement à l'atteinte de l'excellence chez les Élèves officiers en transposant le bagage de connaissances théoriques vu en classe vers les acteurs qui façonnent eux-mêmes la vie politique canadienne.
Élève officier Alex Parisien
Captions: Des élèves de l'école primaire de Kingston saluent M. Charest / Kingston elementary school students welcome Mr. Charest; Les élèves officiers avec M. Charest près de la statue de Sir John A. McDonald / Officer Cadets with Mr. Charest by Sir John A. McDonald's statue.
On October 10, the classes of the Canadian Political Institutions course at RMC (POE328 and POF328) participated in the John A. McDonald walking tour in Kingston named after Canada's first Prime Minister and most famous Kingston resident. This year, the tour was honored by the presence of former Québec Prime Minister Jean Charest, who seized the opportunity to share his remarkable federal and provincial political experience with Officers Cadets. The tour, presided over by Mr. Arthur Milnes, consists of several stops at historical landmarks that have marked the life of Sir John A. McDonald, the City of Kingston, and Canada as a whole. The tour takes participants from City Hall to the home of Sir Richard Cartwright, from the Hotel Belvedere to the statue of Sir John A. McDonald in beautiful City park and so more. This guided represented an unprecedented experience for Officer Cadets to gain familiarity with the complex underpinnings of Canadian political life. Beyond the curriculum seen in class, the tour allowed participants to put to use knowledge on Canadian federalism, the party system, the political evolution of Canada, and bilingualism. In both official languages, Officer Cadets formulated questions and engaged in discussions with Mr. Milnes, other participants, and Mr. Charest, who underscored the importance of bilingualism for Canadian society, and more specifically for the fundamental national institution that are the Canadian Forces. This interactive journey through the political career of Mr. Charest and Sir John A. McDonald thus contributes directly to the achievement of excellence among Officer Cadets by transposing the theoretical content seen in class to the real-world experience lived by key Canadian political actors.
Officer Cadet Alex Parisien
***
Christmas Concert
Article by: 26972 OCdt (II) Chantel Fortier
The 2014 Christmas Concert was, in short, inclusive.
Dozens of family members, RMC supporters, students and civilians filled the seats in the New Gym, preparing for a lovely ensemble prepared by the RMC Band, Stage Band and Choir. Beginning with a somber dedication to the historical, unofficial treaty in the winter of 1914, the band chose Mars, a selection from The Planets by Gustav Holst, and Silent Night, by Franz X. Gruber, to remember a time when the bitter enemies of WWI set aside their weapons and sang together, played together and exchanged wishes for happiness.
This element of setting aside worry for expression of simple joy continued throughout the night with gifts for the children of the audience, handed out by the dedicated elf "Daphne", or Daffy, depending on who you speak to. Commandant Brigadier-General Meinzinger was presented with an RMC jersey, and a young Superman made a heroic bid for freedom before being brought back for the end of the ceremonies, to the applause of the entire audience. Together, band, choir and attendees sang in the Christmas season, and a number of unfamiliar faces took on the trappings of friendship before they parted ways.
It's been a tough first semester for RMC and civilians alike, and it was a truly wonderful experience to be part of the celebrations. Above all else, the College is full of bright young men and women with families, friends and loved ones supporting them here and wherever their futures take them. Despite being far from home, for a moment tonight you could feel the College take a breath and exhale, finding comradeship in each other and the antics of their best. Just in time for the holidays.
More Kai Zhao Concert photos Here