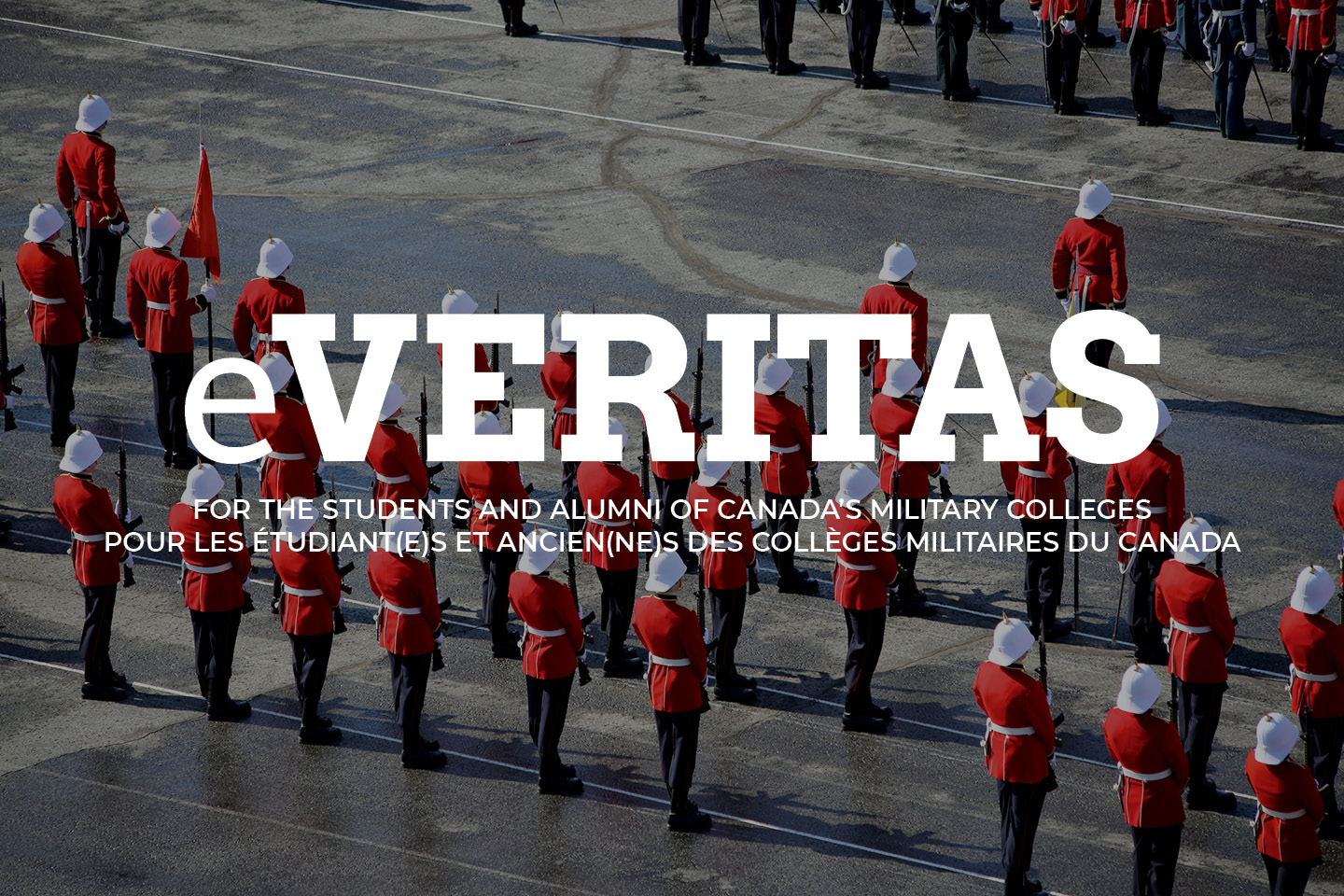 Caption: While leaving work last week, Terry Hutchinson – RMCC Senior Graphic Designer snapped this interesting campus skyline after a winter storm.
What's happening around RMCC…
Over the past three weeks, we had at least three deaths of individuals who all made significant contributions to RMCC over many years. The College was engaged in offering support to the families and the funeral services in order to pay proper College respects.
Gen Withers (ret);
John van Haastrecht; and
Ray Dignum

The Commandant and Principal with their spouses will visit West Point with a large contingent of cadets and other staff next weekend.
Cadets are pretty well back to the post-holiday routine with many of them already having plans for the winter-break around mid February.
Anthony Seaboyer, Contractual Lecturer, Royal Military College of Canada says Europe and North America are now dealing with military trained terrorists.
More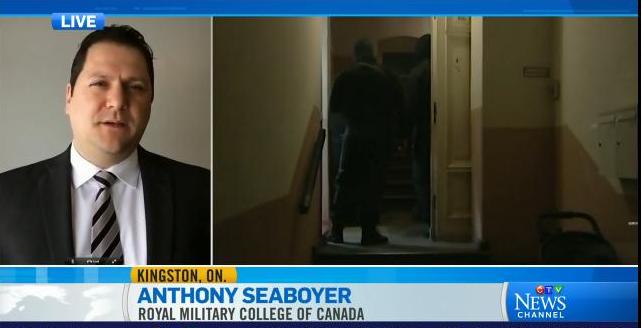 Anthony Seaboyer, Contractual Lecturer, Royal Military College of Canada says Europe and North America are now dealing with military trained terrorists.
***
PMT 14 Jan 15
This week at the Royal Military College for the Cadet Wing Professional Military Training (PMT) on 14 Jan 15, the cadets were divided up by year and each had training by our staff.
"This week for PMT the first year Officer Cadets received two important briefings. One was a briefing on social, medical, and financial programs of the CAF, and the second was an hour with the DCdts to address issues and offer advice on the topic of leadership. In the first presentation Cadets learned of the various help lines and programs available to CAF members and their families. This is valuable information because CAF members experiencing alcohol abuse, depression, physical health issues or financial problems often may feel like there is no one available to help them, but as Cadets learned; this is false. Families with loved one's overseas can also gain reassuring information through the use of a support line.
In the second briefing Cadets were told how strengthening character, courage, and compassion are a necessity to becoming a successful officer in the CAF, as officership is a public endeavour. This discussion of necessary qualities led to another discussion regarding successful commander traits. Leadership, cognitive ability, teamwork, communications, and fitness lie at the core of these traits, and it was brought to the attention of all attending the briefing that these traits closely resemble the four pillars of RMC (academics, fitness, bilingualism, and professional military skills).
Overall, the value of these briefings is immeasurable, and first year Officer Cadets will utilize the information passed on to them in this PMT session for the rest of their careers."
– OCdt 27386 (I) Kane O'Brien
***
This week for PMT, the second years were divided into two groups, the ones who came from CMR St-Jean and those who spent first year in Kingston. The CMR group spent an hour with LGen (Ret'd) Maisonneuve, the Director of Academics at CMR and some of the training staff. The purpose of the visit was to hear from us about our transition from CMR to RMC Kingston, and to get our feedback in order to improve the system for the next generation. At the end of the briefing, the RMC Club members spoke briefly about the club and invited the cadets to consider joining the RMC Club.
PDR: Personal Development Review. – PER: Personnel Evaluation Report
This week the Class of 2017 attended our third hour long military writing seminar for our weekly Professional Military Training session in the New Gym. Our lead instructor, Military Wing Chief Instructor, LCdr Parsons, taught us the difference between PER's and PDR's, their importance to the CAF and the development of subordinates, and the basics of what was in a PER/PDR. LCdr Parsons went on to explain how the Administrative OP Orders were disseminated from the Cadet Wing Administration Officer (CWAdO) all the way down to the Com-Secs (CSC). This was a very valuable opportunity to introduce us to the PDR process which we as second years will need to know as we progress to Leadership Level 3 (LL 3) and have the opportunity to hold Junior Bar positions. Although we are still learning the basics of military writing and administrative skills, these seminars are excellent opportunities for us to understand the basics which will prove to be valuable skills as Junior Officers. Only 856 days left until grad!
Cette semaine, la classe de 2017 attendra notre troisieme seminaire d'ecriture militaire durant notre session hebdomadaire de PMT qui se tiendra au New Gym. Notre instructeur chef, Capitaine de Corvette Parsons, nous a montre la difference entre PER et PDR. CapC Parsons nous a aussi montre comment les ordres administratifs opperationels sont dissemines commencant par le CWAdO jusqu'au Commandants de Section. Ceci etait une bonne opportunite pour nous introduire comment le process du PDR marche, parce que on doit avoir une bonne connaisance du PDR afin de progresser au prochaine niveau de leadership (LL 3). Meme si on apprend encore les bases de l'ecriture militaire et de l'administration militaire, ces seminaires sont des excellentes opportunites pour apprender les bases qui seront instrumentales pendant notre temps come Officiers Juniors. Il nous reste juste 856 jours jusqu'au graduation! Tenez Fort!
– OCdt 27079 (II) Joshua Siu & OCdt 26968 (II) Mikael Lemieux.

***
"The weekly Professional Military Training (PMT) is conducted once a week Wednesday morning. A PMT can consist of a rucksack march, an informative briefing or even host a guest for inspiration. For the third year cadets of the Royal Military College for this particular week, PMT involved a Division Commander hour in which cadets were able to openly discuss pressing issues and concerns at the college to their respective Divisional Officers. This hour is important for both the Training Wing as well as the college students. It is an open floor discussion. The officer cadets had the opportunity to ask pertinent questions about ongoing activities since they could not during the week due to their busy schedules. Discussion about changes in the college orders, bar positions and second language training standards are some of the topics that were discussed during this week's PMT. The cadets were able to have a better understanding of what goes on behind the scenes at the college as well as having the opportunity to interact with a senior officer."
– OCdt 26714 (III) Vincent Sauvé
***
"This week for PMT, the fourth year class had a briefing on Cyber Warfare from Commodore Hawco. It addressed many of the unknowns that are contained within this niche employment. As a MARS officer, Commodore Hawco described how, despite his background, he was still able to grasp and understand the finer points of what makes Canada safe as well as vulnerable from cyber attacks. He described how it is a relevant and increasingly important responsibility for the CAF. Towards the end of the presentation the Commodore was asked a multitude of questions, particularly from the three cadets who shared the last 2 of his college number."
– OCdt 26257 (IV) Zach Day