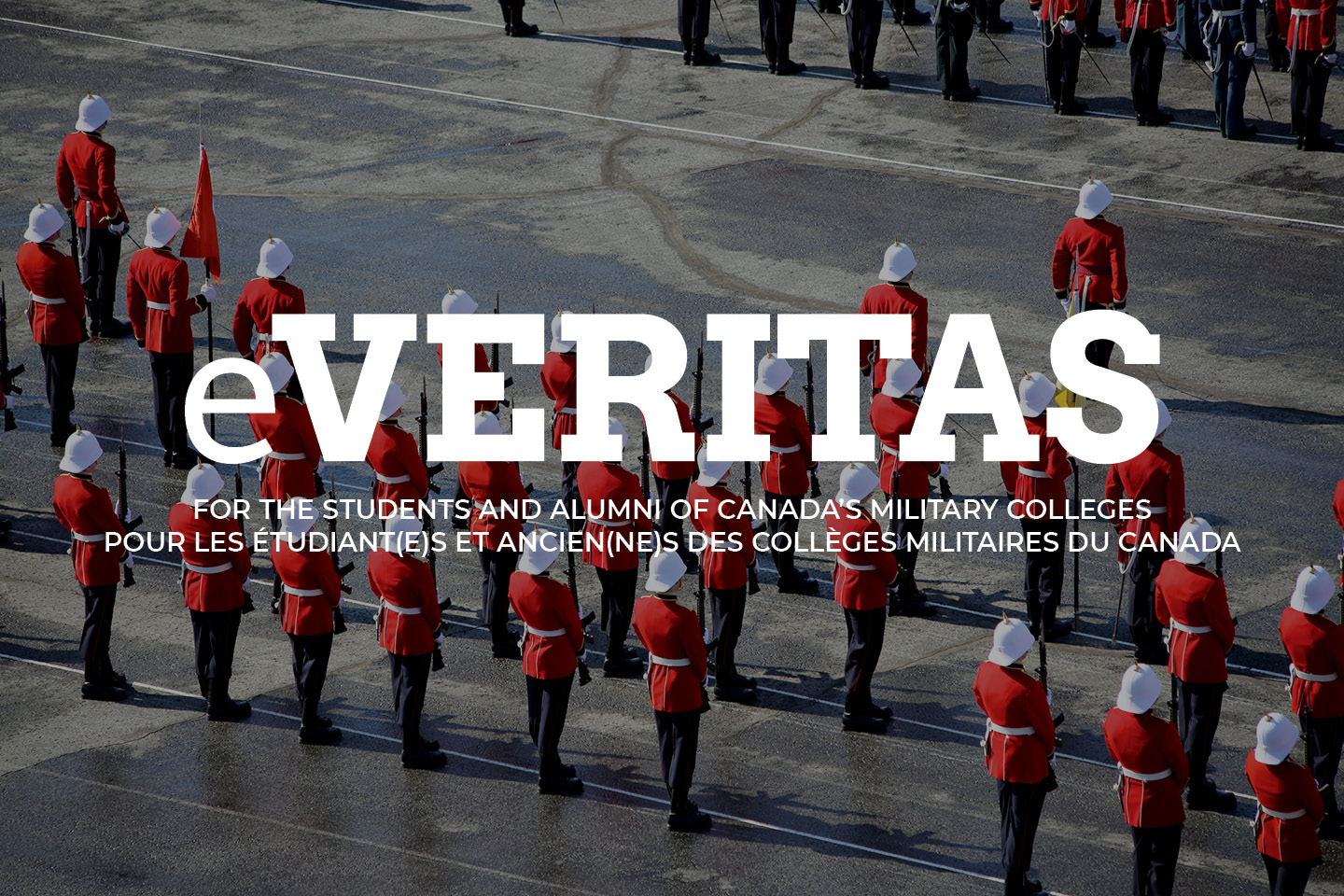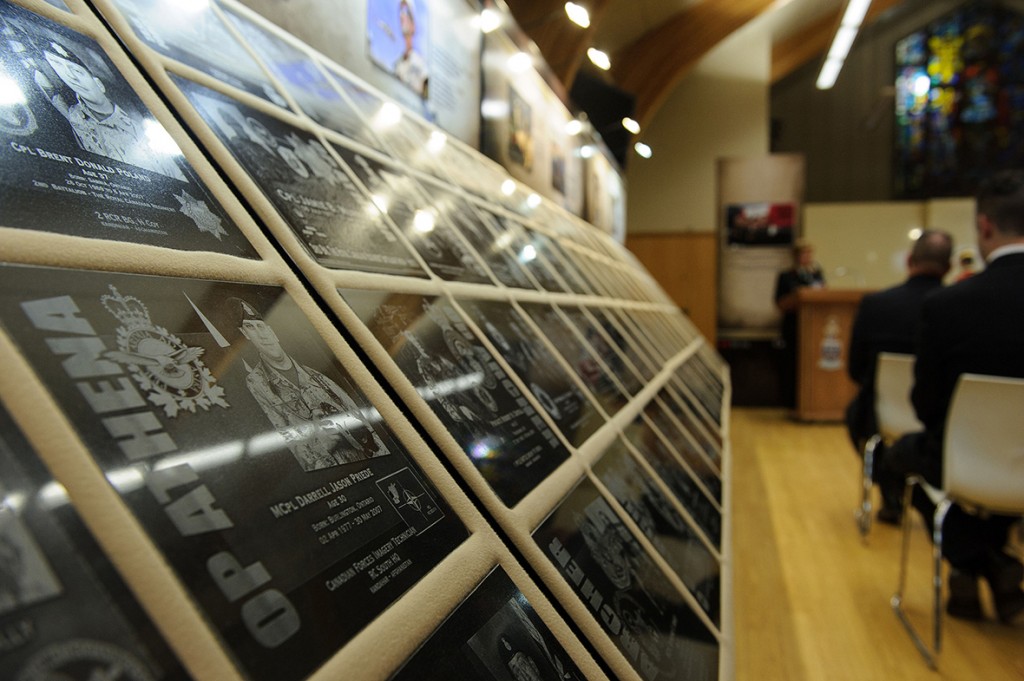 Photo : Corporal Nédia Coutinho, St-Jean/Montréal Imaging Section
The National memorial commemorating Canada's mission in Afghanistan was on display at the Royal Military College of Saint-Jean, Saint-Jean-sur-Richelieu, Québec, March 11 to 14.
Royal Military College of Canada will host the Afghanistan Memorial Vigil (AMV) in Currie Hall from 17 to 19 Mar.
The 192 Memorial Plaques representing the 204 Canadian and American Fallen will be made available for viewing 1200 to 1500hrs on 17 Mar 15 and from 0900 to 1500hrs on 18 and 19 Mar.
Le monument commémoratif national de la mission du Canada en Afghanistan est exposé au Collège militaire royal de Saint-Jean, à Saint-Jean-sur-Richelieu, au Québec, du 11 au 14 mars 2015. Photo : Caporal Nédia Coutinho, Section d'imagerie St-Jean/Montréal
Le CMRC accueillera la Veille du monument de l'Afghanistan (VMA) dans la salle Currie du 17 au 19 mars.
Les 192 plaques commémoratives de la VMA représentant les 204 morts canadiens et américains de la mission de 1200 à 1500hrs le 17 mars et de 0900 à 1500hrs le 18 et 19 mars.
***
CDA & RMCC Major Presence in Kiev

Concert in Scarlets – Through the eyes of the M.C.

The lady leading the band

Iron ring ceremony 2015

Naval Mess Dinner

CEC – 2015 –

CCG
 More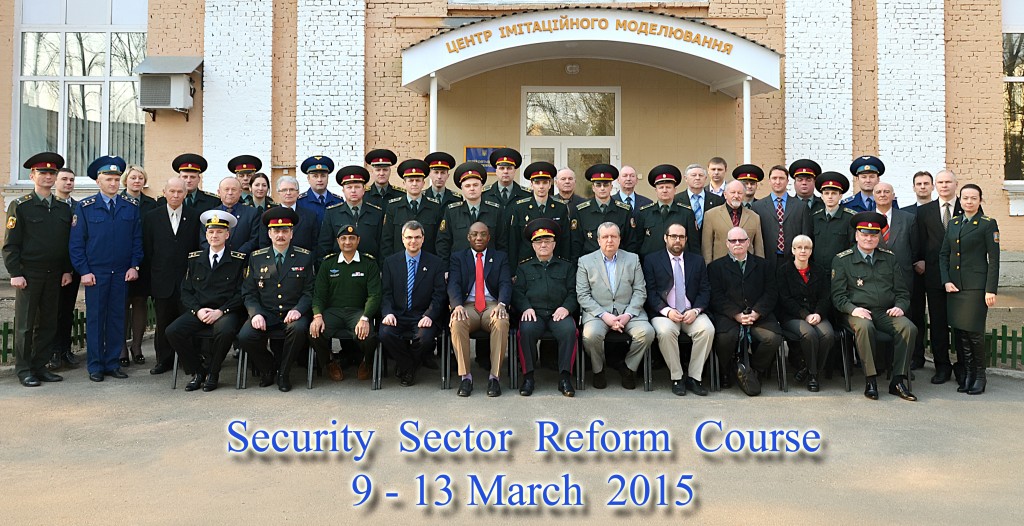 CDA & RMCC Major Presence in Kiev
Adjunct professor Dr. David Emelifeonwu, SSO Educational Engagements and Partnerships at the Canadian Defence Academy, and RMCC's Dr. Christian Leuprecht spent last week in Kiev, co-teaching a course on Security Sector Reform. The course part of a broader mid-career officer professional education effort at Ukraine's National Defence University delivered on behalf of DND's Directorate Military Training and Cooperation.
***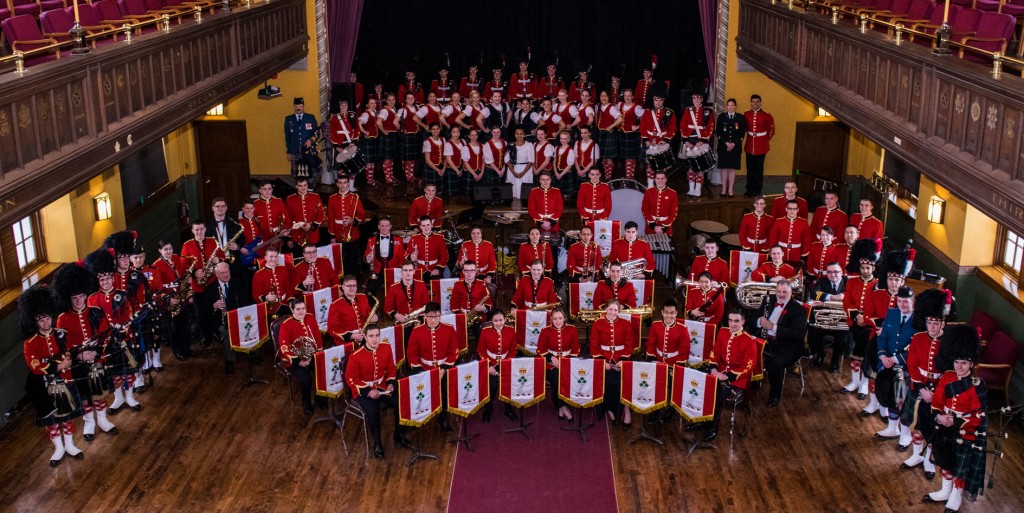 Concert in Scarlets – Through the eyes of the M.C.
26659 OCdt (III) Danielle Andela  1 Squadron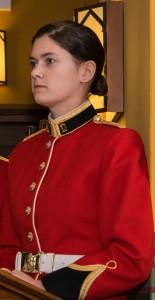 This past Saturday, March 14th I had the opportunity to act as Master of Ceremonies for the second time for the annual Concert in Scarlets. As usual it was well worth the time to see and was filled with many fun, diverse and often moving performances by the Brass and Reed Band, Pipes and Drum Band, Stage Band and Choir.
Opening with Oh Canada, directed by the Cadet Wing Band Officer, OCdt Saulnier, the Brass and Reed Band was then conducted by Bandmaster Warrant Officer Catherine Norris through a series of performances including a medley of songs from the 2013 movie "Star Trek Into Darkness" as well as "Canada Overseas", "What's Up at the Symphony" (including several English and French impersonations of famous characters such as Bugs Bunny and Porky the Pig", "Abide with Me" and concluding with "Led Zeppelin on Tour".
The RMCC Choir took the stage and have everyone singing along with "Hakuna Matata" from the Lion King, "Home" by Phillip Phillips, a very moving rendition the traditional Russian song "Kalinka" and concluded with an a capella (all the beats, harmonies and other music sections are made by the choir members singing) version of the Bella Finals from the hit 2012 movie Pitch Perfect.
The Stage Band was the next group up. Distinct as a result of the recreational club nature of the band, they played "Mambo Hot", "Secret Love" (well known for it's feature performance in the film "Calamity Jane", "Children of Sanchez" and finished off the performance with a rock gospel version of "Amazing Grace".
The next to take the floor was the Pipes and Drums Band with not only their traditional music but also the lovely highland dancers to accompany them. They played "The Irish Jig" in which the dancers portrayed a woman scolding either her husband, her children or even some mischievious leprechauns! "Scotland the Brave/Rowan Tree" were performed next followed by "Atholl Highlanders/Bonnie Dundee". "Cock o' the North", the regimental march of the Gordon Highlanders was also played. This regiment is well known for being led with this march in Afghanistan in 1897 by a piper who was shot in both legs and propped up against a rock. A new and exciting addition to the Pipes and Drums performance was the performance of the "Sword Dance" where the dancers stepped more and more quickly in a variety of complex patterns over several sharp swords. "The Medley" was also played along with "Orange and Blue/High Road to Linton".
At this point the Brass and Reed proceeded onstage to perform several pieces together with the Pipes and Drums. After playing "Sands of Kuwait" and "79th Farewell to Gibraltar", RMC's Chief of Staff, Commander Mike Mooz, was invited on stage to say several words on behalf of the Commandant and present Ms. Bhavana Varma, the President of the United Way KFL&A, with a cheque representing the donation of the afternoon's proceeds.
The Cadet Wing Band Officert, OCdt Saulnier then took to the stage again to present Bandmaster, Warrant Officer Catherine Norris with flowers, thanks, and well wishes from the RMC bands and choir for wherever her life takes her from RMC.
The concert concluded with the playing of "Highland Laddie/Black Bear" and the RMC march "Precision". Many cheers could be heard for the band and even a standing ovation could be seen at the end of the performance. As usual, the RMCC bands and choir put together a fantastic showing for the many members of the College students, faculty and related members.
More photos of the Concert in Scarlets by Kyle Tilley – Here
***
The lady leading the band
By: NCdt 26434 Wendy Gracias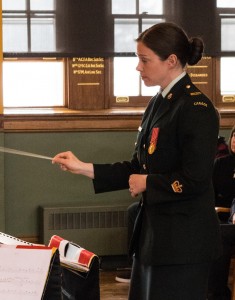 A few days ago, I caught up with Warrant Officer Catherine Norris, the bandmaster at RMC.
Born in Cowansville, Quebec, WO Norris grew up around the Montreal area. She studied science and music for two years, while attending Marianopolis College, prior to pursuing undergraduate studies in Ontario. Originally she had applied to a chemical engineering program at the University of Waterloo, but had a change of heart when she realized that music wasn't going to be as much a part of her life as it had been while at Marianopolis College in Quebec. With the full support of her parents, she decided to apply to music program at the University of Ottawa, where she subsequently obtained a bachelor's degree in music in 2002. Immediately after completing her undergraduate degree, she went on to pursue a master's degree in music at McGill, from 2002-2004.
During her first year of undergraduate studies, WO Norris worked mostly as a cook, and spent some time auditioning, however, it was through one her friends at school that she initially learned about the military band. In 1999, the talented and young musician joined the reserve forces, playing music for the ceremonial guard in Ottawa, for the changing of the guard ceremonies. The next six years were spent going to school and working with the reserve band during the summer months. Following completion of her masters degree, she spent about a year trying to get an orchestra job, when a regular force position for fluting, which happened to be her expertise, opened up. In 2005, WO Norris successfully auditioned for this position and was posted to Edmonton, joining the Royal Canadian Artillery Band. In 2012, fresh on the heels of completing the QL7 trade course, WO Norris was posted to RMC.
I asked about some of the highlights of working at RMC, to which she replied, "I love working with the officer cadets because I feel like you guys are so overworked and there is so much pressure put on you and band is fun and stress free. It's what I try to make it- a place where you can come and forget about papers, forget about mid-terms, you can forget about all the other stuff and you can come in and play music." Another important aspect, she pointed out, is that the band really feels like a family, and teamwork is extremely important because although each person has their own small part to play, but without each unique contribution, the band and the music is not complete- everyone has to be on the same page. In addition, the feeling that each person has a place to fit in and the supportive environment promotes creativity and a positive energy within the band, particularly during preparations for upcoming concerts, where new ideas emerge and morph into new and amazing pieces of music.
On Saturday, I attended the Concert in Scarlets, where the college band put on an amazing performance – under the direction of Warrant Officer Catherine Norris.
***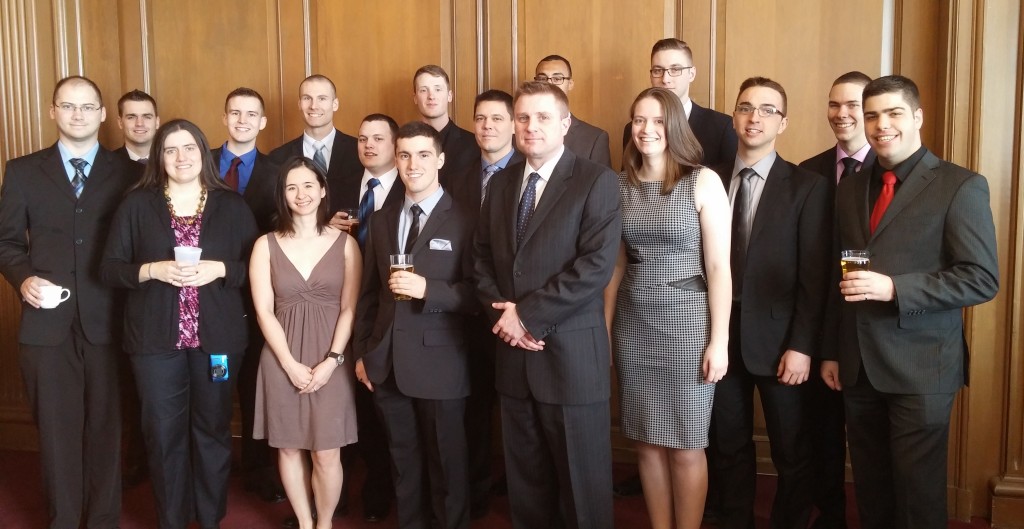 Iron ring ceremony 2015 – Congratulations to our 95 officer cadets who received their iron ring ceremony which was held at Queen's University – Sunday 15 March. At press time, we were able to obtain a photo of the Computer Software Engineers (top); Electrical Engineers second photo); 2015 Aeronautical Engineering Class third). We can add if we receive the others.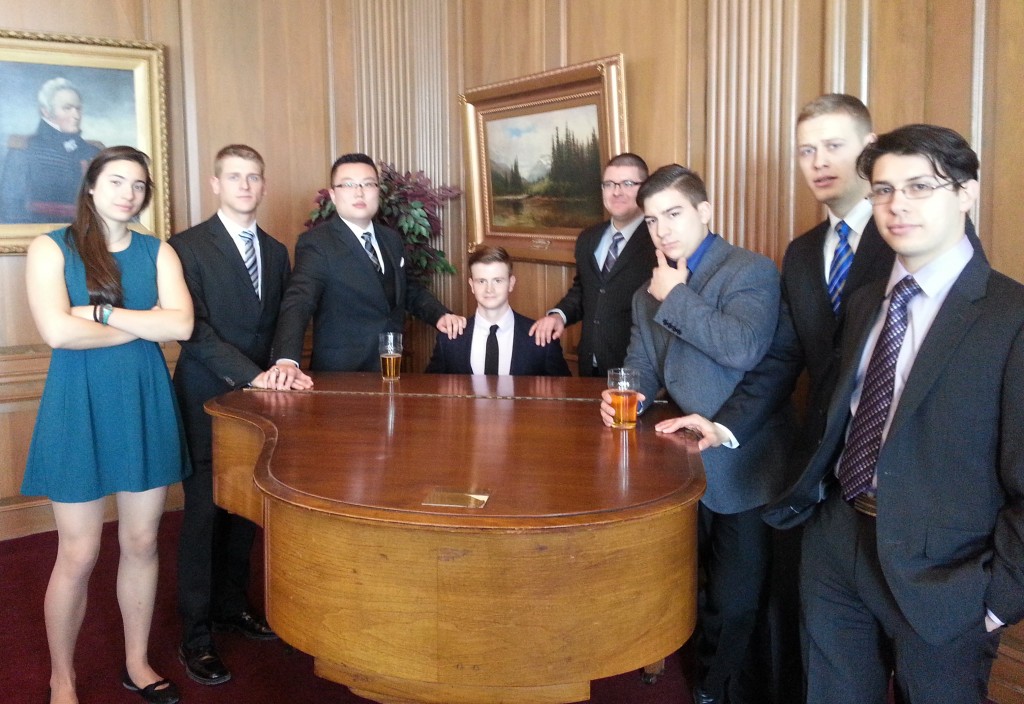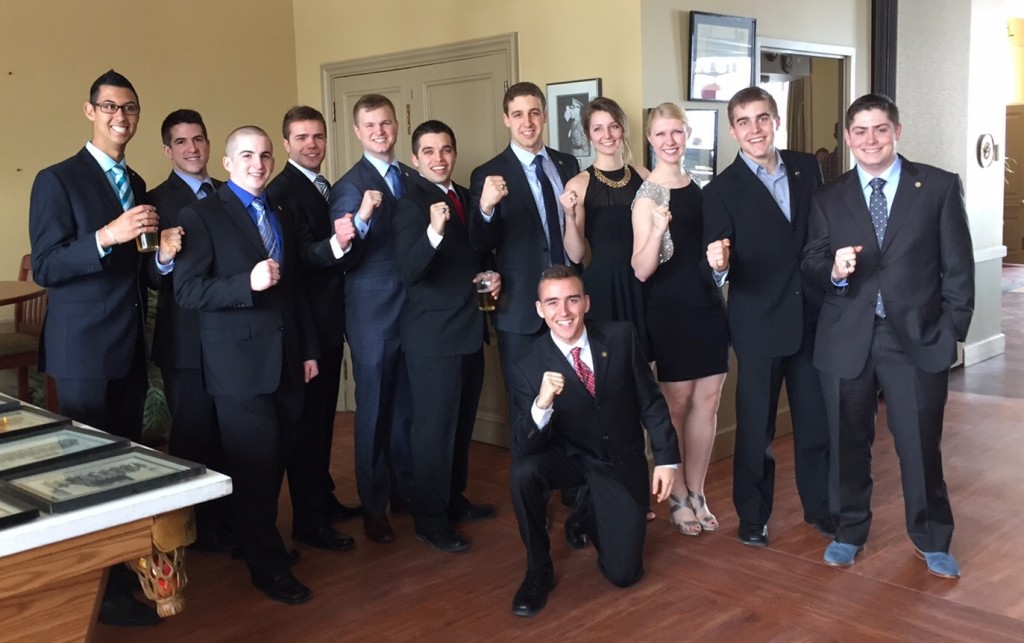 ***
Naval Mess Dinner
The 4th Year Naval Mess Dinner was held on Wednesday, March 11th. The dinner unfolded with the exchange of witty banter in proper naval fashion. This year, we were fortunate enough to have an increased number of senior naval officers at the event.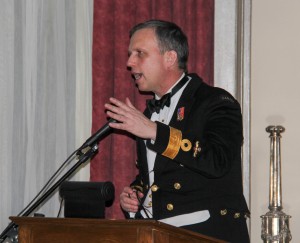 All of the cadets undoubtedly benefited from spending an evening filled with shared knowledge, advice and experiences of all naval officers present. Our Guest of Honour was 16204 Commodore Luc Cassivi, Director General Naval Strategic Readiness. He offered the graduating naval cadets sound advice as to the importance of adaptability as we leave RMC to join the fleet.
Three naval swords were awarded at the Dinner:
The Naval Operations Sword "awarded to the best overall naval operations cadet based on third year academic marks and overall performance in naval training during summer training periods" was presented to 26349 NCdt Derek Frank.
The Naval Engineering Sword "awarded to the best overall naval engineering cadet based on third year academic marks and overall performance in naval training during summer training periods" was presented to 26489 NCdt Matthew Golding.
The Sea Logistics Sword "awarded to the best overall sea logistic cadet based on third year academic marks and overall performance in naval training during summer training periods" was presented to 26550 NCdt Shane Coote.
Congratulations to the awards winners, and a special thank you to 6604 Dr. Jim Carruthers, President of the RMC Foundation and 7195 Cmdre (Ret'd) Robert Hamilton as the presentation of naval swords was made possible through their personal efforts.
Article by: By: NCdt Kyle Williams / Photos by: Denice Zoretich

***
CEC – 2015 –
CCG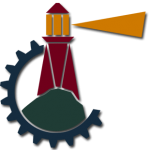 On March 5th, four second year engineering students from the Royal Military College of Canada (RMCC) (Andrew Lumley, Jeremy Billard, Luke Tamlin, and Simon Ewing) travelled to St. John's, Newfoundland, to represent not only RMCC, but also the province of Ontario at the 2015 Canadian Engineering Competition (CEC), which was hosted at Memorial University of Newfoundland.
The annual competition allows university students from across Canada to compete against one another in any of seven different categories, such as communications, re-engineering, and design. Like in years past, two teams from RMCC competed at the Ontario Engineering Competition (OEC), held earlier in February, in both the junior and senior design categories. In the design category, competitors are given a problem that one might encounter in a real engineering situation. Within six hours, each team not only has to create a design to fulfill the objectives, but must also build a prototype and prepare a presentation based on their work, which is presented to judges later on. Out of 17 teams that competed in the OEC junior design category, RMCC finished in second place, securing a spot at the CEC, as only the top two teams from each of the four regions (the Western provinces, Ontario, Quebec, and the Atlantic provinces) get to advance to the national competition.
The challenge for the junior design at this year's CEC was for competitors to design and build a prototype that could be mounted onto a remote control boat and could collect small floating balls in a large water tank. The given concept was to simulate a device that could be fitted to large ships and could collect floating pollution in the world's oceans. As soon as the clock started, all eight teams quickly went to work at designing their projects. Most teams went about designing a solid half hoop which could be mounted to the back of the boat and push garbage along as it caught it; however, RMCC took a slightly different approach compared to most of the other teams. RMCC's project relied on two plastic sheets that started on each side of the boat and converged about a foot behind it. A mesh net was fitted to an open ring where the two sheets met, and the idea was that as the debris hit the sides, it would be fed into the bag and retained there. Additionally, styrofoam floats were fitted to the side of the contraption to allow collection at several different depths, rather than just at the surface. The presentation that was given later not only outlined the pros and cons of the design, but also had to outline how it could be reproduced to operate in a real world setting.
The results of the competition were announced to competitors at the closing dinner on the Saturday night. Out of the eight teams from across Canada competing in junior design, RMCC took home the second place standing once again.
On behalf of the RMCC junior design team, I would like to take this opportunity to thank the RMC Foundation for providing the funding for RMCC Officer Cadets to take part in these extremely enriching competitions.
OCdt 26987 (II) Simon Ewing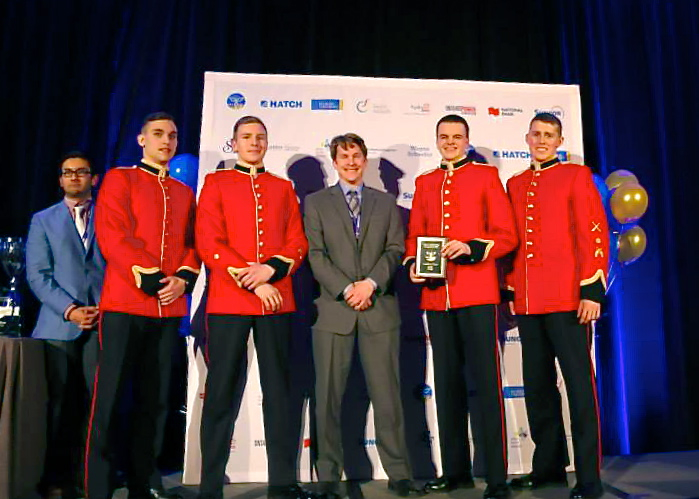 Le 5 mars, quatre étudiants en génie en deuxième année au Collège militaire royal du Canada (CMRC) (Andrew Lumley, Jeremy Billard, Luc Tamlin, et Simon Ewing) se sont rendus à Saint-Jean, Terre-Neuve, pour représenter non seulement le CMRC, mais aussi la province de l'Ontario au Concours Canadien de Génie (CCG) 2015, qui a été accueilli à l'Université Mémorial de Terre-Neuve.
Le concours annuel permet aux étudiants universitaires de partout au Canada de rivaliser les uns contre les autres dans l'une des sept catégories différentes, telles que la réingénierie, les communications et la conception technique. Comme lors des années passées, deux équipes du CMRC ont participé au Concours de l'Ontario d'Ingénierie (COI), tenu plus tôt en février à la fois dans les catégories junior et senior de conception technique. Dans la catégorie de conception technique, les concurrents sont confrontés à un problème que l'on peut rencontrer dans une situation réelle de l'ingénierie. Dans les six heures allouées, chaque équipe doit non seulement créer un design pour atteindre les objectifs, mais doit également construire un prototype et préparer une présentation basée sur leur travail, qui est présenté aux juges plus tard. Des 17 équipes qui ont participé dans la catégorie de conception junior COI, le CMRC a terminé en deuxième place et a obtenu une place au CCG, à laquelle seules les deux premières équipes de chacune des quatre régions (les provinces de l'Ouest, l'Ontario, le Québec et les provinces de l'Atlantique) ont le droit de participer.
Le défi pour les compétiteurs de la conception technique junior au CCG de cette année était de concevoir et construire un prototype qui pourrait être monté sur un bateau de contrôle à distance et qui pourrait recueillir des petites boules flottant dans un grand réservoir d'eau.
L'idée était de simuler un dispositif qui pourrait être adapté à de grands navires et pourrait récolter la pollution flottant dans les océans du monde. Dès que le feu vert fut donné, les huit équipes se sont mises au travail. La plupart des équipes se sont concentrées sur la conception d'un demi-cerceau solide qui pourrait être monté à l'arrière du bateau et pousser les ordures après les avoir attrapées; toutefois, le CMRC a adopté une approche légèrement différente par rapport à la plupart des autres équipes. Le projet du CMRC misait sur deux morceaux de plastique qui commençaient de chaque côté du bateau et convergeaient environ un pied derrière lui. Un filet de mailles a été monté sur un anneau ouvert où ces deux morceaux étaient joints. Le but était que lorsque les débris frapperaient les côtés, il serait introduit dans le sac où ils seraient retenus. En outre, des flotteurs en mousse de polystyrène ont été montés sur le côté du design pour permettre la collecte à des profondeurs différentes, plutôt que seulement à la surface de l'eau. Finalement, la présentation qui a été donné plus tard a non seulement décrit les avantages et les inconvénients de la conception, mais a aussi démontré comment elle pourrait être reproduite pour fonctionner dans un environnement réel.
Les résultats du concours ont été annoncés aux concurrents au dernier souper le samedi soir. Des huit équipes provenant de partout au Canada qui ont participé au conception technique junior, le CMRC a encore remporté la deuxième place.
Au nom de l'équipe de la conception technique junior du CMRC, j'aimerais profiter de cette occasion pour remercier la Fondation du CMR qui a fourni le financement qui a permis aux élèves officiers du CMRC à participer à ces compétitions très enrichissantes.
Élof 26987 (II) Simon Ewing