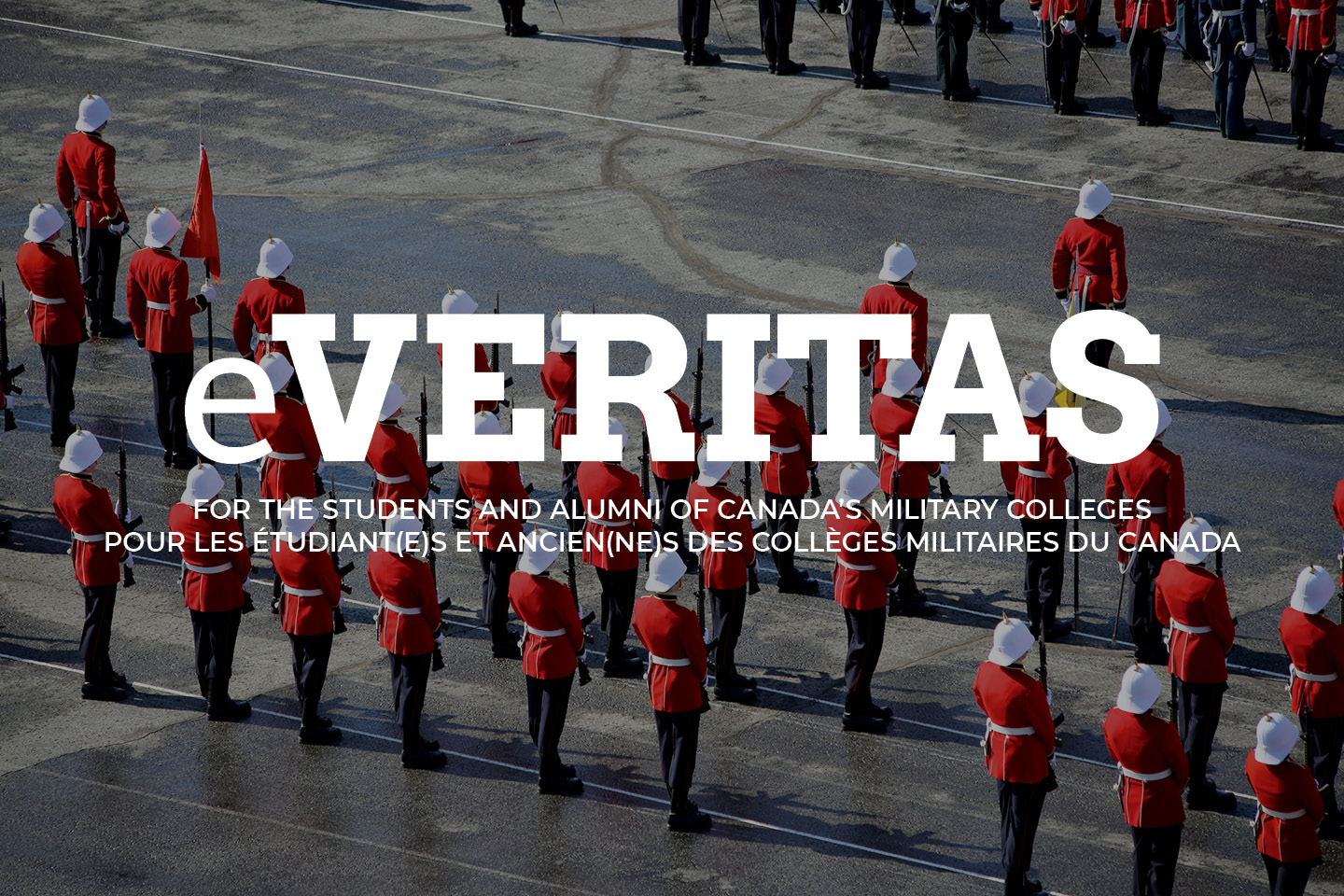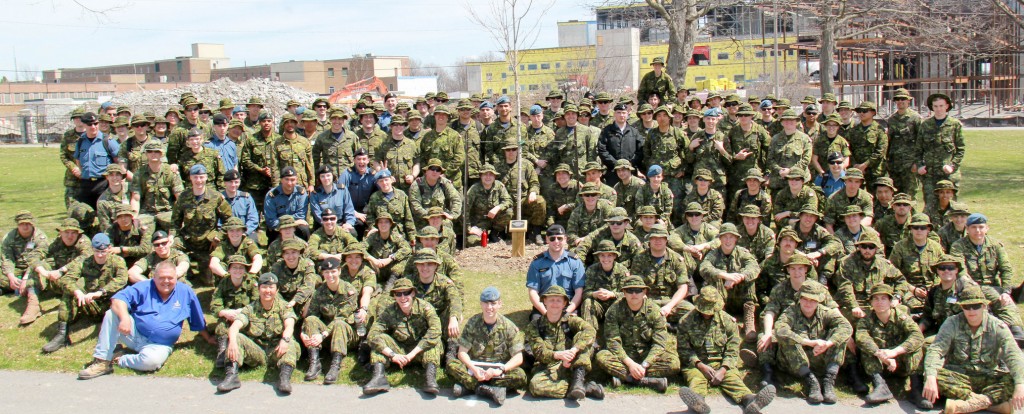 Caption: Third year cadets from RMCC at the end of a day of cleaning-up City of Kingston parks & recreation areas. A tradition from this event includes a tree planting ceremony with a plaque – see photo below.
Cadets clean up Kingston with annual community service projects by I, III & IV years;
MORE
RMCC cleans up Kingston with annual community service projects
Article By OCdt 26659 (III) Danielle Andela / Photos by OCdt 26573 (III) Denice Zoretich

This past Saturday, May 2nd, the I, III and IV year classes of RMCC spent the day out and about the town of Kingston performing various cleaning and fundraising tasks and events. The following is not only a description of each year's project but also some words from the cadets, officers and members of the public involved with the projects.
1st Year Class Project
The officer cadet in charge of the 1st year garbage cleanup had a few things to say about the event:
"We will be conducting a garbage sweep of the streets of downtown Kingston in order to aid the community by cleaning up trash. Cadets will be dressed in CADPAT and NCDs and will be informing the public of their intent via well made signs and looseleaf handouts. A solid 1st year CoC will ensure that positive control of the troops is demonstrated at all times. The FRT will be providing support by patrolling our designated cleaning areas in a PMV. The Officer Cadets of the class of 2018 are eager to help out the community and show our presence to the city of Kingston by conducting this garbage sweep."
OCdt 27386 (I) Kane O'Brien
"We've been picking up garbage for the fast two hours or so, going through parking lots in downtown Kingston and going through the hub and picking up anything we thought shouldn't be there. It's good to have a clean community, it's also a lot nicer when there aren't cigarette butts everywhere and garbage just laying around.
OCdt 27372 (I) Evan Mills
"It's good to give back to the community. It's good to have a strong presence around Kingston and let people know we're here."
OCdt 27456 (I) Cameron Walker
Today as a class we got together early this morning and we went out into Kingston and cleaned up the streets of Kingston. We picked up garbage on the streets, all the cigarette butts and put them in the garbage and then got all the garbage bags off the street. It was kind of our way of giving back to Kingston. I think it's important because Kingston and the military have had such a huge relationship and connection for so many years, and I know, sure, we live on the other side of the water but we're still a part of Kingston and it's our way of giving back to this beautiful city that we live in.
OCdt 27476 (I) Danielle Fielding
One of the helpful organizers of the project also took time to provide some insight into his role in the project:
"I helped Mr. O'Brien with his ideas. He came up with ideas and I helped him tackle them. I helped with the back-briefs and right now, he just tells me where to go to pick up the garbage. I think it's important that the public be aware of what the Canadian Forces can offer both abroad and at home."
Warrant Officer Dave Stewart
As is expected the citizens of Kingston were more than pleased to see the 1st year cadets cleaning up the downtown:
"It was great, I thought it was wonderful. I didn't know what was going but I noticed them all picking up things along the side of the road."
Catherine Blay
***
2nd Year Class Project
The 2nd year class project consists of a food drive that will be taking place Wednesday the 13th of May in town during the evening.
***
3rd Year Class Project
The 3rd year cadets had a few words on their project, which consisted of a full day of park cleanup ending with a ceremonial tree planting in Lake Ontario Park:
"The goal of the project is to give back to the Kingston community as well as promote the college within the city. This project is very important because it gives us a chance to give back to a city that has given us so much, whether it be a nice walk by the water, a nice dinner or a fun night on the town. Moreover, it gives us a chance to work with the city and give them the man power needed to take on such a big project."
OCdt 26664 (III) Zacharie Marshall
"At RMC and in the CAF, Officer Cadets have the idea of service drilled into them over and over. However, under the rigorous demands of the ROTP program, we can lose sight of this value in the insular environment created by our geographic isolation and the pressure to fulfill the four pillars. The annual class projects are an opportunity for cadets to give back to the city and the community that has supported the College over the years. It is also a reminder to 'the outside world' that we are here to serve. I'm very happy to see the cadets step up to the plate and do their part in cleaning the parks, a small but powerful gesture of the values that drive our profession."
OCdt 26712 (III) Julie Cho
"We're cleaning up the park and doing some good for the community. We do this to show our faces around and show that we're part of the community in Kingston. I did a lot of cleaning when I was young, with my own yard, so it's nothing too difficult and it's a beautiful day. You're with your friends so I'm actually really enjoying myself."
OCdt 26704 (III) Delaney Chang
Ivan MacKeen, a citizen of Kingston making use of the park had a few things to say about the project as well:
"It feels great, I'm glad to see it. I've noticed the last few years that RMC has been out pretty regularly and it's nice to see. It's nice to see you contributing. I'm glad that you come and do it and take the time. It's a nice day and a lot of people use this place."
Finally, Wayne Freeman, the supervisor with public works in Kingston discussed the great help that the cadets provided to the city:
"I am the supervisor with public works, which looks after parks and green spaces. So when you guys volunteer to help us it's a huge help for us because everybody is so short staffed nowadays and many of these areas that you're doing, a lot of the time we don't get them done at all. So it's a huge help to us and we really appreciate you pitching in. I see the first year cadets are all around downtown picking up stuff and it's just amazing with bags of trash and bags of trash, along with what you guys are doing here. You can see how the work goes quickly when you have numbers; I can't believe how many leaves were raked up in such a short time. It's great!"
More photos by OCdt 26573 (III) Denice Zoretich – Here
***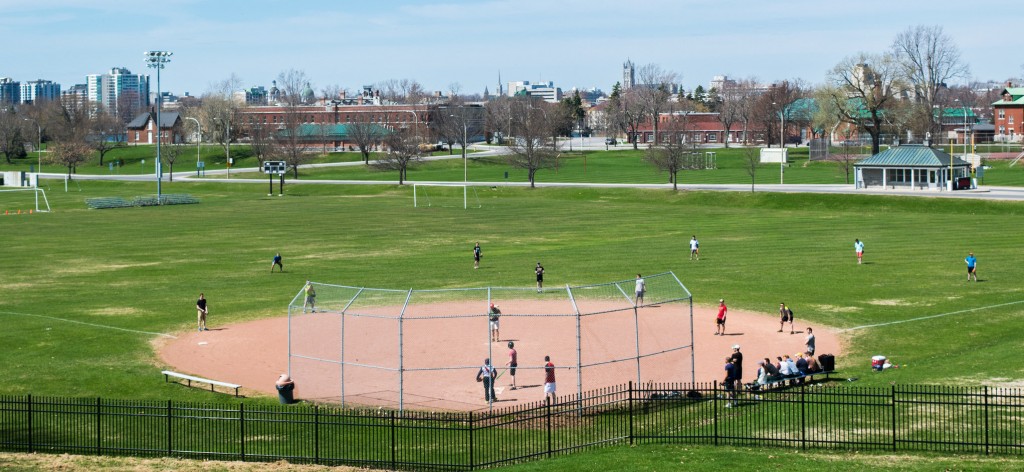 4th Year Class Project

"On May 2nd 2015, the Graduating Class of RMCC hosted a softball (slo-pitch) tournament using RMCC & CFB Kingston ball fields to raise funds for Kingston Military Family Resource Centre. Over the course of the day, participants from the Fourth Year Class played softball with their preregistered teams of between 10-12 members. A barbecue and prizes for the winning team were all part of the deal, in exchange for a personal donation of between 5-10 dollars from each team member. A few civilians were invited to participate; they will also be donating funds to this great cause."
OCdt 26404 (IV) Benjamin Simon
One of the game participants had something to say about the importance of their fundraising:
"Family life is important for everyone including the military. Being in the military and being away a lot of the time makes it hard on family life so it's important that our kids don't suffer for our decisions. We're supporting our country, I believe it's important that our kids don't get held back because of our actions and our decisions so running events like this is important as it's a fundraiser and promotes a healthy lifestyle as well."
OCdt 26453 (IV) Curtis Sharma
The A Division Commander at RMC happened to be watching a ball game and had a few comments about the importance of giving back to the community:
"Just because of the long history, RMC has been here for a lot of years and the community has supported us and we've reciprocated to the community back. It's important to keep that going and have a good relationship with the city and with the community because we're living together and working together and we help each other out financially."
Major Klaus Schneider
***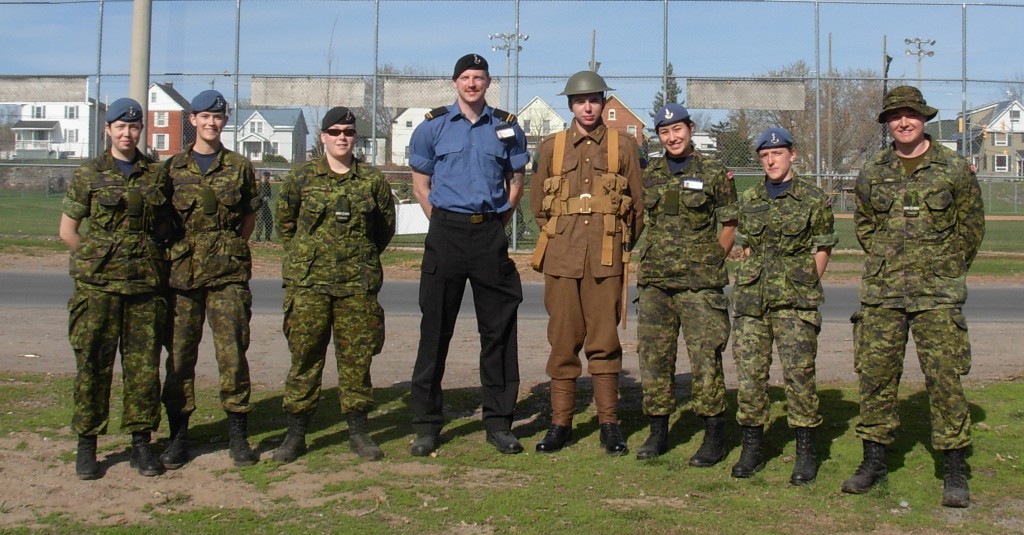 Caption: While they were cleaning up the parks on Saturday, Cadet Warrant Officer Buell-Lowes stopped in to take a photo with several officer and naval cadets of the Class of 2016. A member of the 2584 Princess of Wales' Own Regiment Army Cadet Corps, WO Buell-Lowes was dressed in the Canadian WWI uniform as he was on his way to participate in the anniversary event for the 21st Battalion Canadian Expeditionary Force at the Kingston City Hall.
More photos by OCdt 26573 (III) Denice Zoretich – Here