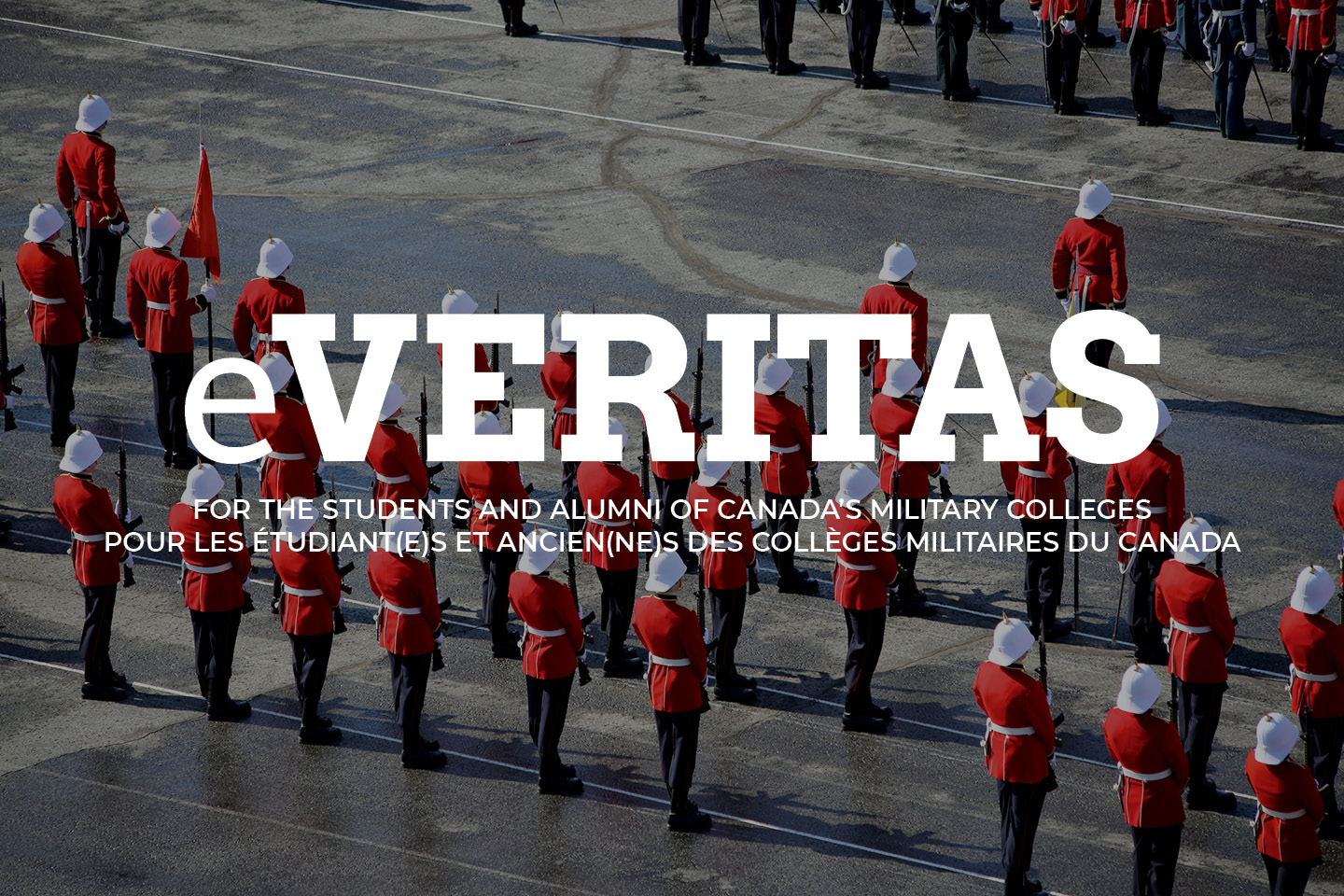 Keeping the 'Paladins' front & centre;

Cadets best friends visit RMCC (again) during exam period /

 Les meilleurs amis des élèves officiers visitent (encore une fois) le CMRC durant la période d'examen

Band Awards & Party
***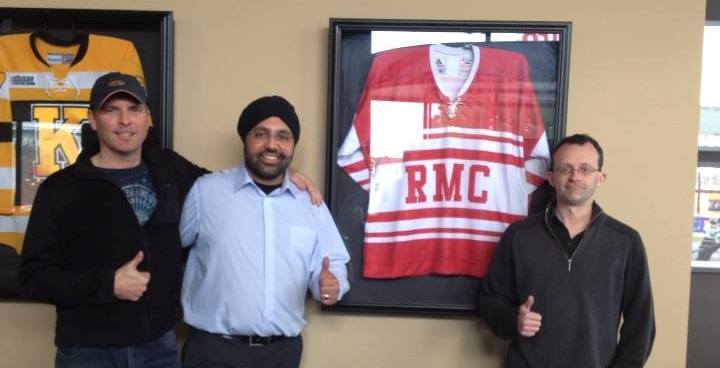 MORE
Caption: Photo (L-R), Mr. Robert Paquet (Language Center Director), the manager of Boston Pizza (name not available at press time) and Martin Laforest of the Registrar`s Office all give a proud thumbs-up following the unveiling of a 'Paladins' hockey jersey at the local Boston Pizza.
Keeping the 'Paladins' front & centre
A couple of RMCC staff who happen to be hockey supporters of the varsity Paladins couldn't help but notice that a local Boston Pizza establishment had framed jerseys for the local major Jr "A" team and Queen's University hanging on their wall.  Conspicuous to them – no RMC jersey in sight.
Robert Paquet (Language Center Director) and Martin Laforest of the Registrar`s Office brought the matter up with the restaurant manager who was more than willing to accept the red & white jersey. That is if he could obtain one.
Robert and  Martin contacted, Coach Adam Shell, who quickly and  gladly provided the jersey. The photo above verifies the result.
Nice gesture by Robert, Martin and Adam! Very well done!
***
Caption: Saint John's Therapy Dogs, and their owners, April 18th, 2015 / Les chiens de thérapie de l'Ambulance Saint Jean, et leur propriétaires, le 15 avril 2015.
Cadets best friends visit RMCC (again) during exam period
By 26969 OCdt Alexander Upshaw-Dammer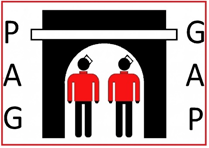 Throughout the two weeks exam period at the College, much stress was felt by all, as it signified the last push to the end of the academic year. In order to combat some of this stress, the college, spurred by the request of the Peer Assistance Group, was lucky enough to be visited by therapy dogs from Saint John's Ambulance. The dogs and their handlers visited the college library on the 15th, 18th, and 22nd of April, and provided the cadet's, a chance to unwind, and play with some very happy dogs. These visits have become very looked forward to by many cadets, and all are grateful to the Saint John's Ambulance Therapy Dog Program for continuing to add the College to their visiting list. The popularity of these visits is very evident, with over 50 cadets coming visiting the dogs this time around. The Peer Assistance Group looks forward to being able to continue providing these excellent visits in the future.
The Peer Assistance Group would like to thank the following owners, and their dogs, for volunteering their time to come visit the college:
Lynn Bennett with Red; Aaron Clow with Louie; Jeannette Dyck with Dakota; Michelle Edey with Mable; Lorie Chaisson with Princess; Carie MacMillan with Wylie; Paddy Fitzgerald with Nolan and Citori; Andre Dubois and Rufus.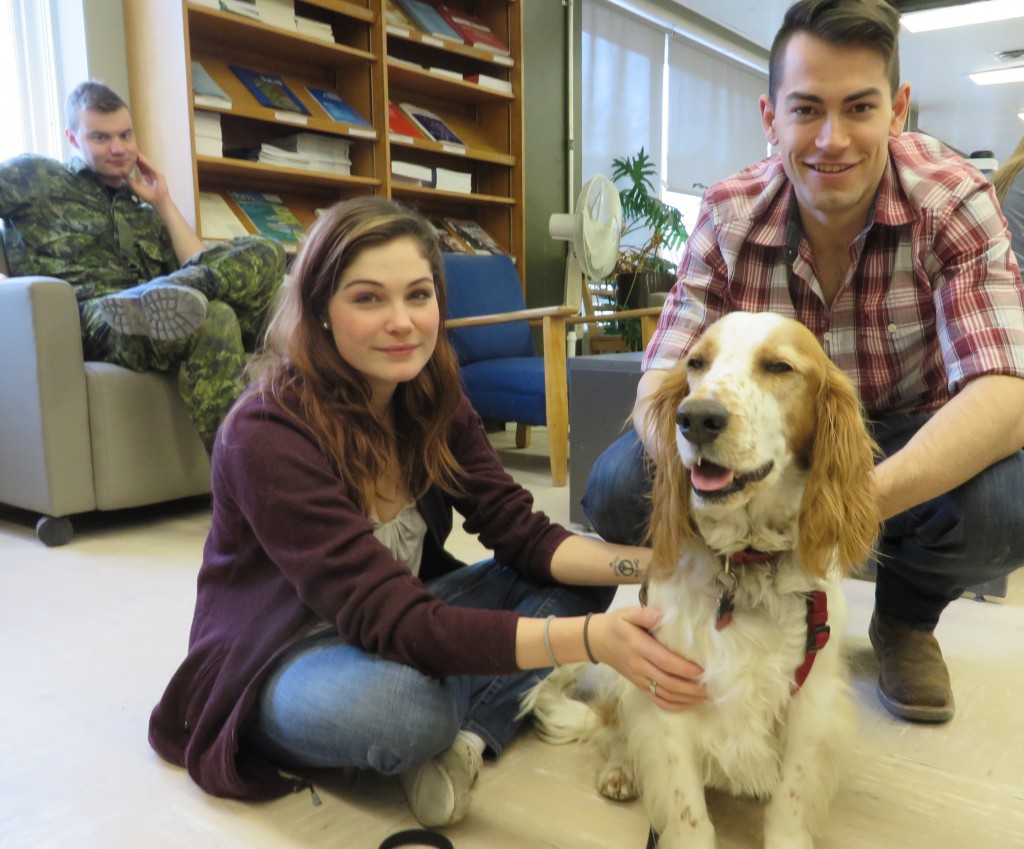 Les meilleurs amis des élèves officiers visitent (encore une fois) le CMRC durant la période d'examen
par 26969 OCdt Alexander Upshaw-Dammer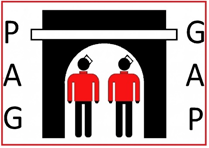 Durant la période des examens, beaucoup de stress est vécu chez tous, car c'est la dernière ligne droite de l'année scolaire. Afin de donner la chance aux Élofs/Aspm de soulager ce stress vécu, le Collège, par l'entremise du Groupe d'Assistance aux Pairs, a l'opportunité de recevoir la visite de chiens de thérapie de l'Ambulance Saint Jean. Les chiens et leurs propriétaires ont visité la bibliothèque du Collège le 15, 18 et 22 avril, et ils ont donné aux Élofs/Aspm l'opportunité de relaxer et passer du temps avec des chiens heureux. Ces visites sont bien appréciées et tous sont très reconnaissants envers l'Ambulance Saint Jean de leur offrir cette possibilité. La popularité des visites est très évidente. Plus de 50 Élofs/Aspm ont visité les chiens cette fois. Le Groupe d'Assistance aux Pairs attend avec impatience de continuer à fournir ce service dans le futur.
Le Groupe d'Assistance aux Pairs voudraient remercier les propriétaires et leurs chiens ci-dessous, pour avoir généreusement donner de leur temps pour visiter le Collège :
Lynn Bennett avec Red; Aaron Clow avec Louie; Jeannette Dyck avec Dakota; Michelle Edey avec Mable; Lorie Chaisson avec Princess;  Carie MacMillan avec Wylie; Paddy Fitzgerald avec Nolan et Citori; Andre Dubois avec Rufus.
***
Band Awards & Party
Article & photos by: OCdt 26267 (III) Erik St-Gelais
Throughout the year, the RMC Bands, consisting of the Brass & Reed, Pipes & Drums, Choir, and Highland Dance, are extremely busy with parades, concerts, dinners, and events, on top of early morning practices three times a week. In order for all this to go smoothly, it requires dedication and hard work from all. Of course, every year some individuals stand out, and Friday night the band was finally able to recognize these people at an annual year-end band party.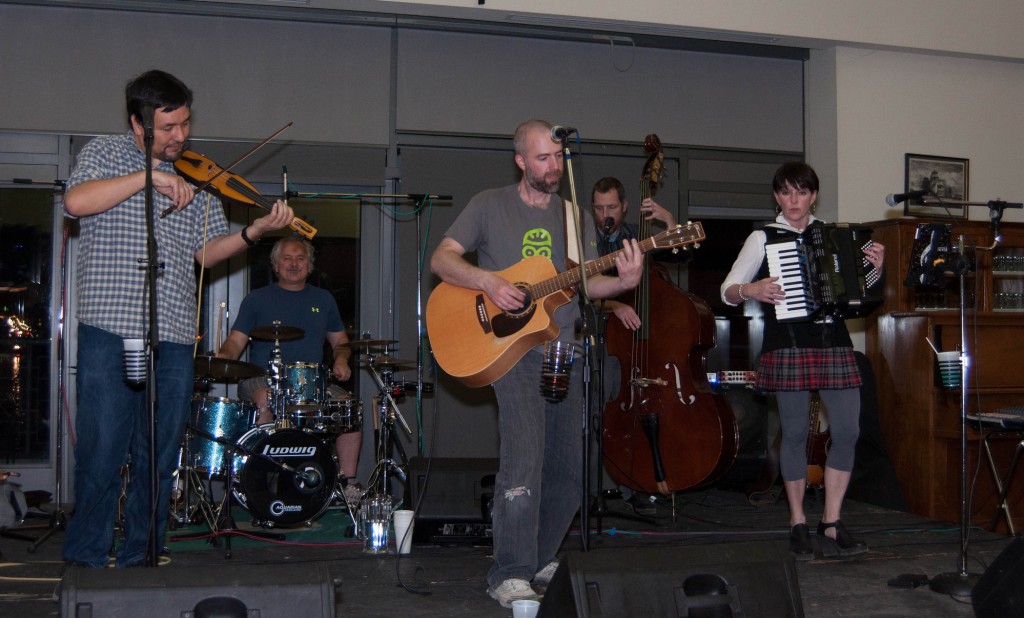 There was pizza and cake available, as well as musical entertainment from Celtic Kitchen Party, a local folk band. Playing drums for CKP was the previous RMC Band Officer, MWO (Retired) Reedy.
Band Officer MWO Smith and Bandmaster WO Norris presented the Most Deserving Member awards with help from Cadet Wing Band Officers' NCdt Morgan and OCdt Saulnier to a member of each section. The recipients of the awards were:
Highland Dance – 26259 NCdt Shortridge
Choir – 26974 NCdt Webb
Brass & Reed – 26366 OCdt Bannerman
Pipes – 26887 OCdt Peel
Drums – 26155 OCdt Pugh
Up next was the Most Valuable Member award, given to two members, one for each semester. The MVM is described as a member who "…best exemplifies excellence through enthusiastic participation in activities, leadership in the development and improvement of the organizations and overall positive influence on the organizations." Furthermore, "The ability of a member to play an instrument, sing, or dance would only be complimentary to the above considerations."
DCdts, LCol Popov, and the Band Officer, MWO Smith, presented the MVM awards to the following members:
Fall 2014 – 26584 NCdt Wilson Ho (Sorry, no photo available)
"NCdt Ho is a member of the choir and attends each rehearsal with a positive attitude and readily volunteers to help in all the band events. He volunteered to be OPI of the Christmas Concert, but an OPI was already chosen so he became 2I/C and also the Stage Manager. He created a floor plan of the mess for the concert for future use, coordinated the set up and tear down of the Staging and was always enthusiastic and ready to help with any task required to be done. He was also the 2I/C for Concert in Scarletc and has asked to be OPI for Concert in Scarlets next year."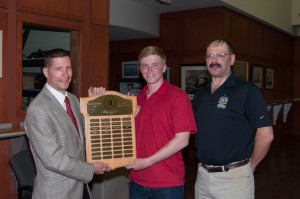 Winter 2015 – 26962 Ocdt Tyler Ovens
"OCdt Ovens is a member of the Pipe Corps who supported many events throughout the semester. He frequently piped for Mess Dinners as well as other events throughout the Winter 2015 semester."
Finally, certificates were awarded to 4th years that have dedicated the past 8 semesters to one of the Band sections, or 6 if they came from CMR St-Jean. Exceptions were made for any members who were not able to participate for a semester due to reasons beyond their control. The graduates who received the certificates were:
B&R/Choir
26366 OCdt Jordan Bannerman
26406 OCdt Ann Kameoka
26469 OCdt Olivia Frank
B&R
26368 OCdt Jesse Elliott
26358 OCdt Nicholas Saulnier
Choir
26494 OCdt Mitchell Marquette
P&D
26091 OCdt Alexia Croizer
26256 OCdt Kevin Greenwell
26320 OCdt Andrew McNaughton
26255 NCdt Kevin Morgan
26409 NCdt Benjamin Mullin-Lamarche
26155 OCdt William Pugh
Highland Dance
26259 NCdt Victoria Shortridge
26345 OCdt Da Sun
26231 NCdt Sarah Berry
26079 OCdt Erika Gagné
26542 OCdt Deanna Gilmore
26253 NCdt Alexandra LaPlante
More photos by OCdt 26267 (III) Erik St-Gelais from the Band party Here