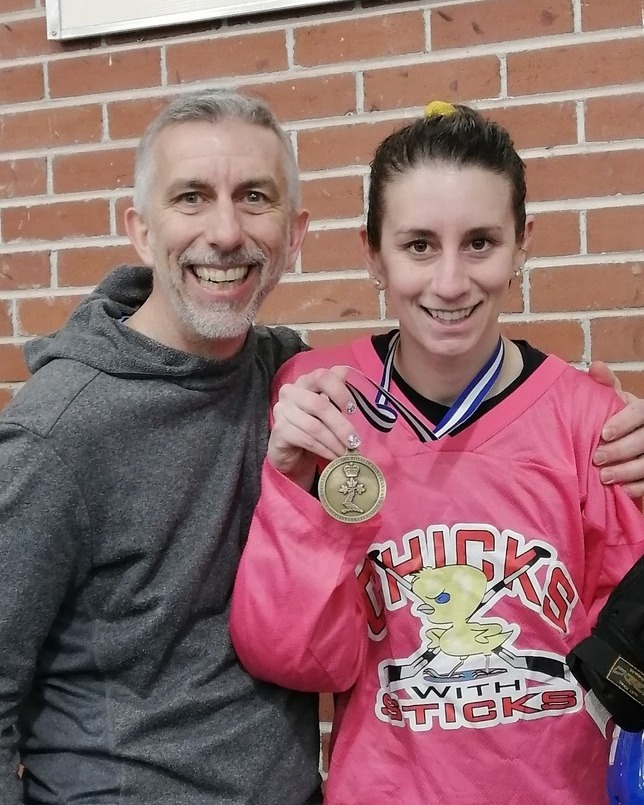 Article by : 16179 Pierre-Paul Béland CMR RMC Class of 1988
If there is one thing to remember from the 48th Edition of  le Tournoi de Ballon sur glace des Anciennes\Anciens au CMR St-Jean (03-05 Feb 2023), it is that the younger generation sure taught a serious lesson to the Old timers.
À commencer par les grandes gagnantes de la catégorie féminine, Les Chicks with Stick, qui ont réussi à revenir de l'arrière à quelques secondes de la fin du match de finale pour ensuite  vaincre Les Sacoches en période de surtemps.   Essentiellement âgées dans la trentaine, les Chicks with Sticks sont encore considérées comme relativement jeunes par rapport aux Sacoches qui sont composées de joueuses dans la quarantaine (ben oui, c'est encore jeune).  Les Broomboules , la troisième équipe féminine du tournoi, qui était composée d'élèves-officières, est la dernière venue dans cette catégorie et nous avons de grand espoir pour leur futur.
A new category was being trialed this year, it consisted of six (6) mixed-gender teams, one of which came from Norwich University, a private military college located in Vermont, USA.  Les Rempart du CMR St-Jean ont remporté la finale de cette catégorie contre les Crazy Cat Ladies.
La dynastie des Jeudis (joueurs âgés dans la quarantaine) a trouvé chaussure à son pied cette année, lorsqu'ils ont dû s'incliner devant Les P'tites Créance (joueurs dans la vingtaine, gradué en 2022) en tirs de barrages suite à une égalité qui perdurait après deux périodes de surtemps.  Un match tout à fait enlevant !!  Il est à parier que Les Jeudis reviendront en force l'an prochain, pour essayer de soutirer le titre de la catégorie compétition aux P'tites Créances.
La catégorie récréative, alignant 13 équipes, a vu sa finale opposer deux équipes d'élèves-officiers du CMR St-Jean.  Ce sont Les Bandits qui ont remporté la finale contre les DT.  Fait important à noter: ces deux jeunes équipes s'étaient procuré de magnifiques chandails à l'effigie de leur équipe, ce qui laisse supposer que nous les reverrons au tournoi pour de nombreuses années à venir.
While the younger players truly delivered amazing performances on the ice, the fact remains that older Ex-Cadets can be pretty impressive too…  The Commando Nordique (average age of 54.8) made it to the semi-finals of the Competition Category while the 89ers (average age of 55.8) made it into the semi-finals of the Recreative Category, in addition to being awarded le Trophée des Vieilles Rotules offered by Le Chapitre du Fort St-Jean to the older team of the tournament.
Thanks to the RMC Alumni Association Inc, their sponsorship of fourteen (14) teams composed of Officer Cadets from both RMC and RMC St-Jean allowed for an awesome opportunity for ex-cadets to mingle with Officer Cadets from both colleges.  On their side, the ex-cadets assembled thirteen (13) Teams for a grand total of 27 teams in this edition of the tournament.  All together, that is more than 400 ex-cadets and Officer Cadets sharing 48 hours of excitement.
En plus du ballon sur glace, , la compétition s'est transportée hors de la glace au Mess Saint-Maurice lors du volet social du tournoi alors que les élèves-officiers ont montré leur talent au Crud pendant un tournoi amical de Crud contre les Anciens. Les élofs ont montré à nouveau qu'ils maintenaient fièrement une autre belle tradition du CMR Saint-Jean en remportant le tournoi amical
In addition to the RMC Alumni contribution, this  tournament would not be possible if it wasn't for our many sponsors : La Corporation du Fort St-Jean, le CEGEP de St-Jean-sur Richelieu, TD Assurances, Chapitre du Fort St-Jean, Rheinmetall, le Groupe Maurice, Continuum Real Estate Group, Mr Michel Laurence as well as Knapper.  Several thanks to all of them.
Final message to all readers: Keep fit, build new teams and join us for the 49th Edition in early 2024.
À bientôt,
VDV- TDV