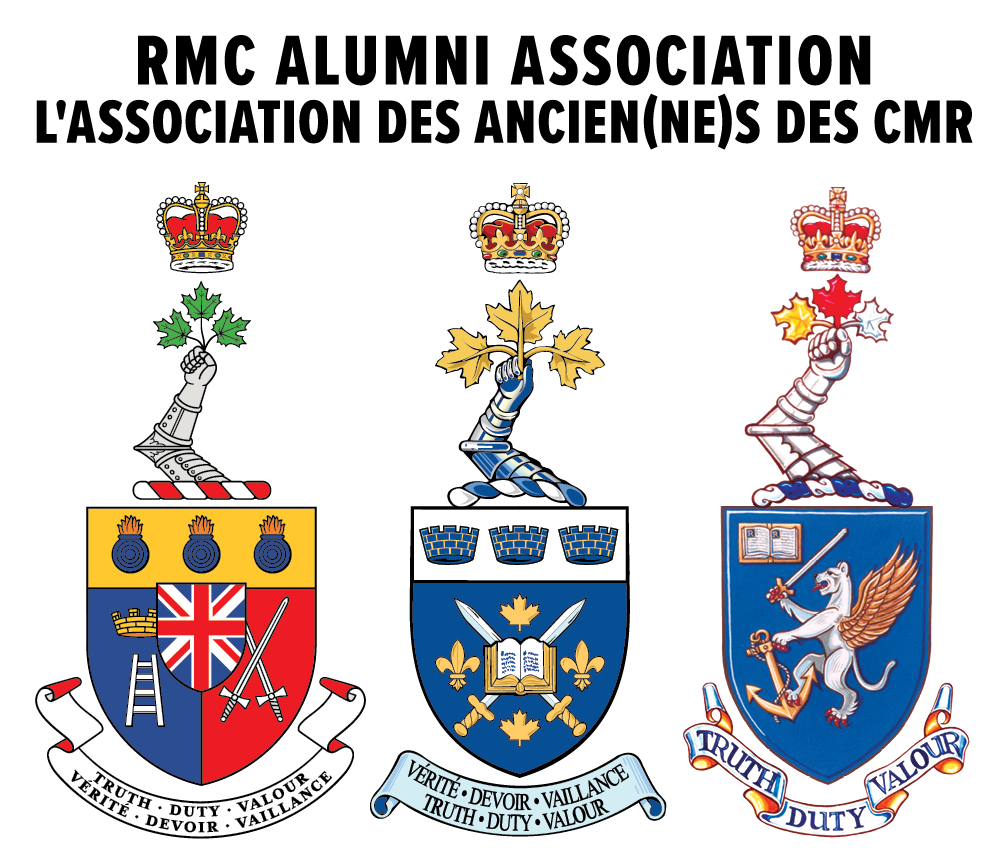 We will now be providing a regular update on the Alumni Association's activities in response to the Arbour Report, as we expect the Canadian Military Colleges (CMC) Review Board will be getting underway in 2023 (as noted in the Minister of National Defence's December 2022 Report to Parliament on Culture Change Reforms in response to former Supreme Court Justice Arbour's recommendations).
In our December update, we noted that Jill Carleton, as the Chair of the Royal Military Colleges of Canada Alumni Association at that time, wrote to Minister Anand in late October 2022 to express the Association's desire to contribute to the CMC review.  This letter also signaled the Association's support for reconstitution of the Canadian Armed Forces (CAF) including support for culture change.  The letter reaffirmed our support of the CMCs, and for the integration of education, athletics, bilingualism, and military leadership development in the CMC programs.  Moreover, this letter underscored the Association's acknowledgement that systemic and cultural failings enabled abuse to occur and persist, and reasserted our recognition of, and support for, survivors of sexual assault and harassment within our community.
Minister Anand recently replied to our Chair's letter and recognized the Association's support of positive change at the military colleges.  The Minister explained that (at the time of writing) details of the review have not yet been determined (i.e., mandate, leadership, composition).  That said the Minister noted that the alumni, alongside all other stakeholders, will be fully consulted over the course of any review.  The Minister also expressed appreciation for the Association's support for CAF reconstitution and culture change.
As 2023 progresses, you should expect to hear more from the Alumni Association regarding how the alumni can contribute to reconstitution of the CAF.  With members and branches across the country, the alumni community has significant capacity that could support potential applicants in making informed decisions.  Similarly, with an active network of serving military members and veterans, the alumni community is a vibrant source of peer support for those facing decisions of whether or not to remain in the Forces.  Collectively, support for reconstitution of the Armed Forces is another way that we can be of service to Canada.
Since our last update on December 15th 2022, representatives from the Alumni Association have been engaging with key stakeholders.  Scott Stevenson and Nancy Marr briefed the Board of Governors of the Royal Military College of Canada at its February meeting.  Similarly, Board Chair George Lundy recently met with the Commander Canadian Defence Academy.  Our key messages to these stakeholders focused on the fact that since the merger of the RMC Club and RMC Foundation in October 2021, the RMC Alumni Association has the potential to do more to support the CMCs.  We also explained where the Association stands regarding the Arbour Report, as noted in the exchange of letters with the Minister.
The response team that the Association put in place immediately following the release of the Arbour Report continues to meet on a regular basis.  The team is made up of committee chairs from across the different functions of the organization, including governance, alumni engagement, fundraising, investment, gifting, and advocacy, along with key members from our staff.  The response team's main areas of focus over the past months leading up to the CMC review have been on actively monitoring the public and media environment, and on engaging with our members.  As the pre-review period ends, our focus is now shifting to ensuring that the Alumni Association makes a credible and positive contribution to the CMC review.  This is an historic opportunity to improve the quality of leadership development at the CMCs, to create a safer experience for all members of the military college community, and to contribute to developing exemplary leaders for the CAF who are ready for the challenges of the 21st century.
We continue to welcome your feedback and your perspectives.  You can reach our Arbour response team at: rmcaa.aacmr.iecr.response@gmail.com 
J Scott Stevenson, 16598
Chair – Advocacy & Promotion Committee
Lead – RMCAA Response to Arbour Report
Royal Military Colleges of Canada Alumni Association
---
Troisième compte rendu sur les activités de l'Association des anciens étudiants et anciennes étudiantes des Collèges militaires royaux du Canada en réponse au rapport Arbour
Nous présenterons désormais régulièrement des comptes rendus sur les activités de l'Association des ancien(ne)s des CMR en réponse au rapport Arbour, puisque nous nous attendons à ce que les travaux du comité d'examen des Collèges militaires canadiens (CMC) débutent en 2023 (comme il est indiqué dans le Rapport de la ministre de la Défense nationale au Parlement sur les changements culturels en réponse aux recommandations de l'ancienne juge de la Cour suprême Arbour de décembre 2022).
Dans notre compte rendu de décembre, nous avons indiqué que Jill Carleton, alors présidente de l'Association des ancien(ne)s des CMR, avait écrit à la ministre Anand à la fin d'octobre 2022 pour exprimer le désir de son association de contribuer à l'examen des CMC. Cette lettre mentionnait aussi le soutien de l'association pour la reconstitution des Forces armées canadiennes (FAC), ainsi que pour son changement de culture, et réaffirmait son appui envers les CMC et l'intégration des études, du conditionnement physique, du bilinguisme et de l'instruction militaire aux programmes des CMC. De plus, dans cette lettre, l'association admettait que des failles systémiques et culturelles avaient ouvert la porte à des inconduites sexuelles, et réitérait qu'elle reconnaissait et soutenait les survivants d'agressions sexuelles et de harcèlement sexuel au sein de notre communauté.
La ministre Anand a récemment répondu à la lettre de notre présidente et a reconnu le soutien de l'association concernant la mise en place de changements positifs au sein des collèges militaires. La ministre a expliqué qu'au moment où elle nous écrivait, les détails du comité d'examen (comme son mandat, sa direction et sa composition) n'étaient pas encore connus. Cela dit, la ministre a mentionné que les anciens étudiants et anciennes étudiantes, de même que les autres intervenants, seront consultés lors de tout examen. La ministre a aussi exprimé sa reconnaissance à l'endroit de l'association pour son soutien de la reconstitution et du changement de culture des FAC.
Tout au long de l'année 2023, l'association vous indiquera comment les anciens étudiants et les anciennes étudiantes peuvent contribuer à la reconstitution des FAC. Avec des membres et des divisions partout au pays, la communauté des anciens et des anciennes est bien placée pour aider les demandeurs potentiels à prendre des décisions éclairées. De même, avec un réseau actif de militaires en fonction et d'anciens combattants, la communauté des anciens et des anciennes joue un rôle important de soutien entre pairs pour ceux et celles qui remettent en doute leur décision de demeurer dans les Forces armées. Notre soutien collectif pour la reconstitution des Forces armées est une autre façon de servir le Canada.
Depuis notre dernier compte rendu du 15 décembre 2022, des représentants de l'Association des ancien(ne)s des CMR sont en communication avec des intervenants clés. Scott Stevenson et Nancy Marr ont abordé la question avec le Conseil des gouverneurs du Collège militaire royal du Canada lors de sa réunion de février. De plus, le président du conseil d'administration, George Lundy, a récemment rencontré le commandant de l'Académie canadienne de la Défense. Le message que nous avons adressé à ces intervenants insistait sur le fait que, depuis la fusion du Club des CMR et de la Fondation des CMR en octobre 2021, l'Association des ancien(ne)s des CMR avait le potentiel d'en faire plus pour aider les CMC. Nous leur avons également expliqué la position de l'association en lien avec le rapport Arbour, indiquée dans les lettres à la ministre.
L'équipe d'intervention mise en place par l'association immédiatement après la publication du rapport Arbour continue de se rencontrer régulièrement. Elle est composée de présidents de comités de différents secteurs de l'organisation, comme la direction, la contribution des anciens, les collectes de fonds, les investissements, les dons et la défense des intérêts, de même que d'importants membres de notre personnel. Au cours des derniers mois, en prévision de l'examen des CMC, l'équipe d'intervention avait comme objectif principal de surveiller activement l'environnement public et médiatique, et de communiquer avec nos membres. À l'approche de l'examen, nos priorités changent et nous voulons nous assurer que l'Association des ancien(ne)s des CMR contribue de façon crédible et positive à l'examen des CMC. Il s'agit d'une occasion unique d'améliorer la qualité du développement des compétences en leadership aux CMC, de créer une expérience plus sécuritaire pour tous les membres de la communauté des collèges militaires et de contribuer à former pour les FAC des leaders exemplaires et prêts à relever les défis du XXIe siècle.
Vos commentaires et votre avis sont toujours les bienvenus. Vous pouvez les envoyer à l'équipe de réponse au rapport Arbour à rmcaa.aacmr.iecr.response@gmail.com.
J. Scott Stevenson, 16598
Président, comité de défense des intérêts et de promotion
Responsable, réponse de l'Association des ancien(ne)s des CMR au rapport Arbour
Association des anciens étudiants et anciennes étudiantes des Collèges militaires royaux du Canada