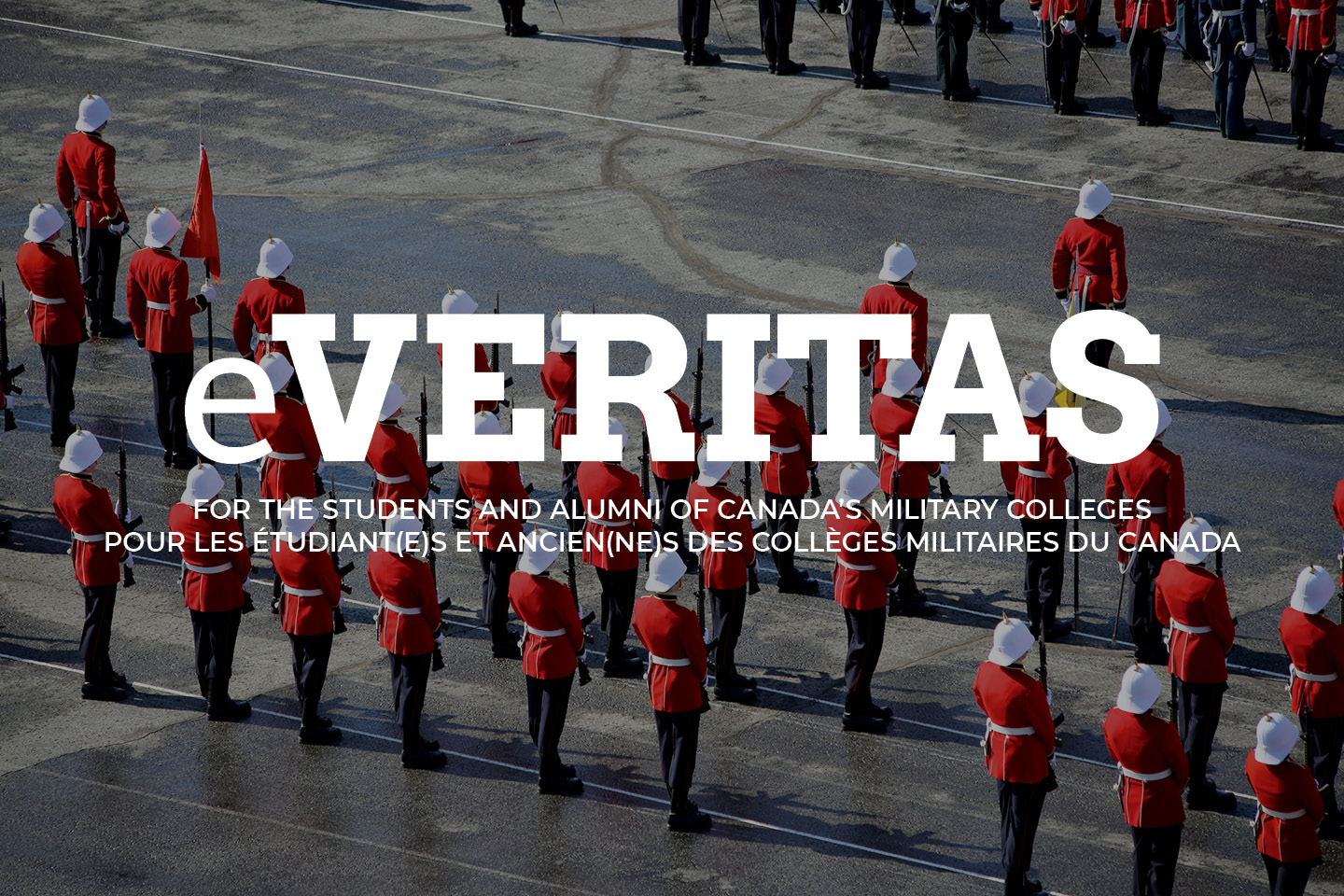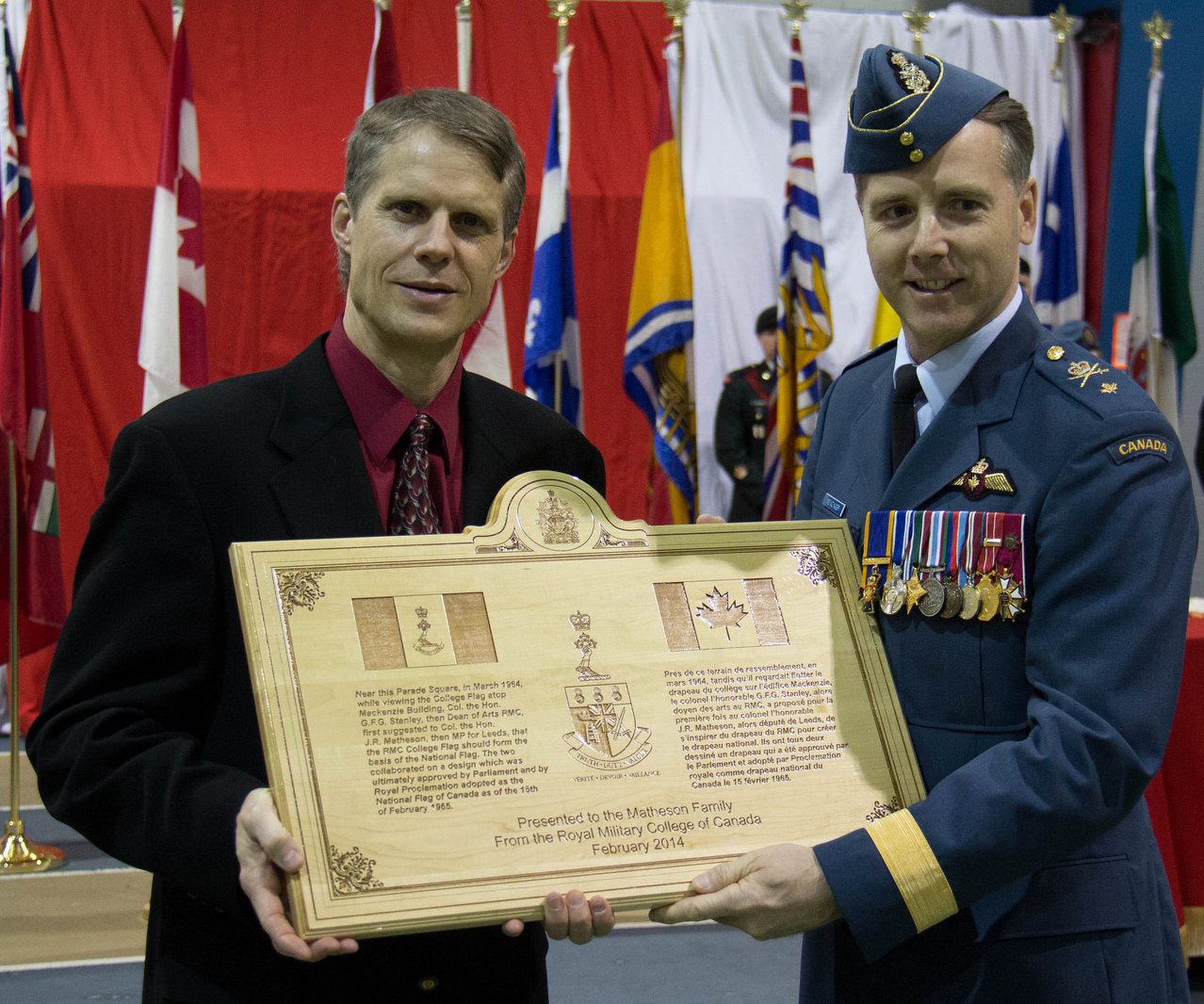 Caption: The Hon John Ross Matheson was a true supporter of the Royal Military College of Canada, and so it was with great sadness that e-Veritas heard he passed away on the 27th of December 2013 at the age of 96.
In recognition of his contribution to the design of the Canadian Flag as well as his unfettered support of the RMCC, the commandant, BGen Al Meinzinger formally recognized a lifetime of contributions to Canada and the College by presenting a special gift to Mr. Murdoch Matheson who was representing the family. (Photo by Curtis Maynard)
Royal Military College of Canada Unit Parade 12 Feb
By: WJO
Last Wednesday, 12 Feb the college held a parade. College staff, including military and civilian, along with the entire Cadet Wing were all in attendance.
Master of Ceremony Warrant Officer Scott Baker, the Chief Clerk at RMCC, carried out his duties with the finesse of a seasoned professional.
As RMCC parades go this particular one had a nice added touch.
Upon the arrival of the commandant the Canadian flag was marched on and a dignified tribute was given to the flag and the background leading up to it being inaugurated on February 15, 1965 – 49 years ago. See photo and caption above.
Most, if not all, readers are well aware of the RMCC connection with the background and design of the Canadian flag. Dr. George Stanley, first Dean of Arts of the college and the Honourable John Matheson, who was an area Member of Parliament at the time, collaborated on a design that was ultimately approved.
Following the Flag ceremony and presentation, the commandant accompanied by the Director of Cadets, LCol Patrick Lemyre, (parade commander) and the College Chief Warrant Officer, Chief Petty Officer First Class Keith Davidson, conducted a parade inspection.
Following the quick inspection, the commandant presented Honours and various Awards in recognition to a number of deserving Civilian and Military members of the RMCC for their outstanding career achievements.
Included in the presentations were:
Operational Medals
MCpl Letourneau, Claudia – OSM EXP; Capt Johnathan Hamilton,  1st RB – SWASM.
CD 2: Col Karl Michaud  & Adj Robert Genereux,

CD 1: LCdr Michael Butler,
CD: Lt Mathew McTaggart,;  Capt Gina Decarie ; Capt Sean Leithead ; Capt Thomas McMullen ; Capt Turmel Chiasson ; Capt.Andrew Warlow, ; Capt Adrien Lapointe ; Capt Maxime Bosse ; Lt (N) Stephen Scriver  ; Lt (N) Kevin Lashinski ; & NCdt Blake Mackey
Promotion to CWO: Kevin  Mathers .
Foreign Military Awards – Meritorious Unit Citation – Flt. Lt. Andrew Jolley .
OPME Certificate: WO Patrick  Crepeau; & Lt Sebastion Roy

Commadant's Commendations: LCol (ret) Ken Lee  ; Professor Christian Leuprecht ; Judy Duguay; WO K Kaizer; Capt Zachary Gatehouse ; WO Christopher Desjardins  & Suzanne Gilbert .
Commadant's Coins
Capt St-Denis; Sarah Toomey; Brad Lowe & OCdt Evan Deviller

If we missed anyone, please let us know with a comment below.
Défilé du Collège – Perspective des élofs
par 25936 Élof (IV) Sarah Labrecque
Le matin du 12 février, tous les élèves officiers de l'escadre des élofs ont été présents sur parade lors du défilé du Collège, qui s'est tenu au complexe Anderson du Centre sportif de la communauté militaire de Kingston. L'intention principale du défilé était de souligner les contributions des membres du Collège grâce à la présentation de prix et de distinctions. Lors de ce défilé, les élofs n'étaient pas très représentés en tant que récipients de prix, mais ce fut tout de même un évènement à récompense pour eux. Plusieurs ont découverts des faits intéressants sur des membres de l'escadre d'entraînement militaire et des professeurs en apprenant les contributions de ceux-ci. Cela donna une nouvelle perspective aux élofs des membres du collège qu'ils côtoient, pouvant en ressortir d'avantage sur leurs mentors de tous les jours.
College Parade – Cadets' Perspective
By: 25936 OCdt (IV) Sarah Labrecque
On the morning of February 12th, the Officer Cadets of RMCC were present for the College Parade which took place at the Kingston Military Community Sports Centre. The main intent of the parade was to formally recognize the contributions and accomplishments of the Faculty, Staff, and the cadets of RMCC. While cadets were not largely recognized with awards during this ceremony, their presence at the event was rewarding as it provided them with a greater knowledge of the contributions of the faculty and staff, and of the College as a whole. It was a unique chance for them to discover the accomplishments of members of the College that they may not already know about. This offered them an opportunity to hold a different perspective on their mentors at the College, and to aspire to achieve the same contributions one day.