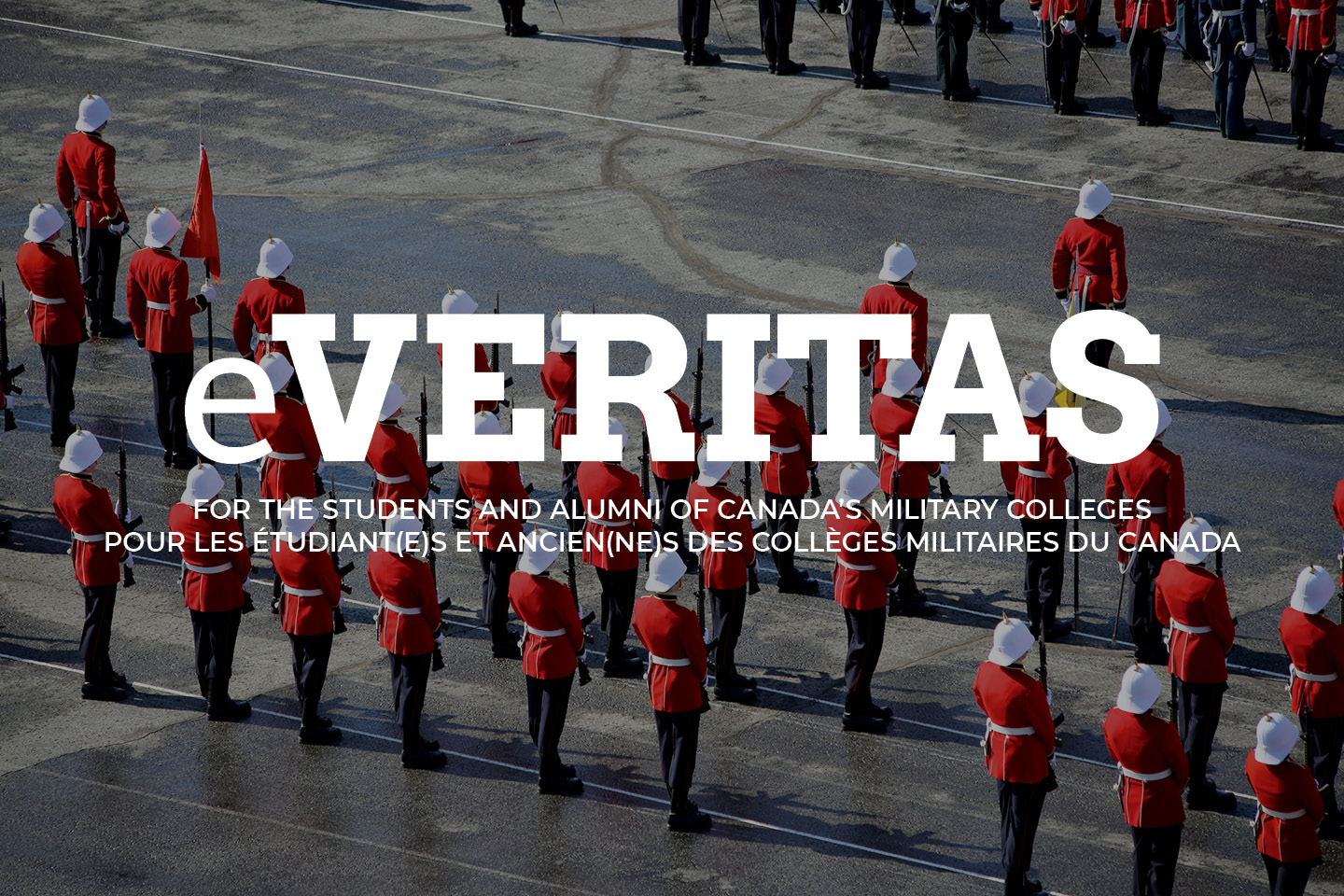 E3161 Victoria Edwards (RMC 2003) interviewed Father Jean-Paul Rochefort;  currently serving as the Roman Catholic chaplain at RMCC.

e-veritas: The interview is timely, since both RMC and Protestant Chapels are celebrating their 50th anniversary in 2013. What follows is description of the R.M.C. Chapels taken from the June, 1963, copy of the RMC Review, somewhat amended to highlight points that would have well known at the time:
The Chapels
In 1963 two new chapels were dedicated in the College. St. Michael's Roman Catholic Chapel, seating one hundred, was dedicated December 23. The Roman Catholic congregation had been meeting at that location long before it was remodelled into a proper chapel. Both chapels are attractively panelled with light coloured natural oak and have been beautified by many donations, including generous gifts from:
• the Kingston Branch of the RMC Club NO. 2770, Major K. I. Jefferson, C.D., President, a window showing the crest of the College, on 8 December, 1963;
• and the Class of '38 NO. 2664, Lt.-Col. J. A. Hilliard, C.D., organizer, in memory of their deceased classmates.
These chapels, convenient to the living quarters, provide an appropriate sanctuary where cadets can retreat for a few moments in quiet with God. St. Michael's has a warm and spiritual atmosphere about it, enhanced by the remaining five windows, each depicting a different sacred emblem, placed there by
• General A. G. L. McNaughton and Mrs. McNaughton in memory of their son, 2588, S/L. Ian McNaughton, who was killed in action on 22 June, 1942;
• No. 499, Major-General E. de B. Panet and Mrs. Panet,
• H6888 LCol T. F. Gelley and Mrs. Gelley, and
• Mrs. Katherine Macklem, in memory of her husband, No. 605, Professor O. T. Macklem, and of her father, No. 203, Col. C. W. Bermingham.
At night, spotlights on the inside transmit the message of the windows to the campus. Credit is due to the padres, Major Johnson and Major Dufour, for their efforts in bringing these Chapels into being." Royal Military College of Canada – Review Yearbook (Kingston, Ontario Canada) – Class of 1964 p. 119
Of historical interest is the fact that the first baptism to take place in the R.C. Chapel at the College occurred on 15 March, 1964, in St. Michael's Chapel in Yeo Hall when Helene Louisa, the baby daughter of No. 3440, Capt. Leo LeBlanc and Mrs. LeBlanc, was baptised by Major C. Beaudry, the Area Chaplain. It was Major Beaudry who married Capt. and Mrs. LeBlanc. He was assisted by Major P. J. Dufour, the College R.C. Chaplain. The godparents were Capt. and Mrs. Joseph Jordan. Helene displayed good lung power, a dislike for salt, and all the other marks of a well-performed ceremony. Royal Military College of Canada – Review Yearbook (Kingston, Ontario Canada) – Class of 1964 p 196.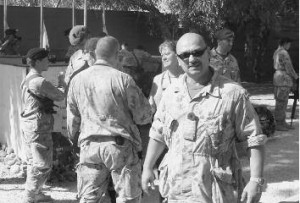 e-veritas: Padres offer spiritual ministry and pastoral support to soldiers and their families in a range of challenging environments. How does the Military College compare with other tours?
Fr. Jean-Paul Rochefort: It's completely different in that we are dealing with young people in an academic setting, who are just beginning life away from home. I feel sometimes that I'm between a cadet camp and a military base. Some have left home for the first time without any military background, others are from military families and have had previous training. The cadets come from all over Canada and from different religious and ethnic backgrounds which brings wonderful exchanges and some challenges. There is certainly more one on one counselling and more after hour activities than any other military base.
e-veritas: You had a calling to the Canadian Forces in your early 40s?
Fr. Jean-Paul Rochefort: A native of Astorville, I was ordained on January 31, 1986. Fluently bilingual, I began my ministry at Fort Coulonge and moved to Mattawa about a year later. In 1989 I became parish priest of St. Bernadette, Bonfield. In 1994 I became the parish priest of Otter Lake in Québec, where I also had responsibility for the mission church of Lac Cayamant. After 12 years serving in the diocese I just wanted to do something a bit different. As a seminarian at St Paul's University I had participated in cadet programs during the summer and I felt a calling to the Canadian military. In 2000, after discussions with Bishop Brendan O'Brien, I entered basic training. Many military chaplains join the forces in their early 40s. It helps that older recruits have a bit different attitude. When the young guys are out partying, we're at home preparing for our courses. Following my chaplaincy training I also did clinical pastoral education at University Health Network in Toronto. This program essentially trains people for pastoral work in a hospital setting.
e-veritas: How do you keep fit?
Fr. Jean-Paul Rochefort: I started running about a year-and-a-half before I joined [the CF at 44], and I had kept myself in pretty good shape. It's very important to balance physical and mental fitness at RMCC, given that we cannot predict what every day will bring. It's difficult here to keep a regular schedule and find myself looking for alternatives for physical fitness, such as more activities on my time off. On different bases I was more able to find gym time for cardio and weights; here I find myself doing more physical work at home.
e-veritas: Have you enjoyed your service with the military and parish communities?
Fr. Jean-Paul Rochefort: I have enjoyed the unpredictable nature of life in the military. You have to be ready to go at all times; you never know when you're going to get a call. After more than a dozen years of service in conservative parish communities where many of the parishioners were aging, I enjoy the challenge of dealing with young families and a wide variety of people and the spontaneity of military life. In the military, I am never alone. There is always the support of colleagues. I also enjoy the ecumenicalism of the chaplaincy. Often we meet with people and they don't even know what faith we belong to.
e-veritas: Outline your tours of duty, both in Canada and overseas. Any highlights?
Fr. Jean-Paul Rochefort: As someone who gets restless if I live in the same place for more than a few years, I have enjoyed the opportunity to travel throughout the world. In my military career I has lived in Alberta, Ontario, Cyprus and Germany. My longest posting, five years, was as an instructor in the chaplaincy course at Borden, north of Toronto.
In 2007 I did a tour of duty in Afghanistan and then participated in a "decompression" exercise afterwards. It was just before Christmas and the men were angry and just wanted to get home, but after the three-day course they were all glad they had participated. They didn't realize how wired up they were.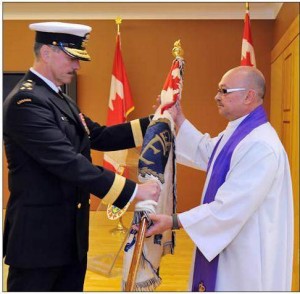 • 11919 Vice-Admiral Dean McFadden, Chief of the Maritime Staff (RRMC 1978) passes the old Queen's Colour to Padre Maj Jean-Paul Rochefort for safekeeping in the Hall of Colours at the National Memorial Centre in Ottawa.
e-veritas: The military chaplain must provide spiritual ministry to all members of the Canadian Forces, regardless of faith or denomination. Explain.
Fr. Jean-Paul Rochefort: I think that the spiritual ministry we bring to members of the Canadian Forces is first and foremost a ministry of presence, whether it is in being present in activities or being available to each individual. I believe that our ministry is best represented when we remain open and interested in different faith group.
e-veritas: Do you have a role in the recruitment or retention of cadets? Do you have a role in counselling families of potential cadets?
Fr. Jean-Paul Rochefort: Not in the recruitment; but we are in contact almost daily with the holding platoon where the cadets are waiting for release for different reasons. We give counselling and encouragement depending on the individual situation.
e-veritas: Do you have a role in helping cadets who are struggling with any of the 4 pillars at RMC (bilingualism, leadership, athletics, academics)?
Fr. Jean-Paul Rochefort: We often deal with cadets struggling in any of these pillars, but mostly academics. We often are liaison between them and the chain of command or the academic side. Often the cadet has been struggling with anxiety or other mental health whereas we are able to advise and help them to receive the help they need.
e-veritas: Although you say Mass regularly, you have said primarily you are in the "action/reaction" business?
Fr. Jean-Paul Rochefort: Although I say Mass regularly at the RMC RC Chapel in Yeo Hall in Kingston, I am primarily in the "action/reaction" business of providing personal pastoral care. I was particularly busy during the period when soldiers of CFB Petawawa were posted to Afghanistan, as those suffering injuries would be assigned to hospital in Ottawa.
e-veritas: Do you have any tips for good services?
Fr. Jean-Paul Rochefort: Be present to the cadets and always be flexible in your schedule.
e-veritas: Your role is to provide a ministry of presence. How do you reach out to cadets?
Fr. Jean-Paul Rochefort: I'm always looking for ways to be present to them in their activities, going through the cafeteria every day, accept every invitation I receive from cadets and staff.
e-veritas: Describe your training? Were you ordained?
Fr. Jean-Paul Rochefort: I did my studies at St Paul's University in Ottawa and was ordained for the diocese of Pembroke in 1986. I served 12 years in the diocese before going back to St Paul's for a Master degree in Pastoral Theology. Among the different courses taken while in the CF I did four units of Clinical Pastoral Education.
e-veritas: Every aspect of Service life, which affects the soldier and the soldier's family, affects the chaplains and their families. Comment.
Fr. Jean-Paul Rochefort: I completely agree with the above statement. You can't possibly be involved in your ministry without being involved with the military members and their family. At different times we share their grief, their joys, their losses and their triumphs.
Also see: "Fr. Rochefort finds his military service rewarding" http://pembrokediocese.com/site/images/stories/ecclesia-pdf/ecclesia_2011-12.pdf.pdf
Previous interviews
Major Denis Bujold, Roman Catholic Chaplain @ RMCC https://everitas.rmcalumni.ca/?p=8890
Major Patrick Lublink, Protestant chaplain @ RMCC https://everitas.rmcalumni.ca/?p=23420
14429 BGen John Fletcher, D Chap Strat Sp https://everitas.rmcalumni.ca/?p=49026