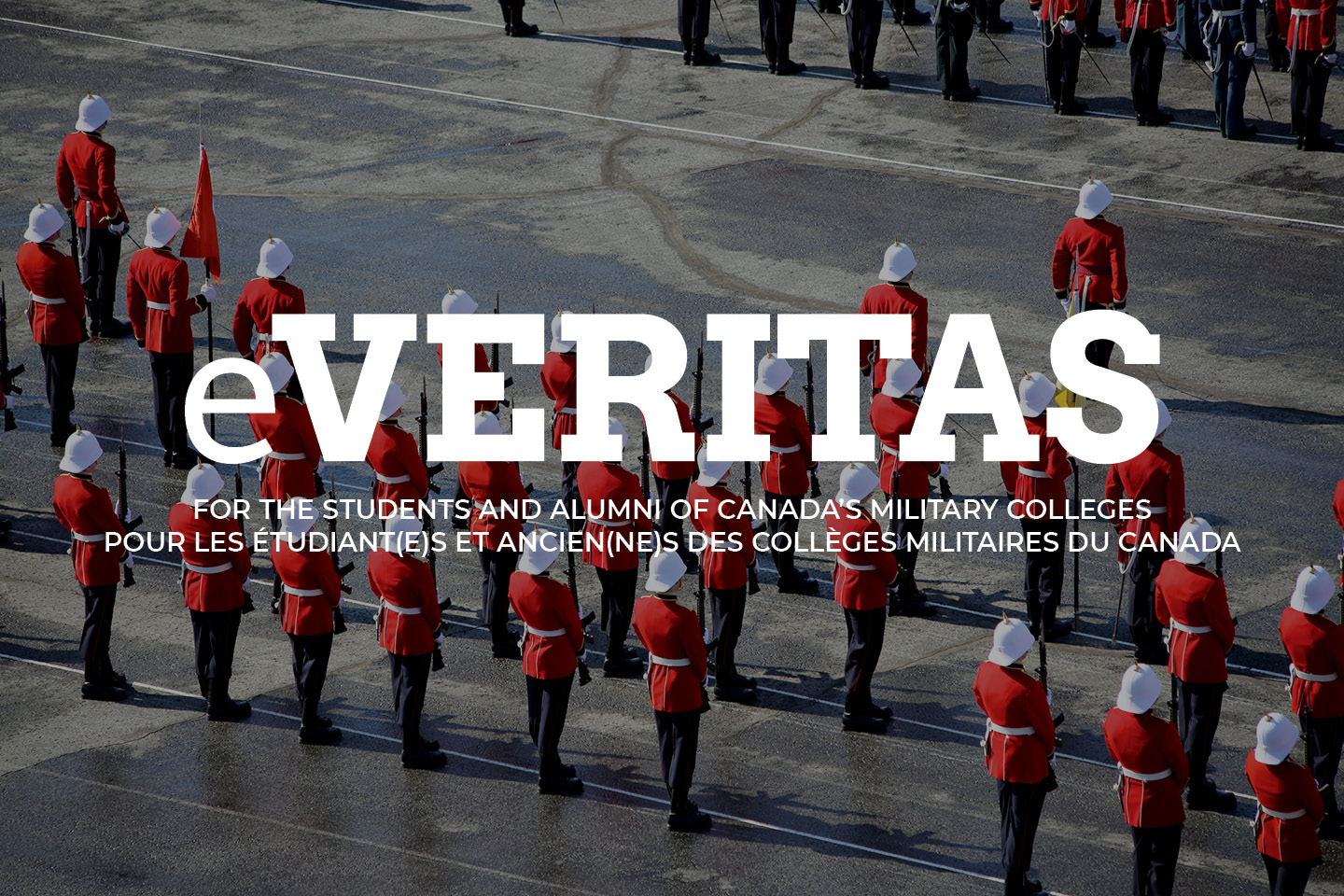 E3161 Victoria Edwards in conversation with 11282 Ross Macfarlane (CMR 1977), former curator of the Fort Saint-Jean Museum; 8057 James Ross McKenzie (RMC 1970), the curator of the RMC Museum in Fort Frederick; and Eric Ruel, the current curator of the Fort Saint-Jean Museum.
e-Veritas: Outline your career progression.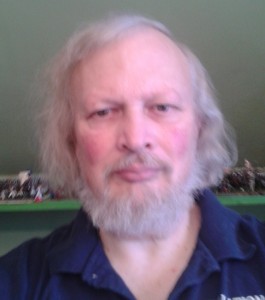 11282 Ross Macfarlane: I grew up in Saint Lambert, across the river from Montreal. I joined the Black Watch of Canada Cadet Corps in 1968 and went from there to the Collège Militaire Royal de Saint-Jean in 1972. I graduated from St. Jean in 1977, one of the 2nd class to be granted a degree in Canadian Studies after remaining all 5 years in Saint Jean. The actual degree was through the Université de Sherbrooke. During the summer of 1976 I was lucky enough to be sent on a 3 month exchange as midshipman on the USS W V Pratt, as fine a ship as I have served on. At the International Naval Review held in NYC on the 4th of July to mark the 200th Anniversary, the Pratt had the honour of firing the 21 gun salute as President Ford reviewed the Fleet and they honoured their Canadian guest by giving me charge of the saluting gun (under supervision of course). After graduation I served 4 years in the Navy and then left the forces, remaining in Halifax. I took a stab at opening a hobby store called the Tin Soldier but my minor in Business Administration from CMR wasn't sufficient to guide me to success.
I then spent 25 years with Canada Post Corporation (CPC) in Information Technology, simultaneous with 23 years helping my wife run a boarding kennel. My job may not have been directly related to my training but again and again the foundation I gained at CMR days was invaluable as my carer progressed.
e-Veritas: Did your interest in toy/model soldiers stem from your time at CMR?
11282 Ross Macfarlane: I inherited my love of toy soldiers from my mother's father. While I was in high school I started to make model soldiers for display but then came across a book on playing wargames with model soldiers and was hooked for life. I do have a very small and rather eclectic collection of toy soldiers for display though I'm not a serious collector, preferring to concentrate on figures for gaming, many of them now original figures sculpted and cast at home. I was not aware that the Cadet shop in Kingston sold a set of Cadet figures or I would certainly have at least one. The RMC Cadet models were not released during my time at Military College. Pity, they would have been better than the never used ashtrays that my mother bought because they had the CMR crest on them and which I still have.
e-Veritas: Which Canadian Cadet Figures – Sculptures & Toys are of interest to collectors?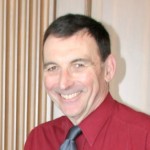 8057 Ross McKenzie: There are a number of Canadian Cadet Figures – Sculptures & Toys, including the following: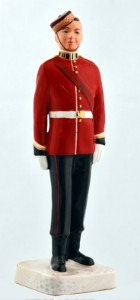 1) The RMCC Museum collection includes AN 0000.0577-011, Wood carving of RMC Cadet Officer in winter dress (i.e. Greatcoat and fur cap). It is signed on bottom of base, "C.A. T- (?) /1930/ Canada." Unfortunately the last name of the artist is smeared and illegible. This carving is in the style of traditional Quebec figure carving and is most likely a 'one-off' piece made for the original owner, #1877 Smith (RMC 1925).
2) The RMCC Museum collection includes AN 0000.0227-001, Bone china figurine of RMC Cadet Officer, made in England by Cooper-Web in 1976 on the occasion of the RMC Centennial. These figurines were sold locally.
3) Pewter figures are made as part of an extensive series of model soldiers sold by Tradition of London (England). I believe that they were originally made up at the request of the College for sale at the College shop. The first version depicted a Cadet Officer wearing a pillbox cap. When the Helmet was re-introduced at the College c.1984 the College requested an update of the figurine and they are now produced as a Cadet Officer wearing the Universal Pattern Helmet. The RMC Club of Canada's Gift Shop currently sells:
• Pewter RMC Cadet Figurine – 14 cm high, 11 cm wide Item #: AC0035B
• Pewter RMC Cadet figurine – 16.5 cm x 8 cm with engraving plate Item #: AC0035
4) Toy soldiers by 'Scott J. Dummitt Presents' which is now located at 1754 Carmel Line Bailieboro, Ontario, CANADA, K0L 1B0. Scott Dummitt is a former member of the CF and a one-time member of the RMC Supply / Logistic staff. The toy soldier sets and individual pieces sold at the RMC Club Shop are from Scott Dummitt's line of figures. The RMC Club of Canada's on-line Gift Shop https://rmcclub.ca/cart/ currently sells:
• Individual RMC Metal Cadet 2″ high, hand painted male or female Item #: AC0019
• Set of 5 Metal RMC Cadets, hand painted, 2″ high. Item #: AC0018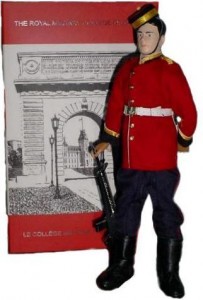 5) Scott J. Dummitt, who produces a variety of traditional toy soldiers depicting Canadian regiments, was the originator of the Royal Military College of Canada Officer Cadet Military Action Figure. The RMC Cadet Action Figure was made by In The Past Toys for the 2006 Great Canadian Action Figure Convention in Kingston, Ont. The male model figure comes dressed in the ceremonial red scarlets of a first year Officer Cadet. The uniform consists of a dress scarlet jacket with academic achievement badges, dress navy trousers w/red piping, leather ankle boots with Vibrom soles, leather gaiters, leather belt with metal RMC buckle, leather bayonet frog, metal C7 (Canadian version of Colt M-16) rifle, metal bayonet w/metal scabbard. An extra feature is a 4th year senior cadet's #4s patrol jacket with academic and sports badges, plus belt. The box features RMC landmarks and description of the College in both English and French.
6) "Brucie," or, "Truth-Duty –Valour," by William McElcheran (1927-1999). The RMC Museum holds to wax maquettes – two variations in the pose of the proposed bronze standing sculpture of a Cadet- that were submitted by McElcheran in 1973 for consideration by the selection committee of a centennial gift of the RMC Club to RMC. Numbered, limited edition, bronze statuettes of "Brucie" (approx. 12″ in height) were sold as part of the fund raising efforts for the statue project. The statuette presented to Pittsburgh Township is currently on display at the Pittsburgh Branch of the Kingston Frontenac Library.
7) A sculpture of a CMC Cadet Officer is part of the recently acquired Gauthier Collection. This Collection consists of works by Col (Ret'd) Andre Gauthier, OMM, CD. The donation of a larger sculpture of an RMC Cadet by Col. Gauthier is forthcoming.
e-Veritas: Does RMC have an RMC Museum Club, today?
8057 Ross McKenzie: There is no RMC Museum Club akin to that that existed at the old CMR. We do have some volunteer helpers and, when available, individuals assigned from the Holding Platoon to work as museum assistants.
Eric Ruel: The Fort Saint-Jean Museum club doesn't exist anymore.
e-Veritas: You designed dioramas for the Musée du Fort Saint-Jean Museum. Any tips?
11282 Ross Macfarlane: Those dioramas are the only ones I have ever done. One was of the French Regiment Carignan-Salieres building the original fort while the other showed an incident of the American siege in 1775. I should give some thought to doing the American siege in 1775 as a war game. Anyway, I started doing the construction diorama in 1/32 using Carignan Salieres figures produced in Acetate by a French company called Segom, the same figures as the one which appeared on the business card. I ran into issues and ended up scrapping it and redoing the whole thing in 1/72nd by converting various Airfix models. I'm amazed that you found a picture of it, I figured it must have crumbled to dust long ago. It looks like some one has refurbished it to better than new condition. I'm amazed that the diorama of the fort's construction has survived. I'm 95 % sure it has been redone but the figures look like the original ones and the gist is the same, just better than I remember. I've been wracking my brain to remember who did the original fort model but I don't recall who it was.
I still paint miniature soldiers, or "mes petits bonhommes" as my Quebecois classmates used to call them. Even without the gaming side, it can be a very satisfying hobby involving research into the history of the people and events of the past as well as an artistic or artisan side in the creation of the models. You don't have to start from scratch though. There are lots of companies, most easily found on the web, which will sell unpainted castings or kits and many sites and books providing tips on painting and information on uniforms. There are even companies like Dorset Toy Soldiers or Spencer Smith that will sell you heads and bodies and arms and so on to allow you to build just the sort of soldier you want, perhaps from the Northwest Rebellion or Boer War and so on although it is easier to find 19thC or early 20thC ones than contemporary ones. My own collection ranges over the ages of man but I favour Canadian history.
Traditionally toy soldiers and heroic paintings depict the British soldier in bright scarlet. That bright red would be the colour before fading. Unfortunately depending on the dye red coats fade towards either brownish orange or brownish pink when exposed to the elements for long periods of time. It can be challenging to paint the uniforms on 54 mm & 40mm Toy Soldiers correctly. I find Ceramcoat Napthol Crimson applied solid and not as a wash gives a good approximation of the colour of my old military college scarlet tunic, and that's close enough for me. I have noted that from more than 10 or so feet away, the piping on the uniform tunics, in real life, was almost invisible. Although my old dark blue pants from my CMR days look almost black in photos, from years of exposure I can assure they looked blue up close and were notably bluer than the black battle dress blouses we wore to class.

 e-Veritas: Which dioramas dating back from the old exhibit are still at the Fort Saint-Jean Museum?
Eric Ruel: Only three dioramas dating back from the old Fort Saint-Jean Museum exhibit are still with us. These dioramas depict the Fort Saint-Jean built in 1666, 1748 and 1775.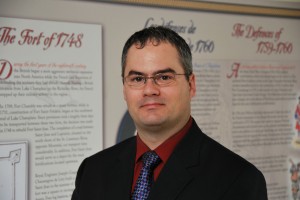 11282 Ross Macfarlane:
• P1030596 diorama of Fort Saint Jean 1666 was designed and made by myself assisted by 11690 Simon MacDowall. Although I think someone may have done some restoration work on the base since then, it is hard to be sure and I have no picture of the original to compare it to.
• DSC0066 diorama of fort Saint Jean 1748 – Although I contributed some small scale wooden figures of 1748 French Compagnies Franches, they were later replaced by the overscale figures you see. I can't remember the name of the creator.
• fo4 diorama of fort Saint-Jean 1775 was designed by 10837 John Gredley (CMR 1976) I believe
e-Veritas: What was CMR St Jean and Royal Roads Military College like in the late 1970s?
11282 Ross Macfarlane: Back in the day (as it were), no one used RMC for St. Jean or CMR for Kingston. Just one of the many things that have changed and largely for the better I suspect. Even by the late 70's things were changing with Cadets allowed off campus during off hours, civilian clothes when off duty (they threatened to charge us with mutiny when we submitted a petition on that subject) etc, alas still not co-ed yet. So, if you can picture some 600 young men cooped up for weeks and months, pre-Internet, pre-cell phones. There was one TV in the common room, and not even that during recruit camp. By special permission they let us come in and watch the final game of the first Soviet-Canada hockey series. We were not allowed off campus apart from rare passes, 2 day passes and 1 weekend per semester as I recall. Seniors got more passes and were allowed to wear College blue blazer and grey flannels rather than the #4 blue Boer War era uniforms the rest of us had to wear walking out. CMR was a bilingual institution, classes were in the Cadet's mother tongue, apart from Canadian Studies where the classes were in the professor's language, but all other official business was carried out in the official language of the day, French one week and English the other. That's something else that later stood me in good stead.
The first summer between classes was spent in Basic Officer Training in Chilliwack. I spent 2 summers at Royal Roads Military College doing Naval Officer Training. Although it has been shut down as a College, in the 70s RRMC came complete with peacocks and a ghost said to inhabit the library. I presume the ghost and peacocks are well known. I can't hear a peacock without thinking of RRMC; there was even one who used to wander into the barracks. The 3rd bout of naval training was after graduation and took place at the revived Venture Officer Training in Esquimalt.
e-Veritas: You were a member of the museum and war game clubs at CMR.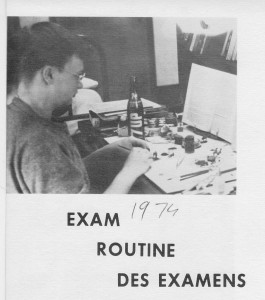 11282 Ross Macfarlane: Well, if you weren't a jock on one of the rep teams, you joined a club to get out of your room. At the time (I don't wish to come across as older and more fogey-ish than I am in reality but 40 years ago seems like another world sometimes) clubs of all sorts were an important part of life at Military College. They may still be so. History was my thing so I joined the museum club and later founded a war game club. It was a big part of my life, I note that there is a picture of me during exam week, a book propped open but my paints and soldiers spread over my desk! It's probably no accident that the only friends from College that I'm still in touch with were fellow war gamers. This morning, I received a friend request from one of my old roommates, when we formed for parade and the order came "Tallest on the right…" we just headed left because the last 2 spots were ours.
I should perhaps mention that I also joined the Band; but since, after months of practice, I was strictly and explicitly forbidden to ever blow into my trumpet while on parade that was somewhat less satisfying although it did get me out of morning drill and room inspections.
e-Veritas: The museum club developed the Musée du Fort Saint-Jean Museum.
11282 Ross Macfarlane: The museum club began a year or so before I arrived. 9540 Paul Jenkins (CMR 1973) was first curator; he was aiming for the MP's as I recall. 10389 Doctor Chris Cottle (CMR 1975) was 2nd curator. At least I think it those are the right first names, these guys were seniors when I was a prep and that was a huge divide so we were fellow club members and friendly but not on a first name basis, at least going upwards during that year.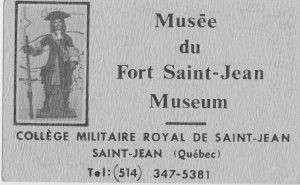 I was part of the team that converted the Old Guard House into a proper museum. We received accreditation as an official Canadian Forces Museum in 1973. H18424 Dr. David Ruddy, one of our History professors and my mentor and idol of sorts for the non-military aspects of life, was Director with the head of the museum club as Curator. Sadly he passed away in 2011. I was the 3rd Curator and so earned my first few seconds of fame by being mentioned in 15198 Jacques Castonguay's book 'Les Défis du Fort. Saint Jean'. I still have a business card from the museum which features a picture of one my model soldiers on it and a newspaper clipping announcing the grand opening with a big arrow pointing to an incredibly young looking cadet with "Ross" written in my mother's hand. I was only in Kingston once; as Cadet Curator I accompanied Dr. Ruddy to a museum conference at RMC in the summer of 1976 if memory serves. 11690 Simon Macdowall (CMR 1978) was the 4th curator, I think; He was also co-founder of the wargames club and a good friend ever since. The museum club assisted in co-ordinating the visit of the Brigade of the American Revolution on their way to re-enact Montgomery's attack on Quebec. Simon MacDowall and I painted up miniatures to give as mementos to various dignitaries.
• Musée du Fort Saint-Jean/ Fort Saint-Jean Museum http://www.museedufortsaintjean.ca/
• RMC Virtual Museum/Fort Frederick http://www.rmcvirtualmuseum.com/
e-Veritas: What are you up to these days?
11282 Ross Macfarlane: Largely for health reasons I took early or as I call it premature retirement from Canada Post and my wife and I bought a 150 year old farmhouse near Windsor, Nova Scotia. She runs a Dog Grooming business out of the house while I act as handyman, gardener (for the edible part anyway), tech support, tea maker and so on while keeping an eye on our Whippet, Italian Greyhounds, cats and other critters, and occasionally making my hobby pay its way by writing for a wargaming magazine or painting soldiers for commission or to sell on E-bay. I've also been a blogger since 2009, my main blog being Battle Game of the Month. http://gameofmonth.blogspot.ca/