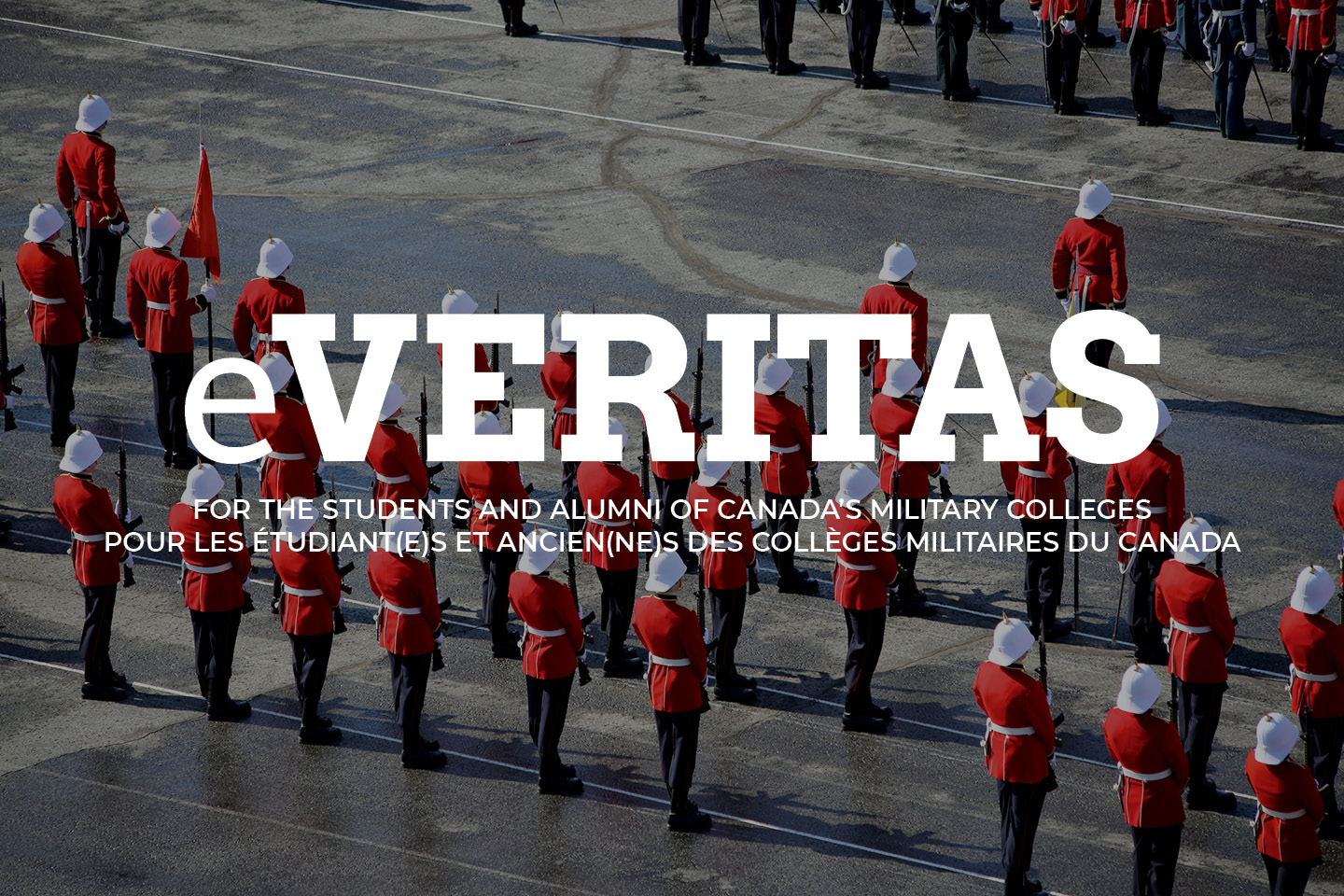 "Living so close to the Wall of Honour with my wife Joy and two children, we cannot help but note the increasing number of cadets and College visitors that stop to gaze at the structure. As I watch from afar at a captivated cadet reading the many citations, I often wonder to myself if I am looking at a future inductee."
16888 Al Meinzinger
Brigadier-General
Commandant
Royal Military College of Canada
Wall of Honour Ceremony 28 Sep 2013
 _______________________
II Year, Learns of the Exceptional Contribution to the Country by 4 Ex Cadets
By: 26664 (II) OCdt Zacharie Marshall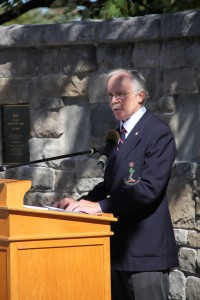 This past Saturday, the college held its annual Wall of Honour Ceremony, honouring four great Canadians during the ceremony. The Wall of Honour was given to the college by the Class of 1963 upon entry into the Old Brigade in 2009 to recognize ex-cadets of the Royal Military Colleges (RMCC, RRMC, CMRC) and others with College numbers for outstanding achievements and contributions to Canada and the world. It is intended to inspire all who see it to be the best they can be through perseverance, hard work and by letting their lives be guided by the College's motto, Truth Duty Valour.
This year's master of ceremonies, 25842 NCdt Tristan Lapointe, presented the various honourees and their families as well as the Officer Cadets reading the citations. 26754 OCdt Bilodeau read the citation for the first honouree, 101 Major John Laing Weller, an accomplished athlete, canal builder and engineer. His plaque was unveiled by his granddaughter. Next, 26108 OCdt Côté read the citation for 1246 General Sir Charles Falkland Loewen, who played a major role in planning the Normandy invasion plan entitled Operation Skyscraper, which laid the foundation for Operation Overlord, the name for the Normandy invasion in 1944. His plaque was unveiled by son. 26418 OCdt Sahin read the citation for 1866 Lieutenant-Colonel Charles Cecil Ingersoll Merritt, who won the Victoria Cross for his efforts during the Battle of Dieppe. His plaque was unveiled by his son as well. 26015 OCdt Hanlon read the citation for the last honouree, 8833 Colonel Lennox John Leggat (Photo left), who was present at the ceremony. He was a great contributor to research within the CAF and his plaque was unveiled by his wife.
The ceremony was nothing short of amazing, with every single honouree having made an exceptional contribution to their country and the CAF. There is no doubt that their accomplishments will inspire others to push themselves to be the best that they can be.
 _______________________ 
Click here for the citations
101 Major John Laing Weller
1862 -1932
Born in Cobourg, Ont., John Weller enrolled at RMC in February 1880, with 33 others, graduating fourth overall in 1883, and receiving a First Class Certificate in Engineering.
Excelling in sports at College and later during his army career, John won many honours. He won the obstacle race, and was College rifle champion in 2nd year. Later with the Dominion Rifle Association, he won the Thorburn Prize and Sir Donald Smith Cup and was on the Bisley Rifle Shooting Prize Lists and Canada's Kolapore Team to Britain. He was the first winner of the Admiralty Trophy with the American Canoe Association in 1884, and at age 58, runner up to an Olympic gold medalist for the Canadian Senior Golf Championship in 1920.
John Weller's military career spanned four and a half decades. As a young engineer, he was first assigned to survey for locks on the Trent Valley River system (1883), and the Murray Canal, near Brighton, ON (1884), which launched his lifetime career in canal engineering. With the 57th (Midland) Battalion during the Northwest Rebellion in 1885, he served as Staff Adjutant to Major-General J.W. Laurie.
He was promoted to Assistant Engineer for the Cornwall Canal enlargement in 1887 and became Resident Engineer in 1892. He joined the 59th Stormont and Glengarry Battalion of Infantry in Cornwall and was promoted Major in 1897. In 1900 he was assigned to the Port Colborne Harbour Improvement, and later that year to Superintending Engineer of the Third Welland Canal.
His greatest achievement was his role as Engineer-in-Charge of the planning, surveying and construction of the 4th Welland Ship Canal between Lake Ontario and Lake Erie from 1912 to 1932. To circumvent the natural wonder of Niagara Falls, a man-made wonder was required. The Welland Canal continues to act as the western section of the St. Lawrence Seaway (opened in 1959), the deep waterway that allows large Great Lakes cargo ships and ocean vessels to navigate between the heart of North America and the Atlantic Ocean. The canal ranks as one of the outstanding world engineering feats of the twentieth century.
Beginning in 1824, earlier canal routes wound their way across the Peninsula and up the Niagara Escarpment following natural water routes because technology was not available to survey and build a straight alignment for the 99.5 m (326.5 ft) elevation difference. Under Weller's leadership, an entirely new concept in canal building was shown to the rest of the world. At the time, the 4th Welland Ship Canal was the largest individual engineering works carried out in Canada and one of the largest in the world. Although patterned after the Panama Canal, the lift achieved is higher over a much shorter distance.
Weller cut a straight path over the Escarpment, creating a more efficient and direct route. Weller incorporated reinforced concrete in his design, a concept he had employed earlier in building the world's tallest reinforced concrete poles to carry electric transmission lines over the 2nd Welland canal.
Weller initiated the use of massive machinery to support and operate his massive construction. Where the 3rd Welland canal had incorporated 26 stone locks, Weller reduced the Welland Ship Canal to 8 immense locks to accommodate large modern shipping in a 2-way system. The control lock at Lake Erie was the longest in the world at 1148 feet. The canal is 43.4 km (27 mi) long and its locks, which provide an average lift of 14.2 m (46.5 ft), are 233.5 m (766 ft) long and 24.4 m (80 ft) wide.
Port Weller, ON, was named in John Weller's honour. Two Weller Islands may be found in Georgian Bay. The Concrete Pole Company was founded in 1905 by John Weller and W.H. Sullivan. Concrete Pipe and Products Limited was founded by John Weller for the manufacture of concrete pipe, concrete block, and other concrete products. He served on the Council of the Canadian Society of Civil Engineers (CSCE) from 1915-1917. In 1932, the year the Welland Ship Canal opened and the year he died, Weller was named a Life Member of the Engineering Institute of Canada.
John's only son, 748 William Henry Weller, graduated from RMC in 1909 and joined the Royal Flying Corps.
Plaque Inscription: Athlete, canal builder, Welland Ship Canal engineer-in-charge
101 Major John Laing Weller
1862 -1932
Né à Cobourg, ON, John Weller est entré au RMC en février 1880 avec 33 autres, et a obtenu un certificat de première classe en génie en 1883, finissant quatrième de sa promotion.
Excellant en sport au Collège et plus tard durant sa carrière militaire, John a obtenu plusieurs distinctions honorifiques. Il a gagné la course à obstacles et a été le champion du Collège au tir à la carabine en deuxième année. Plus tard, avec la Dominion Rifle Association, il a gagné le prix Thorburn et la coupe Sir Donald Smith et a été sur la liste des prix au tir à Bisley et membre de l'équipe canadienne à Kolapore en Grande-Bretagne. Il a été le premier gagnant du Admiralty Trophy de l'American Canoe Association en 1884, et en 1920, à l'âge de 58 ans, le second au championnat de golf sénior canadien, derrière un médaillé d'or olympique.
La carrière militaire de John Weller s'est étendue sur quelque 45 ans. Comme jeune ingénieur, il a d'abord été affecté à faire des relevés pour des écluses sur le système de la rivière de la vallée Trent (1883) et le canal Murray près de Brighton, ON (1884), ce qui marqua le début de sa carrière d'ingénierie de canal. Avec le 57th (Midland) Battalion durant la Rébellion du Nord-Ouest en 1885, il a servi comme Staff Adjutant au major-général J.W. Laurie.
Il a été promu assistant ingénieur pour l'agrandissement du canal de Cornwall en 1887 et est devenu ingénieur résident en 1892. Il s'est joint au 59th Stormont and Glengarry Battalion of Infantry à Cornwall et a été promu major en 1897. En 1900 il a été assigné au Port Colborne Harbour Improvement, et plus tard la même année au poste d'ingénieur-surveillant du troisième canal Welland.
Sa plus grande réalisation a été son rôle comme ingénieur-chef de la planification, des relevés et de la construction du canal Welland entre le lac Ontario et le lac Érié, de 1912 à 1932. Pour contourner la merveille naturelle des chutes Niagara, il fallait une merveille humaine. Le canal Welland constitue toujours la section Ouest de la Voie maritime du Saint-Laurent (ouverte en 1959), la voie navigable profonde qui permet à de gros navires de charge des Grands Lacs et des navires transocéaniques de naviguer entre le coeur de l'Amérique du Nord et l'océan Atlantique. Le canal est classé comme un des exploits de l'ingénierie mondiale du vingtième siècle.
À partir de 1824, les premiers parcours de canal ont trouvé leur chemin à travers la péninsule et vers le haut de l'escarpement de Niagara en suivant le cours naturel des eaux parce que la technologie n'était pas disponible pour faire des relevés et construire en ligne droite pour la dénivellation de 99,5 mètres (326,5 pieds). Sous le leadership de Weller, le reste du monde a vu un concept entièrement nouveau de construction de canal. À l'époque, le 4e canal Welland était le plus grand ouvrage de travaux publics effectué au Canada et un des plus grands au monde. Bien que modelé sur le canal de Panama, la montée atteinte est plus haute sur une distance beaucoup plus courte.
Weller a tracé un chemin droit pour traverser l'escarpement, créant une route directe et plus efficace. Il a incorporé le béton armé dans ses plans, un concept qu'il avait utilisé auparavant pour bâtir les plus hauts poteaux de béton armé au monde pour porter des lignes de transmission électrique au-dessus du deuxième canal Welland.
Weller a instauré l'usage de machinerie massive pour épauler et exploiter sa construction massive. Alors que le troisième canal Welland comprenait 26 écluses en pierre, Weller a réduit le quatrième canal Welland à huit immenses écluses pour accommoder les gros navires modernes dans un système à deux directions. L'écluse de contrôle au lac Érié était la plus longue au monde à 350 m (1148 pieds). Le canal a une longueur de 43,4 km (27 milles), et ses écluses, qui fournissent une levée moyenne de 14,2 m (46,5 pieds), ont une longueur de 233,5 m (766 pieds) et une largeur de 24,4 m (80 pieds).
Port Weller, ON, a été nommé en l'honneur de John Weller. On trouve deux îles Weller dans la baie Georgienne. John Weller et W.H. Sullivan ont fondé la Concrete Pole Company en 1905. John Weller a fondé la Concrete Pipe and Products Limited pour la fabrication de tuyaux de béton, de blocs de béton et d'autres produits en béton. Il a siégé au conseil de la Société canadienne d'ingénieurs civils de 1915 à 1917. En 1932, l'année d'ouverture du canal Welland et l'année de sa mort, Weller a été nommé membre à vie de l'Institut canadien des ingénieurs.
Le fils unique de John, 748 William Henry Weller, a obtenu son diplôme du RMC en 1909 et s'est joint au Royal Flying Corps.
Inscription sur plaque: Athlète, constructeur de canal, ingénieur en charge du canal Welland
 ______________________________
1246 General Sir Charles Falkland Loewen, GCB, KBE, DSO
1900 – 1986
Charles Loewen entered RMC in 1916 at age sixteen and, in 1918, became a 2nd Lieutenant in the Royal Field Artillery, as he was deemed to be too young for war service with the Canadian Army. He saw service in India from 1920 to 1938, and as a staff officer in the ill-fated Norwegian Campaign in 1940. During World War II, he held many senior positions in the British Army. As Corps Commander of the 10th Corps, Royal Artillery, and Deputy Chief of Staff, he saw action in the Italian campaign in the Liri Valley, including Monte Cassino.
In 1943, he drew up invasion plans for Normandy entitled Operation Skyscraper, which formed part of the basis for the invasion in 1944 as Operation Overlord. By war's end, he was General Officer Commanding, 6th Armoured Division. After WWII, Loewen became General Officer Commanding in Trieste with a British Division, an American Brigade and a Yugoslav Brigade under his command. In 1947, as General Officer Commanding, 1st Armoured Division, he was engaged in peacekeeping in Palestine.
He was knighted in 1951 by His Majesty George VI, and in 1953, as Commander in Chief, Far East Land Forces, he was deployed with 60,000 troops to the British Far East to quell a communist insurrection in Malaya. In 1956, he was appointed the Adjutant General of the British Army, and Aide-de-Camp to her Majesty the Queen. General Loewen was awarded the Knight Grand Cross of the Order of the Bath, Knight Commander of the Order of the British Empire and Companion of the Distinguished Service Order.
Upon retirement in 1959, he returned to Canada, settling on the west coast initially, and then in Mansfield, ON in 1978 until his death in 1986. General Loewen's funeral at Camp Borden was attended by senior Army staff and ex-cadets. General Loewen was married and had two sons.
Plaque Inscription: Field Commander, Normandy Invasion Planner, Peacekeeper, Adjutant General of British Army
1246 Général Sir Charles Falkland Loewen, GCB, KBE, DSO
1900 – 1986
Charles Loewen est entré au RMC en 1916 à l'âge de 16 ans et, en 1918, il est devenu second lieutenant dans la Royal Field Artillery parce qu'il était considéré trop jeune pour servir à la guerre avec l'Armée canadienne. Il a servi en Inde de 1920 à 1938, et comme officier d'état-major à la malencontreuse campagne de Norvège en 1940. Durant la Deuxième Guerre mondiale, il a détenu plusieurs postes supérieurs dans l'Armée britannique. En tant que commandant du 10ième Corps de l'Artillerie royale et chef d'état-major adjoint, il a pris part à la campagne d'Italie dans la vallée de la Liri, incluant Monte Cassino.
En 1943, il a élaboré des plans d'invasion de la Normandie, nommée Operation Skyscraper, qui ont contribué à l'Operation Overlord, l'invasion de 1944. À la fin de la Guerre, il était l'officier général commandant de la 6ième division blindée. Après la Deuxième Guerre mondiale, Loewen est devenu l'officier général commandant à Trieste, Italie, ayant sous son commandement une division britannique, une brigade américaine et une brigade yougoslave. En 1947, à titre d'officier général commandant de la 1ière division blindée, il a pris part au maintien de la paix en Palestine.
En 1951 il fut fait chevalier par Sa Majesté Georges VI, et en 1953, comme commandant en chef des forces terrestres en Extrême-Orient, il s'est rendu avec 60 000 soldats en Extrême-Orient britannique pour réprimer une insurrection communiste en Malaisie. En 1956, il a été nommé adjudant-général de l'Armée britannique et aide de camp à Sa Majesté la Reine. Le général Loewen a reçu les décorations suivantes: Chevalier Grand-croix de l'Ordre du Bain, Compagnon de l'Ordre du service distingué et Chevalier Commandeur de l'Ordre de l'Empire britannique.
À sa retraite en 1959, il est retourné au Canada, s'établissant d'abord sur la côte Ouest et ensuite à Mansfield, ON, en 1978 jusqu'à sa mort en 1986. Ses funérailles au camp Borden attirèrent des officiers supérieurs de l'état-major de l'armée ainsi que des anciens élèves-officiers. Le général Loewen était marié et avait deux fils.
Inscription sur plaque: Commandant sur champs de bataille, planificateur de l'invasion de la Normandie, gardien de la paix, adjudant-général de l'Armée britannique
  ______________________________
1866 Lieutenant-Colonel Charles Cecil Ingersoll Merritt, VC, ED
1908 – 2000
Born in Vancouver, Cec Merritt entered RMC in 1925 at the age of 16. Graduating with honours, he joined the Seaforth Highlanders of Canada, a militia regiment, studied for admission to the Bar and became a barrister in 1932. He also played rugby for the Meraloma Club in Vancouver.
At the outbreak of WWII, he was promoted to Major and posted to England. He attended the War Staff Course at Camberley in 1942, and was assigned to command the South Saskatchewan Regiment (SSR) then preparing to become the right flank of the 2nd Canadian Infantry Division for the infamous Dieppe Raid on 19 August 1942.
From the point of landing, Lieutenant-Colonel Merritt's unit advance had to be made across a bridge in Pourville which was swept by very heavy machine-gun, mortar and artillery fire from which the first parties were mostly destroyed and the bridge thickly covered with bodies. LCol Merritt walked calmly across the bridge at least four times under a storm of fire to conduct parties of his men to the eastern side. He then organized and led successful uphill assaults on several of the concrete pillboxes and other enemy positions overlooking the bridge and the village.
Although twice wounded, he organized the withdrawal of his battalion from the beaches, and mounted a rear guard that enabled the greater part of the SSR and Queen's Own Cameron Highlanders of Canada to escape to sea. Merritt and the men of the rear guard could not be brought off, and were compelled to surrender.
LCol Merritt was awarded the Victoria Cross for bravery and leadership under fire. He escaped the first prisoner of war (POW) camp in Bavaria, but was recaptured and sentenced to solitary confinement. Ultimately, he was transferred to the maximum security POW camp at Colditz Castle until liberated towards the end of the War.
After the War, LCol Merritt returned to his law practice in Vancouver and was elected as a Member of Parliament serving the Vancouver-Burrard district until 1949. In 1951, he was appointed Honorary Colonel of the Seaforth Highlanders of Canada. He also served on the Board of Directors of the Mount Pleasant War Memorial Community Cooperative Association until 1994.
LCol Merritt died in Vancouver at the age of 91. His decorations and medals are displayed in the Canadian War Museum. They include the Victoria Cross, World War II service medals, the Queen Elizabeth II Coronation Medal, the Canadian Centennial Medal, the Queen Elizabeth II Silver Jubilee Medal, the 125th Anniversary of the Confederation of Canada Medal and the Efficiency Decoration (ED) with Canada Bar.
Cec's father, Capt C.M. Merritt, was killed in WWI in the Second Battle of Ypres in 1915. Cec married in 1937 and had two sons and a daughter. His son, 5110 Cecil Jamieson Merritt, graduated from RMC in 1962.
Plaque Inscription: Victoria Cross at Dieppe, Member of Parliament, Lawyer
1866 Lieutenant-colonel Charles Cecil Ingersoll Merritt, VC, ED
1908 – 2000
Né à Vancouver, Cecil Meritt est entré au RMC à l'âge de 16 ans. Après l'obtention de son diplôme avec distinction, il s'est joint aux Seaforth Highlanders of Canada, un régiment de la milice, a fait ses études pour admission au Barreau et est devenu avocat en 1932. Il a aussi joué au rugby pour le club Meraloma à Vancouver.
Au déclenchement de la Seconde Guerre mondiale, il a été promu major et muté en Angleterre. Il a suivi le cours d'état-major de guerre à Camberly en 1942, et a été nommé commandant du South Saskatchewan Regiment (SSR) qui se préparait à devenir le flanc droit de la 2ième division d'infanterie canadienne pour le tristement célèbre raid de Dieppe le 19 août 1942.
À partir de son point de débarquement, l'unité du lieutenant-colonel Merritt devait avancer en traversant un pont à Pourville, lequel était balayé par un feu très nourri de mitrailleuse, de mortier et d'artillerie, qui avait couvert le pont des corps des premiers groupes. Le lcol Merritt a traversé calmement le pont à au moins quatre reprises sous un tir déchaîné afin de mener ses hommes par petits détachements sur le côté est. Il a organisé et mené ensuite des assauts contre plusieurs des casemates et autres positions ennemies qui dominaient le pont et le village.
Malgré deux blessures, il a organisé la retraite de son bataillon des plages de Pourville, et a mis sur pied une arrière-garde qui a permis à la majorité des hommes du SSR et des Queen's Own Cameron Highlanders of Canada de rembarquer pour l'Angleterre. Merritt et ses hommes de l'arrière-garde n'ont pas pu être ramenés et ont été contraints de se rendre.
Le lcol Merritt a reçu la Croix de Victoria pour bravoure et leadership sous le feu ennemi. Il s'est enfui du premier camp de prisonniers de guerre en Bavière, mais il a été recapturé et condamné à la détention solitaire. Finalement, il a été transféré au camp de prisonniers de guerre à sécurité maximum au château de Colditz jusqu'à sa libération vers la fin de la guerre.
Après la guerre, le lcol Merritt est retourné à son cabinet d'avocats à Vancouver et a servi comme député de la circonscription électorale de Vancouver-Burrard jusqu'en 1949. En 1951, il a été nommé colonel honoraire des Seaforth Highlanders of Canada. Il a aussi été membre du conseil d'administration de la Mount Pleasant War Memorial Community Cooperative Association jusqu'en 1994.
Le lcol Merritt est mort à Vancouver à 91 ans. Ses décorations et médailles sont exposées au Musée canadien de la guerre. Elles comprennent la Croix de Victoria, des médailles de service de la Seconde Guerre mondiale, la médaille du couronnement de la Reine Elizabeth II, la médaille du centenaire du Canada, la médaille du jubilé d'argent de la Reine Elizabeth II, la médaille du 125e anniversaire de la Confédération du Canada et la Décoration d'efficacité (ED) avec la barrette Canada.
Le père de Cecil, le capitaine C.M. Merritt, a été tué durant la Première Guerre mondiale à la deuxième bataille d'Ypres en 1915. Cecil s'est marié en 1937 et a eu deux fils et une fille. Son fils, 5110 Cecil Jamieson Merritt, a reçu son diplôme du RMC en 1962.
Inscription sur plaque : Croix de Victoria à Dieppe, député fédéral, avocat
   ______________________________
8833 Colonel Lennox John Leggat, CD, PhD
A native of Montreal, John Leggat entered RMCC as a Reserve Entry Training Plan (RETP) cadet in 1967, graduating with first-class honours in Mechanical Engineering in 1971. He studied aeroacoustics at the University of British Columbia (UBC), graduating with an MSc in 1973 and a PhD in 1976.
While a cadet at RMCC, he participated in varsity tennis, played water polo and lacrosse and was a member of the choir. In his fourth year, he was Cadet Wing Communications Officer.
Dr. Leggat served as a Defence Scientist at the Defence Research Establishment Atlantic in Halifax, one of five Department of National Defence (DND) research facilities. There he undertook and led research in hydro-acoustics and hydro-mechanics. He became a recognized authority in underwater noise, and played a leading role in quieting the ships and submarines of the RCN. During that time, he was also an Adjunct Professor in engineering physics and mechanical engineering at the Technical University of Nova Scotia, now part of Dalhousie University.
Dr. Leggat continued his service with the Reserves until 2000. As a Lieutenant-Colonel, he commanded 33 Service Battalion, was Deputy Chief of Staff at Land Force Atlantic Area HQ , and Deputy Commander of the Western Nova Scotia Militia District. He attended National Defence College in 1986-87. In 1989, he was appointed Director General of Research and Development Operations at NDHQ and moved to Ottawa in 1990. In 1993 he became Director General of the Defence Research Establishment in Ottawa.
Dr. Leggat was appointed Chief of Research and Development for DND in 1997, and became the driving force and founding CEO of Defence Research and Development Canada (DRDC), a Special Operating Agency of DND, providing national leadership in defence science to the Canadian Forces and DND. Coincidently, Colonel Leggat was Director, Reserves from 1992 until 1998.
As Director Reserves, he was an innovative champion of Canada's Reservists, initiating the "Get Well" program to improve and equalize pay and allowances for Reservists. He also worked to retain the RETP at RMCC and expand other educational opportunities for Reservists and generally enhanced their profile within the Canadian Forces.
Dr. Leggat became Assistant Deputy Minister (Science and Technology) at DND in 2000. He worked closelywith Drs. Plant and Cowan at RMCC to provide a mechanism for RMCC faculty members to compete for and receive the Natural Sciences and Engineering Research Council of Canada (NSERC) grants. Under Dr. Leggat's guidance, the DRDC Centre for Security Science was created as a joint endeavour between DRDC and Public Safety Canada.
During his career, Dr. Leggat has served on about 30 scientific advisory committees and boards and received numerous awards and honours. He was the Canadian representative for the NATO Research and Technology Organization for many years, and led the team that wrote the current NATO Research and Technology Strategy. John was awarded the Association of Professional Executives of the Public Service of Canada Leadership Award for his creation of DRDC. In 2000, he was awarded the Robert W. Angus Medal by the Canadian Society of Mechanical Engineering. He was elected an Honorary Member of the Engineering Institute of Canada in 2002.
From 2005 to 2013, Dr. Leggat was a consultant and Senior Advisor with CFN Consultants in Ottawa. In 2007, he was awarded the Professional Engineers of Ontario Engineering Medal. In 2008, he was elected President of the Canadian Academy of Engineering, and assumed the Presidency of the International Council of Academies of Engineering and Technological Sciences.
In 1999-2000, John was President of the RMC Club. John was preceded at the College by his father, 2098 Brigadier W.C. Leggat and two uncles, Sydney Williams and Jack Wallace. He and his wife, Denise, have two children and live in Ottawa.
Plaque inscription: Aero/Hydro Acoustics scientist, DND and NATO Research leader,
Reservists champion
8833 Colonel Lennox John Leggat, CD, PhD
Né à Montréal, John Leggat est entré au RMCC en 1967 comme élève-officier sous le régime du Programme de formation – intégration à la Réserve (PFIR), et a obtenu son diplôme en génie mécanique avec très grande distinction en 1971. Il a étudié l'aéroacoustique à l'Université de Colombie-Britannique (UBC), obtenant un diplôme de MSc en 1973 et de PhD en 1976.
Durant son séjour au RMCC, il a été membre de l'équipe de tennis, il a joué au water-polo et à la crosse et a été membre du choeur. En quatrième année, il a été élève-officier des communications de l'escadre.
Le Dr Leggat a travaillé comme scientifique au Centre de recherches pour la Défense Atlantique à Halifax, un des cinq établissements de recherche du ministère de la Défense nationale (MDN). À cet endroit, il a entrepris et dirigé des recherches en hydroacoustique et hydromécanique. Il est devenu une autorité reconnue en bruit sous-marin, et a joué un rôle de premier plan dans la réduction du bruit produit par les navires et sous-marins de la Marine royale canadienne (MRC). Pendant ce temps, il était aussi professeur auxiliaire en génie physique et génie mécanique à la Technical University of Nova Scotia, qui fait maintenant partie de l'Université Dalhousie,
Le Dr Leggat a continué son service avec la Réserve jusqu'en 2000. Au grade de lieutenant-colonel, il a commandé le 33e Bataillon des services, il a été sous-chef d'état-major au quartier général du Secteur de l'Atlantique de la Force terrestre et commandant adjoint du district de la milice de l'Ouest de la Nouvelle-Écosse. Il a suivi le cours du Collège de la Défense nationale en 1986-87. En 1989, il a été nommé directeur général – Opérations de recherche et de développement au QGDN et est déménagé à Ottawa en 1990. En 1993 il est devenu directeur général du Centre de recherches pour la défense à Ottawa.
Le Dr Leggat a été nommé chef – Recherche et développement pour le MDN en 1997, et il est devenu l'instigateur et le président-directeur général fondateur de Recherche et développement pour la défense Canada (RDDC), un organisme de service spécial du MDN, fournissant le leadership national en science de la défense aux Forces canadiennes et au MDN. En même temps, le colonel Leggat a été directeur – Réserves de 1992 à 1998.
Comme directeur – Réserves, il a été un promoteur novateur des réservistes du Canada en initiant le programme «Get Well» pour améliorer et égaliser le traitement et les indemnités pour les réservistes. Il a aussi travaillé à conserver le PFIR au CMRC et à augmenter les possibilités des réservistes de s'instruire et a généralement rehaussé leur profil à l'intérieur des Forces canadiennes.
Le Dr Leggat est devenu sous-ministre adjoint (Sciences et technologie) au MDN en 2000. Il a travaillé de près avec les Dr Plant et Cowan au Collège militaire royal du Canada (CMRC) pour fournir un mécanisme aux membres du corps professoral du CMRC pour concourir et recevoir les subventions du Conseil de recherches en sciences naturelles et en génie du Canada (CRSNG). Sous la direction du Dr Leggat, le Centre des sciences pour la sécurité de la RDDC a été créé conjointement par la RDDC et Sécurité publique Canada.
Durant sa carrière, le Dr Leggat a siégé sur une trentaine de comités et de conseils scientifiques consultatifs et a reçu de nombreux prix et distinctions. Il a été le représentant canadien durant plusieurs années auprès de l'Organisation pour la Recherche et la Technologie de l'OTAN, et il a dirigé l'équipe qui a rédigé la stratégie actuelle de l'OTAN en matière de recherche et de technologie. John a reçu le Prix de leadership de l'Association professionnelle des cadres supérieurs de la fonction publique du Canada pour avoir créé la RDDC. En 2000, il a reçu la médaille Robert W. Angus de la Société canadienne de génie mécanique. Il a été élu membre honoraire de l'Institut canadien des ingénieurs en 2002.
De 2005 à 2013, le Dr Leggat a été consultant et conseiller principal chez CFN Consultants à Ottawa. En 2007, il a reçu la Engineering Medal de l'Ordre des ingénieurs de l'Ontario. En 2008, il a été élu président de l'Académie canadienne du génie, et a accepté la présidence de l'International Council of Academies of Engineering and Technological Sciences.
En 1999-2000, John a été président du Club des Collèges militaires royaux du Canada. Il a été précédé au Collège par son père, 2098 brigadier W.C. Leggat et deux oncles: Sydney Williams et Jack Wallace. Son épouse Denise et lui ont deux enfants et habitent à Ottawa.
Inscription sur plaque: Chercheur en hydroacoustique et aéroacoustique, leader de recherche pour le MDN et l'OTAN, promoteur des réservistes