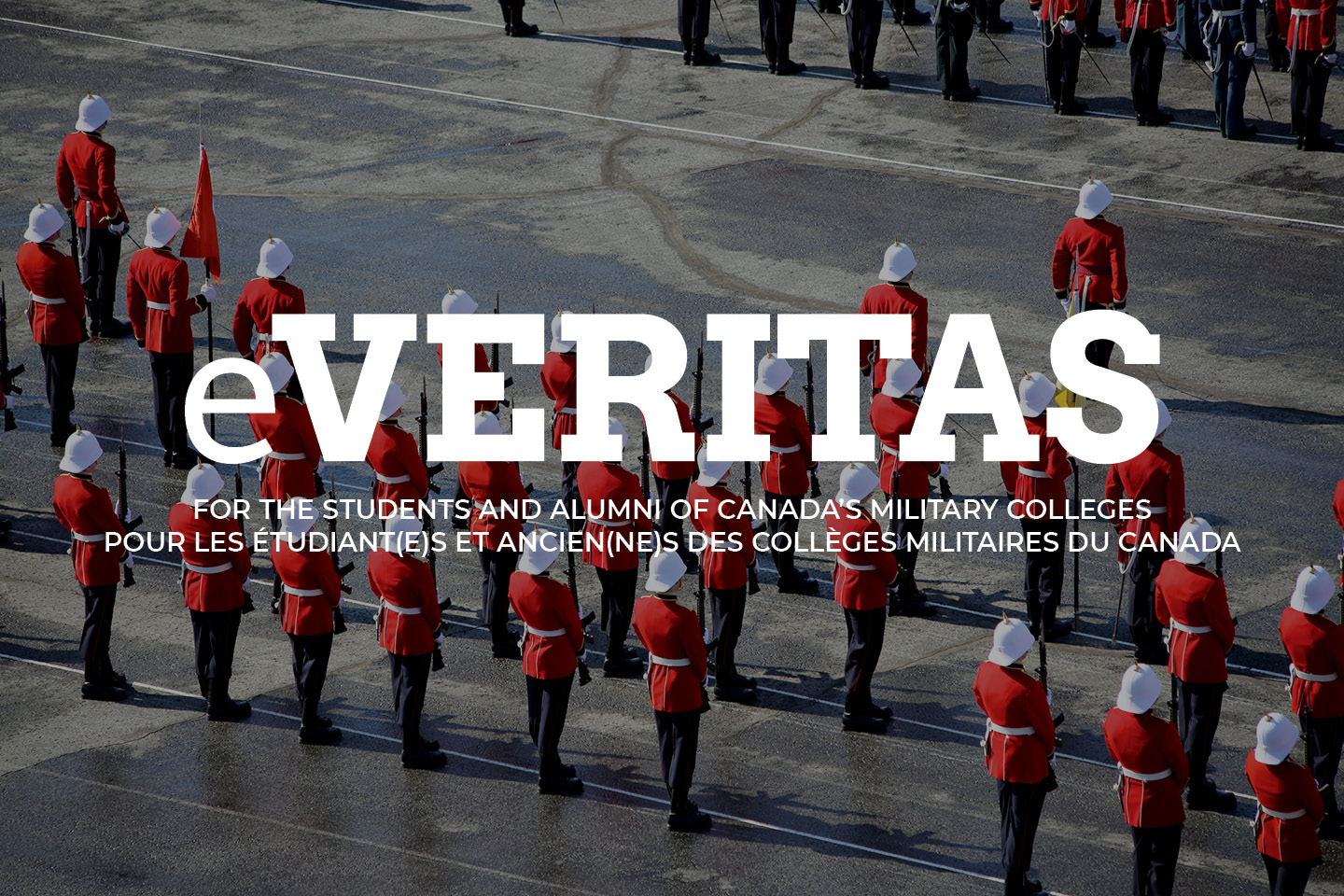 3089 William Gillies (Gil) Ross (RMC '53); 4132 Jay Kurtz (RMC '58); 5281 Bob Munday (RRMC RMC '61); 7690 Craig Riddell (RMC '68); 9098 Ken Hague (CMR RMC '72); 10230 Dr. Philip Smith-Eivemark (RRMC RMC '74); 10386 Charles (Chas) Cormier (CMR '75); 11669 MGen Joseph Hincke (CMR RMC '78); 13443 Shamus Hurley (CMR '82); 14551 Mike C Elderfield (RRMC '84); 15566 Major Helga Grodzinski (RMC '86); 15687 Commander Kurt N Salchert (RRMC '86); 17962 Rob Dargewitcz (RRMC/RMC '92); 21078 Pierre Godbout (CMR RMC '98).

3089 Dr. William Gillies (Gil) Ross (RMC '53) is Professor
Emeritus of Geography at Bishops University. Since retiring, Dr. Ross
has continued his research on the activities and impact of European
and American whalers and explorers in Arctic Canada and Alaska during
the nineteenth century. A three-year Social Sciences and Humanities
Research Council of Canada grant that ended in 2002 supported his
study of the search for Sir John Franklin, whose large and well
equipped expedition disappeared into the complex and uncharted
archipelago north of the Canadian mainland in 1845. The Franklin
search–the greatest humanitarian operation in Arctic history–
endured for a dozen years (1847-59) and involved more than thirty
expeditions and thousands of men before evidence of the disaster at
last came to light. Various reasons have been given to explain the
failure of the searching parties. Dr. Ross's hypothesis is that the
revival in 1851 of an old geographic myth–that an ice-free sea
existed beyond the known continents and islands–was largely
responsible for diverting the search northward towards the Arctic
Ocean, a direction opposite to the one that Franklin had taken. He is
a graduate of the Royal Military College (BA), McGill University (BA,
MA), and the University of Cambridge (DPhil). His theses were in the
field of historical geography, one relating to the Caribbean and the
other to Hudson Bay. He founded the Department of Geography at
Bishop's in 1961 and retired thirty years later. He has written four
books on Arctic whaling (1820-1920) and one on Eastern Townships
mining (1863-1939).

4132 Jay Kurtz (RMC '58) is President and founder of
KappaWest, Inc., a California-based management consulting firm with
clients in the defense/aerospace, pharmaceutical, biotech,
information technology and telecommunications industries. Jay is a
graduate of the Royal Military College of Canada in engineering and
served nine years as an officer in the Canadian Army. He is a
graduate in Engineering from the Royal Military College of Canada and
is a licensed professional engineer. He holds a Bachelor of Science
Degree in Engineering from Queens University. He was one of the
original founders of Multiple Access Limited (since acquired by an
information technology company), a computer services and
communications firm, where he held the position of Vice President-
Marketing. Previously, he was National Marketing Manager of the Data
Center Division of IBM Canada. At KappaWest, he leads the company's
business development efforts and is a frequent speaker and writer on
the subjects of business intelligence, sales development, business
wargaming, strategic and operational level planning, contingency
planning and related concepts.

5281 Bob Munday (RRMC RMC '61) joined the Royal Canadian Navy on September 5, 1957; attended the Canadian Services College Royal Roads and the Royal Military College of Canada. He served in HMC Ships ONTARIO, NEW GLASGOW, ASSINIBOINE, CRESCENT, ANNAPOLIS, KOOTENAY and PRESERVER. Seconded to the Canadian Hydrographic Service and served in CGS BAFFIN for the hydrographic survey of Barrow Strait in 1962; exchange in USCGC EDISTO for icebreaking operations in Arctic waters in 1966. He served ashore in Canadian Forces Headquarters, DMFORT Arctic Desk, as project officer for Allied Tactical Publication 17 Allied Arctic Operations Manual; Canadian Forces Fleet School Halifax, N2 Navigation Section as Senior Navigation Instructor; National Defence Headquarters, DMOPR 2-3 Navigation desk; Canadian Forces Maritime Warfare School, as MARCOT Co-ordinator; Maritime Command Headquarters, Staff Officer Navigation. He served in HMC Naval Reserve Divisions PREVOST, YORK, PATRIOT and SCOTIAN. He was awarded Second Clasp to the Canadian Forces Decoration in 1991. He retired from the Canadian Navy in 1988. He joined the Public Service of Canada at DND Hydrographic Services Office Halifax in 1988 as Operations Manager Superintendent from 1989 until retirement in 1998. He Attended graduate school in Geography at the University of Western Ontario and taught geography at Anderson High School in Whitby, Ontario. He is Past Grand High Priest of the Royal Arch Masons of Nova Scotia.

7690 Dr. Craig Riddell (RMC '68) Dr. Craig WC Riddell is Royal Bank Faculty Research Professor in the Department of Economics at the University of British Columbia. His research and teaching interests include: Labour economics, labour relations, public policy, education and training, evaluation of social programs, unemployment and labour market dynamics. He is Academic Director, Canadian Labour Market and Skill Researcher Network (CLSRN) and a Panel Member on the Expert Panel on Older Workers. He earned an Honours B.A. (Economics and Commerce) fromRoyal Military College in 1968. He also earned a M.A. (Economics) in 1972 and a Ph.D. (Economics) in 1977 from Queen's University.

8889 David Caddey (RRMC RMC '71) is Executive Vice
President of MacDonald, Dettwiler and Associates Ltd. in Richmond BC
(MDA Corporation), and leads its Space Missions unit. He has been a
Director of Stockgroup since July 1999. Since July 1998 he has served
as an Executive Vice President of MacDonald Dettwiler and Associates
Ltd., a space technology and satellite services company that designs,
manufactures, operates and markets a broad range of space products
and services. He is a Director of both the US National Space
Foundation and the Aerospace Industries Association of Canada. He has
over 30 years experience in management and engineering and holds
Bachelor and Master of Science degrees in Applied Physics from the
Royal Military College located in Kingston, Ontario, Canada.
more…


9098 Ken Hague (CMR RMC '72) is Vice President,
Resource Development at the United Way of the Lower Mainland of
British Columbia. He attended university from 1967 to 1972 at both le
College Militaire royale de St Jean, Quebec and Royal Military
College in Kingston, Ontario where he graduating with an Honours BA
in Economics and Commerce. He was promoted to Brigadier General in
1997 and was appointed Director General Intelligence at National
Defence Headquarters in Ottawa. In 1997, he became the Commandant of
the Royal Military College of Canada in Kingston, Ontario. He
retired from the Canadian Forces in June 2000 and moved to
Vancouver. Ken became a volunteer Loaned Representative with United
Way of the Lower Mainland for 16 weeks that fall and was hired by
United Way as a full-time fundraiser in April 2001. In January 2003,
he was appointed Director Resource Development, and in April 2004 was
appointed Vice President, Resource Development with United Way of the
Lower Mainland. Ken is an avid golfer and would like to spend
considerably more time on the links. In winter, he skis with his son
Aaron at Whistler. He is married to Wendy Hague and currently lives
in Vancouver.

10230 Dr. Philip Smith-Eivemark (RRMC RMC '74) is the Principal
Educator/Consultant of the Skald Group, which provides educational
programs and training in the areas of personal and corporate ethical
awareness, ethical decision making, critical thinking, and
leadership. He has been creating and implementing training programs
and speaking in the field of ethical practice and leadership for the
past 12 years. He brings a wealth of practical experience along with
excellent academic training to his vocation. Dr. Smith-Eivemark has
worked with financial institutions, federal and provincial government
departments, the Department of National Defence, professional
associations, and training institutes. He has spent twelve years
working as a leader/manager in the public, private and not for profit
sectors. As well, Dr. Smith-Eivemark has taught ethics at a number of
post secondary institutions across Canada. A graduate of the Royal
Military College of Canada, he obtained his doctorate from the
University of Toronto in 1996. He is the author of Beyond the Bottom
Line: The Courage to Be a Business Person. Ethics in Business.

10386 Charles (Chas) Cormier (CMR '75) is partner in
MDA Aviation in Dieppe NB. He is primarily responsible for the design
of new Instrument Approach Procedures and the ongoing maintenance of
existing procedures, serving private aerodrome operators in Canada
and overseas. He has extensive aviation experience as a project
manager and pilot, with over 7,000 flight hours in jets, multi-engine
aircraft, and helicopters. With 24 years service in the Air Force, he
retired in 1992 with the rank of Lieutenant-Colonel, after flying Sea
King helicopters in the Gulf War and earning a Commander's
Commendation. During 10 years of employment with Transport Canada and
NAV CANADA in Aeronautical Information Services, he specialized in
the design and flight inspection of instrument procedures. Most
recently, he was Vice-President of Approach Navigation Systems Inc
for two years. Cormier is a graduate of College Militaire Royal de
St. Jean with a B.Adm., and the Canadian Forces Command and
StaffCollege. He was recently re-elected for a second term as a City
Councillor in Dieppe, N.B., and is a Director on the Boards of the
Capitol Theatre of Moncton and of the New Brunswick Aerospace and
Defence Association (NBADA).

11669 MGen Joseph Hincke (CMR RMC '78) is Assistant Chief of Air
Staff at DND. After graduating from Royal Military College with a
degree in Political and Economic Science, MGen Joe Hincke received
his wings in 1979 and flew operationally in 443 and 423 Helicopter
Squadrons and served on exchange with the Royal Navy's 814 Squadron.
He commanded the HT406 Operational Training Squadron, and later,12
Wing Shearwater, and has accumulated 3300 hours of flight time. Staff
appointments at NDHQ have included air requirements, defence policy
development and personnel management. He was promoted to Brigadier-
General in October 2004, assuming the position of Director, Force
Planning and Program Coordination and promoted to his current rank in
April 2006, and appointed Chief of Programs and responsible for
resource planning for the Canadian Forces. MGen Hincke assumed his
current position in July, 2007. During his career, MGen Hincke has
also earned a Master Degree in War Studies and is currently a
doctoral candidate in the same discipline at RMC.

13443 Shamus Hurley (CMR '82) has been president Chief Executive
Officer of Kinetico Incorporated since August 6, 2007. Mr. Hurley served
as President for Bosch Security Systems of Robert Bosch Corporation
since October of 2005. Mr. Hurley joined Robert Bosch in 2002 as Vice
President of Sales for North America and, in 2003, was promoted to Vice
President of the Americas region. Prior to this, Mr. Hurley served more
than 14 years at Honeywell International Inc., initially in Montreal,
QC, Canada, and the last five years at Honeywell International Inc.'s
world headquarters in Minneapolis, Minnesota. Mr. Hurley held a variety
of leadership roles in sales, marketing and operations and had
responsibility for businesses in the U.S., Canada and Latin America. Mr.
Hurley attended Le College militaire royal de Saint-Jean in Quebec,
Canada, where he earned his degree in engineering sciences. He also
attended Montreal's Concordia University, where he obtained a Bachelor
of Science with a degree specialization in physics and marketing.
more…
Kinetico Inc. 10845
Kinsman Road Newbury, Ohio 44065 United States Phone:
440-564-9111

14551 Mike C Elderfield (RRMC '84) is the
Director of Project Management in the Access Networks Division of
Alcatel Canada. His most recent achievements include managing the R&D
development for the Intelligent Access Services Manager (7330 ISAM-R),
an industry leader in IPTV and triple play services. Prior to his
current role, Mr. Elderfield was a Senior Project Manager in the Network
and Service Management group at Alcatel and served twenty years in the
military, in the area of command, control and communications systems.
Mr. Elderfield obtained a Bachelor degree from the Royal Roads Military
College of Canada and a Masters degree in Software Engineering from the
College Militaire Royale de Saint Jean. Mr. Elderfield is a member of
the Ottawa Chapter of the Project Management Institute.

15566 Major Helga Grodzinski (RMC '86) is the Army Publishing
Officer at the Army Publishing Office (APO), which is located within the
walls of Fort Frontenac, in Room 115 of Vincent Block, Kingston. The
APO, a section of G6 Branch of Land Force Doctrine and Training System
(LFDTS), provides support primarily to elements of LFDTS and Director
General Land Capability Development (DGLCD). However, true to its
name-Army Publishing Office-the APO also provides support to the Army as
a whole.



15687 Commander Kurt N Salchert (RRMC '86) is the Commanding Officer
of the Venture, Naval Officer Training Centre. He enrolled in the
Canadian Armed Forces in 1982 under the Regular Officer Training Plan
and graduated with a Bachelor of Arts degree in Military and
Strategic Studies from Royal Roads Military College in Victoria in
1986. Commander Salchert attended the Canadian Forces Command and
Staff Course (CFC 28) in 2001/2002 and during the same period earned
his Master's Degree in Defense Studies from the Royal Military
College of Canada in Kingston. Commander Salchert was promoted to his
present rank in 2002, and appointed as the Chief of Operations (J3)
at the Canadian Forces Joint Operations Group in Kingston. In early
2003 he was selected to serve in Tampa, Florida and later in Qatar as
a member of the CF Liaison Team to US Central Command during the
planning for and execution of the early and decisive stages of
Operation Iraqi Freedom. Most recently, Commander Salchert has been
involved in planning the deployment of the Canadian Forces elements
to the United Nations Multinational Interim Force in Haiti.

17962 Rob Dargewitcz (RRMC/RMC '92) was recently appointed Treasurer of Shell Canada Limited based in Calgary, Alberta. Rob graduated from the Royal Military College in 1992 with an Honours Degree in Economics and Commerce (first class honours). He fondly remembers both his time at RRMC, where he served as Captain of the Varsity hockey team, as well as his time at RMC where he also played for the Varsity hockey team (his father Harry, who passed away in October 2003 after a long battle with cancer, was a regular fan who could be found cheering on the squad at most of the "Redmen" games). Rob served in the Army for 5 years upon graduation from RMC, and left the forces with the rank of Captain in 1997 to take a position with Shell Canada based in Calgary. Before leaving the forces, Rob completed his MBA at the University of Ottawa. Rob is also a Certified Management Accountant (CMA), and currently moderates in the CMA Professional Program in Alberta.

robert.dargewitcz@shell.com

21078 Pierre Godbout (CMR RMC '98), MBA,
PEng, has been with HGC Engineering, Canada's largest acoustical
consulting engineering firm, since January, 2005. Prior to joining
HGC Engineering, Pierre completed his undergraduate degree in
mechanical engineering at the Royal Military College, and a Master of
Business Administration degree at the University of Victoria. Pierre
is a member of our industrial noise control division, where he
specializes in environmental assessments of industrial facilities and
power transmission infrastructure. He also looks after calibration
and upkeep of our multitude of precision acoustic testing and
sound/vibration measurement instrumentation.