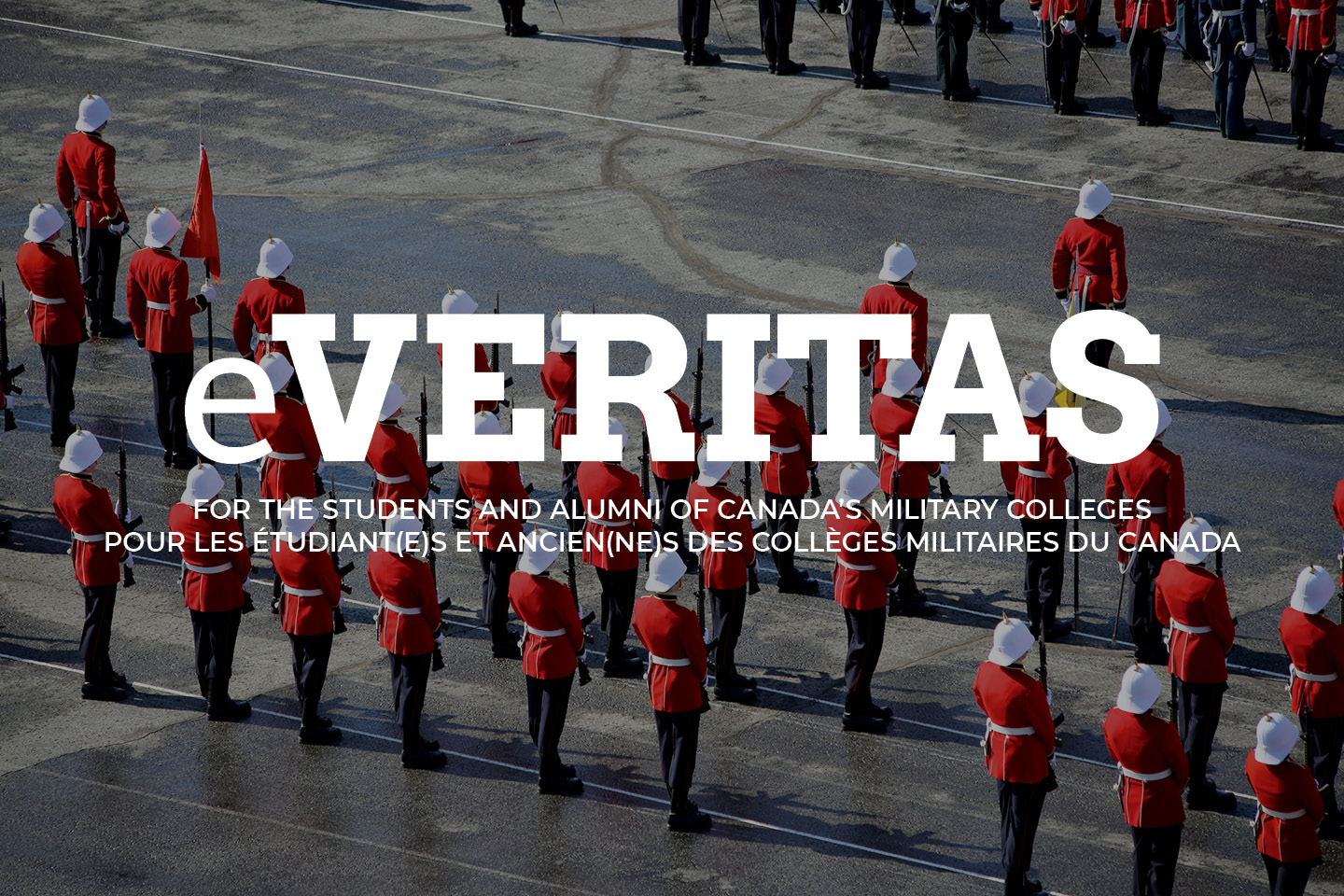 The RMC Club of Canada announced the launching of the new online RMC network. See announcement – In This Issue.
______________________________________________________
6541 Major-General D. Fraser Holman (RMC '65), CD (Ret'd)
Major-General Fraser Holman is currently a member of the Senior Directing Staff at the Canadian Forces College, supporting the implementation of the National Security Programme, a year-long programme at the 'war-college' level commencing in 2008. Born in Toronto in 1943, he grew up in Ottawa and graduated from the Royal Military College of Canada (RMC) at Kingston, Ontario, in 1965.
MGen Holman's military career spanned 35 years and alternated between operational and educational assignments. Initially, he served as an instructor pilot on T-33 trainers at Moose Jaw, Saskatchewan. Next he converted to the CF-104 Starfighter and served a four-year tour as a reconnaissance pilot in Baden-Soellingen, Germany, then at the headquarters in Lahr, Germany.
Returning to Canada in 1974, MGen Holman was assigned as an Assistant Professor of mathematics at the RMC for three years. Next he attended the CF Command and Staff Course in Toronto, before returning to Germany and the CF-104 – this time in the ground-attack role. This was to become a four-year tour as he was promoted lieutenant-colonel and appointed Commanding Officer of 421 (Red Indian) Squadron.
In 1982, MGen Holman returned to Toronto and the Command and Staff College, where he covered four different assignments over six years. He was promoted to colonel in 1986 and finished his time there as Director of Air Studies, as well as Director of Unified Studies. Returning to fighters in 1988, he was appointed Commander of BFC Bagotville, Quebec, a CF-18 Wing for a glorious two-year tour.
MGen Holman was promoted to brigadier-general in 1990 and assigned as the (last) Deputy Chief of Staff for Operations at the 4th Allied Tactical Air Force at Heidelberg, Germany. Next, he was reassigned in 1993 to headquarters NORAD, in Colorado Springs, Colorado. He served as Vice-Director of Plans, then Deputy Commander of the Cheyenne Mountain Operations Centre, before being promoted to major-general in 1995 and becoming the J-3, Director of Operations, for NORAD.
He retired from the Canadian Forces in 1996 and returned to live in Toronto. He established himself in a consulting business and since 1997 has been working in support of the Canadian Forces College as a senior mentor and facilitator. He shared in the development and implementation of two advanced courses in senior officer professional development – the Advanced Military Studies Course, and the National Security Studies Course – which have now been replaced by the National Security Programme.
MGen Holman accumulated over 3600 hours of pilot-in-command time, primarily on the CF-18, CF-104 and the T-33. His education includes a BSc in Mathematics and Physics (1965) and an MSc in Mathematics and Operations Research (1978) both from RMC, and an MA in International Relations (1987) from York University, Toronto.
MGen Holman is married to the former Sandra Hayter of Ottawa; they have two adult sons and four grandchildren.
______________________________________________________
8276 Doctor Marc Garneau (CMR RMC '70) is a Liberal Candidate in the Westmount-Ville Marie by-election.
Marc was selected as an astronaut and, in 1984, he became the first Canadian in space. He
flew on two other missions before becoming the Executive Vice-President and then President of the Canadian Space Agency, from 2001 to 2005, at which time he ran as the Liberal candidate in Vaudreuil-Soulanges.
He spent his first career in the Canadian Navy as a Combat Systems engineer. Mr. Garneau became an Officer of the Order of Canada in 1984 and was promoted to the rank of Companion in 2003. He is an Honourary Fellow of the Canadian Aeronautics and Space
Institute, as well as a Member of the Association of Professional Engineers of Nova Scotia and, in 1988, he was named Honourary Member of the Canadian Society of Aviation Medicine. Mr. Garneau is also the Honourary Patron of Hope Air and was President for Celebrations Canada – Fêtes du Québec in 2005.
For four years (2001-2005), he was the President of Montreal's McGill Chamber Orchestra. In 2003, Mr. Garneau became the Chancellor of Carleton University. With a Bachelor of Science degree in Engineering Physics from the Royal Military College, Kingston (1970) and a Ph.D. in Electrical Engineering, Imperial College of Science and Technology, London, England (1973), he is also the recipient of eleven Honourary doctorates.
Born in Quebec City in February 1949, Marc Garneau became a resident of Westmount in 2001 with his wife Pamela and their two young boys, Adrien and George. Source
______________________________________________________
11938 Donald Olechowski (RRMC RMC '78) has been a Regional Manager at Intermap Technologies in the San Francisco Bay area since 2008. He was General Manager Morgan Advanced Ceramics, Hayward 2006-7. He earned a BEng (1st Class Honours), Mechanical Engineering, at Royal Military College of Canada 1974 – 1978 followed by a SM, Aeronautics and Astronautics, MIT (1981- 3).
______________________________________________________
13272 François Robillard (RRMC RMC '81) has worked in the computer games industry since 1993, most recently as a Game Creation Executive at A2M in the Montreal, Quebec area since 2008. He was President at Rhino Entertainment Inc from 2003-2007. He worked as VP Production (2000 – 2003) and Studio Director (1996-2000) at Disney Interactive.
______________________________________________________
13812 Michal Zeithammel, P.Eng (RRMC RMC '82) has been the VP INFOSEC (information security) consultancy at Komokoa Corporation in Ottawa (1997 – Present). He took Masters of computer engineering courses at Carleton University (1988 – 1990) and University of Ottawa (1985 1987). He earned an Honorary PhD at the University of Tuktoyaktuk 1985 -1985. He holds a B.Eng., Engineering Physics / Science, Royal Military College of Canada 1980 – 1982. He earned a Diploma, Science and Engineering at Royal Roads Military College 1978 – 1980. His interests include Volleyball, Basketball. Biking, InLine skating, Snow boarding and skating.
______________________________________________________
14621 Robin Ross (RRMC '84) has been the Director of Technology at American Society for Gastrointestinal Endoscopy in the greater Chicago area since 2007. He was a manager at the Field Museum 2000-2007. He served as a Communications Officer Canadian Department of National Defence from 1980 – 2001. He earned a BSc from Royal
Roads Military College 1980 – 1984 followed by Canadian Forces Command and Staff Course in 1999.
______________________________________________________
16290 Yves-Laurent Khoury (CMR RMC '89) has 15 years experience in all phases of project management, most recently as the lead Project Manager at BlueCross BlueShield of Dallas Texas since 2006. He was Sr. Project Manager BlueCross BlueShield of Vermont 2002 – 2006. He served in the Canadian Forces from 1983 – 1990. He holds a Bachelor of Economics from Royal Military College 1989, a M.Sc. Business from McGill 1994 and studied political science at Concordia 1989 – 1992. He earned the Gold Duke of Edinburgh Award.
______________________________________________________
16464 Ian Milne (RMC '88) has been Director, Equipment Engineering at Fiber Tower in San Francisco since 2004. He was Director Systems Engineering at Netro 2000 – 2003. He earned a B.Eng., Engineering Physics, Royal Military College of Canada 1984 –
1988 followed by a MBA from University of Ottawa 1989 – August 1992.
______________________________________________________
16677 Daniel Duchesne (CMR RMC '89) has been a Solution Architect at Ericsson since 1998. He was a Group leader at CAE from 1994 – 1999. He studied Computer Eng., at Royal Military College of Canada 1984 – 1989.
______________________________________________________
17911 Stephen Saunders (RMC '91) is Regional Support Manager – EMEA at ActivIdentity (Formerly ActivCard) currently based in Paris 2005-present. He was a Senior Pre-Sales Systems Engineer at ActivCard (2001-2004). He was an Aerospace Engineering Officer (AERE) with the Canadian Armed Forces (Air Force) from 1987 – 1991. He earned a Bachelor, Computer Systems Engineering, Carleton University 1991 – 1999. He studied Chemical Engineering at Royal Military College of Canada 1987 – 1991.
______________________________________________________
19586 Peter Angel (CMR RMC '95) has been a Systems Engineer – Interoperability Solutions at Prolity Corporation in Ottawa since 2004. He was a Software Engineer – Interoperability Solutions ASMG Ltd from 2001 – 2004. He served as a Combat Systems Engineer for the Department of National Defence 1995 – 2001. He earned a B.Eng,
Software Engineering, from Royal Military College of Canada 1990 – 1995. He played on the Varsity Rugby team at RMC.
______________________________________________________
M0708 Frank Maloney (RMC '96) has been a Forensic SW/HW Engineer at RCMP since 2001. He was a SW Designer at Nortel 1997 –2001. He served as a Combat Engineer with the Canadian Armed Forces1985 to– 1997. He studied Computer Engineering at Royal Military College of Canada 1992 – 1996 and was a member of the Rifle Team and served as Sqn Trg Officer for Otter Squadron.
______________________________________________________
20277 Matthieu J Turmel (RMC '96) has been a Senior Satellite Engineer at Telesat Canada in Ottawa since 1998. He was a System Engineer at Canadian Space Agency in 1997. He studied at Royal Military College of Canada 1993 to– 1996, followed by a M.Eng., Aerospace Engineering, 1996 to– 1998 at Université de Montréal – Ecole polytechnique de Montréal.
______________________________________________________