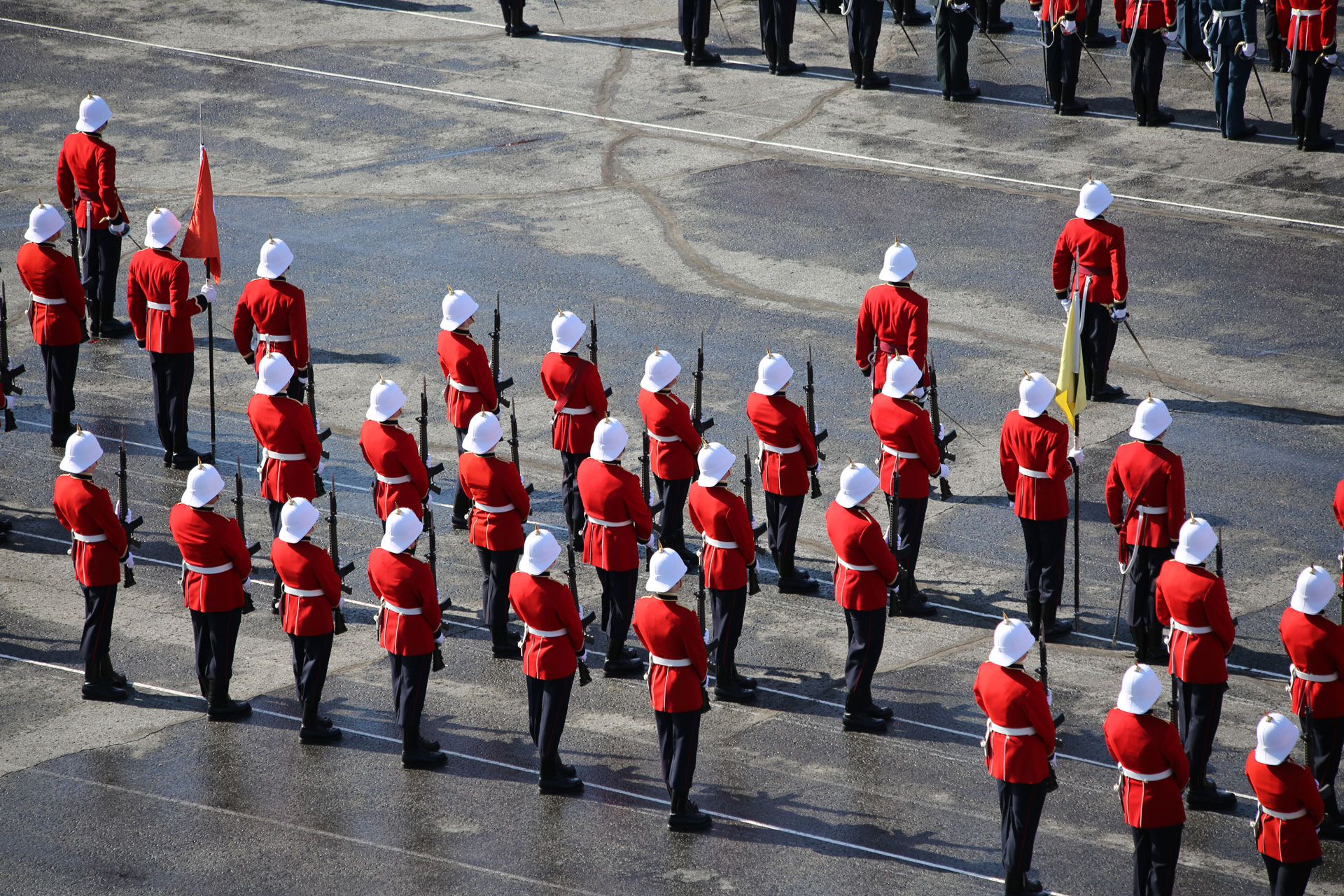 11784 LCol (ret`d) Wayne AF Haggart (RMC 1978) received the 2008 Deputy Minister/Chief Defence Staff Innovation Award from former CDS S148 Rick Hillier and Deputy Minister Robert Fonberg.
LCol (Ret'd) Wayne Haggart, with the Directorate of Ammunition and Explosives Regulation (DAER), was a member of the planning team for the creation of a departmental ammunition and explosives regulatory body. He was recognized for his leadership and committed effort in designing and establishing the DAER directorate, revolutionizing the way DND/CF regulates all ammunitions and explosives activities. He was further congratulated for exemplary leadership and steadfast, painstaking attention to critical detail.
_________________________________________
12012 Mr Gilles Archambault (CMR 1979) is Chief of Staff for the Director General Personnel and Family Support Services. Gilles retired in 1998 from the Canadian Forces after a 25 year career as a Logistic Air Transportation Officer. He has served as previously as Director Corporate Development Projects and as Director Corporate Informatics at the Canadian Forces Personnel Support Agency. To deliver superior service to the Canadian Forces members and their families, a team of dedicated professionals located in Ottawa is tasked with ensuring that the organization itself runs smoothly and that NPF employees and others delivering PFSS programs and activities have the support they need to do their jobs effectively.
_________________________________________
13077 Lieutenant-Colonel (ret'd) Dean Black (RMC 1981) is National Executive Director of the Air Force Association of Canada and Publisher Airforce Magazine. He is responsible to the National Executive Council (Board of Directors) through the National President, for implementing the policies and directives of the National Executive Council; advising the National Executive Council on the effectiveness of the Association's policies and procedures; maintaining liaison with applicable government agencies and departments relevant to the activities of the Association; and, organizing and supervising the conduct of National Annual General Meetings and National Executive Council meetings. He is also responsible for liaising with all levels of the Association, working through Group and Wing Executives as required. Dean retired from the Canadian Forces in January 2007, as a Lieutenant-Colonel, after 30 years of service as a tactical helicopter pilot and senior defence analyst. His last flying responsibilities were as Commanding Officer 403 (Helicopter) Operational Training Squadron, in Oromocto, New Brunswick. He has a B.Sc. (Applied) and a M.A. (War Studies) from the Royal Military College of Canada at Kingston, Ontario. http://airforce.ca/about/staff
_________________________________________
16095 Trevor Hill (RRMC RMC 1987) is President and CEO of Global Water Resources. Mr. Hill graduated in 1987 from Royal Military College with a Bachelor of Engineering in Mechanical Engineering. Mr. Hill attended the Royal Naval Engineering College in Plymouth, England where he completed his post-graduate studies in 1988. He served with the Canadian Navy as an Engineering Officer retiring in 1994 after serving as Deputy Engineering officer in HMCS Huron in the Gulf War 1991 where he was decorated with the Gulf Kuwait Medal. In 1994 Mr. Hill co-founded Hill, Murray & Associates, a design-build-operate firm specializing in the construction and operation of water reclamation facilities in British Columbia and the Canadian Arctic. In 2000, Mr. Hill co-founded Algonquin Water Resources of America, a division of the Algonquin Power Income Fund. In 2003, Mr. Hill co-founded Global Water Resources, a company established to acquire regulated water and wastewater utilities in the arid Southwestern states and to advance the cause of water reclamation and reuse as a conservation methodology in the Southwestern United States. Global Water Resources is the fastest growing water and wastewater utility in the nation and was recently ranked #5 on Entrepreneur Magazine's Hot 100. Global Water was recognized for its leadership in water conservation, environmental education and communications receiving the 2007 Valley Forward Crescordia Award for Environmental Education/Communication, and most recently receiving three first place awards and Best in Show from Utility Communicators International. In add i tion, Mr. Hill was named Entrepreneur of the Year for the Southwestern United States in June 2007.   source
_________________________________________
16448 J.F. Johnston (RMC 1988) is a member of the Professional Engineers of Ontario having graduated with a degree in industrial engineering from Royal Military College and worked on both army and maritime engineering projects for National Defence in Ottawa. Upon leaving the Army, John acquired a Masters in Business Administration from Queen's Business School in 1993. Following experiences with Tier I and Tier II automotive parts suppliers serving North America and Europe, John created a small automotive parts company, Grafton Canada Limited located in St. George, Ontario, in 1999. Grafton Canada currently supplies automotive parts to companies in Canada, Mexico and China. Grafton Canada recently expanded purchasing 50% of Power Circuits, a small wiring harness manufacturer serving the automotive, appliance and medical industries, with operations in St. George, Ontario and Dunkirk, New York. Power Circuits has expanded into sign manufacturing, partnering with a sign fabrication company in Cambridge, Ontario. John is a Director and has ownership in several other companies, and has served as a volunteer for the local hospital as well as coaching hockey and soccer.  Source