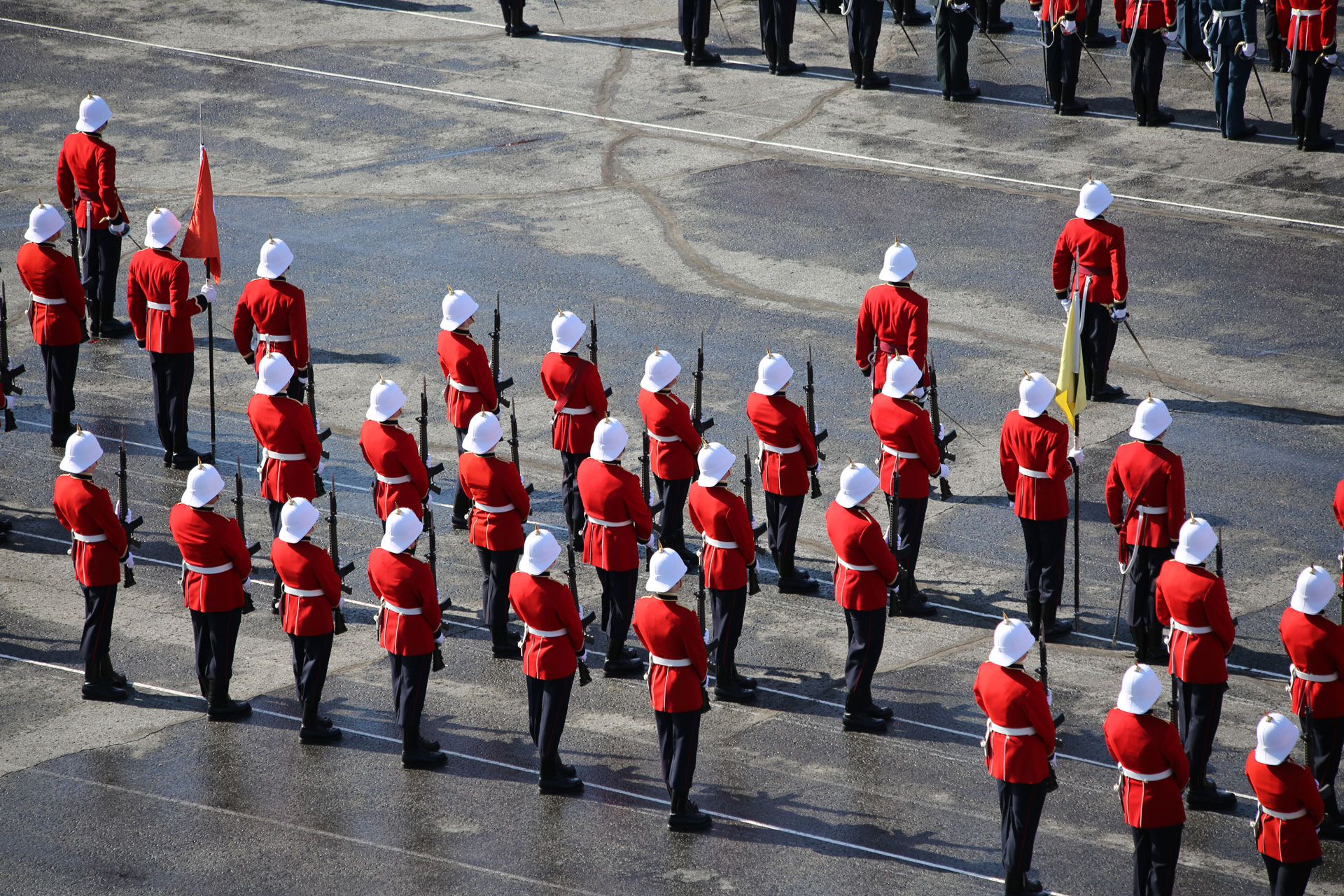 We have contacted numerous ex-cadets from the fifties through to the new millennium and plan to feature them in the coming months to give readers a chance to catch up with names and faces from each of the respective CMCs.
by M0917 Dean Fleet
– 3506 Ronald G. Capern (RMC 1956)
On graduation from RMC, with four years in the Stone Frigate, and with Navy summer training at both HMC Dockyard Esquimalt and Royal Roads, I received my commission as an Acting Sub-Lieutenant Engineer Officer [AS/LT(E)]. That was followed by a year at University of Toronto to acquire a BASc in Mechanical Engineering, since RMC did not, at that time, grant degrees.
I was appointed to HMC Dockyard, Halifax in 1957 for a short familiarization tour, before being appointed to HMCS Bonaventure for training as a Marine Engineer. From "Bonnie", (as a S/LT(E), and with Engineering Watch Keeping ticket in hand) it was off to Plymouth, England in 1958 for a one-year Marine specialist course with the Royal Navy Engineering College at Manadon. While I was there, the RCN called for volunteers for submarine service – and in spite of my Army RSM father's advice, "Never volunteer for anything…" – I did volunteer, and was appointed to the USN Submarine School in New London, CT in June of 1959, as a LT(E).
On completion of the Basic Submarine Officers' course, I was appointed to USS Crevalle for further training leading to qualification and award of my dolphins. In the Spring of 1961, I was appointed as Weapons Officer of HMCS Grilse (formerly USS Burrfish) and sailed from New London, via the Panama Canal, to Victoria BC.
After a brief ten months operating out of Victoria on Grilse, I was selected for Post Graduate training (something I had requested while serving aboard Bonaventure) in Nuclear Engineering at Massachusetts Institute of Technology in Cambridge, MA. So, I spent the next three years (1962-1965) living in Lexington, MA and commuting daily into Cambridge to acquire both a MS degree and a Nucl. Eng. Degree, and being promoted to LCDR(E).
The price one pays for PG training is service driving a desk in NDHQ Ottawa. This I did from 1965 to 1973, first as A/DMEE(N) – Assistant Director of Marine and Electrical Engineering (Nuclear), and then – in one of those strange cases of "Career Mangling" – in the shop of the Director of Maritime Combat Systems (DMCS), eventually becoming, in 1969 a Commander, and appointed as DMCS (Surface and Air Weapon Systems). This was probably the best job I had in my 27 years of Naval Service, for I was essentially the Project Manager for the Surface and Air Weapons System for the DDH 280 Class of destroyers.
In 1973, with the first of the DDH 280s – HMCS Iroquois – commissioned and headed for service in Halifax, I was appointed to Maritime Command Headquarters as Senior Staff Officer, Combat Systems – having been deemed suitably cross-trained as a consequence of six years on-the-job training in DMCS.
In 1976, I was appointed to #1 CFTSA (the Technical Services Agency in Halifax, which does Quality Assurance work on government contracts) as Commanding Officer, with an Air Force Detachment to oversee aircraft repair and overhaul, a Naval Detachment to oversee ship repair and overhaul, and a Civilian Detachment overseeing manufacture and delivery of anything else the federal government might buy in the area.
With nine years in rank, I could see that promotion beyond Commander was probably not going to happen, so I enrolled as a (full time, but evening) student in the Management Faculty of Dalhousie University to study for my MBA (Finance and Accounting), which was granted in 1978.
Having advised my Career Manager that I was planning to retire from the Services, I was appointed to NDHQ again, in the shop of the Director General Manpower and Organisation. I left the Service in September 1979, after 27 years and one week service.
I joined Hollandse Signaal Apparaten (HSA) in Hengelo, The Netherlands, on retirement from the Navy, and formed a subsidiary company (Nova Signaal) for them in Halifax to assist the Navy in acquiring spare parts for Signaal equipment aboard the DDH 280 Class ships. Then HSA teamed with Pratt and Whitney in Montreal in a joint venture to bid on the Canadian Frigate shipbuilding program, and I was seconded to that program office in Longueuil from 1981 to 1984. We were not successful in winning the contract for the Frigate program….
So, when the P&W / HSA program office folded, I found myself a "free agent", and formed my own consulting company – offering clients the benefit of at least knowing all the mistakes I had made in years past. I worked with a group like-minded individuals, many of them retired military, assisting companies in France, Italy, Scotland and the USA that wished to bid on government defence programs, to prepare their responses to Requests for Proposals. This kept me off the streets and out of the bars for another ten years – when I retired again, having tired of aircraft flights, hotel rooms and restaurant meals.
In November 2008, after some years of quiet retirement in Sooke BC, I emigrated from Canada to Ecuador, where I now live in the village of Cotacachi, about one degree north of the equator, in the Andes mountains – enjoying a very much relaxed life style, and slowly learning Spanish…
I can be found at roncapern@gmail.com
_____________________________________________________________
– 14569 Jim Holden (RRMC RMC 1984)
I served in the Canadian Military for 16 years flying Sea King aircraft out of Shearwater and Victoria on HS423 and HS443 respectively. I then went in 1989 to the Empire Test Pilots School in Boscombe Down in 1989. I then completed the remaining 6 years in the military at the Aerospace Engineering Test Establishment at Cold Lake Alberta and the Helicopter Operational Test and Evaluation Flight in Shearwater before moving to Australia.
I served as a Test Pilot in the Royal Australian Navy for three years flying Sea Hawk and Sea King before working as a test pilot and project manager with Raytheon and Helitech. In 2004, I then joined Eurocopter in my present job as the Chief Test Pilot for Eurocopter International Pacific (Australian Aerospace) where we manufacture, assemble and test fly the NH90 and Tiger aircraft.
Jim can be contacted at jim.holden@ausaero.com.au

_____________________________________________________________
– 18865 Richard Marshall (RMC 1993)
Richard,a native of Scarborough, spent his last year of high school as an infantier with the 48th Highlanders and then headed off to Chilliwack for BOTC in 1989. A Military and Strategic Studies graduate, Richard spent all four years at RMC in Kingston. Before starting Navigation School while working OJT at what was then Air Command Headquarters in Winnipeg, Richard used up his leave (and then some granted by his OC) to go to Japan for three weeks. After the first week he met Valerie MacNabb of Waco, Texas and was able to persuade her to marry him over the course of a long distance relationship during his wings course. Valerie and Richard celebrate their fifteenth anniversary this year and have been blessed with two children, James in 2004 and Georgia in 2008.
Richard was posted to 429(T) Squadron in Trenton in 1994, flying C-130s. He accumulated 1,000 hours of strategic and tactical flying on operations in Europe, Africa and the Americas. During his five years on squadron he also served as operations officer for Op Assurance in Entebbe and part of the initial contingent taking over the NATO Multinational Airlift Detachment in Rimini, Italy in support of the Former Yugoslavia. He completed courses in both basic and advanced tactical air transport as well as advanced electronics warfare, put to good use over Macedonia during the Kosovo War.
In 1999, Richard left the Forces to pursue post-graduate degrees at Johns Hopkins School of Advanced International Studies (SAIS) and Columbia Business School. He worked for JP Morgan in New York and then Deutsche Bank in London immediately after school, returning to Canada in 2003 and joining Royal Bank of Canada in Toronto. In 2006, he was hired by one of his clients to be their CFO, a job he continued with until 2008 when he rejoined the US subsidiary of Royal, RBC Bank, as the head of its National Division in Raleigh, NC. As someone who foolishly came late to golf and missed six years of it in the Air Force, he now regrets that his clients are in over twenty-five states and provinces…none of them the one he lives in.
Richard can be contacted at richard.marshall@rbc.com