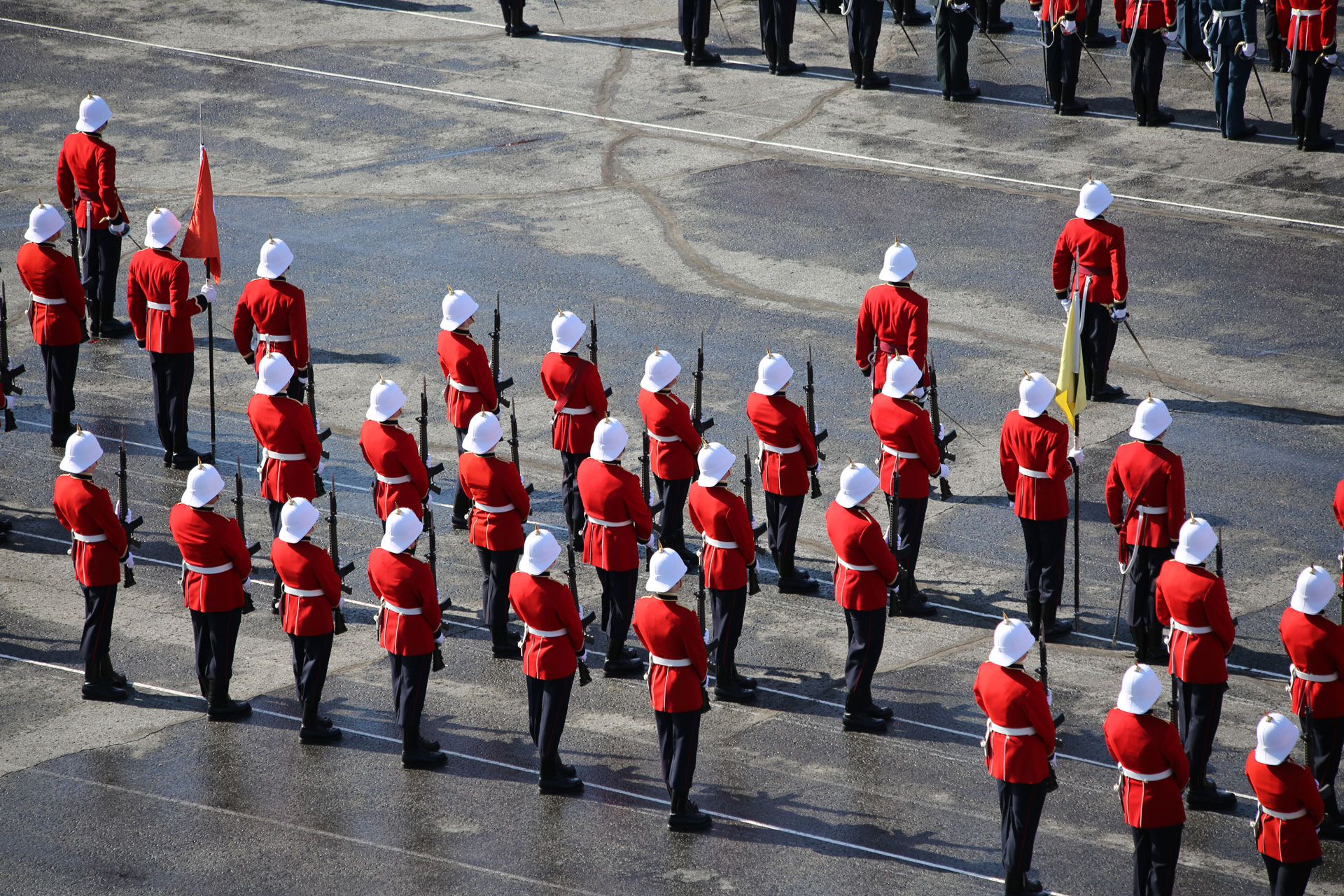 We have contacted numerous ex-cadets from the fifties through to the new millennium and plan to feature them in the coming months to give readers a chance to catch up with names and faces from each of the respective CMCs. If you would like to contribute to this column, please feel free to email me at dean.fleet@rmc.ca

– 12229 Edward Richmond (RMC 1979)
Upon graduation from RMC, I spent 5 years assigned to 4 CMBG based in Lahr, Germany where I held various staff and line positions as a Junior Officer with 3 RCR, 4 CMBG HQ and Signal Squadron and Canadian Forces Europe. I returned to Canada with 3 RCR and was assigned to NDHQ in DGCEEM to work on Electronic Warfare Projects. While posted to Ottawa, I attended CLFCSC and on graduation was promoted to the rank of Major. I left the CF from my assignment in NDHQ in 1987 to join industry. My career in industry has been primarily in the high technology capital equipment sectors of telecom systems, aerospace systems, power systems and finally, medical devices. I have held a variety of leadership roles focused on growing businesses by developing new products and markets in the context of building a global operation.
More information is available at his company's website at www.imris.com/management_team.html
Edward can be contacted at  erichmond@imris.com
_______________________________________________________________________
– 17521 John van der Laan (RRMC RMC 1990)
After graduation and completion of phase training in Kingston I was posted to the Telecom shop in Goose Bay Labrador. The airfield was extremely active as the US Air Force was landing large aircraft a rate of 1 every 90 minutes en route to the first Gulf War. I learned a lot about our partnership with our NATO allies during their low level training over the Labrador.
As if Goose wasn't cold enough I moved further north and commanded a Missile Warning Crew with the US Air Force Space Surveillance Squadron in Thule, Greenland. We tracked space and missile launches worldwide as well as satellite over flights. This was followed with a tour in Colorado Springs as a Crew Commander and Chief of Operations for the 721 Communications Squadron at Cheyenne Mountain Air Station. The mission here was to ensure critical data connectivity to NORAD from 50+ warning sensors around the world. A highlight was being locked in the mountain behind the 6 foot thick blast doors on the eve of Y2K.
I moved north again for one endless day and long night. This time working with the US Air Force under the midnight sun at Clear Air Force Station in Alaska, setting up a new solid state phased array radar. I returned to Canada and spent the next two years working at the 1 Canadian Air Division and Canadian NORAD Region HQ.
I returned to Colorado Springs as EA to the CF Liaison Officer at the newly formed US Northern Command and as a Missile Officer in Cheyenne Mountain, reporting all space and missile launches worldwide directly to the National Command Authorities at the Pentagon.
After three years, my homecoming to Canada was to Comox, on Vancouver Island, as the Wing Telecommunications Officer. In line with the Air Force's high Ops tempo we generating support to multiple domestic and international operations including ground search and rescue, the floods in BC, support to the Olympics, and deployment of a CIS flight in support of operations in Afghanistan.
This past year was spent in Kabul at the International Security Assistance Force HQ with oversight on ISAF communications projects across the theatre. I am currently employed in Ottawa at CANOSCOM HQ responsible for CIS support to international operations.
The time has passed quickly in the nearly 20 years since graduation. I earned a Masters of Science degree from the University of North Dakota, am a graduate of the US Air Force's Command and Staff College and have been lucky to have had a broad array of assignments in some truly unique locations. For more than half of my career I have been honing my skills outside of Canada.
Jodi (USAF ret'd) and I live in Ottawa with our three children Jaime, Jessica and Joshua. We spend endless hours running from basketball courts, to swim meets, to the hockey rink, and we enjoying our time together before setting off on the next great adventure.
John can be contacted at vanderlaan.ja@forces.gc.ca
_______________________________________________________________________
– 10588 Wayne R. Mac Culloch (RMC 1975)
After graduation from RMC, I had the dubious pleasure of being immediately posted to the Canadian Forces School of Military Engineering in Chilliwack, British Columbia, as a French-language instructor. Whoever said being fluently bilingual was an asset didn't realize that I'd have to be working while my buds were enjoying summer leave. But it was fun, and I managed to be 'rewarded' with only a week of 'extras' as Duty Officer for the escapades I enjoyed.
The culture shock moving from the exalted position of school staff to lowly Phase IV student shook the eyeballs a tad, but the outcome was well worth it – a posting in December 1976 to 5e Escadron de Génie du Canada (renamed in July 1977 to 5e Régiment du Génie de Combat). My time here was to set the stage for much of my career: my posting address would be essentially a mail drop as I bounced my way all over the country and much of the world on tasks and taskings. Valcartier provided the opportunity to see some of the Far North while building an airfield for Transport Canada, and then there were the less pleasant times, like recovering the bodies from a river bottom after an adventure training mishap. But hey, in those days, getting a field posting in the Engineers was quite uncommon – most were consigned to CE Sections for the duration of their careers.
Not yet being ready to settle into CE, I opted for Regular Support Staff to the Reserves, and was promptly told I was going to Rouyn-Noranda. I pleaded with my CO to change this – two francophone postings in a row had me losing my abilities in English; three would really upset my family. The System relented, and sent me to the home of my heart – Cape Breton – where I also found the love of my life, with whom I continue to share the joys of married life.
But for every gem, penance must be exacted, so I found myself posted as a young Captain to NDHQ in the summer of 1981, as Staff Officer to the Director General, Military Engineering Operations. I must have learned the 'system' there well, and quickly, for on completion of the Advanced Field Operations Course in Chilliwack in May 1983, I was posted to 1 Combat Engineer Regiment in Chilliwack.
Now here was a challenge! Of the 25 months this posting lasted, I was only in the same location as my wife (counting days on annual leave) for a grand total of 54 days – and I managed to add another daughter to the family! And didn't she arrive in the middle of the worst snowstorm the region had seen in 75 years – even the doctor couldn't make it to the hospital!
Having been blessed with a rare two field postings, it was now time to 'bite the CEMIS' and do a CE tour – but in Halifax? I explained to my new boss that this was my first real exposure to this side of Military Engineering, but he was unfazed, sliding me in as Requirements Officer as soon as I knew how to "RUN SEARCH" on CEMIS. And when he was posted out to become BTSO at CFB Cornwallis, he put me in charge of the whole Section – nothing to BCEO in less than a year. And what an enjoyable experience that was, especially exploring Shannon Park's tunnels.
But soon we were on the road again, this time to Mobile Command Headquarters in St Hubert, Quebec, where I was to be in the Finance staff as the Establishments expert, deftly creating Canadian Forces Europe's new third line units; and the Militia Training Support Centres in each Area, as well as the Area Headquarters themselves. While Black Friday wiped out the new units (and eventually almost everything else) in Europe, and downsized everything else, I had my sights set on yet another posting – a real goodie, but with a twist.
The news of a year-long posting to the Royal Military College of Science in Shrivenham, UK, was a dream come true, but unfortunately, I would have to go alone, as was then becoming common for married Service couples. Unfortunately, the regulations for such situations had yet to reach maturity, making for several bumps and potholes in the road, but still – what a tremendous learning and cultural experience! And one that would pay great dividends further on in my career, particularly in Bosnia.
So where does one go after such a fantastic military educational experience? To NDHQ, of course! Fortunately, I was spared the drudgery of a faceless desk job by being assigned to the Directorate of Land Requirements as Infrastructure Co-ordinator. This delightful position involved keeping tabs on all of the Army's construction projects, both planned and in progress, and also included teaching numerous Combat Arms officers how to be Construction Engineering Project Directors. The icing on the cake was that the Section in which I served was located in a building other than the Main HQ, and thus life moved at a more leisurely and thoughtful pace – until….
On summer leave in Cape Breton in July 1994 I was the subject of a province-wide RCMP manhunt. The MPs were looking for me, as I needed to deploy to Lt-Gen Sir Michael Rose's UN HQ in Sarajevo, Bosnia, without delay. Pity nobody thought to check my leave pass, but then there'd have been immeasurably less excitement. Within 48 hours I had not only returned to Ottawa, but also been kitted and deployed to Theatre. An exciting seven months followed, running all UN operations in Bosnia, better covered as Chapter 18 in John Gardam's book, "Canadians in War and Peacekeeping".
My return to Ottawa barely had my desk chair warmed when I was off again, this time to Haiti in January 1996, to rebuild the national electrical power company, and with only 47 hours notice. Having succeeded in turning the lights on there quickly, the title "Power Ranger" was quickly left behind in favour of turning the lights out at many Canadian Forces Bases, for on my return, I was posted to the Land Force Support Infrastructure Adjustment team, better known as "Base Busters". If ever there was an appropriate time to appear as Darth Vader as dress of the day, this was it.
Travel throughout the country keeping things organized was delightful, although sometimes I was left with the feeling that warmer receptions would have been given to invading Mongol hordes. But certainly, a varied career on an Army SuperBase is quite possible and avoids uprooting families far more that did past experience. I was also 'fêted' as the one who made the move of the Canadian Forces School of Military Engineering to Gagetown a reality, away from the much-missed Lower Fraser Valley in British Columbia. And of course, these experiences sharpened my skills at writing the responses to Ministerial Inquiries, as not everyone seemed pleased with the Government's plans….
So where does one go after 'closing up shop' on others for several years? Why, to Y2K, of course! Looking back, this was truly the largest mobilization exercise in the Canadian Forces since the Second World War, and was so successful that it disappeared within a cloak of invisibility within minutes of the New Year's arrival – which left me looking for another tour overseas.
Welcome, once again, to Bosnia, this time as Div Engineer of Multi-National Division (Southwest). A great multi-national staff including Brits, Aussies, Dutch and Bosniacs, with Engineer contingents from Britain, Canada, the Czech Republic and the Netherlands. Also, everything you ever wanted to know from BMP-2 armoured infantry fighting vehicles to Heavy Girder Bridges – and minefields, of course. Sadly, I was transferred from this heavenly position after six months to being a disarmament negotiator (among several other things) at Peace Stabilisation Force Headquarters in Sarajevo for the remainder of my 14-month tour. Success in Bosnia is always best measured in relative terms, but convincing the folks uneasily at peace to dispose of 40% of their weaponry seemed pretty good.
By this time, I had accumulated enough time in Ottawa to qualify for a NDHQ Long Service Medal, humourously fashioned out of a chocolate dollar and cubicle wall cloth, with brown licorice 'bars' indicating several tours on the Land Staff. And once again, I was not on the Engineer portion of the Staff, but rather surrounded by Logistics folks in the Directorate of Land Strategic Planning, doing establishments (again) and providing overall control, co-ordination and coercion on an omnibus project called Land Forces in Manitoba – but better known as shifting 2 PPCLI from Kapyong Barracks in Winnipeg to Shilo.
This, and work on the Direct Fire Support Unit, came to a halt when I was assigned to a Board of Inquiry looking into the possibility of radiation poisoning of Service members while disposing of seized weapons in Bosnia during and after the civil war there. My education in Shrivenham again became very useful, both in designing the necessary experiments to determine the effects of the destructive procedures used, and in gaining acceptance of the results. Thankfully, the Board was able to conclude absolutely that there was no risk ever to any CF personnel.
It was time to escape again! But solicitations to my Career Manager for another overseas tour were blasted out of the water. It seemed I had had what was considered to be more than my share, and that I should give other a chance. As a consolation, I was offered the position of Commanding Officer of 45 Field Engineer Squadron in Sydney, Nova Scotia, which I was expected to refuse. Not a chance! Having served with the unit as Regular Support Staff and been overseas with the individual who would be my Squadron Sergeant Major, I couldn't say yes fast enough!
The primary duty of a Regular Force CO of a Reserve unit is to create a stable and extensive succession list in as short a period as possible, and personally, I was quite sad to have succeeded after only 18 months. But, truly, this was the most wonderful time of my career – deploying on a real domestic operation to assist Halifax in its recovery after Hurricane Juan within a week of assuming command. Demand for the Squadron's services always exceeded our ability to respond, giving its members a constant menu of wonderfully intriguing tasks. Morale was amazing, the troops rising to every challenge with enthusiasm and inventiveness.
Unfortunately, during this period, I was diagnosed with an illness that led to my release from the Canadian Forces after my return, once again, to Ottawa. Five years later, treatment remains ongoing, and things have slowed down some (much to my chagrin), but I have joined many in discovering that the term 'retirement' doesn't mean what it once did. Volunteer organizations keep me hopping every waking moment, and there are always more knocking at the door; however, my focus these days has returned to the job market, as I hope to forsake the home office for a corporate one during the work week.
While one never knows what the future will hold, life so far has certainly been one heck of an adventure, with doubtless more waiting in the wings….
Wayne can be contacted at wrmac50@rogers.com.