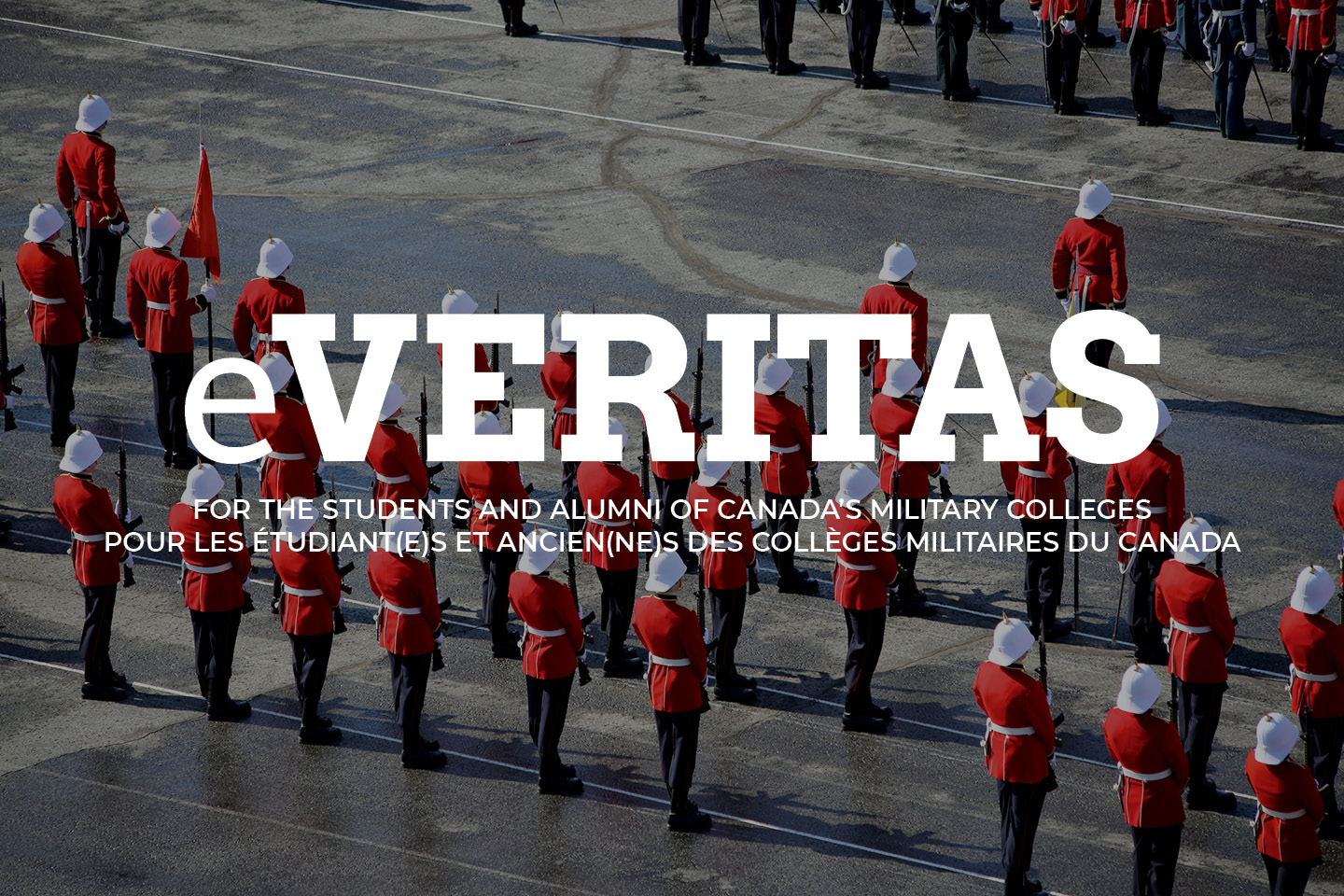 Awards & Recognition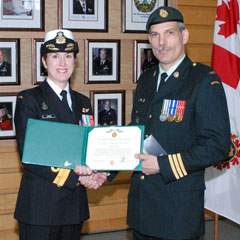 17003 LCol Rchard Quinn (RRMC 1989), of the Logistics Branch Integrator (LBI) in DCOS(Mat), was honoured with the U.S. Army Commendation Medal for his exceptional service with the Armed Forces of the United States of America as a member of the U.S. Security Coordinator to Israel and the Palestinian Authority from July 15, 2009 to August 8, 2010.
LCol Quinn was selected by the Canadian Forces as one of 18 representatives to work with an international team in Israel dedicated to the transformation of the Palestinian Security Forces. LCol Quinn's leadership in the advancement of logistics infrastructure projects and his delivery of top notch logistics training courses, in the often turbulent West Bank operating environment, greatly assisted in the Palestinian Security Forces' professional development. His efforts were critical to mission success in support of peace and stability in the entire Middle East Region, and reflect great credit upon him, the CF and Canada.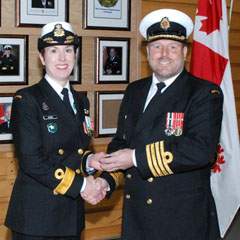 The Sea Service Insignia (SSI) was recently presented to: 13849 LCdr (Ret'd) Randy Caspick (RMC 1983) (Gun Metal) ; 18828 LCdr Anne Bank (RMC 1993) (Gun Metal); 16982 LCdr Brian May (RRMC 1989) (Gun Metal).
The Sea Service Insignia (SSI) recognizes the significance of service at sea by those who have sailed in Her Majesty's Canadian Ships and Submarines. These include sailors as well as members of the Army and Air Force. The four award levels of the SSI are Gun Metal (365 – 729 days at sea); Bronze (730 – 1,094 days); Silver (1,095 – 1,459 days); and Gold (1,460 days).
__________________________________
Retirement of 20250 Captain Catherine Rebello & 20211 LCdr Paul Mondoux
20250 Captain Catherine Rebello retired from the Canadian Forces after 20+ years of loyal and dedicated service. Her last day in uniform was 11 October 2011. Capt Rebello enrolled in the Canadian Forces in 1991 through the ROTP. She graduated from the Collège Militaire Royal de St-Jean in 1995 with a Bachelor degree in Business Administration. From there she spent seven years at 3 Wing Bagotville. For four years, she was employed in various junior logistic officer positions, and completed a tour as SLogO on Op ECHO to Aviano, Italy. Upon her return from tour she was posted to 433 Sqn as the Sqn Log O for the remaining three years in Bagotville. During her time as SLogO, she completed another deployment to CFS Alert.
In addition to her various deployments, Capt Rebello completed a Master degree in Project Management, and got married. In 2002, Capt Rebello accepted an OUTCAN posting to Naples, Italy, where she took part in different projects aimed at fostering multinational cooperation in logistics during deployed operations. From Naples, in 2005, Capt Rebello was posted back to Canada to ADM (Mat). She spent five years with DGAEPM and then was posted to DGMSSC. Capt Rebello has 3 children: Xavier (5), Laurence (3) and Alexandre (2). Capt Rebello and her family will be remaining in the NCR. She has accepted a job with the Public Service with ADM(Mat)/DGMPD, and is looking forward to her continued service with DND. A luncheon for Capt Rebello was held at 11h30 on 7 October 2011 at the Air Force Officers' Mess 158 Gloucester Street Ottawa, ON.
20211 LCdr Paul Mondoux retired from the CF on 18 September 2011 after 20 years of service to Canada, the CF and particularly the Royal Canadian Navy. LCdr Mondoux joined the CF in 1991 first attending the College Militaire Royal de St. Jean as well as the Royal Military College of Canada in Kingston. Following gruelling Maritime Engineering training in Halifax as a Combat Systems Engineer, LCdr Mondoux joined his first ships: HMCS IROQUOIS and HMCS TERRA NOVA. His Assistant Head of Department tour was conducted in HMCS IROQUOIS after which he joined HMCS MONTREAL as the Combat Systems Engineering Officer completing a number of NATO deployments including SNMG 1 and SNMG 2. Shore postings, interspersed between sea tours, included FMF Cape Scott (TSS in Surveillance and EW Engineering) and DREA (Remote Minehunting System Project Engineer).
Following his HOD tour, LCdr Mondoux was selected to attend postgraduate training where he earned his Master's Degree in Software Engineering. Since graduation he has been posted to Ottawa performing the duties of the PMO HCM/FELEX Combat Systems Manager and more recently the Subsection head responsible for the Navy's missiles and launchers. LCdr Mondoux plans to remain in the Stittsville area with his wife Suzanne and their children Cameron and Ian. A function to celebrate Paul's years of service was held on the 30th of Sept 2011.
Researched by E3161 Victoria Edwards