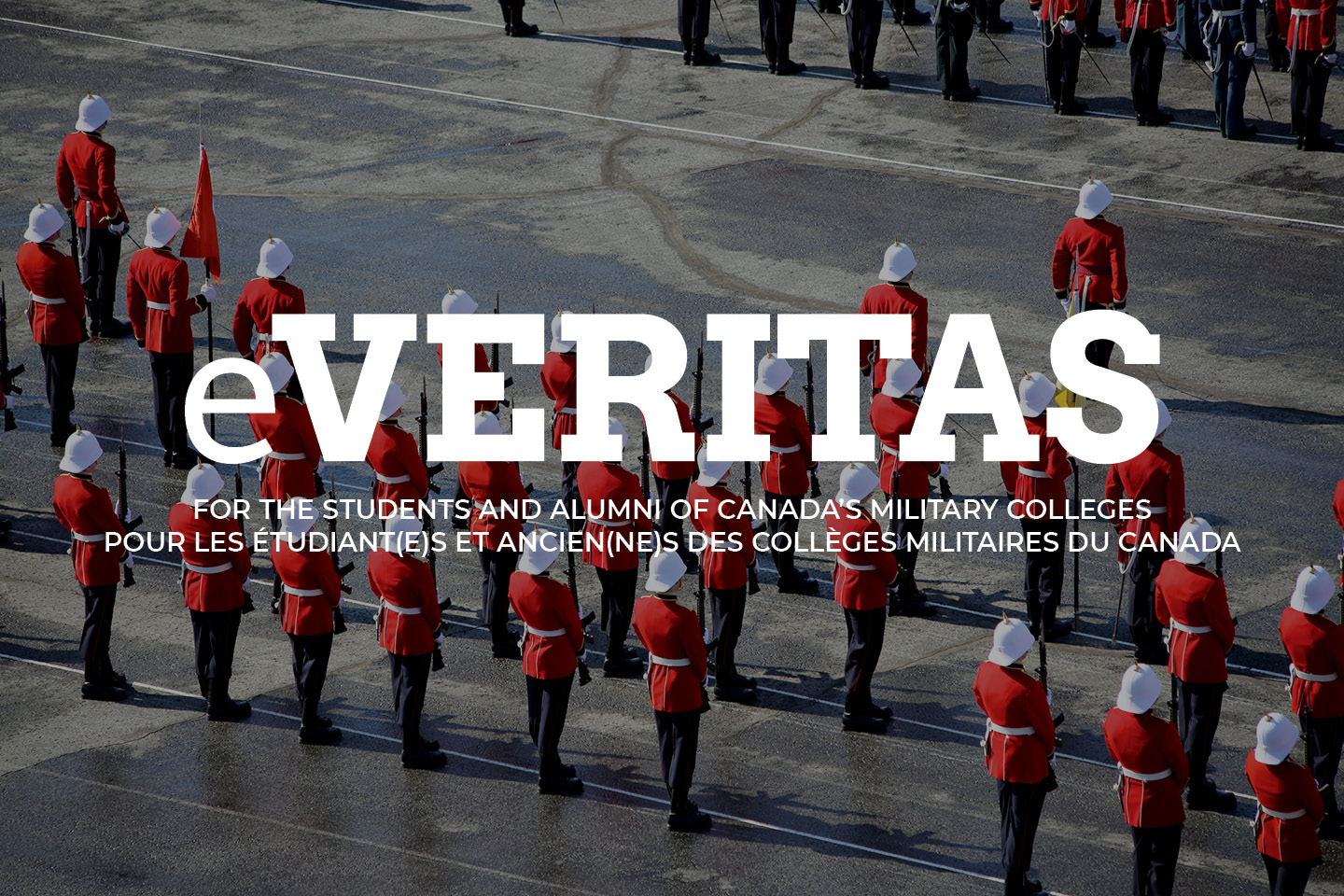 2015 Fall – Honours and Recognition Ceremony
WJO – Photos by 27106 OCdt J.E.Scott Howells
An Honours and Recognition ceremony was convened last week, which provided a welcomed opportunity for the Commandant, BGen Sen Friday to recognize and celebrate the dedication and service of select members of the College team. It was a neat and dignified affair and took place at Currie Hall.
He was accompanied by CWO Robert Francis.
The Principal, Dr Harry Kowal also made an academic related presentation.
Included in the presentations:
MORE…
Canadian Forces Decoration and Clasp Presentations;
Commandant's Commendation;
Commandant's Coins;
Academic Award ( by the Principal) and
Special Certificate and Recognition Award.
***
xxx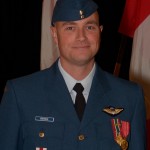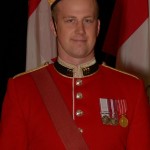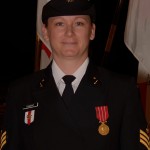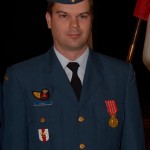 xxxx
La Décoration des Forces canadiennes est décernée aux officiers et au personnel non-officier des Forces canadiennes en reconnaissance de 12 années de service. Elle est décernée sans égard au grade, mais les récipiendaires doivent avoir une bonne fiche de conduite. Une agraffe (barrette) est décernée en reconnaissance de chaque période subséquente de dix années d'ancienneté.
The Canadian Forces' Decoration is awarded to officers and Non-Commissioned Members of the Canadian Forces who have completed twelve years of service. The decoration is awarded to all ranks, who have a good record of conduct. A clasp is awarded for each subsequent 10 years of service.
Photos – (LtoR) OCdt Bremner; OCdt Tallis; PO2 Dumont; and Capt Leibold
***
Commandant's Commendation for Jennifer Carpenter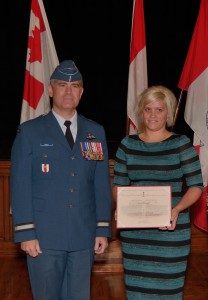 This Commendation is in recognition of Jennifer Carpenter's exceptional dedication and performance. A consummate professional, she is an invaluable member of the College Team who has fulfilled her duties with excellence, providing outstanding administrative support to the Principal's Office. Testament to her remarkable abilities, she was instrumental in enabling the faculty promotion process, a process that had not been executed in a number of years. With her exceptional interpersonal skills and great attention to detail, she personally managed the year-long process that involved the coordination of files from over 50 applicants, correspondence with approximately 750 prospective referees and the review of over 300 referee letters. She also adeptly coordinated the execution of the Preliminary Promotion Committee and Final Promotion Committee as well as the inclusion of three external scholars in the process. An accomplished team player who is extremely conscientious in her work, Jennifer Carpenter is clearly deserving of this recognition. With a level of dedication second to none, she is commended for her hard work and the exceptional way she has represented the Royal Military College of Canada.
Mention élogieuse du commandant pour Mme Jennifer Carpenter
La présente mention élogieuse est décernée à Mme Jennifer Carpenter en reconnaissance de son dévouement et de son travail exceptionnels. Dotée d'un sens du professionnalisme aigu, elle est un membre important de l'Équipe du Collège, faisant preuve d'excellence dans l'accomplissement de ses tâches et offrant un soutien administratif inappréciable au Bureau du recteur. Grâce à ses compétences remarquables, elle a joué un rôle essentiel dans la facilitation du processus de promotion du corps professoral, un processus qui n'avait pas été mis en œuvre depuis un certain nombre d'années. Elle a personnellement géré le processus toute l'année avec un entregent exceptionnel et un grand souci du détail, coordonnant notamment les dossiers de plus de 50 postulants, la correspondance avec quelque 750 examinateurs éventuels et l'étude de plus de 300 lettres de recommandation. Elle a également coordonné de façon experte les activités du Comité d'examen préliminaire des promotions et du Comité d'examen final des promotions ainsi que l'intégration au processus de trois spécialistes de l'extérieur. Dotée d'un excellent esprit d'équipe et extrêmement consciencieuse dans son travail, Mme Jennifer Carpenter a clairement mérité le présent témoignage de reconnaissance. Elle est chaleureusement félicitée pour son dévouement inégalé, son travail acharné et la façon exceptionnelle dont elle a représenté le Collège militaire royal du Canada.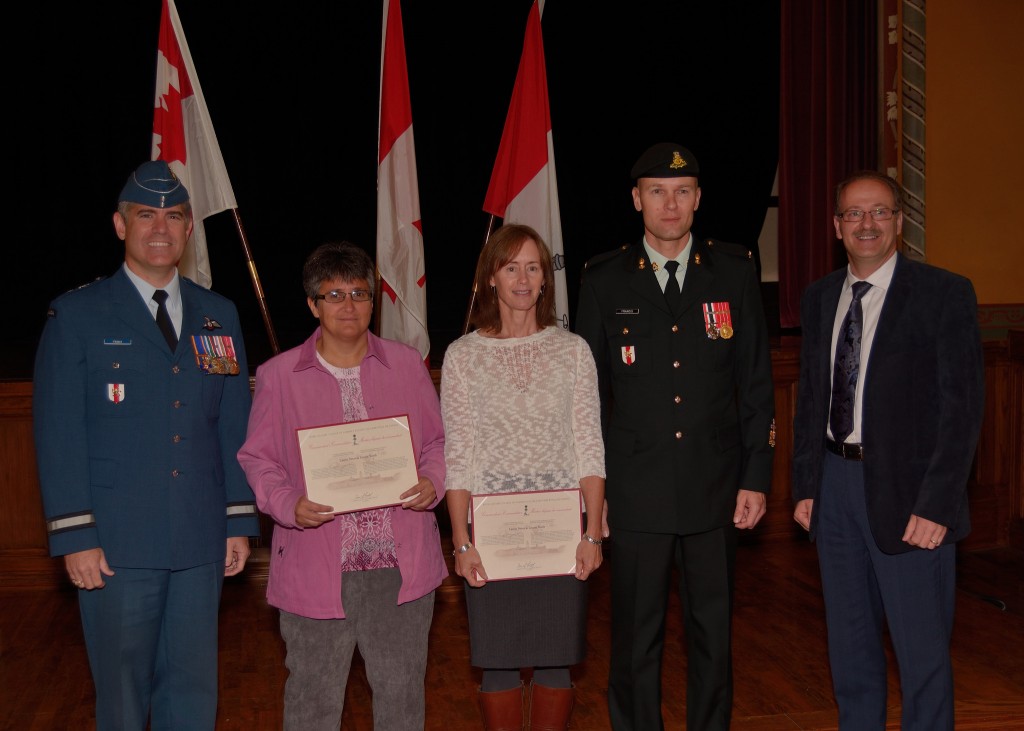 Commandant's Commendation for Laurie Sinon and Louise Smith
Laurie Sinon, Supervisor of Faculty Services and Louise Smith, Faculty Services Assistant, are presented with a Commandant's Commendation in recognition of their extraordinary professionalism and dedication as College Team members. They have transformed the Faculty Services Office over the last four years to meet operational and strategic needs while continually providing support and guidance to faculty on all aspects of sessional instructor staffing with tact, flexibility and patience. This team seamlessly accommodated continuous refinements and adjustments to RMCC's staffing procedures, thereby ensuring that faculty received the best possible service.
Mention élogieuse du commandant pour Laurie Sinon et Louise Smith
Laurie Sinon, superviseur du Service au corps professoral et Louise Smith, adjointe du Service au corps professoral, reçoivent cette Mention élogieuse du commandant pour souligner leur professionnalisme et leur dévouement extraordinaire en tant que membres du Collège. Elles ont transformé le bureau du Service au corps professoral au cours des quatre dernières années pour mieux répondre aux besoins opérationnels et stratégiques tout en offrant du soutien et des conseils aux professeurs sur tous les aspects de la dotation avec tact, souplesse et patience. Cette équipe a intégré facilement tous les changements des procédures de dotation de la fonction publique, afin que le corps professoral reçoive le meilleur service possible.
COMMANDANTS COIN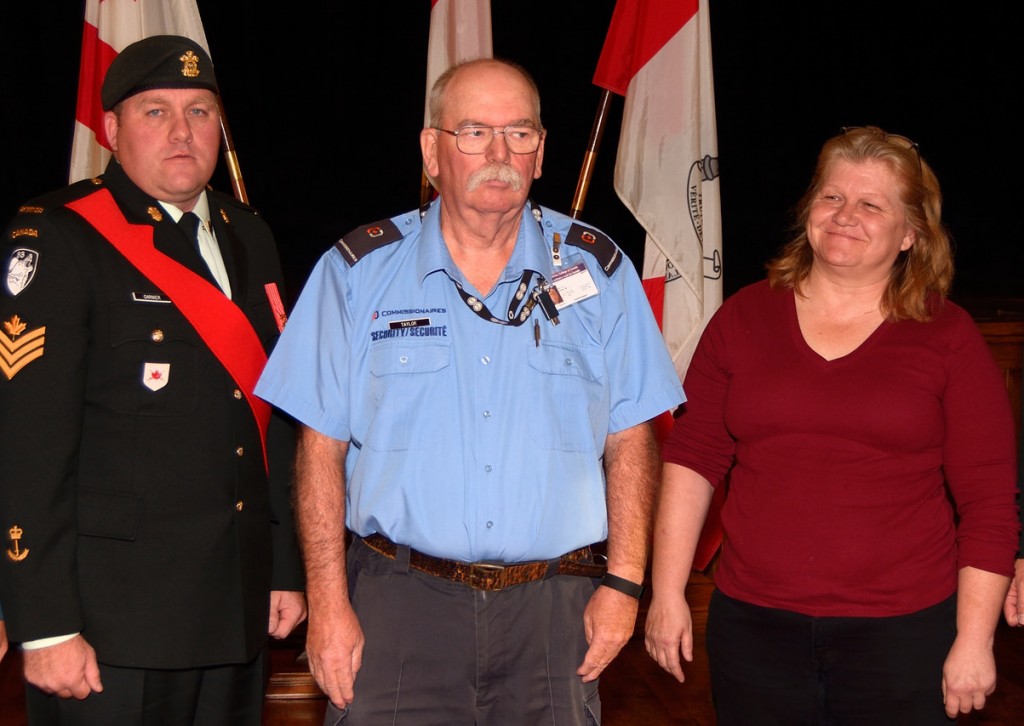 COMMANDANT'S COINS FOR COMMISSIONAIRE THOMAS TAYLOR, SGT RICHARD GARNIER, AND MS. WALLACE FOR RMCC COMMANDANTS'S COIN
As the Barrack Warden and I/C Accommodations, Ms. Heather Wallace, Barrack Commissionaire Thomas Taylor, and Sgt Richard Garnier demonstrated exemplary dedication and work ethic during the 2015 summer period at RMCC. During this time, they de-conflicted the summer accommodations plan with RMC Training Wing staff, HMCS Ontario staff and general contractors to ensure that all accommodations needs were met. Their efforts in quickly addressing infrastructure deficiencies and damages ensured a seamless transition between RMC and HMCS Ontario personnel both at the beginning and the end of the summer training period. Highly effective communicators, they ensured that all stakeholders were aware of the impact of ongoing and planned infrastructure projects and took the lead on producing alternate accommodations plans when required. Through their dedication and professionalism, Ms. Wallace and Sgt Garnier not only ensured that all customer needs were met over the summer; they brought credit to the RMC team in the eyes of external partners. For their exceptional efforts, Ms Wallace, Commissionaire Thomas, and Sgt Garnier are awarded Commandant's Coins.
COMMANDANT'S COIN FOR MARIO BOULIANNE
Mario Boulianne, clerk for the EA to the Commandant, is being recognized for exceptional dedication during the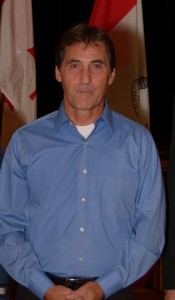 extremely busy and demanding time of Reunion Weekend 2015. During this time, in conjunction with the Cmdt's EA, he spent many hours finalizing and confirming complicated invite schedules, helping to arrange and confirm the seating plan, and was essential for the passing of information within the Cmdt's office. This was on top of regular duties Mario performs ensuring that document flow is maintained between the Cmdt's Office and other departments. This is not the first time his dedication has been on display, as he has gone above and beyond for other large College events in the past. For his hard work and dedication, Mario Boulianne is presented with a Commandant's Coin.
***
***

ACADEMIC AWARD
College Principal Dr. Kowal, presented the Professional Engineers of Ontario Foundation for Education, Undergraduate Scholarship for Academic Achievement and Undergraduate Scholarship for Non-Academic Achievement to OCdt Katerina Brooks. Looking on is Dr Derrik Bouchard, Dean of Engineering.
CERTIFICATE AND RECOGNITION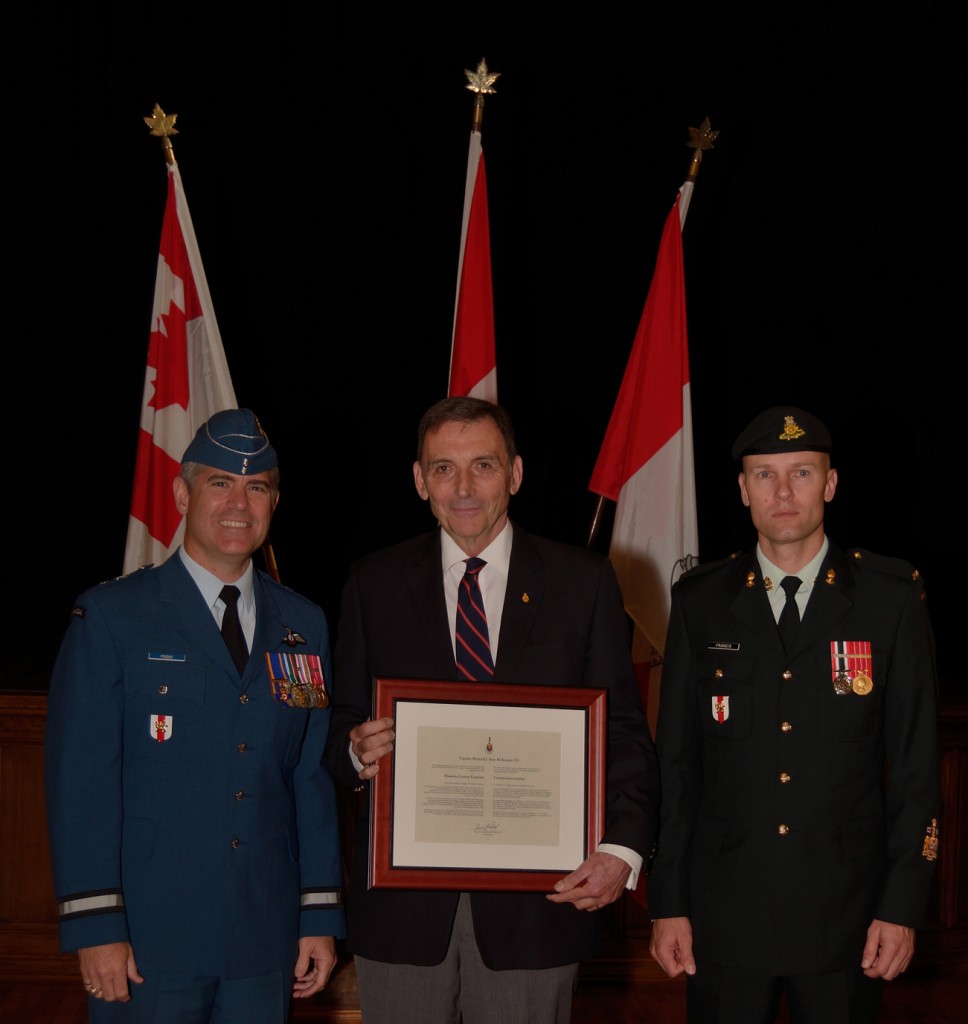 Longtime Museum Curator, Ross Mckenzie received a special first-time award from the Commandant:
In recognition of Ross Mckenzie's loyalty and years of dedicated service, the Royal Military College of Canada is pleased to appoint him as the Museum Curator Emeritus of the Royal Military College of Canada's Museum.
This appointment is in recognition of the over 25 years you have devoted to the development of the Museum to wit its Collections, the enlightenment of the Naval and Officer Cadets, the College and the broader Community of the history and the role of this national institution in the service of Canada.
And We do hereby give and grant you the right to have, hold and enjoy your said Appointed Title accordingly, together with all and singular privileges thereunto belonging. And We do hereby command all Our Officers, Non Commissioned Members and the College Team whom it may concern to acknowledge you as such.
In Witness Whereof the Commandant hath hereunto set his hand at the Royal Military College of Canada in the City of Kingston this seventh day of October in the Year of Our Lord Two Thousand and Fifteen.
***
Following the formal ceremony all those in attendance retired to Baronial Hall for some light morning refreshments.