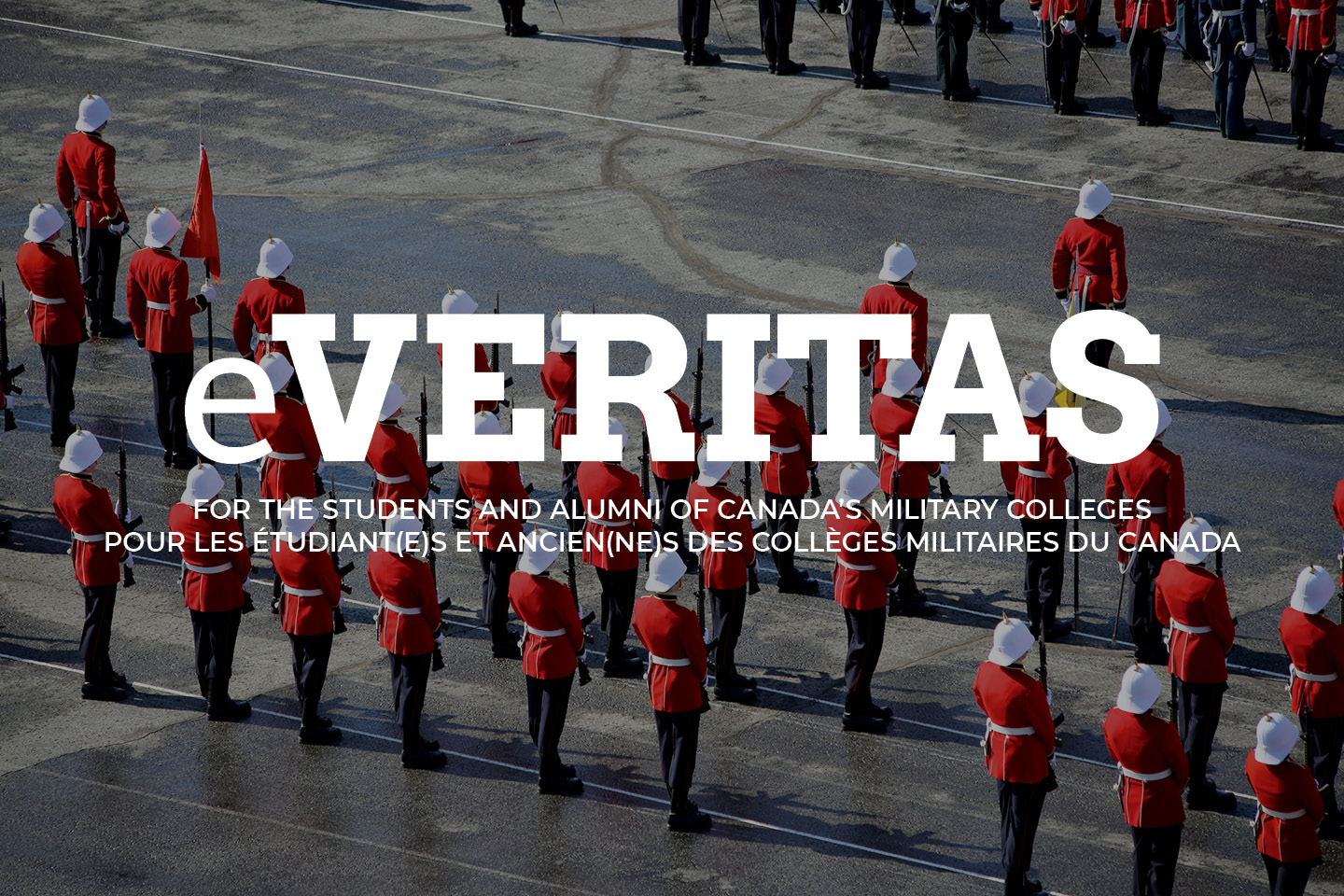 25366 Mike Shewfelt recently had the chance to sit down with Dr. Michael Hurley, long-time member of the College's Department of English. 
e-Veritas: Why did you decide to teach at the College…?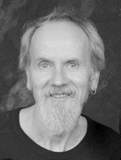 Dr. Michael Hurley: I didn't. Fate did. The stars. Sauron. The Evil One. The Force. Who knows? "It is your DESTINY, Luke…" I'd been teaching at Queen's for four years after getting a Ph.D. in English there—my line of country Canadian literature, still in the doghouse in that Dark Age— when I got a phone call outta the blue offering me a job teaching poetry to the military. It was an offer I couldn't refuse—or believe.
The call came from someone maintaining he was the Head of the English Department at the Royal Military College of Canada. I said, "Is there such a thing?" I knew as much about this place as I do about electroencephalographic procedures in Outer Mongolia or a Dirac equation. But I did know I wasn't going to work anywhere I couldn't be my dysfunctional self or follow my calling, so the first thing I did, besides cultivate an attitude, was grow a big beard. My hair was already long, and would get considerably very longer over the years before Mother Nature intervened. Believing you should always bite the hand that feeds you lest you become another brick in the wall, I wanted to see if folks here had hair issues or cookie-cutter ambitions for me or Agent Smiths and Thought Police round every corner.
So, key point: I was invited to teach here, initially replacing someone on sick leave. Landing a job here, or anywhere for that matter, wasn't on my agenda, my little radar. "Life is what happens to you while you're busy making other plans," as John Lennon sings. I remain grateful to the Universe for upsetting my applecart and throwing me headfirst—once again—into the unknown. I couldn't have landed in a better place pour moi, couldn't have consciously chosen more wisely, little did I suspect at the time. So much for my better judgment, eh.
It's been a wonderful journey since February 1988, one always reminding me, as Obi Wan counsels headstrong Luke, to "let go your conscious self and act on instinct." For those in the military or academia where we enshrine a squeaky-clean rationality above all else, it may take awhile to give intuition and gut instinct their due. Einstein, not surprisingly, got it right: "The intuitive mind is a sacred gift and the rational mind a faithful servant. We have created a society that honours the servant and has forgotten the gift." Once through the Arch, I decided to remain teaching here to explore the implications of that statement and another of Einstein's—"Imagination is more important than knowledge"—both personally as a poet and a lost soul and professionally as a professor of English.
e-Veritas: What are the highlights of your time at the College, both the good and the bad…?
Dr. Michael Hurley: The good started day one when I met those legendary avatars of the Department Tom Vincent and George Parker. Great guys and mentors who stewarded the realm efficiently and empathetically. Kudos! As every Queen's grad employed as a sessional here is relieved to discover, the English Department is a most collegial place to pursue one's calling. With the obvious exception of the deaths in Afghanistan of my students, the bad started this past year when Parties Unknown proceeded to gut the College as we know it by axing profs left and right, which will in our opinion affect how and what we teach here, upset the balance between the military and academic wings, and perhaps worse. It's certainly already severely tarnished our reputation, bladed morale, and raised serious questions about governance and academic freedom, plus our continuing ability to educate cadets in critical thinking skills. Many of us fear that the College will regress, as RMC grad and historian Jack Granatstein laments, to the dark days of the Somalia era if we turn our backs on the genuine liberal arts education that study after study has stressed needs to be safeguarded here.
In the Glowing Highlights Department, I'd cite being in a position to help hire truly talented and promising professionals like Irwin Streight, Huw Osborne, Helen Luu, Chantel Lavoie and our current Head Laura Robinson. Add in awesome sessionals, folks already here or assigned to the Department—Sylvia, Erika, Heather, Marion, Steve, Andy, Brandon, Elaine and Viviane—and what a line–up! Welcoming my former student Andy Belyea as a colleague was a real joy. Since I knew some writers and artists and the usual suspects, early on I was asked to bring in guest speakers, everyone from Margaret Atwood and Timothy Findley to Jane Urquhart, plus a veritable Who's Who of local writers, and English grads Casey Balden and John Ford. I was delighted when Principal Sokolsky started the Writer–in–Residence program with Irwin Streight's sage guidance. More slam–dunk highlights: going on the amazing Battlefield Tour as poet–in–transit with The Three Wise Men: Boire, Delaney and Hennessey. Gold plaques should be put up celebrating these guys.
Other nuggets: helping RMC's aboriginal Elder conduct sweat lodges. A surprise 60th birthday party! Getting email, phone calls, or visits from former students. Getting incredible support and thumbs up from cadets, profs, Majors and Lieutenant-Colonels after being arrested, jailed and shackled at the 2010 prison farms blockade for opposing what many see as injustice, idealogical bs, and democracy–bashing. Initiating a World Literature course that gives cadets a window into the cultures of Afghanistan, Iran, India, Nepal etc., places they might end up in and that I travelled to as a crazy, footloose nineteen-year-old escapee from the Matrix hitch–hiking around the planet and spreading joy.
And, of course, being the grateful recipient of the Teaching Excellence Award, being put on the Honour Roll years before that, and years after again being nominated, this last spearheaded by Bus. Admin students, although I politely declined to let my name stand, there being lots of deserving profs out there.
e-Veritas: What do you like about working with Cadets…?
Dr. Michael Hurley: What's not to like? Wade Davis, National Geographic's Explorer–in–Residence, a guy who's been everywhere and done most everything, is currently writing a book about RMC grad Oliver Wheeler who mapped Everest, making climbs possible. I just invited Wade to speak here, and what I suspect he sees in Wheeler—a spirit of adventure, perseverance, a willingness to think outside the box, to move off the map and the grid, to keep mind and heart and imagination open, to be what songwriter Robbie Robertson calls "a communal individual" true to oneself while playing on a team—these are qualities I've encountered in a diverse group of people here over the decades. And that energizes me and keeps me in the game.
e-Veritas: What advice, if any, would you give to Cadets?
Dr. Michael Hurley: I'm willing to accept advice, if not always follow it, but with my track record as a sorry-ass human being who messes up on a regular basis, I'm reluctant to offer it. But not above it: think for yourself, feel for others, trust your gut instinct, listen for and heed your calling, follow your bliss but don't cling to it or anything, live your life, consider practicing some form of meditation or mindfulness to focus and deepen attention to "be here now," get into trouble, brush regularly… The sort of thing you might expect to hear from a poet and an eccentric prof, whose impeccable credentials for his day job include occasional stints (or stunts) as a stand-up comic, clown, cartoonist, yogi-wannabe, and spiritual runt at retreats led by Tibetan lamas, Buddhist monks and nuns, Hindu pujaris, Sufi whirling dervishes, Zen fools and wise First Nations Elders. How could I not end up teachin' poetry to the military?
The following is a list of the professors at the College that e-Veritas has brought into the spotlight over the last year. Feel free to enjoy the articles you may have missed.   xxxxxx
Mr. Kommy Farahani; Dr. Allister MacIntyre; Dr. Billy Allan
Dr. Nicholas Vlachopoulos; Dr. Ron Weir; LCol Joy Klammer
Dr. Konstantin Kabin; Maj John de Boer; Dr. Laura Robinson
Maj Bertram Frandsen; Dr. Brandon Alakas; Dr. Yahia Antar & Dr. David Wehlau