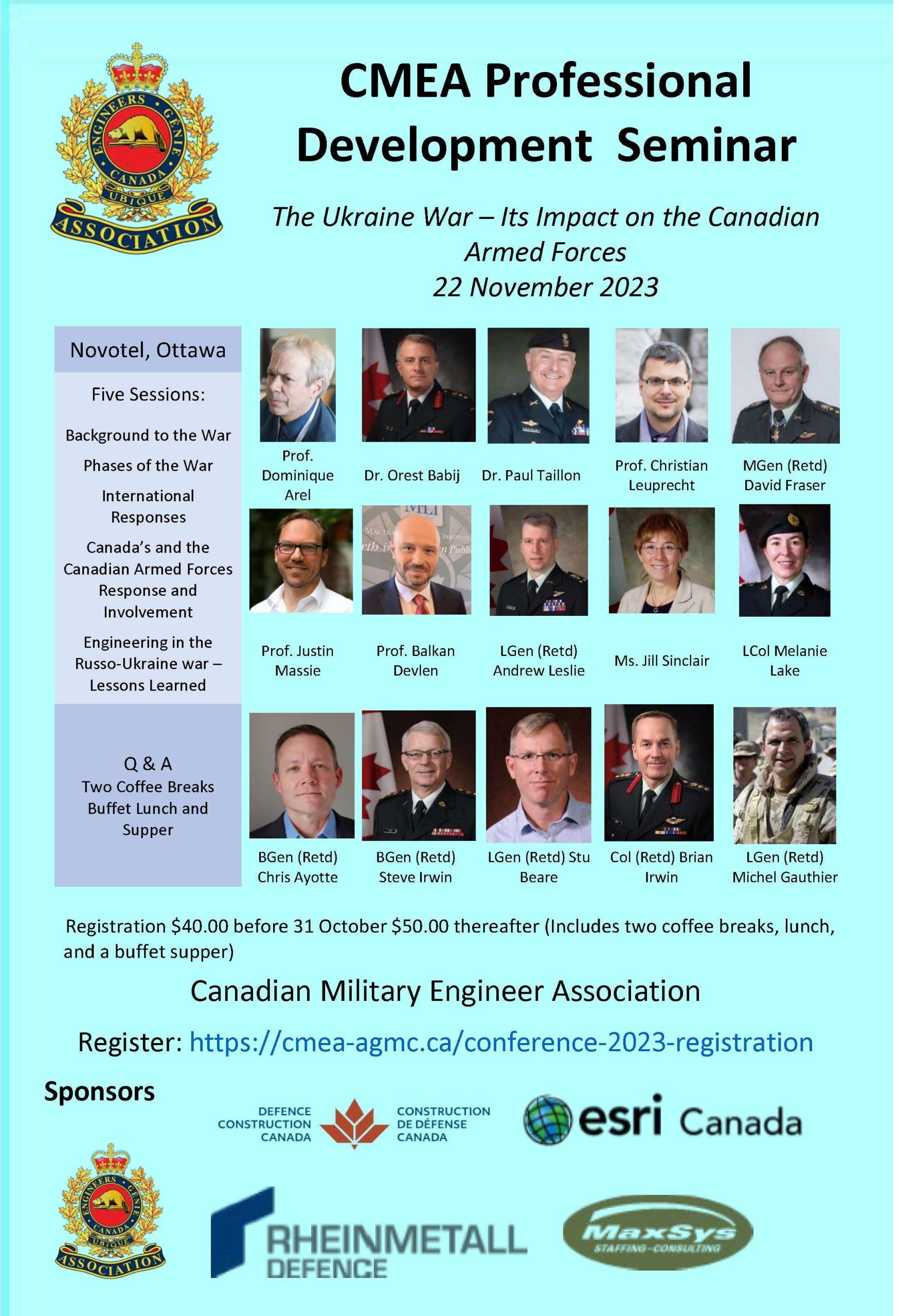 The Canadian Military Engineers Association (CMEA) is hosting a Professional Development Day on 22 November at the Novotel, Ottawa.
The subject is: The Ukrainian War: Its Impact on the Canadian Armed Forces.
It will comprise five sessions:
Background to the War.
Phases of the War.
International Responses.
Canada's and the Canadian Armed Forces Response and Involvement.
Engineering in the Russo-Ukraine war – Lessons Learned.
The speakers list includes LGen (Ret'd) The Honourable Andrew Leslie, MGen (Ret'd) David Fraser, Dr. Dominque Arel, Dr. Christian Leupercht, Dr. Orest Babij, Dr. Paul Taillon, Dr. Justin Massie, Dr. Balkan Devlen, Ms. Jill Sinclair, and LCol Melanie Lake.  The Session Moderators are BGen (Retd) Chris Ayotte, BGen (Retd) Steve Irwin, LGen (Retd) Stu Beare, Col (Retd) Brian Irwin, and LGen (Retd) Michel Gauthier.
Registration is open until 15 November and the cost, including two coffee breaks, lunch and buffet supper is $50.00.  If registration and payment is made on or before 31 October the fee is reduced to $40.00, a 20% discount.  Register here:  https://cmea-agmc.ca/conference-2023-registration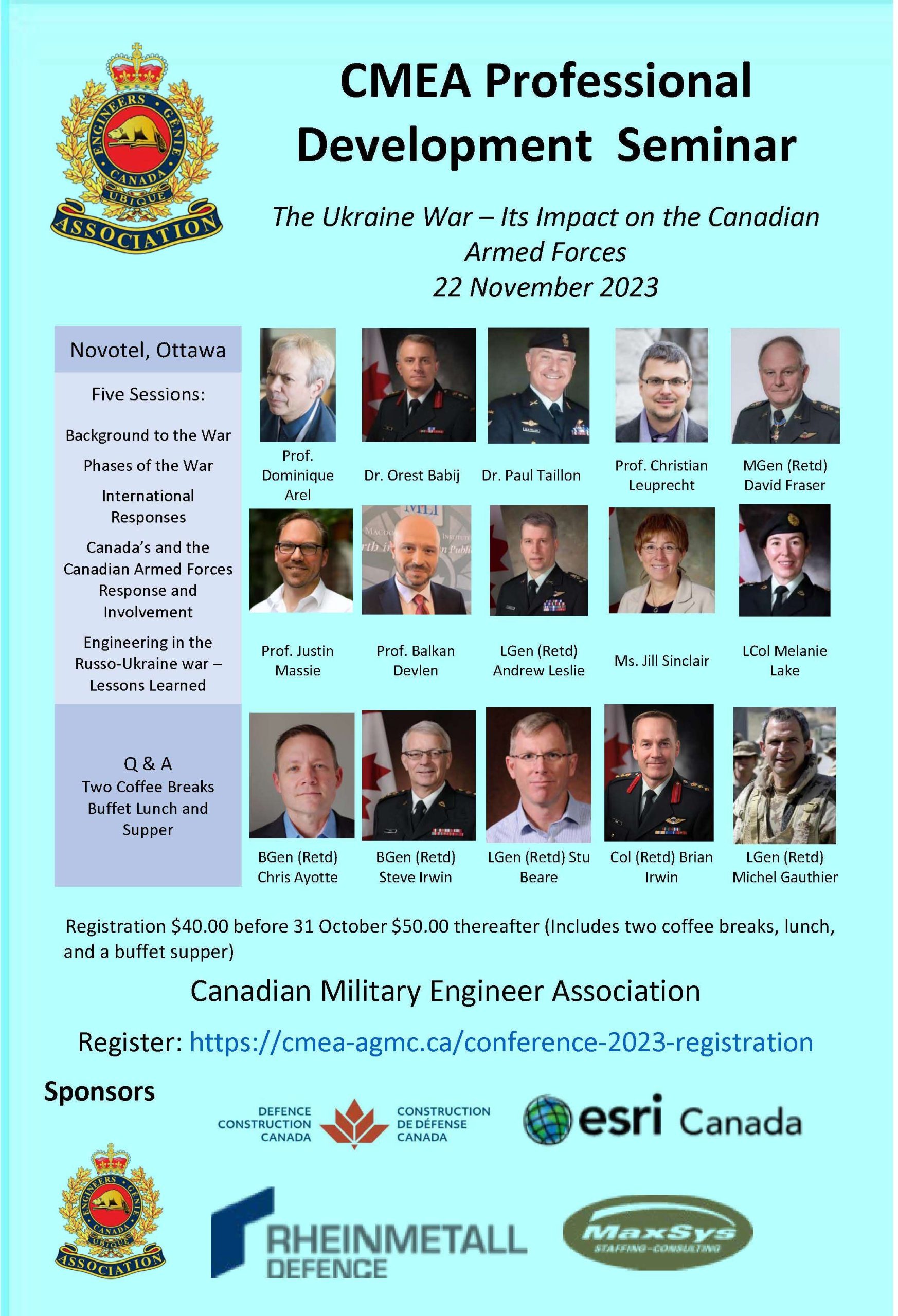 ---
L'Association du Génie militaire canadien (AGMC) organise une journée de perfectionnement professionnel le 22 novembre au Novotel d'Ottawa.
Le sujet est : La guerre en Ukraine : son impact sur les Forces armées canadiennes.
Il comprendra cinq séances :
Contexte de la guerre.
Phases de la guerre.
Réponses internationales.
Réponse et participation du Canada et des Forces armées canadiennes.
L'ingénierie dans la guerre russo-ukrainienne – Leçons apprises.
La liste des conférenciers comprend le Lgén (à la retraite) l'honorable Andrew Leslie, le Mgén (à la retraite) David Fraser, le Dr Dominique Arel, le Dr Christian Leupercht, le Dr Orest Babij, le Dr Paul Taillon, le Dr Justin Massie, le Dr Balkan Devlen, Mme Jill Sinclair et la Lcol Melanie Lake. Les modérateurs de la séance sont le Bgén (à la retraite) Chris Ayotte, le Bgén (à la retraite) Steve Irwin, le Lgén (à la retraite) Stu Beare, le Col (à la retraite) Brian Irwin et le Lgén (à la retraite) Michel Gauthier.
Les inscriptions sont ouvertes jusqu'au 15 novembre et le coût, comprenant deux pauses-café, le déjeuner et le dîner buffet, est de 50,00 $. Si l'inscription et le paiement sont effectués au plus tard le 31 octobre, les frais sont réduits à 40,00 $, soit une réduction de 20 %. Voir Conférence nationale du AGMC Inscription .