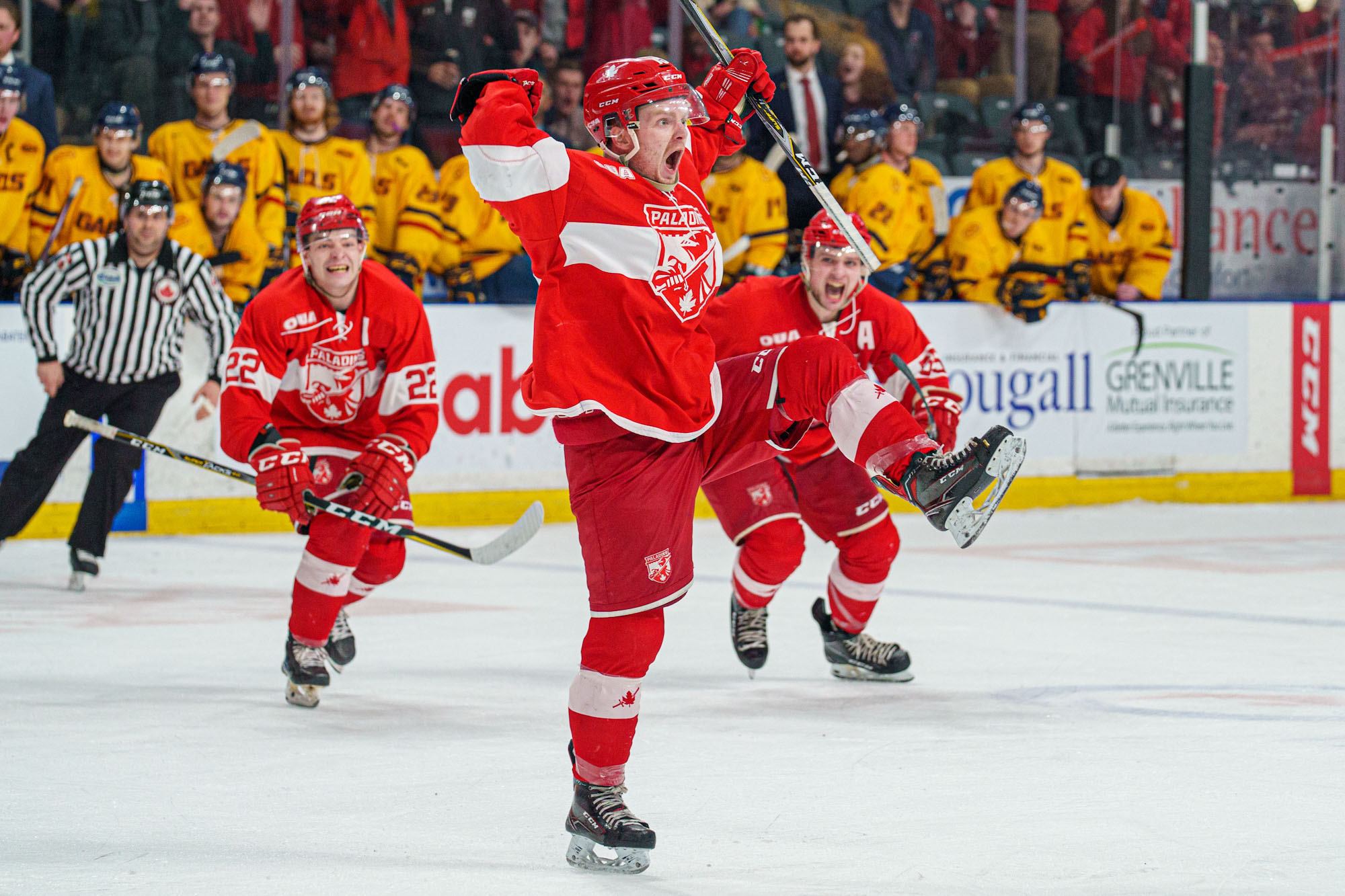 The annual Carr-Harris Cup between your RMC Paladins and the Queen's Golden Gaels is scheduled for Thursday February 2nd 2023 at 7:30 pm at the Leon's Centre in Kingston.
The Carr-Harris Cup is celebrated as the world's oldest hockey rivalry dating back to a game on Kingston Harbour in 1886.  The Carr-Harris cup, established in 1986, celebrates the history of the Carr-Harris family who have had numerous family members attend both RMC and Queen's to play hockey.  Queen's currently leads the series 21-11-2.
After a 3 year hiatus due to COVID, the Carr-Harris Cup returns as a key regular season game for both teams.  This year Queen's will be the home team on the Leon's Centre Ice.
To celebrate both the return of the Carr-Harris cup and the launch of the RMC Hockey Alumni Association, the Hockey Alumni are planning on hosting a Hockey Homecoming on Thursday 2 February.  Full details are still being developed, however all Hockey Alumni and their families are invited to attend the event and to support the Paladins as they push towards the playoffs.
Further details will be announced as they become available but should you be interested feel free to contact me.
---
La coupe Carr-Harris, qui oppose chaque année les Paladins du CMR aux Golden Gaels de l'Université Queen's, se tiendra le jeudi 2 février 2023 à 19 h 30 au Leon's Centre de Kingston.
La coupe Carr-Harris est reconnue comme la plus ancienne rivalité au hockey du monde, ses origines remontant à un match disputé au port de Kingston en 1886. La coupe Carr-Harris, créée en 1986, rend hommage à l'histoire de la famille Carr-Harris, dont plusieurs membres ont fréquenté le CMR et l'Université Queen's pour y jouer au hockey. À l'heure actuelle, l'Université Qeen's mène la série 21-11-2.
Après une pause de trois ans imposée par la pandémie, la coupe Carr-Harris est de retour et constitue un match de la saison régulière important pour les deux équipes. Cette année, l'Université Queen's agira à titre d'équipe hôte sur la glace du Leon's Centre.
Pour souligner le retour de la coupe Carr-Harris et le lancement de l'Association des anciens du programme de hockey du CMR, les anciens du programme organiseront des retrouvailles le jeudi 2 février. Bien des détails restent à déterminer, mais tous les anciens du programme de hockey sont invités, avec leur famille, à assister à cet événement et à venir soutenir les Paladins dans leur lutte pour accéder aux séries.
Des renseignements supplémentaires vous seront communiqués dès que possible, mais vous pouvez toujours communiquer avec moi si vous le souhaitez.
Wayne Green
20751
President RMC Hockey Alumni Association
Class of 97
RMC Hockey 94-97
e-mail – wayne.green015@gmail.com
text – 613-867-7971
RMC Hockey Alumni Twitter – https://twitter.com/RMCHockeyAlumni