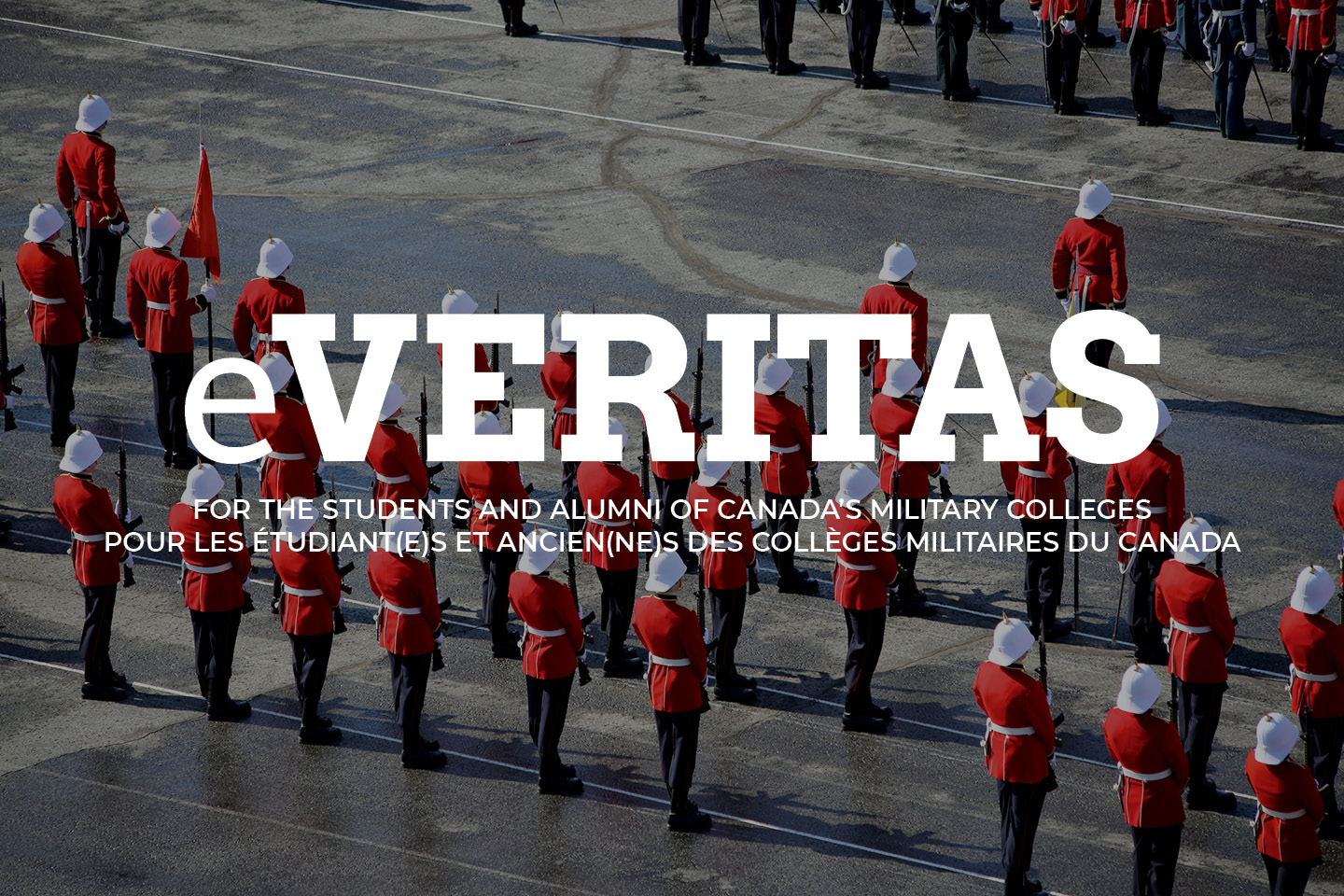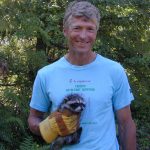 8092 Ken Benoit (RRMC RMC 1969) attended Royal Roads Military College as an Officer Cadet from 1965-67 and Royal Military College from 1967-69. He was a member of the RRMC wrestling, water polo, volleyball and basketball Rep teams and at RMC he was a member of the volleyball, wrestling and rugby teams. In 1965, he was the Royal Roads Military College Recruit Wrestling Champion. In 1966, he was recognized as the Best third year athlete at Royal Military College. He won 1st place in the Ottawa St-Lawrence Athletic Association Wrestling Championship (weight class: 177lbs) in 1968. In 1969, he came in 1st place in the St-Lawrence Athletic Association Wrestling Championship and 2nd place in the Canadian Intercollegiate Athletic Union Wrestling Championship (weight class: 160 lbs). He returned to RRMC, as a member of the Athletic Staff from 1980-83. He was inducted into the Canadian Forces Sports Hall of Fame for outstanding achievement in Multi-sports for, his outstanding achievement and overall performance in military sports for over 39 years from 1965-2004. He played in more than 200 CF Regional Sport Championships and more than 30 CF National Championships, winning 13 gold medals. He competed in a wide variety of sports including: badminton, basketball, golf, hockey, soccer, softball, squash, tennis, track and field and volleyball. In 1975, he won 1st place in the modified pentathlon at CFB Valcartier and had the opportunity to train with the USA Modern Pentathlon Team at Fort Sam Huston, San Antonio, Texas. In 1976, he was a member of the Modern Pentathlon Organizing Committee for the Olympics in Montreal. In 1987, he came in 1st place in the MP Fund for Blind Children Half Marathon (1:31.49) at CFB Chilliwack and he came in 3rd place in the Half Ironman Triathlon at CFB Chilliwack. During the period 1988-2004, he was the winner of 10 Canadian Forces National squash titles. In 1994, he was named the Maritime Command Male Athlete of the Year for squash, golf and volleyball. In 2001, he was a member of the CF Team at the CISM Golf Championship in Colorado Springs. In 1991, he was British Columbia Powerlifting Champion (lightweight class for age category over 40 years). In 1996, he came in 3rd place at the Canadian Masters Squash Championship. In 2003, he came in 1st place at the Canadian Masters Squash Championship.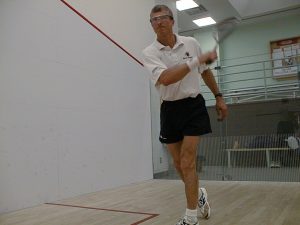 Q: What was your primary duty at RRMC?

A: There were two officers, both Captains, an MWO, a WO, a Sgt and two MCpls on the athletic staff. We were extremely busy throughout from late August until the end of May as we had the physical education classes, Rep teams and a very busy intramural, or Wing sports programme to run. All of us coached a Rep team, so the working day was from 0730 until 1830 and more often than not included weekends. As one of the Captains, for the first year and a half, I was in charge of the intramurals. As such I dealt with the Cadet Wing Sports Officer (CWSO) and the flight Sports Officers (FSO's) on a daily basis to ensure the smooth operation of all of the Wing sports. In those days everyone had to participate in the Wing sports programme Mon, Wed and Fri. between the hours of 1600-1730. Rep teams only practiced on Tuesdays and Thursdays from 1600 -1730 or 1800 depending upon the team. Rep team games were on the weekends. There were also several special events that required a lot of time and planning. Examples – the Recruit wrestling tournament. During my second year, the other Captain, Bill Keener, who had arrived on staff two years before me and was thus the Director Athletics and my boss, became seriously ill and could no longer work. He had been suffering from leukemia for some time. As a result I became the Director Athletics and also assumed responsibility for the Physical Education programme and the Rep teams. Another Captain joined the staff the following summer, so we were back to full strength.
Q: Did you also coach or be involved with a varsity team?
A: Each staff member coached a Rep team. As well, some of the Academic and Military staff coached teams. There were no paid coaches at his time. As we were only a two year College we competed against small colleges on the island and in Vancouver. I coached the wrestling and volleyball teams during my three years at the College.
Q: What do you consider the high-light of serving at the Military College?
A: I felt that it was a great honour to be selected to be on the staff of RRMC. While I was an OCdt, I tremendously enjoyed the PE, the Wing sports and the Rep sports. Although I had been an accomplished athlete in High School, I learned new sports such as rugby, wrestling, water polo and as well we did high box and some gymnastics. RRMC made me a more rounded athlete. As DATH, I wanted to ensure that every OCdt who attended RRMC during my tenure could become more confident by becoming as fit as possible and as well rounded an athlete as possible. There is no one high-light that stands out, but over the past 26 years many ex cadets have come up to me and spoken well of their experiences at RRMC or thanked me in some way for having coached or helped or encouraged them or for having been a good role mode
Q: What are you doing these days?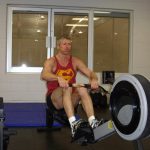 A: In my last year of service, at the age of 59, I won the Ontario Region Squash and Golf Championships and came 5th in the open category of the CF National Squash Championship. I retired in May 2007 at the age of 60 having completed almost 42 years of service. In August 2007, I won the Borden Senior Club Golf Championship. I still work out regularly in the Borden Base gym and frequently play with and coach the Borden Base Squash team. During the summer months I did part time work at the Borden golf course as a Course Marshal. I took up snowboarding at the age of 52 so I spend most of my winter weekends at Osler Bluff Ski Club in Collingwood boarding and snow shoeing.
Q: "Do you have any particular memory or short story you would like to share with our readers?
A: I have so many fond memories from my time as an OCdt and while on staff that it would be hard to select one that you could use, but I will mention a couple.  In May 1966, the entire Cadet Wing trained daily for perhaps almost a month under the Athletic staff to perform an outdoor sports display for the graduation ceremony that consisted of coreographed exercises using bowling pins. Additionally, we performed a rather amazing high box display where for the grand finale, I did a front flip over a high box lengthwise with four Ocdts seated on top of it. The weather was warm and sunny and we were all full of boundless energy…man those were the good old days!
As coach of the RRMC wrestling team, I remember taking on the entire team one after another during a practice session.
Contact information:  (705)424-044 kenbenoit@rogers.com
_________________________________________________________________________________________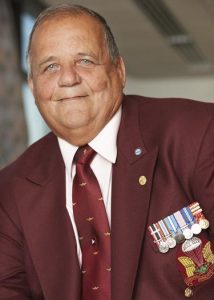 Bob Latreille served 43 years in the service 31 as a PERI the most memorable ones are the years he spent at the college as he was the X country Coach and the Varsity Basketball Coach for the CMR for five years.
He was also responsible for conducting phs ed classes for preps, II, III, & IV year cadets. "Every year was a high light for me there was never a dull moment with the cadets, stated the Ottawa ntive in a recent interview with E3161Victoria Edwards. "I still meet them on the street and they still remember me so I guess we must have had a lot of fun…"
Bob is retired now, having retired as a Captain Commanding a Air Cadet Squadron. He keeps himself busy working out in a gym and doing volunteer work at the local Legion for the vets. "During the summer I play golf like a lot of old soldiers (PERI'S) like me."
Bob was kind enough to share some of his CMR memories with Victoria.
Q: At which Military College did you serve?
A: I was posted to College Militaire Royale in Saint Jean as Sargeant where I was employed as a physical training instructor and sports coach for the officer cadets from September 1970 until 1975. Fom July 1982-86, I was posted back to CFB St Jean as the Senior Physical Education and Recreation Branch (PERI) for recruits; During that period I was promoted from Sergeant to Warrant Officer. I served as a physical education and recreation instructor in the Physical Education and Recreation Branch (PERI) from when it was established 05 December 1980 until it disbanded 31 March 1997. I served 43 years in the service with the Canadian Force, retiring in December 2004 as Commanding Officer of Cadet Squadron 607 (Captain) in Drummond, Quebec. My full bio is: http://www.theperiscope.ca/Bio-Latrielle-Bob.htm
Q: What was your primary duty?
A: I was responsible for conducting physical education classes for preps, 2nd, 3rd, and 4th yr cadets. The personal physical fitness program promoted exercise physiology, nutrition, training principles and injury prevention. The unarmed combat, different obstacle courses, aquatic training, waterborne training and military rappelling taught military skills necessary for the cadets to lead their troops. I instilled knowledge and understanding of rules, concepts, and strategies in a wide variety of individual and collective sports. I taught cadets to work as part of a team, or as individuals in the role of athlete, lifeguard, coach and organizer of sports tournaments.
As a PERI, I was certified as a Royal Life Saving Society examiner and instructor and as a Red Cross examiner and instructor certified. I was a Canadian Forces qualified instructor for badminton, soccer, basketball, X-country running, judo…just about any sport you could mention, with the exception of Formula Cross Racing, [only because the Canadian Forces didn't have any racing cars or a track].
Q: I understand you coached the CMR basketball team which competed against E-Bill Oliver's team at RMC?
A: Yes. I was the Collegiate (Varsity) Basketball Coach for the CMR for five years. We played at RMC a few times and beat them too! In 5 years, CMR only beat RMC once. Although RMC had more athletes to choose, CMR had some excellent players.
When I look at the Basketball team photo, I remember all the players coming up the floor at the Centre Vanier at CMR. I can picture the player's good and bad habits. Since one player could only bounce with his right hand, and would lose it if he changed hands, I had him practice with his left hand instead. Although it took work and sweat, the player improved. I remember bringing my basketball players 10889 Mr Tony Tasker (CMR RMC 1976) and 12021 Mr Alain Boisvert (CMR 1979) to our home at CFB St. Jean for supper with my wife Anita. Our sons got a kick out of my tallest player 10199 Mr Simon Bekkering (RRMC CMR 1974) (6'9), who was a hell of a nice guy.
In addition to coaching basketball, I was also the X country running coach.
Q: What do you consider the highlight of serving at the Military College?
A: Every year was a highlight for me. There was never a dull moment with the cadets they were the most interesting and exciting people to work with. I still meet them on the street and they still remember me. We had a lot of fun; well at least I tried to make it fun for them because that's the way instruction should be for young people if you want them to learn.
I was posted to RMC after serving in Germany. I looked forward to my days at CMR since I liked teaching. Cadets are a pleasure to instruct since they are keen and want to learn and to move forward with eyes beaming. It was rewarding to see improvement and the results of my work in the PERI trade. A cadet who was weak in prep might could only be able to do 1-2 pushups, 1-2 chin ups; and could barely run a mile in 14 minutes. In a 6-7 short weeks, however, the same cadet could do 20-25 pushups; 7-8 chin ups and could run a mile in 12 minutes. The improvement showed that the cadet was doing something right. I liked being able to advise the cadets who had trouble with a skill. For example, some cadets found that they had a sore back because the technique they used for sit ups put a strain on their back. I would suggest that the cadet do the sit up this way or to try that method.
Q: What are you doing these days?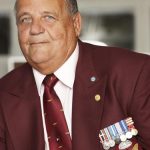 A: I retired as a Captain Commanding an Air Cadet Squadron. I now keep myself busy working out in a gym and doing volunteer work at the local Legion for the vets and of course during the summer I play golf like a lot of old soldiers (PERI'S) like me. When the PERIs, get together you hear noisy, laughter; we like to talk about fun times, not the hard times. We always have jokes to tell about one another. "Do you remember the time that our old PERI so & so…"
My wife Anita Gallant and I have three adult sons Steven, Sylvain and Robert junior. Some of my most memorable are the years I spent at the CMR. Since Anita and I live nearby in Chambly Quebec, we go by Royal Military College Saint Jean often.
If you have no more ambition, that's when you are old. Up to now, I have lots of ambition, and lots of projects. Last November, the Ste. Anne's Hospital (SAH) chose me as a subject for the 'Faces of Honour' photo exhibit. We heard about the Faces of Honour from our youngest son, Robert who served in the Royal 22nd and was treated at Ste. Anne's in his 30s for posttraumatic stress disorder. Each year since 2000, the Veteran's Hospital in Sainte-Anne-de-Bellevue, Quebec takes 100 photos of veterans to decorate the hospital walls. [For more than 91 years, Ste. Anne's Hospital, has offered care to Canadian Veterans. Affiliated with McGill University since 2007, the St. Anne's Hospital has been the National Centre for Operational Stress Injuries since 2005, with clinical programs in areas such as dementia care, dysphagia, physical restraint reduction and pain management. http://www.vac-acc.gc.ca/general/sub.cfm?source=steannes/stannehis6]
Q: Do you have any particular memory or short story you would like to share with our readers?
A: During the Assault of Arms each spring, the CMR put on a display in the Vanier gymnasium of gymnastics, badminton, ropes, and clubs. After a couple years, the cadets and I found the display routine and boring, since, it was always the same. The cadets and I decided to play a skylark. I posed as a civilian photographer, disguised with baggy pants, sun glasses, long hair and an old hat. I was a nuisance, who kept on getting in the way of the cadets who put on the displays; getting knocked down, and picked up by the cadets who were in on the joke. Although there was no film in my camera, I gave directions to the cadets or to the General, who had come in to watch the display for photographs. Prior to the last display, of ropes, I got in the way of the cadets who were running around picking up the mats and a bunch of equipment; the cadets picked me up, tossed me in a garbage can and threw me out. It was ridiculous; no one saying everything. When I was posted to Chibougami, the cadets from CMR paid my way to go back to CMR to put on the show. There is a hilarious photo of me clowning around in the CMR yearbook.
Q: Do you have any tips?
A: Rather than just listening passively to theory, (yackedy yeck, talkedy talk) cadets respond to being shown the realism and military application of physical training. Whenever possible, take the opportunity to let cadets be a part of the lesson, show examples or re-enact the lesson.
During a Physical Training period, I asked the 3rd year cadets what was the object of obstacles? When the cadets looked at each other blankly, I had the opportunity to show them the value of obstacles in a realistic way. As I had arranged ahead of time, I went over to one of the cadets and slapped him. When he ran after me, I threw chairs, balls, and equipment to him; since he was stumbling over the obstacles, he was slowed down and couldn't catch me. The cadets in that class will never forget that the object of obstacles is to slow down the enemy.
Q: What is the role of humour in physical training?
A: A few chuckles are not only useful for bringing back memories but also for learning new theory. At CMR, the cadets spent a lot of timing learning manual skills by rote: left right left. The use of humour, was a means to create interest. A good instructor uses initiative to maintain the interest of the cadets for 40 minutes. Cadets are learning as they wait for next bit of honour. When you get a chuckle, you remember the skill and have a story to use when it is time to pass on the skill.
Q: Did any of the former cadets really stand out in your memory?
A: Sure. Several! Some of the ex-cadets became Generals. Some of the ex-cadets will cross the street to shake my hand. I am proud to see them and to think that I had a hand in shaping the leader they are today. The Canadian Forces is a very small world.
Q: Did you have a role in cadet discipline as a physical education instructor?
A: I admired the cadets and was never disrespected by any of the cadets. Occasionally a cadet would lose their temper from frustration, so I would calm the cadet down so the cadet could listen and continue with the lesson. I was a straight shooter. The Master Warrant Officer assigned me the 3-4th year cadets, who had a tendency to pull the wool over sargeants' eyes. If a cadet showed up on the floor, who was not dressed properly in military standard sneakers or shorts, I would ask 'what are the rules or regulations for standard dress?' I would shoot them back out of the Vanier gymnasium and tell them to 'put yourself on charge'. One time, I kicked whole 4th year class out, sending them off the floor. When the 4th year cadets complained to the Master Warrant Officer, he asked 'Who is running the class?' We put them straight. The 4th years came back dressed properly. It didn't take too long. The 4th year cadets set a good example for the 3rd years, who got the message. When you straightened out the senior cadets, all others fall in line.
As a role model, I followed the rules. I showed up at the gymnasium disciplined, clean, sharp, with my hair cut to set an example. I arranged with cadets ahead of time to be part of the dress and decorum lesson. One cadet would be really dirty to show that we don't want and the other would demonstrate what we do want.
Q: What does the PE&R Branch Motto mean to you?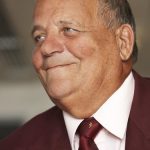 A: The Peri Branch Motto, Sit mens sana in corpore sano (A sound mind in a sound body) was the first thing I learned when I came into the trade. I could write a book about life, based on that motto. I always cherished and lived by that motto, which continues to motivate me. At 69 years old, I still workout. I don't feel my age and I don't act my age! (Chuckle) The branch motto means, keep on living, take each day one at a time.
[The PERI motto comes from Satire X the Roman poet Juvenal (10.356) who considers what people should desire in life: "It is to be prayed that the mind be sound in a sound body. Ask for a brave soul that lacks the fear of death, which places the length of life last among nature's blessings, which is able to bear whatever kind of sufferings, does not know anger, lusts for nothing and believes the hardships and savage labours of Hercules better than the satisfactions, feasts, and feather bed of an Eastern king. I will reveal what you are able to give yourself; For certain, the one footpath of a tranquil life lies through virtue."]   450  658 4676 boblats@hotmail.com
_________________________________________________________________________________________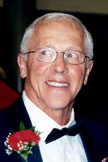 Tom Walton arrived at RMC as a Petty Officer and left as a Lieutenant (N). He taught just about every sport offered at the college – whether it was in the swimming pool; outdoor field; Constantine Arena and of course, the gym floor. Over two different postings at RMC stretched over seven years he was both highly respected and genuinely  well liked by cadets; peers; and the overall college population.
Tom and his wife Jeannie live in Coaldale, Alberta. Find out that and much more from this extensive interview carried out by E3161 Victoria Edwards.
Q: At which Military College did you serve?
A: I served at RMC Kingston from 1963-66 and from 1970-74.
Q: What was your primary duty?
A: I taught courses in the recreation and athletic program at RMC. I taught the cadets in prep, 1, 2, 3 and 4th year. RMC sponsored a full complement of club sports including basketball, boxing, cross country, football, golf, gymnastics, hand to hand, hockey, football, lacrosse, running, soccer, swimming, tennis, track & field, water polo and wrestling.
The physical education staff also frequently served as referees, lifeguards, and organizers of meets and events. The athletic trainer Pat Clayton was responsible for taping the hockey and football players. We were lucky to have him, since he kept our players on the ice or on the field.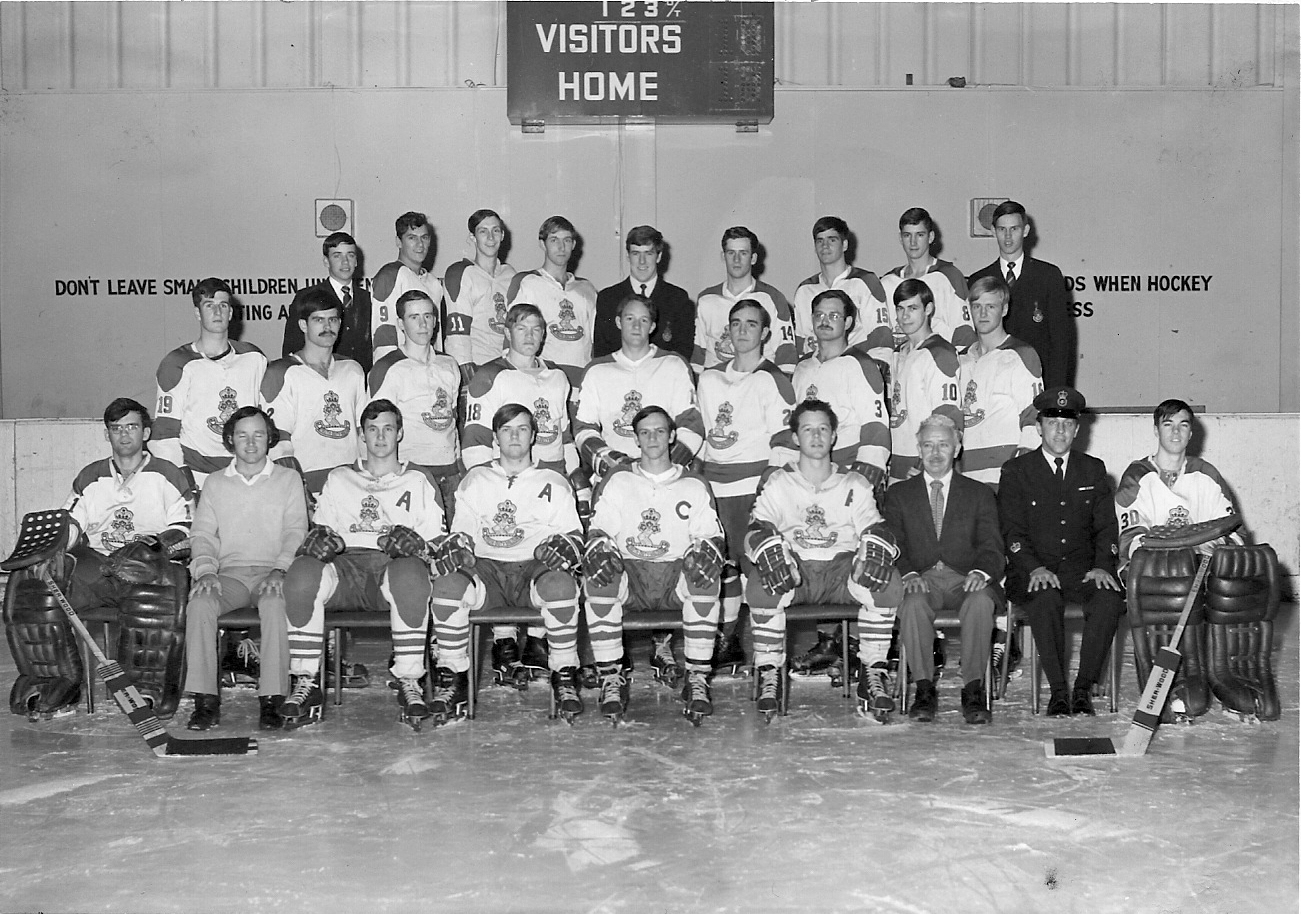 Q: To what extent did the naval physical education program differ from air or army?
A: When I started in the field of physical education, physical training staff consisted of the army physical training instructors, navy physical education specialists and the air force recreation specialists. Although the programs were similar, the physical training in the Army emphasized strength, boxing and gymnastics while the Air Force emphasized recreation.

I studied physical training for the navy at the School of physical education at the Cornwallis base. The volume 1-2 of the physical education and fitness manuals was based on the training in the British Navy. The program was very strict, and it was important that the skills were taught in order and that the instructor didn't deviate from the manuals. If a physical training specialist was caught not enforcing the rules or deviating from the manuals, he would be in trouble with the Chief Petty Officer. Chief Petty Officers loved to give extra duties. Isn't that what Chiefs were there for? The physical education staff didn't ask why this or that coaching method or sport was in the manual. The coaches set the standards and ground rules, which everyone accepted, unless there was a compelling academic reason why not.
The staff had opportunities to improvise, innovate and try out new sports, especially martial arts. The staff and senior personnel were open to new techniques and methods of instruction. The gymnastics team, for example, regularly gave displays of high box which were well received. In Cornwallis, I was introduced to gymnastics stunts on the trapeze, e.g. catches, somersaults, dives into the pool, clown displays, which was installed over the middle pool. We would place a heckler in a perforated canvas bag and tie him up with a slipknot. When we threw the bag in the water, the heckler would quickly undress and swim out.

The naval physical education training emphasized calisthenics and practical skills for sailors. In the navy, if a sailor fell over the side he or she would use their arms and legs to climb a rope. In naval physical training, instructors emphasized rope climbing, in which competitors climbed up a suspended vertical rope using their hands. Rope climbing was practiced regularly by sailors to keep in shape and develop upper and lower body strength.

High rope courses and climbing programs generally ask cadets to confront their personal fears and anxieties. In rope obstacle courses, cadets usually faced obstacles found on the decks of ships. The cadets climb by using a cargo net, or a ladder, which could be made of rope, wire or an artificial climbing wall. For safety, participants are attached to an upper wire, belay cable, with ropes or carabiners. With the unification of the Canadian Forces, the physical education programs were amalgamated and physical education training instructors joined the PERI trade.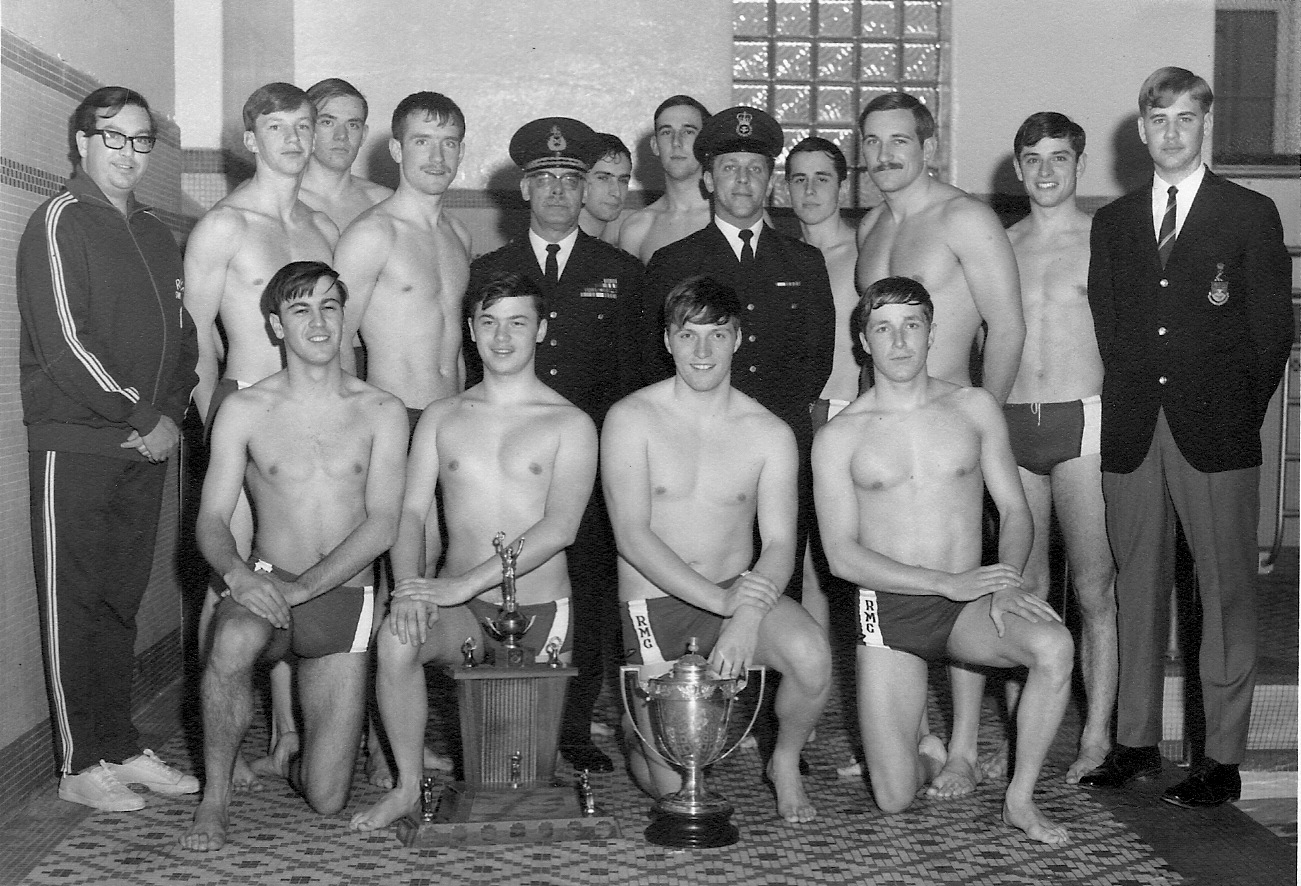 Q: Did you also coach or be involved with a varsity team? Explain.
A: I coached the RMC swim team for 4 years (winter/spring). In 1971, the swim team won the Ontario and Quebec swim championship and several swimmers qualified for the National Championships in London. I coached water polo for 1970-1 year (fall/winter). I coached the RMC hockey team from 1971-4. I taught physical training classes from 8am-4pm then coached from 4-7pm. During the season, I never got out before 7pm. It made for a long day for staff and cadets. The cadets often had homework from 7pm. until lights out. The cadets generally refereed intramural cadet wing hockey and basketball. The cadets were fine athletes with great personal discipline. Unless the cadet was sick, no one ever missed practice.
Q: I understand that your motto is, `Players and coaches have to be on the same wavelength.
A: Yes. Coaching is a way of directing, instructing and training a person or team, of developing specific skills and achieving a goal or aim. The direction may consist of pep talks. Training frequently consists of supervised practices so all players knew their roles. Whichever types or methods of coaching are used, the coach needs to let the players play. Players have to have confidence in the coach, so I gave them a direct order to believe in me.
I coached the RMC water polo team, which competed against Queens` in an exhibition match during the Queens RMC weekend. Queens had recruited a well known water polo athlete from Hungary as coach and their team was very good. When RMC began to defeat Queens, the coach got upset and started to play water polo for his team. As far as I am concerned, playing is for students not staff. At the end of the match, the coach asked, `how dare you beat Queens?`
Q: What do you consider the high-light of serving at the Military College?
A: In 1972, the RMC Redmen hockey team beat Loyola, which was the top team in Canada seated at 24 wins 0 losses in season play. In addition, the Redmen defeated West Point 7-4 in 1972 for the first RMC win in six years. The key players included 9699 Chris Ouimet, 9406 Bob Parsons, 9642 Steve Blanchard, 10080 Bob Booth, 10161 Marc Ouellet, and the goalie 9735 Keith Wilson. In both 1973 & 1974, RMC tied West Point 4-4.  10601 Dick Mohns and 10950 Dave Hall are two more players that stick out in my mind. Another high-light was working and exchanging ideas with highly talented PERI/PERO staff. Ken Macdonald, the assistant athletic director was a great guy. Both Commandants during this time period – 2530 BGen William K Lye and 2816 BGen  William W. Turner, were very supportive of the PERI/PERO staff.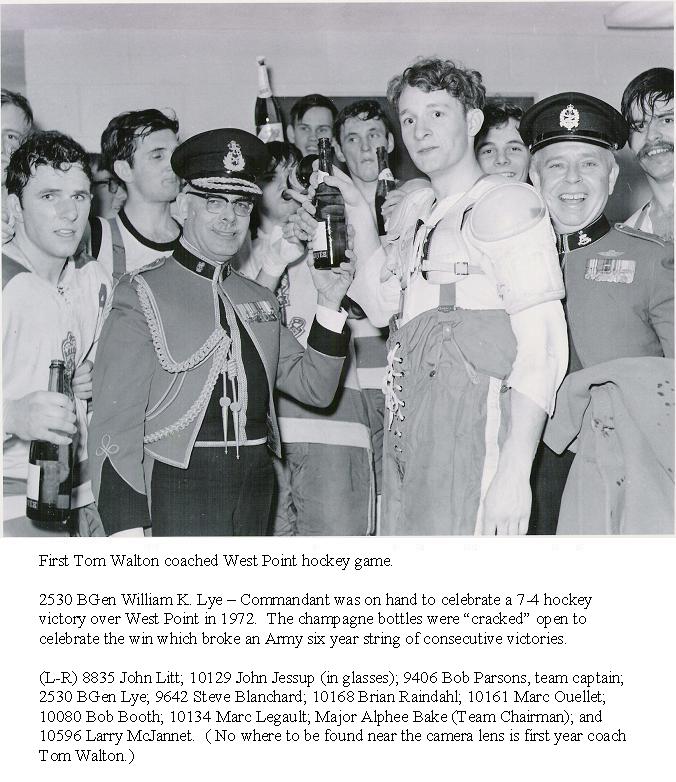 Q: Did the cadets ever play skylarks on you?
A: The 4th year cadets tended to throw the athletic staff in Navy Bay, behind the boathouse where there was a lifeguard in the summer. The athletic staff didn't make it easy for the cadets to get us. We'd put up a fight and try to throw two or three cadets in Navy Bay before we went in. In 1974, 2816 BGen (Ret) William W. Turner CD (RMC 1940) announced at the award dinner that I was to be commissioned to Captain. As I crossed the parade square after dinner, 5 cadets called 'Coach' and grabbed me. I told the cadets that I was on my way to see the Commandant and they would be in hot water if I was delayed. The cadets didn't buy my story at all. They marched me behind the stone boat, and threw me upstream in Navy Bay. I had to swim my way back against the current. It was a great feeling.
Q: You were featured in S125 Major (Ret) William (Bill) Oliver, and S134 Mrs Rolande Oliver`s "RMC Hockey History Digest."
A: Yes. I was interviewed for S125 Major (Ret) William (Bill) Oliver, and S134 Mrs Rolande Oliver`s "RMC Hockey History Digest." There was a cartoon of me in the book. Bill Oliver arranged a get together during which eight coaches and our players were invited back to the College. I met two ex-cadets who I had taught 40 years before, 7301 Major (Ret'd) Earle Morris (RMC 1967), of the Brier Cup Fame and 7264 Colonel Ross K Betts CD (RMC 1967), 17th Commandant RRMC (1987-9).
Q: What are you doing these days?
A: After retiring from the Canadian Forces, I worked as a recreation director in Grand Forks, British Columbia. After I retired for a second time, my wife Jeannie (a former PERI) and I moved to Lethbridge, Alberta where she attended University of Lethbridge. Jeannie and I live in Coaldale, Alberta, where Jeannie teaches third grade. I volunteer by doing the taxes for seniors. My wife and I workout on a daily basis to keep our bodies in decent running order. My wife and I have an elliptical, bike and a treadmill in the basement. Since I have two artificial knees, and Jeannie has one artificial knee walking and swimming are the best exercises for us. We enjoy playing golf, kayaking and walking. My wife plans to retire from teaching at the end of this year.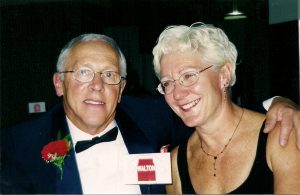 Q: Did you have a role in cadet discipline?
A: Yes. The program was very strict, focussed and disciplined. The physical education staff at the College were responsible for enforcing dress and deportment rules. Cadets were not permitted, for example, to walk across the parade square, which was controlled by the College Sergeant Major. The cadets had to go around the parade square. The cadets had to run to class from their dorms in physical education dress, consisting of t-shirts, shorts, and white running shoes. The cadets' uniforms had to be spic and span, down to their white running shoes. If a cadet was scruffy, dirty or in a deplorable dress, I would say, 'Cadet so and so, report to me at noon spic and span. We expected the 3rd and 4th year cadets to set an example to the 1st and 2nd year cadets. I didn't believe in browbeating the cadets because I knew that the cadets might avoid going back to the gym. I sought to make fitness and the athletic program enjoyable and educational. Most cadets looked forward to the physical training classes.
Q: Do you have any tips?
A: I tell people that I taught physical education, I didn`t work for living. I was trained to do a job that I loved. I didn't teach physical education and coach for the money or the praise. There was great rapport between the athletes and staff.
Q: What were your greatest challenges at the Military College?
A: The facilities caused some challenges. The College didn't have the big modern physical education facilities across the road until 1974. We made do with the old and new gym. The acoustics in the pool in Fort Haldimand and in my office, which was adjacent to the pool were horrible. The air quality and acoustics in the basement of old gym, which were adjacent to the old rifle range and offices of the main athletic staff were poor.
Q: Do you have any particular memory or short story you would like to share with our readers?
A: I have longstanding links to the Royal Military College. My grandfather, whose last name was Anson, served as the College Chief Steward. The family lived in the staff housing, known as Rideout Row or Hogan`s Alley. My grandmother had 11 children, 9 of them were born at RMC. My mother was born at the Royal Military College in 1899. I never met my grandfather, who died in 1914. I was born in Kingston and as a boy remember watching the cadets march in town.

Contact Info: (403) 345-5757 waltt7@telus.net