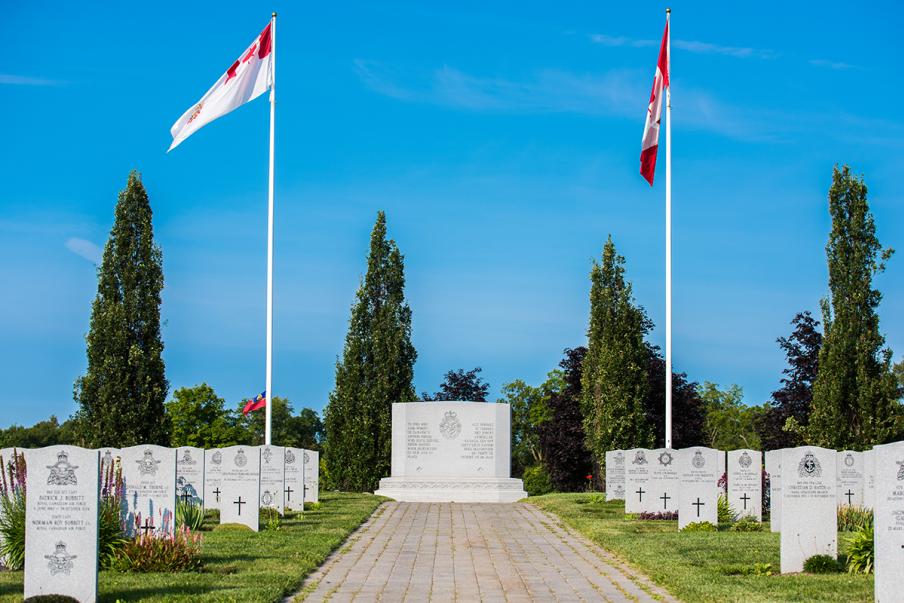 H25197 Major (Retired) William John "Danny" McLeod MC, CD, DMSc (Hon.)
Veteran of WWII, with the South Alberta Regiment,
And post war, with the Lord Strathcona's Horse (Royal Canadians)
Born in Medicine Hat, Alberta on 5 November 1921
To the Late John Samuel and Rowena McLeod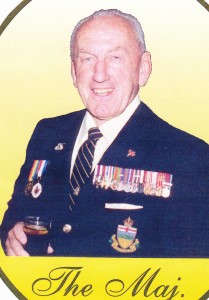 Died peacefully at St. Mary's of the Lake Hospital Kingston, Ontario on 14 January 2014.
He is survived by his wife Sheila McLeod, brother Norm McLeod (Shirley), daughter Janis Pilling (Gregg), stepdaughter Deborah McCallan (Ric), stepson Douglas McLeod (Kimberley), and predeceased by his brothers Jim and Ken McLeod, daughter Margaret Smythe, and stepdaughter Donna Wilson (Steve).
He was truly loved and will be sadly missed by his grandchildren: Don Smythe (Jacqui), Cheryl Bursey (Gerry), Danny Pilling (Lori), Nicholas McCallan (Marianna), Lucas McCallan (Caitlin), Mitchell McCallan, Sean Wilson (Samantha), Justine Wilson (Mitchell), Elizabeth McLeod, and Carolyn McLeod, and his great grandchildren, Nathan, Chase, Scott, Leah, Jordana, Colten, Brett and Emelyn. He was predeceased by his grandson Scott Flaig.
Visitation at James Reid Funeral Home, 1900 John Counter Blvd., Kingston on Friday, 17 January from 2:00 p.m. to 4:00 p.m. and from 7:00 p.m. to 9:00 p.m. Funeral will be at St. George's Cathedral, King St. E. at Johnston, Kingston on Saturday, 18 January at 2:00 p.m. In memory of Danny, donations may be made to The Salvation Army, St. George's Cathedral, St. James Anglican Church, or The Danny McLeod Athletic Endowment Fund Royal Military College.
 ____________________________
3075 Henry W. Morewood (1931 – 2014)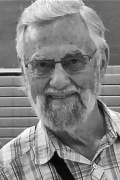 It is with great sadness we announce the passing of Harry Morewood, 82, on January 12th, 2014. Born and raised in Quebec City, Harry was a member of the Sea Cadets as a teenager before going on to Royal Military College and Queen's University to complete an engineering degree. This led to an incredible career with the Federal Government in Defense Research where one of his crowning achievements was working on the famed Avro Arrow, the cancellation of which was one of the few topics that could rile up his calm demeanor. In a fairytale ending, as best man at his brother Frank's wedding, he met the love of his life, Paula, who was the maid of honor. They were married in 1961 and the Morewood clan grew to include four wonderful children that Harry treasured. Harry was an avid skier, sailor and Scout Master but the thing he did best in his illustrious life was his loving commitment to his wife and family. He will be greatly missed by beloved wife, Paula, his children Robert, Dean, Gordon and Kajola, his grandchildren Pauline, Drake, Gabrielle, Alicia and Juliana, his brother Frank, and sister-in-law Janis. A Celebration of Life will be held at 2pm on Saturday, January 18 at St. Michael and All Angels' Church, 4733 West Saanich Road, Victoria, BC. A reception will follow in the church hall. Should you wish, memorial donations can be made to the Primate's World Relief and Development Fund.
 ____________________________
4999 Jean-Louis Houle
Hier une douzaine d'anciens se sont donné rendez-vous pour un souper chez Jean-Robert Maynard. Comme Jean-Louis Houle n'avait pas répondu au courriel ni aux appels téléphonique Jean-Robert s'est rendu chez lui pour constater que sa boite aux lettres était pleine. N'ayant pas la clé pour entrer chez Jeran-Louyis il a contacté la fille de Jean-Louis. Hier vers 16:30 il a reçu un appel de la fille de Jean-Louis pour l'informer que Jean-Louis a été trouvé mort dans son garage.probablement suite à une crise cardiaque.
Yesterday (16 Jan) a group of 12 ex-cadets accepted the invitation of Jean-Robert Maynard for supper at his place. Jean-Louis Houle who normally would attend these gathering had not answered the emails nor the telephone calls. Jean-Robert went to his place and found the doors locked and the mail box full. He then called Jean-Louis's daughter.
Yesterday at about 16:30 he received a call from the daughter to inform him that Jean-Louis was found dead in his garage. Probably as a result of a heart attack.