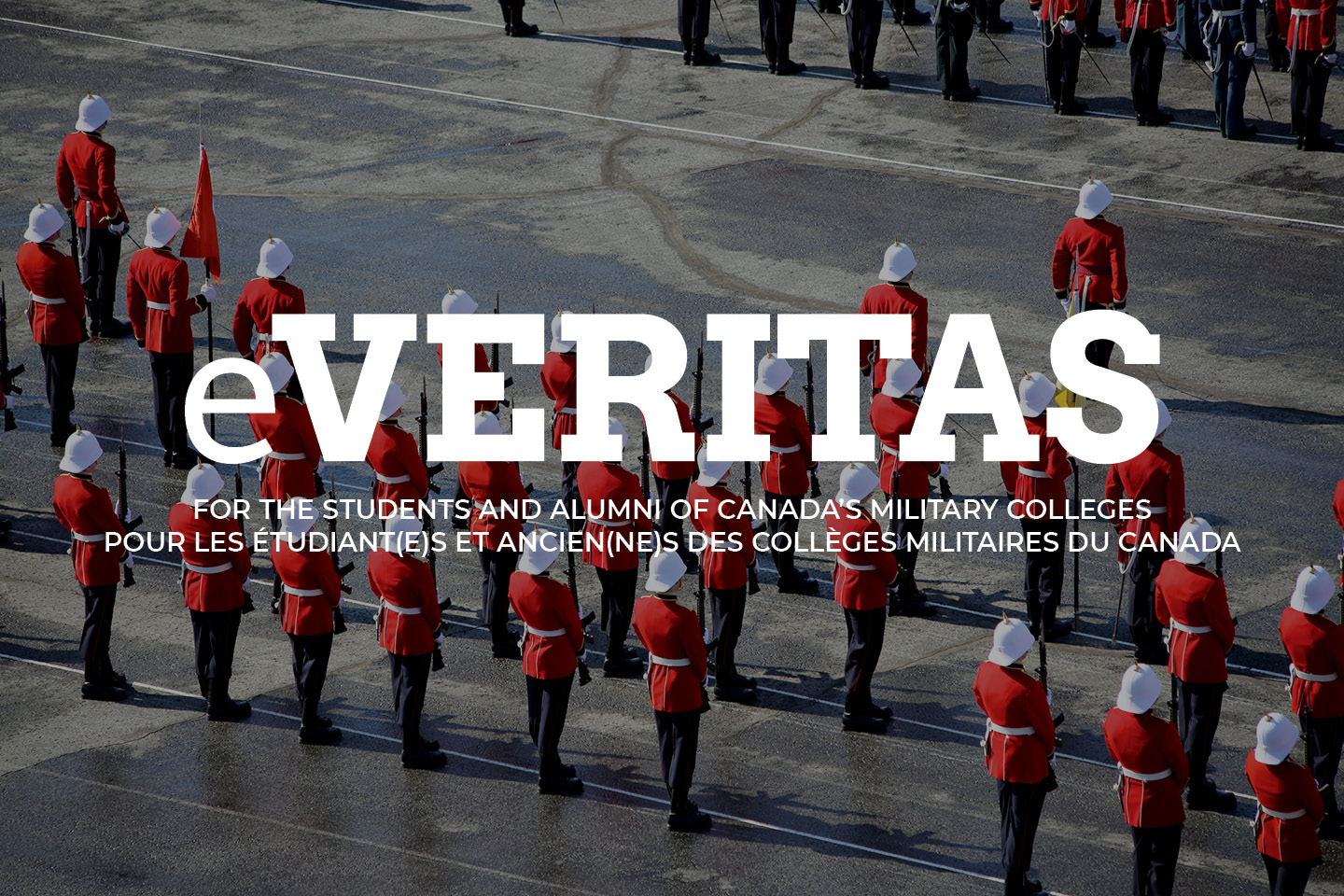 REUNION WEEKEND 2011: CONNECTING WITH THE PAST
The Royal Military College of Canada's Reunion Weekend will kick off with a splash with the arrival of the Chasse-Galerie on Thursday, September 29th at 3:10 p.m.
Fifteen Ex Cadets are paddling from Ottawa to RMCC where the past will connect with the present as the Chasse-Galerie canoe is greeted by RMCC cadets, students and staff.
The following day, Friday, September the 30th, the Obstacle Course for First Year Cadets will happen, rain or shine, at 2:10 p.m.
The Obstacle Course involves 13 teams completing 13 obstacles. The aim is to see which team can get the most members through the obstacle in the time allotted. It is a tradition at the College to showcase the skills and teamwork the cadets have learned during the previous month of intensive training known as the First Year Orientation Program.
On Saturday, October 1, at 10:30 a.m. there will be a Badging Parade during which the cadets will receive their RMCC cap badges. The ceremony symbolizes their admission into the Cadet Wing.
On Saturday afternoon at 1:30 p.m. three Ex cadets will be officially enshrined on the RMCC Wall of Honour: Mr. William Stewart, the first Chief Hydrographic Surveyor of Canada; Air Commodore Leonard Birchall, the "Saviour of Ceylon"; and Lieutenant Colonel (Honorary) Jean Ostiguy, banker and philanthropist.
On Sunday, October 2 at 11:00 a.m. the annual memorial to honour RMCC ex-cadets who died while in the service will be held at the Memorial Arch. Following the ceremony will be the presentation of the Captain Nichola Goddard and Captain Matthew Dawe memorial swords.
FIN DE SEMAINE DES ANCIENS 2011 : RENOUER AVEC LE PASSÉ
Une chasse¬galerie donnera le coup d'envoi à la fin de semaine des anciens du Collège militaire royal du Canada le jeudi 29 septembre à 15h 10.
Quinze anciens élèves¬officiers pagaieront d'Ottawa jusqu'au CMRC où le passé rencontrera le présent; le canoë de la chasse¬galerie sera accueilli par les élèves¬officiers, les étudiants et les membres du personnel du CMRC.
Le jour suivant, vendredi 30 septembre, la course à obstacles des élèves¬officiers de première année débutera à 14 h 10, beau temps mauvais temps.
Treize équipes devront franchir les treize obstacles de la course. Le but est de voir quelle équipe réussira à faire traverser les obstacles par le plus grand nombre possible d'équipiers dans le temps alloué. C'est une tradition au Collège de mettre en valeur les habiletés et l'expérience de travail d'équipe acquises par les élèves¬officiers pendant le mois précédent où se déroule l'entraînement intense du Programme d'orientation des élèves¬officiers de première année.
Le samedi 1er octobre, à 10 h 30, les élèves¬officiers recevront leur insigne de coiffure du CMRC au cours du rassemblement de remise des insignes marquant leur admission au sein de l'Escadre des élèves¬officiers.
Le samedi après¬midi, à 13 h 30, le nom de trois anciens élèves¬officiers sera officiellement ajouté au Mur d'honneur du CMRC : M. William Stewart, premier ingénieur hydrographe en chef du Canada, le Commodore de l'air Leonard Birchall, surnommé le « sauveur de Ceylan », et le Lieutenant¬colonel (honoraire) Jean Ostiguy, banquier et philanthrope.
Le dimanche 2 octobre, à 11 h, la cérémonie annuelle à la mémoire des anciens du CMR morts en service aura lieu à l'Arche commémorative. Cette cérémonie sera suivie de la présentation des épées commémoratives du Capitaine Nichola Goddard et du Capitaine Matthew Dawe.
La fin de semaine des anciens est la fin de semaine des retrouvailles annuelles des anciens élèves¬officiers au CMRC Kingston.
Click the picture below to enlarge
xx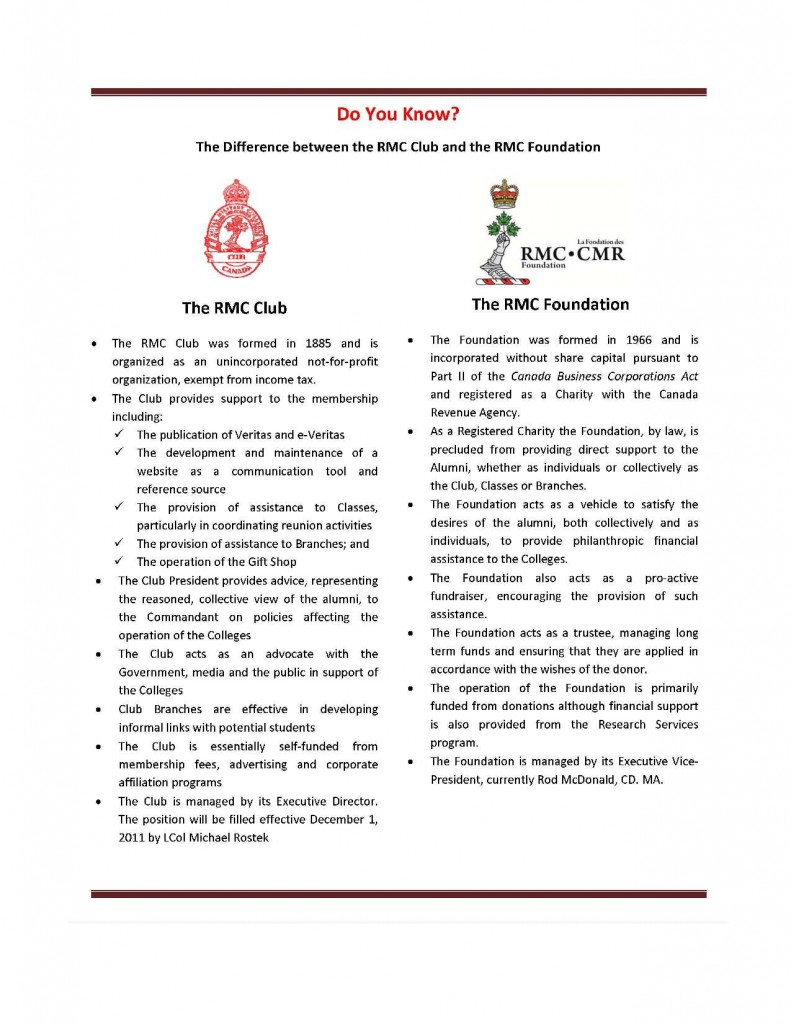 EX-CADET WEEKEND FUN RUN
Great news! The Fun Run around Fort Henry planned for Ex-Cadet Weekend is definitely on!
Ex-cadets from the Old Brigade will join fellow ex-cadets of younger vintage and present-day cadets to re-run the route of the old Cadet Wing Harriers race. They will start at 1500 hours from the RMC parade square and run to the College entrance, then head towards the Fort Henry peninsula. They will circle around the Fort before returning to the College and ending the run where they started. The course is approximately five kilometres long.
Joining the ex-cadets will be the RMC Harriers team, fresh from their outstanding performance at the Army Run in Ottawa, plus other members of the present-day cadet wing.
The Fun Run is not a race – it is intended to be an enjoyable re-running of a well-remembered College experience in which all generations of cadets can participate.
After the event, the runners are invited to gather in the Cadet Mess in Yeo Hall for a chance to compare running experiences and college memories.
Interested in joining us? Contact Bill Aikman at baikman@rocketmail.com.