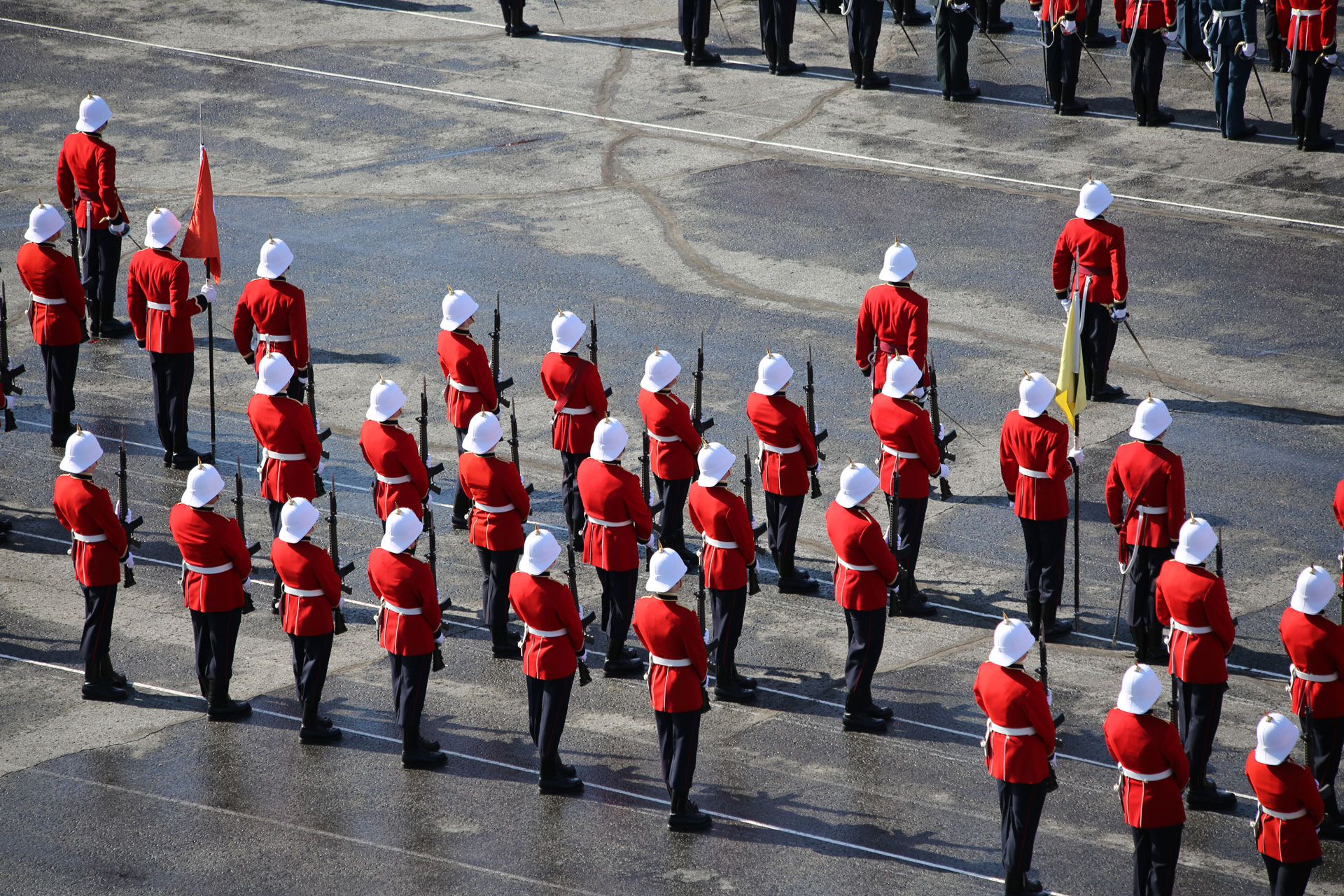 Kingston Branch News
The Kingston Branch of the RMC Club gathers at the Senior Staff Mess (SSM) for a monthly luncheon – the first Wednesday of each month – 12 months a year.
The energetic committee led by President, Reg Watts is well organized. In addition to informative guest speakers every month, the Branch provides valuable support to the college in a number of various important projects. See http://www.rmcclubkingston.com/events.htm
Last Wednesday (2 June) was another enjoyable day. A turnout of about 35 Branch members, including the commandant – who has been a regular monthly attendee – enjoyed a pre-dinner beverage; a great meal; and an informative address given by CHIEF OF STAFF – CANADIAN DEFENCE ACADEMY – CAPTAIN (N) J.E. JOLLYMORE.
An indication of the interest in the Canadian Defence Academy talk given by the well spoken 35 year navy veteran; a BSc graduate from Dalhousie University who also earned a BEng from the Nova Scotia Technical College was that it ran a good half hour over the allotted time mostly because of the questions coming from the highly interested audience.
Our e-Veritas camera crew visited early and had to leave early before everyone showed up. See photos below.
Ex cadets from the Kingston area – and those visiting are welcome to attend these highly enjoyable monthly luncheons.
Upcoming Events:
7 Jul luncheon (Lt Col Scott Clancy, CO of 1 Wing (helicopters) on the relief work in Haiti this year ) –
July 21 – there is a Summer Dinner Cruise – Click here for details – http://www.rmcclubkingston.com/events.htm
As mentioned, the Reg Watts led committee is doing a great job. Ex cadets in the Kingston area – all ages should mark their Day Timers for the first Wed of every month and in July – the 21st!
Capt(N) JE Jollymore (Guest Speaker), 4976 Reg Watts, Branch President; &  5207  Robb Andrew, Branch Secretary
6137 Wyn van der Schee,  5611 Gerry Stowe & 5228 Phil Antonsen, 1st Vice President
3155 Dusty Miller, 3111 Dick Bohne, A118 Ray Dignum,  &  2933 Maurice Lalonde
4823 Archie Zagrodney, 5244 Tony Downs & 4979 Wayne Wharton
2908 Al Pickering,  & S134 Rolande Oliver,& S125 Bill Oliver
4976 Reg Watts, 4459 Ed Murray, Past President; 15185 William Truelove, commandant; Capt(N) Jollymore,  & 5611 Gerry Stowe
____________________________________________________________________________
Hamilton Branch – Do it in Style



Last Thursday (3 June) the Art Gallery of Hamilton was the scene of a classy dinner that was put on by the Hamilton Branch of the RMC Club. The theme was a "Family Celebration" and there ware several multi-generation RMC families in attendance. This annual event was hosted by Hamilton Branch President, 5337 Bob and Maggie Carr.
The entire evening was truly reflective of – 'Connecting members of the RMC Family'.
16412 Gordon Clarke, President, RMC Club of Canada took the opportunity to present an Honorary life membership to a surprised but grateful 2552 William Young who was accompanied at the dinner by his wife Joyce.
RMC commandant, Commodore WS (Bill) Truelove was the Guest Speaker – he took the opportunity to update the entire group on the terrific year just experienced at RMC and encouraged them all to visit the College soon.
The first year RMC commandant also met and spoke with Amanda Dingman, Chris Kunkel, and Ian Wilson three young people recently accepted into the military colleges who will begin training this summer. "I encouraged them each to start doing more push ups, practice their French and study harder!!"
In total there were 46 at the dinner, including S150 Peter Dawe, Executive Director who made the trek from Kingston and 12738 D'Arcy Wilson father of Ian one of the new recruits. "Brenda and I enjoyed a fabulous evening", added the Guest Speaker.
The fit-looking and enthusiast Royal Roads Military College 1985 graduate concluded his talk. "We look forward to visiting Hamilton and the other Branches of the RMC Club again over the next year. I find each of these visits extremely useful and always enjoy updating the Ex Cadets on their College."