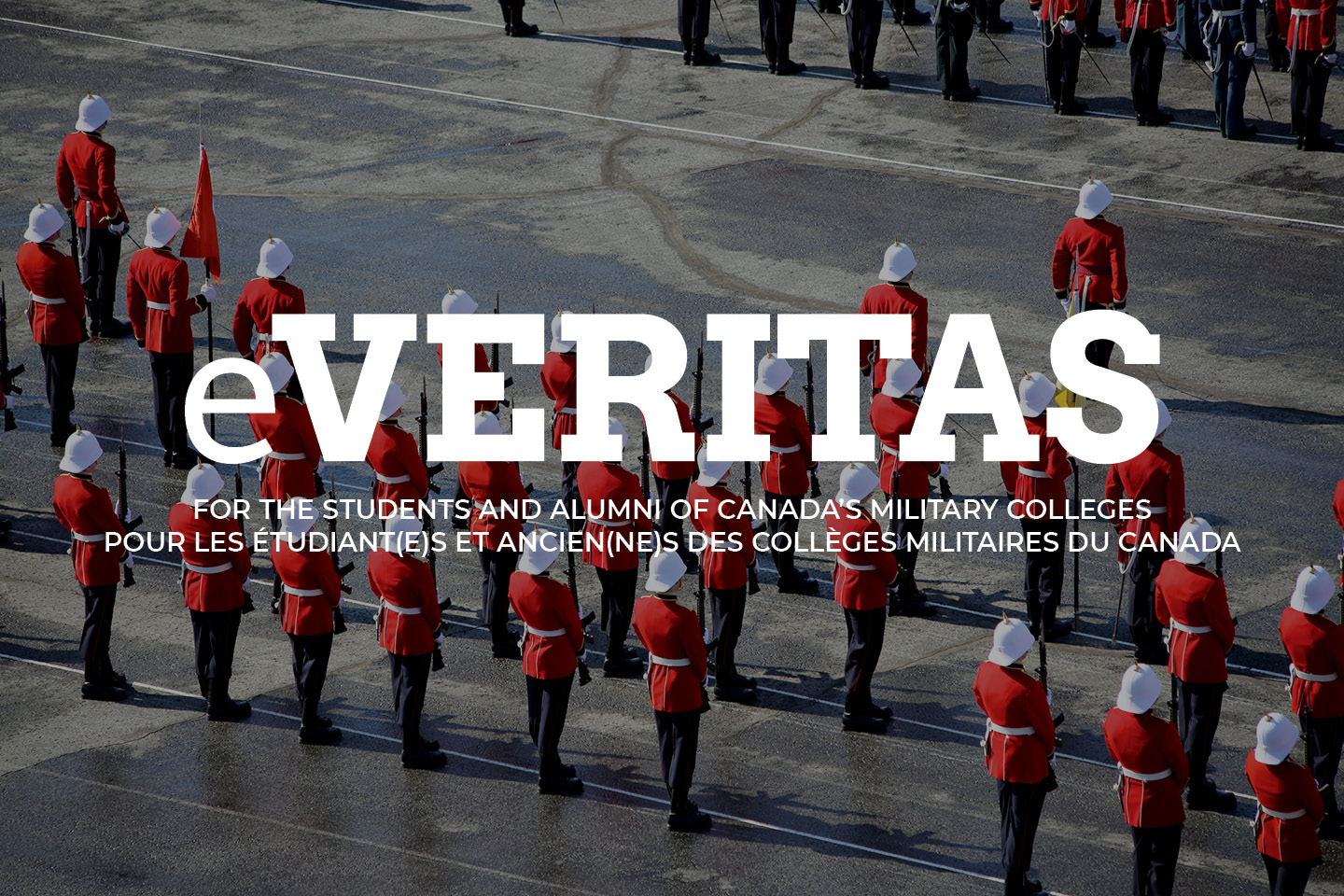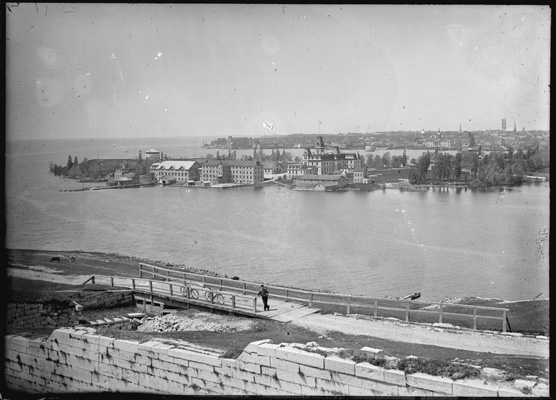 532 Col Elton Ibbotson (Ibb) Leonard (Entered RMC 1900), was born in 1882 in London, Ontario, the second son of Frank and Alice Louise Leonard. An intelligent and studious young man, Ibbotson attended Upper Canada College in Toronto and, in 1903, graduated second in his class from Kingston's Royal Military College.Ibbotson continued his education and received a Bachelor of Science Degree in engineering from McGill University in 1905.
Ibbotson served 11 years with the 1st Hussars in his hometown of London Ontario – seven years spent as a squadron commander and two years as an adjutant. In 1914, Ibbotson married Sarah McConkey Brinton.
When war broke out in 1914, the 1st Hussars were not selected to accompany the Canadian Expeditionary Force to England. Lt. Col. Leonard was given command of the newly raised 7th Canadian Mounted Rifles, a cavalry unit, in February 1915. During the first few months, he was busy equipping, training and recruiting men, horses and officers. Ibbotson and the 7th CMR arrived in France in the late spring of 1915, tasked chiefly with building and maintaining roads, reconnaissance and acting as guides leading other units to the front. The 1st Hussars were awarded Battle Honours for outstanding performance in battle. On 12 May 1916 Ibbotson became the second in command of the newly formed Canadian Light Horse, and he served with the Canadian Light Horse until the end of the war.
Colonel Ibbotson Leonard was awarded the Distinguished Service Order for his dedication to duty. Returning to London, Ibbotson took over leadership of the family foundry business and was named president after his father Frank's death in 1923. Ibbotson's and Sarah's first and only child, a son, Brinton Leonard, was born that same year. Ibbotson became president of the London Health Association in 1926, and was named president and lifetime member of the Association of Professional Engineers (Ontario) in 1932.
He also served on the Town Planning Commission and was, for 16 years until his death, chairman of the London Division Commissionaires. Col. Leonard was secretary of the London Hunt Club hut committee maintained an avid interest in horses, hunting and current events. After the war Colonel Ibbotson Leonard was actively involved in many volunteer organizations including Huron College. He was elected to the College Council in 1935 and helped steer the College through the travails of The Great Depression. In 1965, he was appointed the first Lifetime Honorary Member of the Huron College Corporation. He died in 1974. He is buried in the Leonard Family plot in section C of Mount Pleasant Cemetery in London Ontario.
A private foundation trust under the will of Colonel Ibbotson Leonard Estate donates "50% Of The Net Income Earned To Huron College, London, Ontario And And 50% Of The Net Income To Upper Canada College, Toronto, Ontario For Educational Purposes. The Colonel Ibbotson Leonard National Scholarship Fund at Huron College is awarded to students with a mid-term average of 90% or higher who have also demonstrated a commitment to volunteer and community service, athletics or the arts, and involvement in student life. The Leonard Family fonds consists of letters, diaries, photo albums, scrapbooks, and account ledgers relating to members of the Leonard Family of London, Ontario.
http://www.huronuc.on.ca/alumni_friends/foundation/list_endowments/A&F_Arts_Funds/
Leonard Family fonds http://www.archeion.ca/leonard-family-fonds;rad
http://minweb.lib.uwo.ca/page/detail/PUB_AUTHORITY/29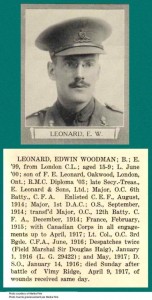 537 LCol Edwin Woodman (Woody) Leonard (Entry Year RMC 1900) was the son of Frank E. Leonard, of "Oakwood," London, Ontario. He was educated at Upper Canada College and the Royal Military College, graduating in 1903. He started a diary Aug. 1, 1914, just days before Britain officially asked Canada for help in the war. Before the war, he worked as secretary-treasurer of the family foundry company.
He entered the Canadian militia and by the time the First World War broke out was commander of the 6th Field Battery. In April 1915, the brigade moved with the rest of the 1st Canadian troops to the Belgium city of Ypres to relieve French forces battling the Germans.In the fall of 1916, Leonard and his men were sent to the Somme.
After the battle of the Somme ended, with no victor, Leonard put in for leave. He spent Christmas and New Year's Eve with friends in London, England. He returned to France on Jan. 16, 1917. By then his men and the rest of the Canadian divisions had moved to Vimy Ridge. Leonard wrote his last diary entry April 8, 1917, the day before he led his gun brigades in the battle for Vimy Ridge. He died on April 9, 1917. He was awarded the Distinguished Service Order, Mentioned in Despatches.
http://www.lfpress.com/cgi-bin/publish.cgi?x=articles&p=177721&s=vimy
 

Researched by E3161 Victoria Edwards
Previous article, 5517 Murray (Skip) Schelter asked. "Maybe one of your young assistants might want to research Col Leonard."
Ed: We're not sure if Victoria considers herself  "our young assistant" but once again, on her own initiative she has gone the extra mile to provide the research material.  Which we appreciate very much.