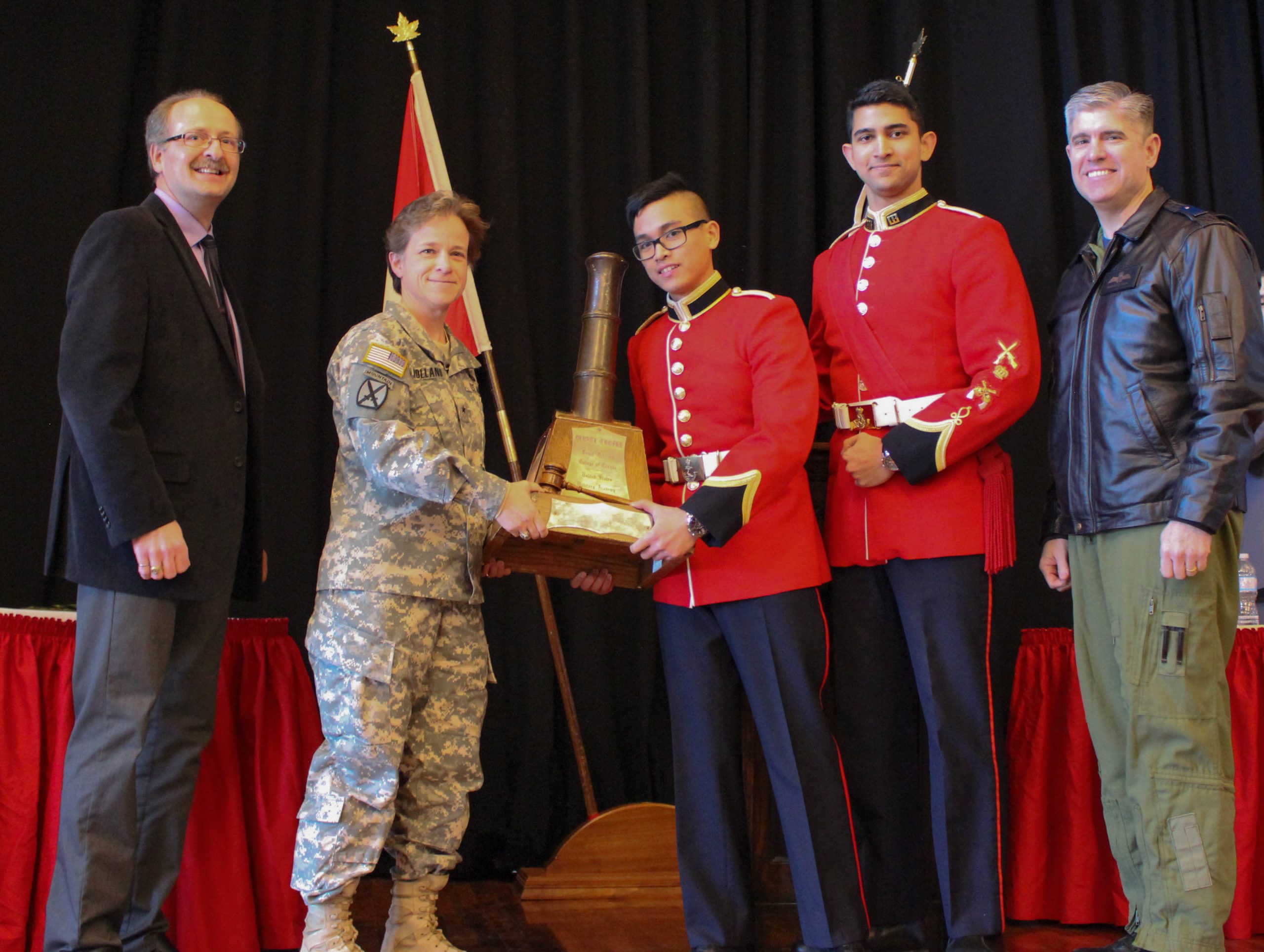 West Point Hands Over Debating Trophy…
Collected from various sources
RMC in 1950 was a very different place. Massey library and a number of other buildings that stand today, are still empty lots. The massive and equally confusing Sawyer and Girourd buildings that now dominate the peninsula and school schedule of every cadet, were not even drawn on paper yet. But there are similarities. For one, a question asked in the 1950 RMC review that continues to be asked to this day is: "Drill, drill, drill – for what?" Cadets still wear the highly praised astrakhan, the Air Force still thinks it's better than the Army, and no one likes the Navy. These are facts and questions asked by all cadets, regardless of time.
MORE…
But with the 2016 West Point exchange coming to a close, interesting comparisons between the college of today, and the college of 1950, come to light. In 1950, much like today, the RMC debate club started off the academic year disappointingly. The club was small and competed little outside of its pool of RMC cadets. But at the same time, both clubs were hopeful for change. Both clubs worked hard to expand their rosters and capabilities. The club of 1950 by the end of the academic year flaunted a second year of "vigorous activity" having competed with teams from Queens and Western. At the same time, the debate club of 2015/2016 has also made massive strides in its progress to rebuild and train, flaunting a successful competition against Queens, with one last debate against Western yet to come. The similarities are remarkable.
Yet there remains a significant difference between the debate club of today, and the debate club of 1950. In 1950, RMC was hoping that its club could one day compete against West point in a debate match. In 2016, RMC's team participated in that match – and won. RMC's victory this year nearly evens out the score of a debate series lasting over 61 years, with West Point leading with 31 wins, and as of January 23, 30 losses.
The RMC team this year, led by club president OCdt (II) Michael Cambare successfully debated a resolution with his partner, OCdt (IV) John Jacob about whether or not ISIS should be recognized as a state. The USMA team led by Cadet Meyer Ungerman, aided by his partner Cadet Nathen Hernandez eloquently delivered their side's arguments while keeping the event light and funny, but were ultimately unable to convince the judges that ISIS should be recognized as a state.
The three judges, composed of Chief Petty Officer First Class Keith E. Davidson, Principal Dr. Harry Kowal, and Lieutenant Colonel Steven Gariepy an Assistant Professor – Military Faculty at West Point, did not arrive to a conclusion quickly, a fact indicative of how non-clear cut and close the debate was. However, in the end, the coveted RMC-USMA debate trophy has again returned home to Canada. Every year, the RMC-USMA debate is a massive undertaking. The successful execution of the event would not be possible without the help of RMC's support staff, military wing members, and cadets. Most notably is Ryan Thompson, Acting Recreation & Intramural Manager from the Athletic Department. Furthermore, every member of the RMC debate team deserves recognition for helping make this event so successful: faculty advisor Dr Greg Phillips, VP of debate OCdt Zachary Trembley, and Officer Cadets Audrey Hamel, Liam Hovey, Yoonjae Kim, Dhariya Shah, Jared Wylie, and Pablo Cardona.
The annual RMC-USMA exchange is a great chance for Canadian cadets to forge multi-national bonds and to gain the perspective of military life and military educational institutions from a different perspective. The members of RMC debate are thankful for having received such gracious guests as the USMA debate team and thank them for having brought as nice a gift as the debate trophy.  More photos Here