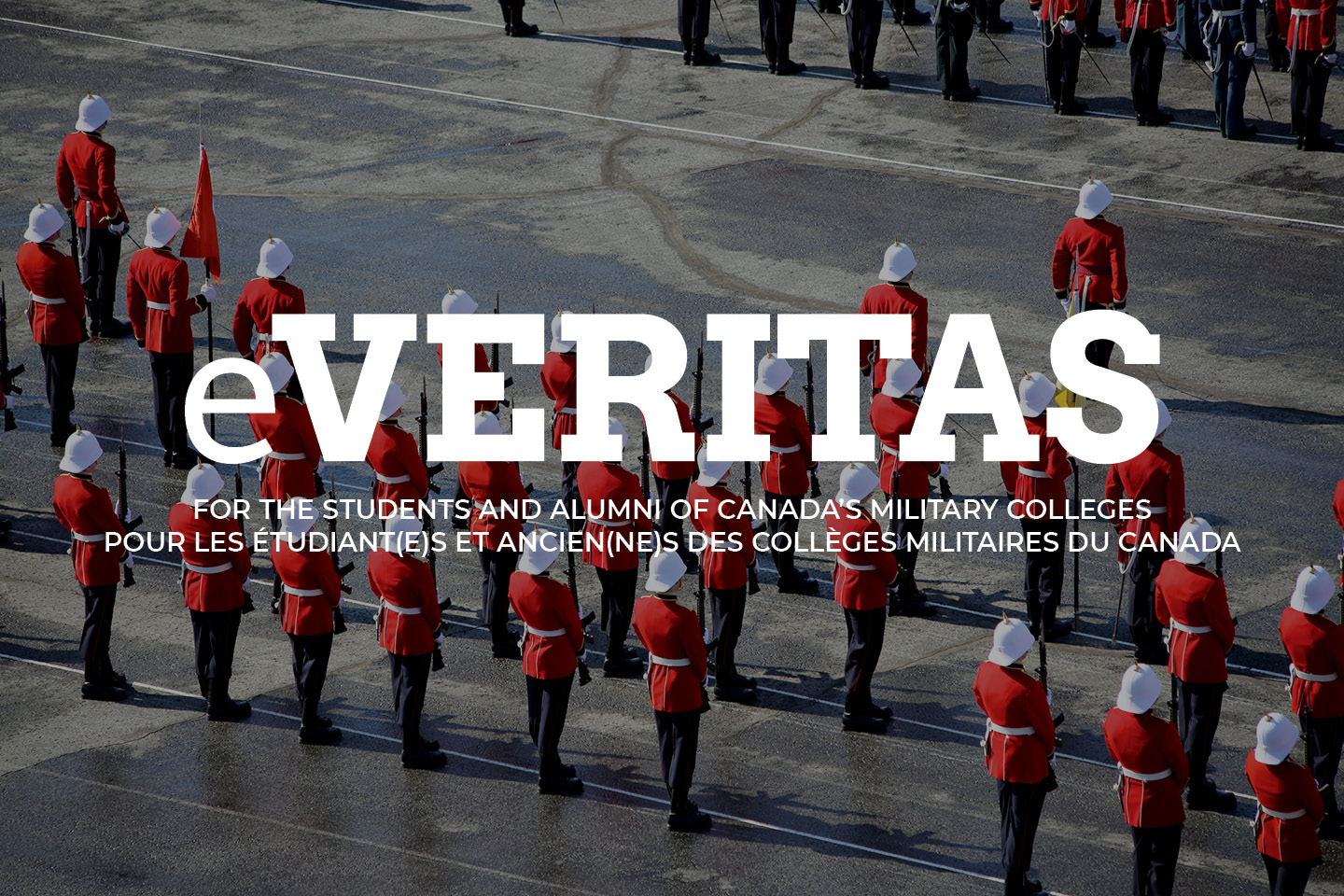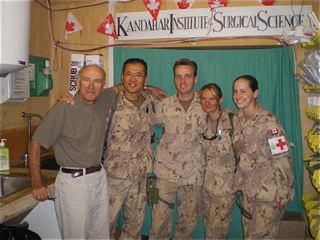 Left to right: LCol (ret) Pierre Parenteau (#6330, '64), Maj Kao ('82), Capt Bernard Couillard ('95), Capt Brandy McKenna ('02), Lt Andrea Seaby ('05).
Kandahar – The Trauma Hospital & Ex cadet Involvement
By: 6330 Pierre Romeo Parenteau (RMC '64) MD, FRCPC

A few kilometers away from Kandahar Afghanistan at KAF (Kandahar
Airfield) the multinational (NATO) force has its basic camp for its
operational role in Southwest Afghanistan. The Trauma Hospital, KAF
MMU, (remember the MASH setup in the TV series) is run by the Canadian
military medical personnel and is deployed meters away from the
airstrip, just inside "the wire". Also attached to the hospital are
military NATO medical surgeons and nurses from nations such as USA,
Netherlands, UK, Denmark and other nations. At times, our Canadian
medical personnel have to be augmented by civilian Canadian medical
specialists, doctors and nurses. It was in that capacity that I had
the honour and the privilege to serve as the psychiatrist with the
Mental health team at the Trauma hospital, between August and November
2007.
It was good to come back to military life twenty years after a full
career in the Forces. I was impressed by the professionalism and
morale of our troops. Within the last two decades we have made giant
steps in terms of preventive mental health. We are proactive at all
levels: pre- and post-deployment, and obviously during combat
operations. We can be proud of our troops and of our military medical
services.
RMC was shining at the Trauma Hospital in the fall of 2007 through
three (!) generations of ex-cadets. Both Capt Brandy McKenna (RMC '02)
and Lt Andrea Seaby (RMC '05) were actively involved with
administrative operations of the Hospital including medevac of the
injured to Germany, Bagram and Canada. Capt Bernard Couillard MD (RMC
'95) was providing medical care both at unit and (community) and
hospital levels. Major Ramon Kao MD (RMC '82), a specialist in
critical care, was the Maestro orchestrating ER medical operations at
time of crisis and of mass casualties. And I (Pierre Parenteau, RMC
'64), psychiatrist and the elderman of this elite group, was dealing
with rare cases of mental health crisis involving Canadian and NATO
personnel, and civilian staff .
My most moving memories from my life at the Trauma Hospital was at
times of mass casualties situations. Everyone was assigned an ER
medical task. Lt Seaby and Capt McKenna would be taking injured
soldiers straight from the helicopters on the airstrip to the ER
inside the Hospital. Capt Couillard would be in the ER giving care to
an injured Afghan child. Myself, if not involved with a psychiatry
case, working as an extra nurse (not that easy). Major Kho, the expert
in critical care, would be directing all Medical operations,
intervening when necessary.
…For a few hours, one could be easily convinced that RMC was an
excellent school of medicine