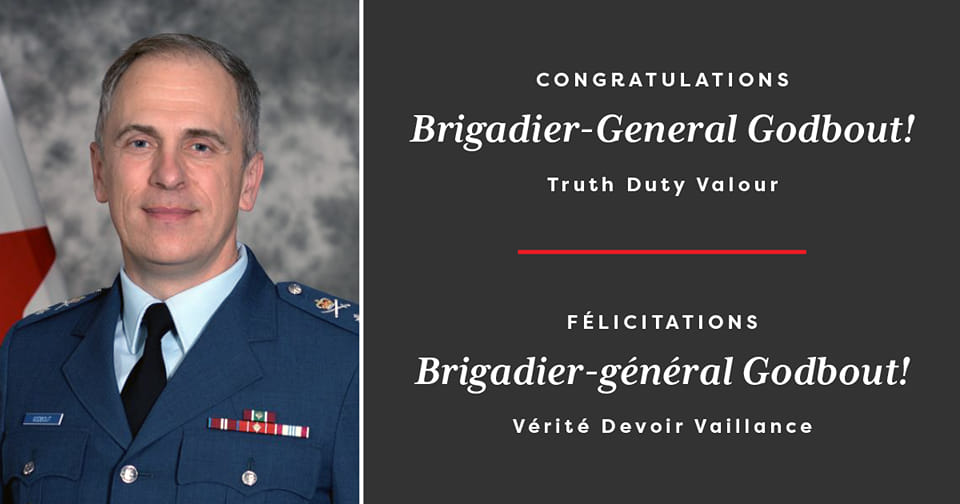 RMC welcomes 19671 Brigadier-General Pascal Godbout (CMR RMC) Class of 1995, who will take command of RMC this Friday June 2, 2023!
Le CMR souhaite la bienvenue au 19671 brigadier-général Pascal Godbout (CMR RMC), Promotion de 1995, qui prendra le commandement du CMR le vendredi 2 juin 2023
---
Brigadier-General Pascal Godbout joined the Canadian Forces as a Communications and Electronics Engineering Officer and obtained his commission in 1995 after graduating from the Collège militaire royal de St-Jean. He was given the opportunity to command inspiring teams of professionals at every stage of his career in Kingston, Afghanistan, Cold Lake, North Bay, Borden and  Yellowknife. He has worked in staff appointments at NDHQ and with Regional Cadet Support Unit (Central). He had the privilege of serving as an instructor at the Canadian Forces College as well as the Canadian Forces School of Communications and Electronics.
Brigadier-General Godbout served in the Joint Signal Regiment and has worked in support of NORAD operations on four separate tours of duty, culminating with his last tour in Colorado Springs as the Joint Cyber Centre Deputy Director, where he also served as one of the Deputy NORAD & USNORTHCOM Command Centre Directors. His most recent assignment was as Commander of 16 Wing Borden, where he was responsible for oversight of the Canadian Forces School of Aerospace Technology and Engineering, the RCAF Academy, and the Canadian Forces School of Aerospace Control Operations.
Brigadier-General Godbout holds a Master of Arts in Defence Management and Policy from the Royal Military College of Canada, and a Master in Business Administration from Athabasca University. He is a graduate of the Joint Command and Staff Programme and the NATO Defence College Senior Course.
Source:  https://www.uaf.edu/casr/activities/etalks_jul_2021.php#:~:text=Brigadier%2DGeneral%20Godbout%20holds%20a,NATO%20Defence%20College%20Senior%20Course.