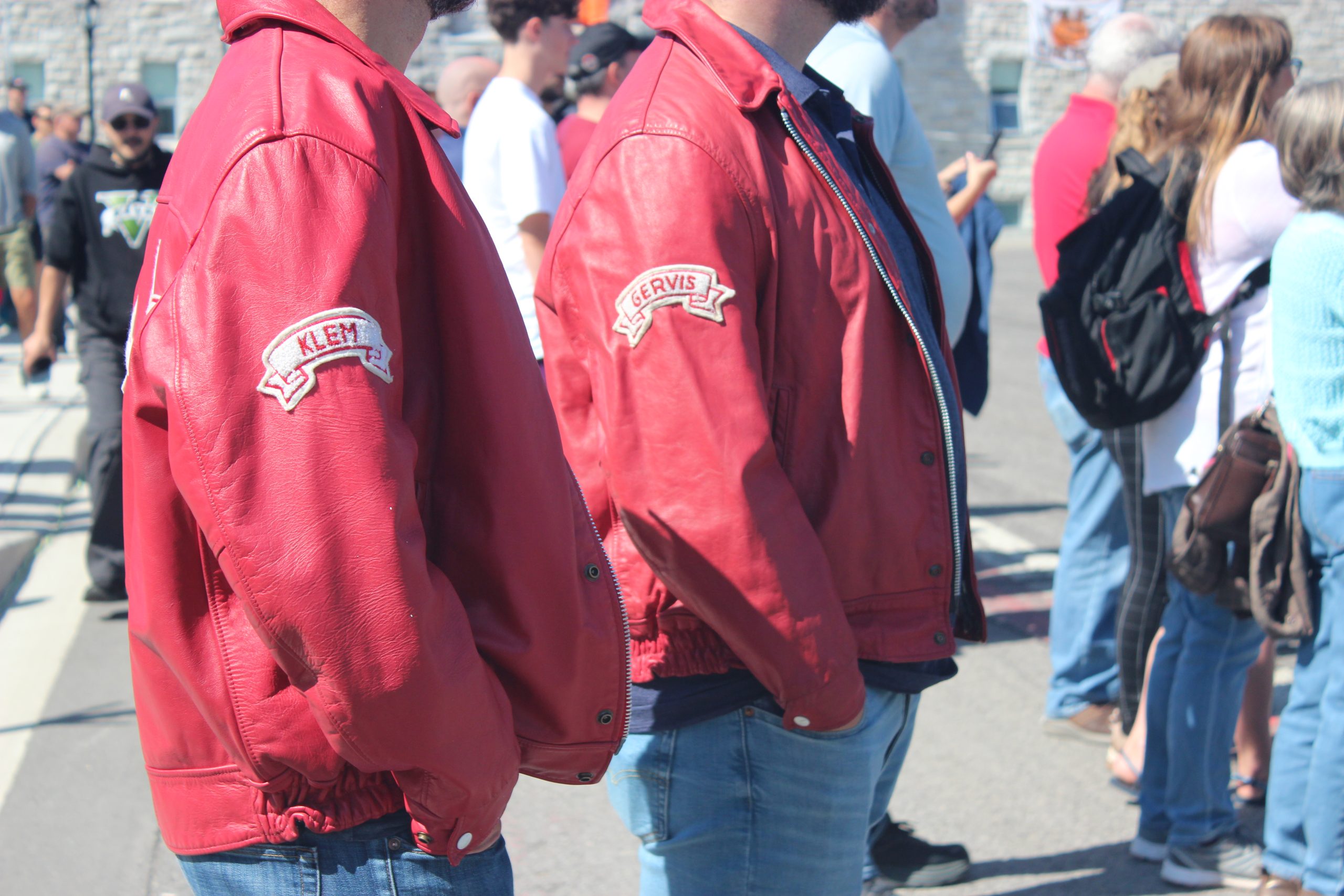 RMC Reunion and Badging Weekend have now come and gone, and what an eventful weekend it was.  The Kickoff to Reunion Weekend started on Thursday 14 September with the Legacy Dinner, our 23rd Annual Back Tie Gala.
La Fin de semaine des anciens et de remise des insignes du Collège militaire royal du Canada (CMR) est maintenant terminée, et elle a été fertile en événements. Le coup d'envoi a été donné le jeudi 14 septembre lors de notre 23e dîner Héritage.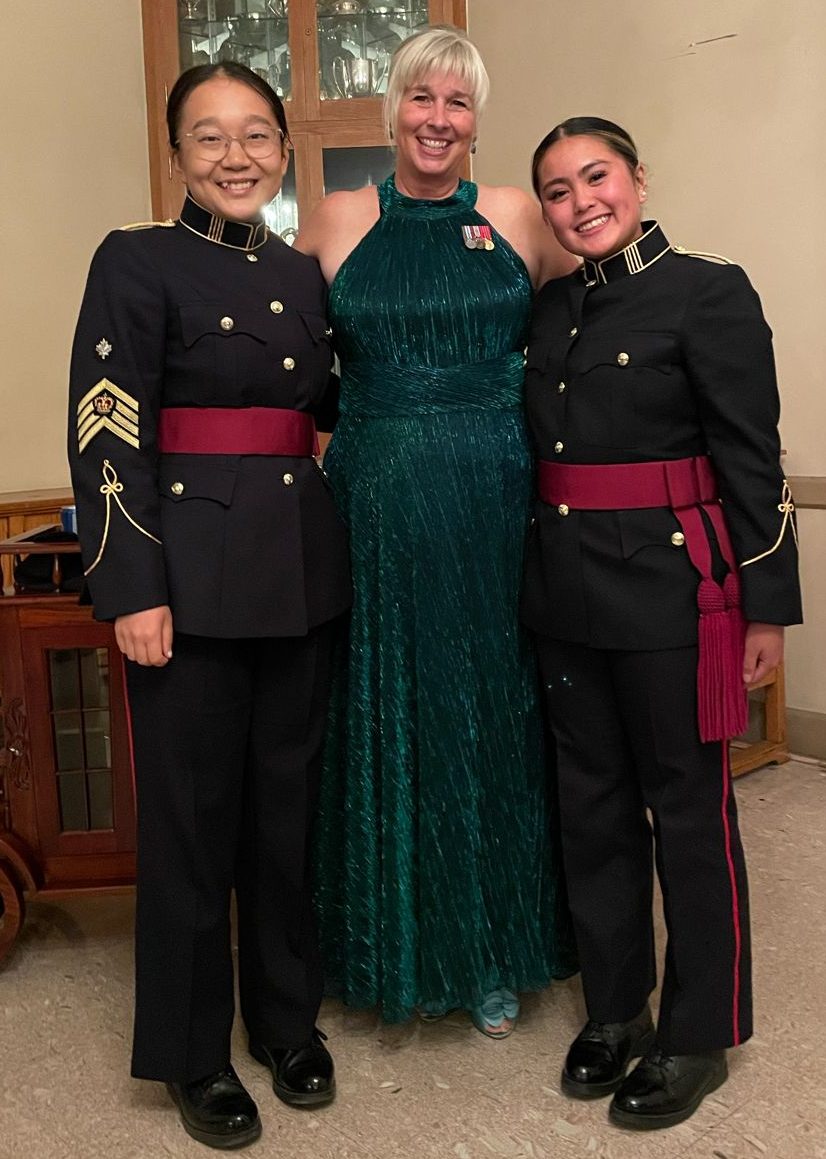 Guests included the Commandants of RMC (19671 Pascal Godbout) and RMC Saint-Jean (22756 Guillaume Tremblay), College Chief Warrant Officer Lucie Alain, Director of Cadets Col Cathy Blue, 5586 Ian Mottershead (benefactor of the Ian and Rosemary Mottershead Battlefield Tours), the Class of 1978, Class of 2013, the Ottawa Branch and over 63 sponsored Naval and Officer Cadets and other distinguished guests.
Plusieurs invités étaient présents à ce dîner de gala, dont les commandants du CMR (19671 Pascal Godbout) et du CMR Saint-Jean (22756 Guillaume Tremblay), l'adjudante-chef du CMR Lucie Alain, la colonelle Cathy Blue, directrice des élèves-officiers, 5586 Ian Mottershead (bienfaiteur de la visite annuelle des champs de bataille de la Fondation Mottershead), les membres des promotions de 1978 et de 2013, les membres de la division d'Ottawa et au moins 63 élèves-officier et aspirants de marine parrainés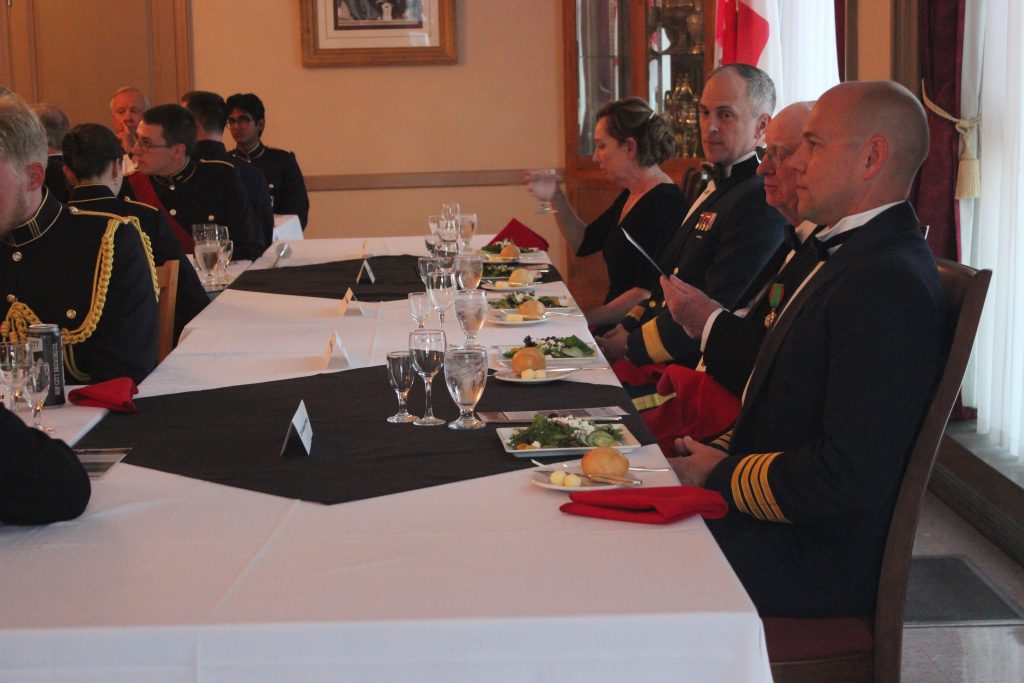 The Ottawa Branch presented a $25,000 cheque from proceeds of their golf tournament to the Commandants of the Colleges.  The funds will be used to support the RMC Resilience Program and the Saint Maurice Mess Project at RMC Saint-Jean.
La division d'Ottawa a présenté un chèque de 25 000 $, soit le montant des profits de son tournoi de golf, aux commandants des Collèges. Ces fonds seront utilisés pour soutenir le programme de résilience du CMR et le projet du mess Saint-Maurice au CMR Saint-Jean.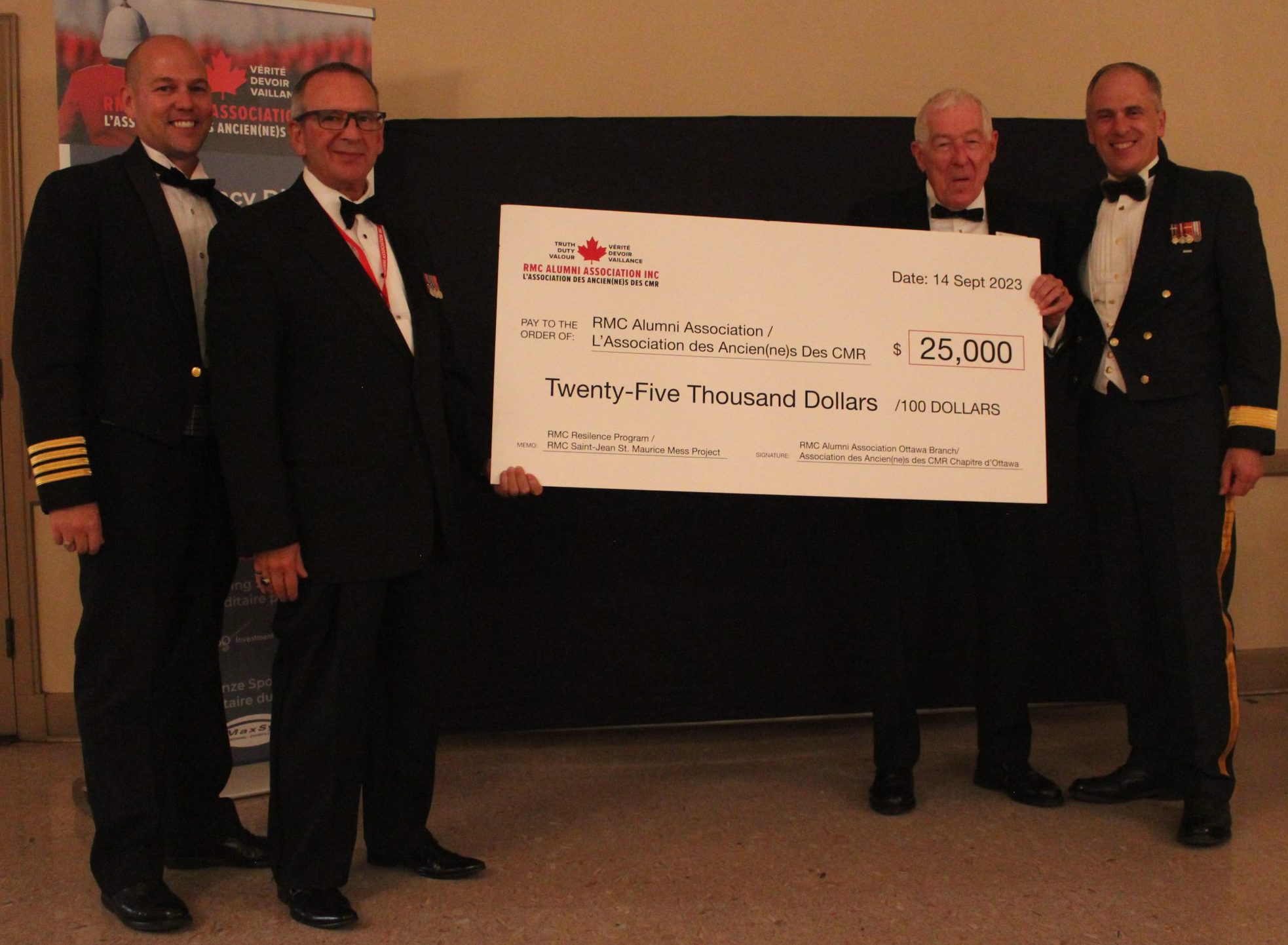 Thank you to our Presenting Sponsor Canso Investment Counsel Ltd. (11623 John Carswell, Class of 1978), and our Bronze Sponsor MaxSys Staffing and Consulting (15737 Bryan Brulotte, Class of 1987).

Nous tenons à remercier notre commanditaire principal, Canso Investment Counsel Ltd (11623 John Carswell, promotion de 1978) et notre commanditaire bronze, MaxSys Staffing and Consulting (15737 Bryan Brulotte, promotion de 1987).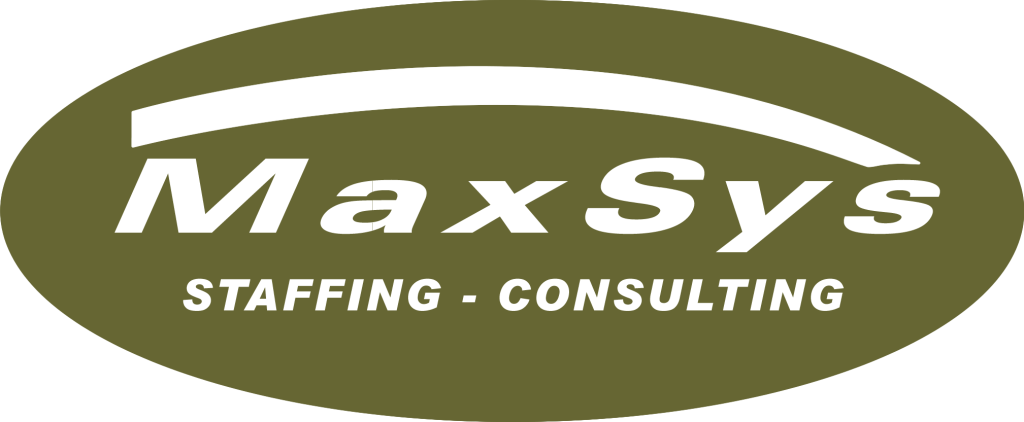 The highlight of the evening was a powerful speech from 5586 Ian Mottershead (Class of 1962 and benefactor of the Mottershead Battlefield Tours) detailing his life growing up, his time at Royal Roads and RMC and after his military career when he entered into private business.  Mr. Mottershead also made an announcement during his speech that he and his wife Rosemary will be increasing their Endowment to $7 million and leaving a substantial legacy gift of $10 million to ensure the future of the Mottershead Battlefield Tours.
Le clou de la soirée fut le discours inspirant de 5586 Ian Mottershead (promotion de 1962 et bienfaiteur de la visite de champs de bataille de la Fondation Mottershead), qui a parlé de son enfance, de son passage à Royal Roads et au CMR et de son après-carrière militaire dans le secteur privé. Pendant son discours, M. Mottershead a aussi annoncé que son épouse Rosemary et lui augmenteraient leur fonds de dotation à 7 millions de dollars et feraient un legs important de 10 millions de dollars à la Fondation Mottershead pour que la visite annuelle de champs de bataille se poursuive.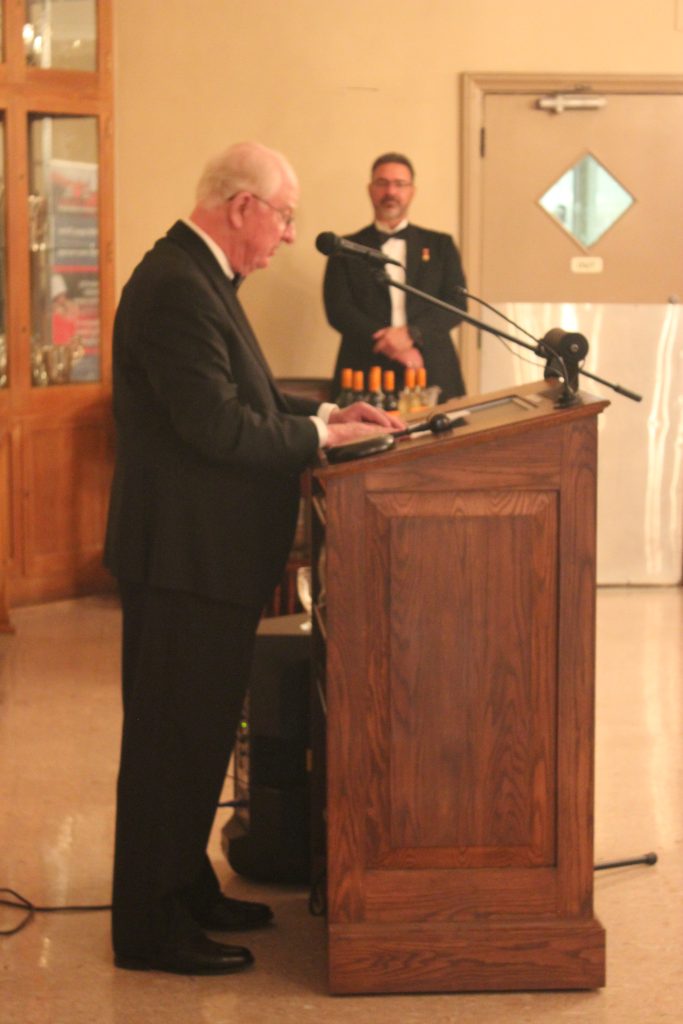 The RMC Alumni Association would like to thank the following people for their help and support during RMC Badging and Reunion Weekend:
Commandant Brigadier-General Pascal Godbout (for allowing us to host a fabulous party on Campus)
Staff Officer Major Craig Scott, and Mrs. Germaine Habiyakare Executive Assistant to the Commandant (for their detailed planning and coordination of all events)
J5 – LCdr Harold Card Conference Planning & Facilities Management, Office of the Director of Operations and Plans (for developing the plan)
J3 – Maj Rebecca Savard Operations Officer, and Steeve Gregoire Deputy J3 Operations (for never turning down my crazy ideas and for always finding a way to accommodate my last-minute requests)
CWO Jean-Philippe Dostie TW Sergeant- Major, and Capt Taylor Sannes TW Operations Officer (for all their help in coordinating over 60 Officer and Naval Cadets to attend the Legacy Dinner, and their coordination of the Memorial Arch Parade)
Sean McDonaugh and the RMC Men's Rugby Team assigned to the Legacy Dinner (first class athletes and gentleman)
Andy Sakell SSM Manger and Lori Alves MacPhail Assistant SSM Manager and their incredible staff (for putting on an excellent meal at the Legacy Dinner and preparing and serving over 700 hamburgers and hotdogs at the Alumni BBQ)
Captain Christine Davies Band Officer and Sgt John Pakenham Pipe Major (for the incredible showcase by the band at the Legacy Dinner and during Reunion Weekend)
And last, but certainly not least, our Ex Cadets, families and friends who came from all over the world to celebrate the Obstacle Course, First Year Badging, Memorial Arch Parade, Alumni BBQ, Class events, and the Wall of Honour Ceremony.  Thank you for your continued support.
L'Association des anciens étudiants et anciennes étudiantes des CMR aimerait remercier les personnes suivantes de leur soutien pendant la Fin de semaine des anciens et la remise des insignes
Le brigadier-général Pascal Godbout, commandant du CMR (pour avoir autorisé la tenue de ce formidable événement sur le campus)
Le major Craig Scott, officier d'état-major, et Mme Germaine Habiyakare, adjointe exécutive au commandant (pour avoir planifié et coordonné les activités dans les moindres détails)
J5 – Le capitaine de corvette Harold Card, Planification des conférences et gestion des installations, Bureau du directeur des opérations et des plans (pour l'élaboration du plan)
J3 – La major Rebecca Savard, officière des opérations, et Steeve Gregoire, adjoint J3, Opérations (pour avoir toujours accepté mes idées folles et trouvé une façon d'exaucer mes demandes de dernière minute)
L'adjudant-chef Jean-Philippe Dostie, sergent-major, Escadre d'entraînement, et le capitaine Taylor Sannes, officier des opérations, Escadre d'entraînement (pour nous avoir aidés à coordonner la participation de plus de 60 élèves-officiers et aspirants de marine au dîner Héritage, et pour avoir coordonné le défilé de l'Arche commémorative)
Sean McDonaugh et les membres de l'équipe de rugby masculine du CMR assignés au dîner Héritage (des athlètes extraordinaires au comportement exemplaire)
Andy Sakell, gérant du mess des officiers et des cadres (MOC), Lori Alves-MacPhail, gérante adjointe du MOC, et leur personnel extraordinaire (pour avoir préparé un délicieux repas lors du dîner Héritage et pour avoir apprêté et servi plus de 700 hamburgers et hot-dogs lors du barbecue des ancien[ne]s.)
La capitaine Christine Davies, officière de la Musique, et le sergent John Pakenham, cornemuseur-major (pour la performance extraordinaire de la Musique lors du dîner Héritage et de la Fin de semaine des anciens)
Enfin, nous remercions tout particulièrement les anciens élèves-officiers de même que les parents et amis qui sont venus des quatre coins du monde pour assister à la course à obstacles, à la cérémonie de remise des insignes aux élèves-officiers de première année, au défilé de l'Arche commémorative, au barbecue des anciens, aux événements pour les promotions et à la cérémonie du Mur d'honneur. Merci de votre soutien continu!
Cheers to many more/Sincères salutations,
Jennifer Jordan
RMC Alumni Association/Association des ancien(ne)s des CMR
Fundraising and Marketing Manager/Gestionnaire des activités de financement et du marketing
Acting Editor eVeritas/Rédactrice en chef intérimaire du bulletin eVeritas