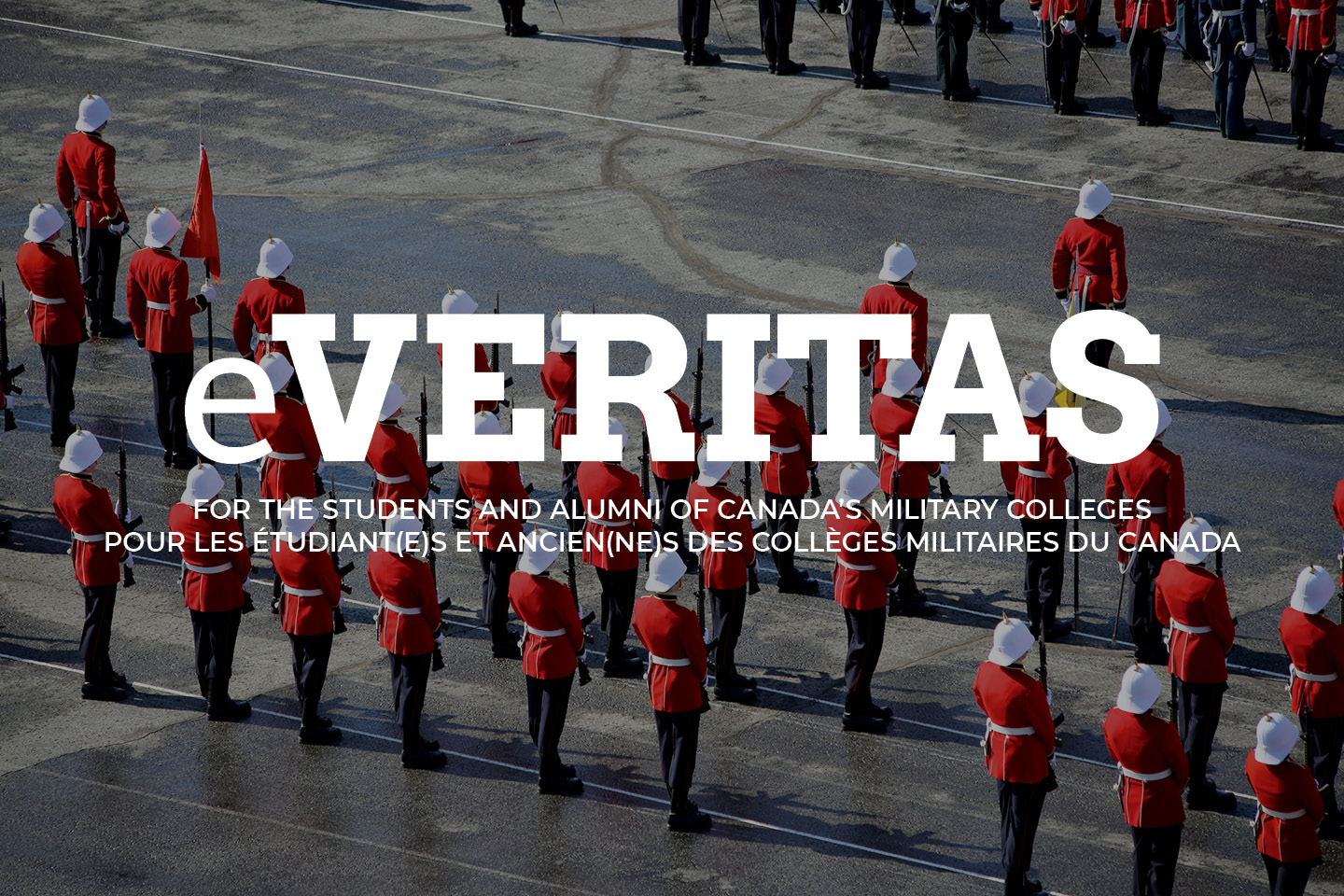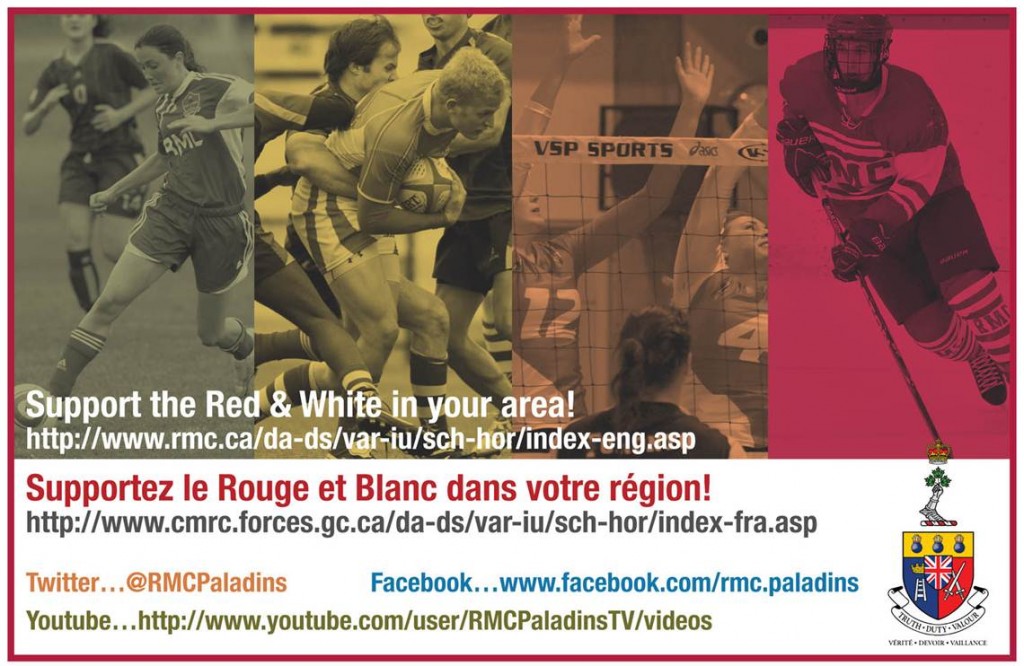 xxxx
__________________________
Recent Results:

Hockey

Jan 23rd – RMC 2  – Queens 1 OT Game Summary 

Jan 26th – RMC 1 – West Point 4 Game Summary

Volleyball (M)

Jan 25th – Queens 3 – RMC 0 Game Summary

Volleyball (W)

Jan 25th – Queens 3 – RMC 0 Game Summary

Jan 26th – RMC 1 – Ottawa 3 Game Summary

Upcoming Games:

Hockey

Carr Harris Cup

Jan 31st – Queens vs RMC @ K Rock Centre, 7:30pm

Feb 2nd – Carleton vs RMC @ RMC, 7:00pm

Feb 3rd – Ottawa vs RMC @ RMC, 3:00pm

Volleyball (M)

Feb 2nd – McMaster vs RMC @ RMC, 1:00pm

Feb 3rd – York vs RMC @ RMC, 1:00pm

Volleyball (W)

Feb 2nd – McMaster vs RMC @ RMC, 3:00pm

Feb 3rd – York vs RMC @ RMC, 3:00pm
__________________________
___________________________

l'Équipe de course ont réussi à battre les records d'équipe
Écrit par Élof (IV) Constance-Aurélie Ratelle, Élof des Services d'Information de l'Escadre
Le 19 janvier dernier, l'équipe de course du Collège a participé à une compétition contre plusieurs autres universités, au Collège St-Lawrence aux États-Unis. Les membres de l'équipe ont participé a plusieurs épreuves : 60m, 200m, 400m, 800m, 1000m, 3000m, 4x200m relais, 4x400m relais et l'épreuve du mile (1609m). L'équipe de relais, malgré quelques anicroches, s'en est bien tirée. Il en est de même pour tous les participants. Certains des membres ont même réussi à battre les records d'équipe. C'est le cas de Isabelle Allain, capitaine d'équipe, qui a completé un 400m en 1:07.53 (avant cela, il était 1:12.44).
___________________________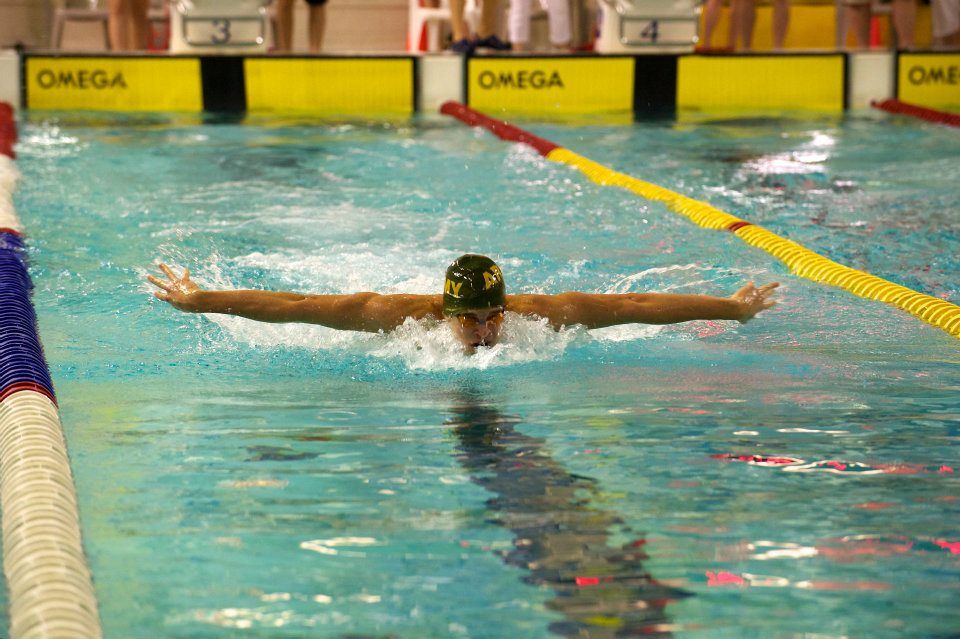 RMCC Swimming Team Turns in Exciting Performances
Article by 26209 OCdt (III) Nicholas Lightbody
This past weekend, the RMCC competitive swim club competed in the Polar Plunge swim meet held at the University of Ottawa. This was their second swim meet leading up to the Regional Championships at the beginning of February. It was a two-day event, with many fast swimmers and even more close races. There were many personal best times posted by swimmers on the RMCC team. RMCC was able to once again bring home first, second and third place in many events throughout the day, with all the swimmers on the team competing exceptionally well. One of the highlights of this weekend was watching the heated rivalry between 26209 OCdt (III) Nicholas Lightbody and his brother Alex Lightbody, a swimmer from Ottawa U, as they raced head to head, often finishing within only tenths of a second of separation. Outstanding performances also came from 26210 OCdt (III) Peter Hucal in the 200 meter Individual Medley. In this event he managed to drop six seconds from his previous best time. The swim meet also showed the depth of the RMCC competitive swim club as 26585 OCdt (I) Nicholas Swanson, 26718 OCdt (I) Olivier Sirois and 26715 OCdt (I) Jean-François Levesque, all First Year Cadets, made a dramatic entrance into the swimming scene as they all were able to get top 3 finishes in various races.
Over the next two weeks, the RMC swim team will be working hard towards fine-tuning their swimming abilities for the Regional Championships that are held in Ottawa from the 1st to the 3rd of February. Their focus will be building the speed and technique of each swimmer in their respective racing events.